Polish ruling party loses majority amid rift over media bill – The Daily Courier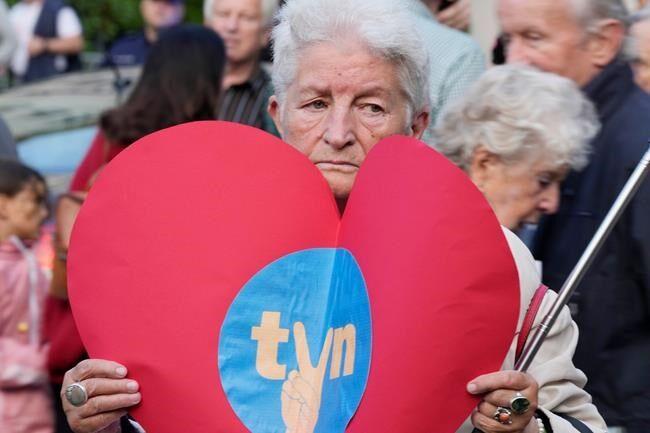 WARSAW, Poland (AP) — Poland's ruling right-wing party lost its parliamentary majority Wednesday after a small coalition partner announced that it was leaving the government amid a rift over legislation it views as an attack on media freedom.
The media bill, which is scheduled for an afternoon vote, would prevent non-European owners from having controlling stakes in Polish media companies. It is viewed as a crucial test for the survival of independent media in the former communist nation, coming six years into the rule of a populist government that has chipped away at media and judicial independence.
After a deputy prime minister who is the head of the Agreement party expressed his opposition to the bill and other government plans Prime Minister Mateusz Morawiecki fired him from government on Tuesday. Agreement party leader Jaroslaw Gowin had said he viewed the legislation as an attack on media diversity.
Gowin's party said Wednesday that it was formally leaving the governing coalition, meaning that the ruling Law and Justice party has lost the support of Agreement's 13 votes in parliament — and the slim majority it held in the 460-seat Sejm, the lower house of parliament. Agreement was viewed as the most moderate partner in the conservative three-party coalition that has governed Poland since 2015.
A vote was expected nonetheless on the media amendment at the center of the dispute, with Law and Justice expecting to pick up the needed votes from opposition lawmakers, including some from far-right nationalist groups.
The European Union has accused the Law and Justice-led Polish government of defying the EU's democratic values. But the 27- member bloc has had few tools for altering either Warsaw's course, or that of authoritarian Hungarian Prime Minister Viktor Orban, under whom media diversity has been sharply curtailed.
The bill is widely viewed as a effort to silence an independent, U.S.-owned television broadcaster that is critical of the government. If it passes, it would require American company Discovery Inc. to sell its controlling stake in TVN, a network with many channels that operates Poland's all-news station TVN24 and has a flagship evening news program watched daily by millions.
Critics say they fear the bill, if passed, would mark a huge step away from democracy, and the ideals fought for by Lech Walesa's Solidarity movement in the 1980s.
"A vote for taking over TVN will be a vote for an anti-Western dictatorship with impunity for thieves," Radek Sikorski, a former Polish foreign minister, said. "We all know it, and so do the PiS (Law and Justice) lawmakers. I did not think they were capable of such a betrayal of the ideals of Solidarity."
Protests against the media amendment were held in dozens of cities and towns in Poland on Tuesday. Speakers voiced their fear that eliminating TVN as an an independent voice would bring back a level of censorship that many Poles still remember from communism.
"I am afraid that there will be censorship, that it will be followed by the lack of democracy, simply a totalitarian state," protester Lucyna Kiderska said in Warsaw. "Slowly, slowly we will come back to the past."
___
Rafal Niedzielski contributed to this report.
Social media tools were key to 'Freedom Convoy' protest, expert tells inquiry – CBC News
Social media acted as the "central nervous system" of the "Freedom Convoy" protest in Ottawa last winter, the Public Order Emergency Commission heard Tuesday as it considered the role played by misinformation in the lead-up to the invocation of the Emergencies Act.
The commission's policy phase this week follows six weeks of fact-finding hearings on the events that led to the federal government's decision to invoke the act to end the convoy protests. Those hearings included testimony about online threats and the role social media played in organizing the protests against COVID-19 public health measures.
Before thousands of trucks started rolling toward Ottawa last January, a loose group of protest organizers communicated mainly over TikTok and Facebook, the commission heard over those weeks of testimony. Many of them had never met in person until the protests began.
"Social media was the central nervous system of the convoy, and exploration of its role crosses numerous domains, such as law, psychology, history, sociology and public policy, to name a few," Emily Laidlaw, the Canada Research Chair in Cybersecurity Law at the University of Calgary, wrote in a report for the commission.
Social media was used to raise funds, connect organizers and spread their message. It was also used to contrast the accounts of traditional media outlets and provide a different view of what was happening on the ground, Dax D'Orazio, a political scientist and post-doctoral fellow with Queen's University, testified during an expert panel discussion before the commission Tuesday.
"It was a way of creating meaning, finding community and building, eventually, momentum for social and a political movement," he said.
The inquiry is seeking expert input to bolster its analysis of whether the government was right to use the Emergencies Act in response to protests that took over downtown Ottawa and halted trade at several border crossings.
The expert testimony will inform Commissioner Paul Rouleau's recommendations about how to modernize the Emergencies Act and identify other areas for further study. It will also help him and his team study the impact of the purposeful or inadvertent spread of false information during the protest, which was explicitly written into the commission's mandate.
Experts testified that regulating disinformation is a difficult prospect — especially since it's not illegal to spread falsehoods.
"It's lawful but awful," said Laidlaw during the panel discussion. "For the government to create legislation that targets lawful expression, it likely won't survive constitutional scrutiny."
The experts defined disinformation as the intentional spread of false information, while misinformation was described as people spreading false information that they themselves believe to be true.
It would be difficult to draft laws that distinguish between the two, said Jonathon Penney, a legal scholar at York University. "It's a question of intent," he said.
The panellists also explored the relationship between extremist views and social media, which can provide an echo chamber that serves to confirm people's existing biases.
Studies have shown the internet can help entrench extremist values, said Vivek Venkatesh, an education professor at Concordia University.
People who subscribe to extremist views increasingly turn to "fringe media" instead of taking in news from traditional sources, said David Morin, a national security expert with Sherbrooke University, who spoke to the panel in French.
He said "self-made journalists" associated with those fringe outlets were present in Ottawa during the convoy protest, and produced "alternative information" for viewers.
For example, Morin said, some alternative media sources reported that hundreds of thousands of protesters attended the Ottawa demonstration, when police reports show the true number was far lower.
Windsor blockade affected thousands of jobs
A second panel on the flow of essential goods and services, critical infrastructure and trade corridors told the commission on Tuesday afternoon that 339,275 jobs depend on the Ambassador Bridge in Windsor, Ont., that protesters blockaded for six days in February, halting trade to the United States.
Those jobs account for 1.8 per cent of all jobs in Canada, according to a report prepared by economist Francois Delorme and economics student Florence Ouellet.
The blockades highlighted the vulnerability of some of Canada's critical infrastructure, which is governed by a patchwork of government and private sector jurisdictions.
If the federal government hopes to protect critical infrastructure with legislation, it should be very transparent about defining what that is, and what is and isn't permissible nearby, said Phil Boyle, a legal studies professor at the University of Ottawa. Otherwise, he said, the legislation could be overbroad and used to stifle lawful dissent.
Drawing up a list of what constitutes critical infrastructure could be tricky, though, said Kevin Quigley, a director at the MacEachen Institute for Public Policy and Governance at Dalhousie University.
Different infrastructure is critical to different people at different times, he said, depending on the context. A small bridge that serves as the main route to transport food to a small community could be considered critical on a local scale, for instance.
Ambarish Chandra, an economics professor at the University of Toronto Scarborough, pointed out that when it comes to Canada's land border crossings, trade is heavily concentrated in southern Ontario.
If something unexpected were to happen there, the effects could be catastrophic for the whole country, he said, adding that Canada could encourage the diversification of trucking networks to make greater use of border crossings in Quebec and in the Prairies.
The inquiry is on a tight timeline to complete its work. Rouleau is expected to submit final recommendations to Parliament at the beginning of February.
Policy panels continue on Wednesday.
Media Release – November 30, 2022 – Guelph Police – guelphpolice.ca
Knife pulled on store staff
A Guelph male faces several charges after an employee of a local business had a knife pulled on him Tuesday while trying to stop a shoplifter.
Just before 5 p.m. Tuesday, a loss prevention employee of a Woodlawn Road West business observed a male walking out without paying for product. The male was stopped and a physical struggle ensued, during which the male removed a folding knife from his pocket and brandished it toward the employee.
The male was located by officers a short distance away and the knife recovered. A 33-year-old Guelph male is charged with assault with a weapon, possessing a weapon for a dangerous purpose, theft, obstruct police and two counts of breaching probation. He will appear in a Guelph bail court Thursday.
Stolen vehicle crashed, female arrested
A Guelph female faces charges after crashing a stolen vehicle early Sunday morning.
Just before 6 a.m. a resident of Grove Street called to report a single-vehicle collision in front of their house. A black Infiniti SUV was heavily-damaged after striking a wall, tree and sign. The resident went to help and spoke to a female, who was removing property from the vehicle but denied she had been inside at the time of the collision.
The female was located walking a short distance away. A 32-year-old Guelph female is charged with possessing stolen property over $5,000, being an occupant in a stolen vehicle and obstruct police. She will appear in a Guelph court January 20, 2023.
Knife pulled on transit bus
A Guelph female faces weapons and threats charges after someone pulled a knife during a dispute on a moving Guelph Transit bus.
Approximately 3:50 p.m. Monday, police were dispatched to the area of Willow Road and Westwood Road. Investigation revealed two females known to each other became involved in a verbal dispute, during which one brandished a pocket knife, opened it and pointed it at the other female while threatening to stab her. Another passenger intervened and disarmed the female.
A 40-year-old Guelph female is charged with possessing a weapon for a dangerous purpose, uttering threats and three counts of breaching court orders. She will appear in a Guelph bail court Thursday.
Three impaired arrests during Festive RIDE launch
Three motorists face impaired driving charges following the first Festive RIDE spot check last Friday evening.
Of the approximately 600 motorists checked, 17 roadside tests were conducted. Three drivers were found to have been over 100 milligrams of alcohol in 100 millilitres of blood and were arrested for the criminal offence of Impaired Operation-80 plus.
Two tests resulted in three-day drivers' licence suspensions being issued to the drivers as they were found to have a blood-alcohol content between 50 milligrams and 80 milligrams of alcohol in 100 millilitres of blood.
Three Highway Traffic Act Offences were observed, and Provincial Offence Notices were issued for failing to wear a seat belt, expired licence plate validation and cannabis accessible to the driver as well as one notice of suspension was served.
Drivers are reminded that having any alcohol or controlled substance in your system when operating a motor vehicle is a bad idea. Think ahead and plan your way home.
With the holiday season upon us RIDE programs will be running at various locations throughout the city into the New Year.
Please drink responsibly and if you drink don't drive.
Store staff, officer assaulted
A Guelph female faces charges after store staff and a responding police officer were both assaulted.
Just before 10 a.m. Saturday, police were dispatched to a business on Silvercreek Parkway North. An employee had observed a female concealing items and attempting to leave the business. When she was confronted, she struck the employee with some of the concealed items. The female was located at an address nearby, but as she was being arrested she struck an officer in the mouth.
A 20-year-old Guelph female is charged with theft, assault with a weapon and assault police. She will appear in a Guelph court January 10, 2023.
Owner of cards sought
The Guelph Police Service is looking to identify the owner of a large number of Magic-style playing cards recovered on the weekend.
Officers discovered the cards while investigating a vehicle which turned out to be stolen.
If anyone recognizes the cards they are asked to call Constable Carson Skipper at 519-824-1212, ext. 7283, or email him at cskipper@guelphpolice.ca.
5 Things People With Disabilities Look For In Social Media – Forbes
The recent turmoil with Twitter has prompted many online disabled people to think more deeply about what they really need and want from social media platforms.
Anxiety and debate over the direction of Twitter under Elon Musk's ownership is affecting nearly every corner of Twitter, and of all online communities. Users and business partners wonder about Musk's ability to manage the company and the application itself with a drastically reduced staff pushed to its limits. And many inside and outside Twitter's user base worry about whether Musk's purported "free speech absolutist" approach will make Twitter even more toxic than it has sometimes been in the past. Will Twitter become a liberating bastion of free expression? Or, as a recent Vox.com article suggests it might, will it devolve into "an even more intense cesspool of negative content than it already is?" This is an even more of a concern for marginalized groups that are vulnerable to bullying and various forms of prejudice, such as racism, sexism, homophobia and transphobia, xenophobia – and ableism, too.
#DisabilityTwitter in its various forms and communities has been particularly on edge, and in something of a holding pattern. A November 11 Time article notes that, "For people with disabilities who'd found an emotional support system on Twitter, anxiety over Musk's upheaval was especially sharp."
That's partly because Twitter has been unusually well suited to disabled users and disability communities. Over time and gradual refinement, it became remarkably accessible to people with disabilities as online platforms go – though never of course completely accessible. Twitter has also served as a "megaphone" for disabled voices and disability issues. And despite social media's reputation as a polarizing and isolating force in modern culture, Twitter arguably increased and enriched disabled people's connections with wider society.
"Many people with disabilities use Twitter to organize, fundraise and run businesses," notes Amanda Morris in the Washington Post. And Disabled blogger Imani Barbarin writes, "Platforms like Twitter helped us to feel less alone and gaslit by our experiences and allowed us to contextualize our experiences in a way that gave us peace."
With so many aspects of Twitter's future feeling uncertain, now is a good time to consider what disabled people need most from social media — from Twitter, from other popular platforms, or perhaps from something that hasn't been invented yet.
1. Accessibility
This should be an obvious and easily understood requirement. But it's worth explaining and underlining. Disabled people need social media Interfaces that people with any kind of disability can use with relative ease.
For people with physical disabilities, including those that change or limit fine motor functions and general stamina, this includes full access to all features, with fewer clicks, minimal typing required, and usable with a variety of input devices other than standard the mouse and keyboard.
For people with sensory disabilities, like visual, hearing, and speech impairments, accessibility also means simple site layouts with less clutter, and strong and easily accessed tools for rendering content in alternative formats like audio for text, text for voice, and text descriptions for all graphics and video.
Social media platforms should also take into account cognitive and learning disabilities. Simplicity and design elegance are good for all users, but essential for people with learning disabilities, cognitive impairments, and other neurological conditions. To be truly accessible, platforms like Twitter should always strike a careful balance between offering lots of choices and sophisticated content, and overwhelming users with cool features that are too hard to learn and adapt..
2. Community
At their best, social media platforms can be places where people with disabilities can readily find information and other like-minded disabled people, unfettered by geography or the need for physical exertion to find them.
But simply exposing people with disabilities to ideas and potential friends isn't enough. What disabled people need most is credible information, not breathlessly-delivered rumors and conspiracy theories. And they crave disability communities actual disabled people can relate to and comfortably join.
Disabled people also want to meet other disabled people, not just well-meaning but sometimes misguided non-disabled allies. This is part of a long-term trend in recent decades where people with disabilities have increasingly looked to and relied on each other, rather than just family non-disabled disability professionals. Online disability culture has accelerated this trend. Fostering true disabled peer communities of substantial size and richness is one of the greatest achievements of the social media revolution.
Disabled people on social media also look for topical and emotional variety. They want a robust mix of reliable information, positive encouragement, strong advocacy, personal support and validation – but also honest, unflinching exploration of mistreatment, exclusion, and all forms of ableism. Too much "positivity" can indeed be "toxic." Relentless cheerleading and celebration of disabled high achievers can feel deceptive, privileged, and even discouraging. At the same time, even the harshest disabled critics and fiercest advocates need periodic doses of hope and optimism. Sometimes it helps for disability social media to generate that deliberately.
3. Emotional safety
This should also go without saying, but bears repeating. Disabled people want social media to be as free as possible from abuse and bullying.
Most disabled people already encounter more than enough ableism in "real life." This includes includes everything from schoolyard bullying of disabled children, to workplace discrimination of disabled adults, to the kind of physical and emotional abuse that's always a risk for people who need everyday personal care.
On top of this, the worst of online ableism can include,, but is not limited to, awkwardly taboo and more deeply offensive terminology, as well as disability-related personal attacks and insults directed at disability communities, and at specific individuals. This is one of the most immediate concerns about the new Twitter. Free speech environments with little or no moderation can easily devolve into places where few disabled people will want to spend time. Disabled people value free speech and diverse opinions as much as anyone else. But most also value atmospheres in which both overt and subtle forms of ableist pestering and bullying are at the very least consistently discouraged rather than defended.
Of course, there is also a difficult gray area between offensive, harmful dialog, and sincere, well-intentioned – but also wrongheaded, annoying and wearying – disagreement or advice. Most disabled people want to hear contrary opinions. And it can be valuable to know what non-disabled people are really thinking, underneath politie euphemisms.
But some questions and ideas about disability are more than just irritating. For example, asking or demanding a disabled person online to explain every detail of their disability can read more like aggression or intimidation than as a request for enlightenment. And repeatedly suggesting that disabled people are better off dead, or that society is better off with fewer disabled people, has little value in spurring debate or diversity of opinion. They read as existential threats and create lasting emotional wounds.
4. Emotional sustainability
Disabled people online want to be challenged, stimulated, and engaged. But on some platforms they often find themselves bogged down by a flood of pestering and annoyances. This includes demands for unpaid emotional labor – like being asked over and over again, every day, to "educate" others for free on disability issues – or being exposed to hundreds of other people's pain, then criticized for not consistently responding in just the right way.
Persistent questions about disability basics, and rehashed ableist arguments can also cause widespread burnout in online disability communities. For instance, it's exhausting to be constantly challenged by contrarians and pot-stirrers to prove your own disability, or the existence and importance of ableism. And while advice is usually offered with good intentions, it can be exhausting to be repeatedly lectured by non-disabled people about how they think disabled people should handle disability discrimination, inaccessibility, bureaucratic problems, and everyday encounters with ableism.
Minimizing these many points of friction in online communities, while not micromanaging dialog or "tone policing" disability discourse is one of the most difficult but important challenges for any social media platform. Disability discourse online should be rich, lively, and inclusive, but also just plain pleasant enough to keep disabled people engaged and energized.
5. Visibility
One of the best things about Twitter has been that disabled people were able to meet, share, vent, and organize as distinct communities, but in plain sight of influential people outside the disability community. Disabled people crave a degree of privacy and kinship exclusively among disabled people. But at the same time they don't want to be sequestered away where nobody else knows what they are thinking, doing, and working for.
Disabled people need social media platforms that expose politicians, government officials, management in business and non-profit sectors, academics, policymakers, and journalists to disability culture and priorities. Disabled people also want platforms that amplify their individual work beyond the disability community, and effectively boost their creative, business, and career opportunities.
Exactly how to deliver all of these qualities isn't obvious. Twitter never completely delivered them. But it's a challenge open to both Twitter under its new ownership, all other existing social media platforms, and anyone else with the ambition to start from scratch.