Province steps up with $2.7M investment for 20 beds at OSMH – OrilliaMatters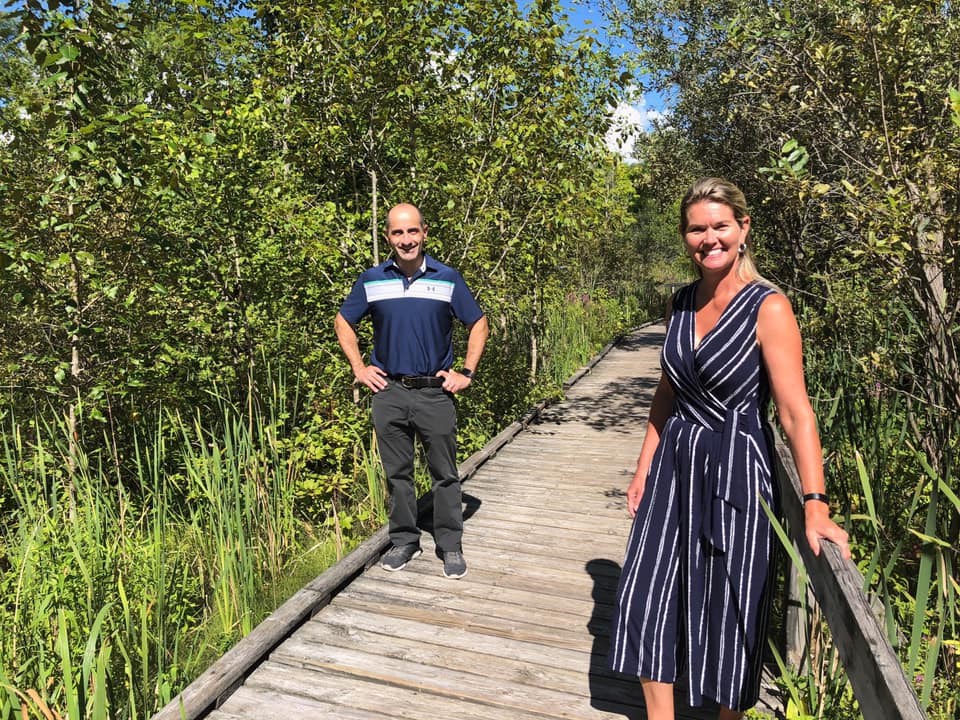 Earlier this week, the provincial government announced it would be providing $116.5 million to create up to 766 more beds at 32 hospitals and alternate health facilities across the province.
Simcoe North MPP Jill Dunlop explained what that investment means to Orillia.
She said the province will be providing up to $2,718,000 to Orillia's Soldiers' Memorial Hospital (OSMH) for up to 20 total patient beds.
The goal of the funding is to help alleviate hospital capacity pressures and reduce wait times and surgical backlogs.
"A bed is such an important part of the hospital process for both staff and patients," Dunlop said in a statement.
"This investment will help improve the ability for Orillia Soldiers' Memorial Hospital to provide care for patients, even more so during such a difficult time as COVID-19, especially with the upcoming winter and flu season."
This week's funding is in addition to the $234.5 million investment for 139 critical-care beds and up to 1,349 hospital beds included in Ontario's fall preparedness plan.
The new funding "will further strengthen our ability to meet the health needs of our community," said OSMH president and CEO Carmine Stumpo.
"This funding announcement supports the surge planning already underway at OSMH," he explained. "This includes maintaining current emergency services, addressing backlogs in scheduled surgical activity and creating new capacity for COVID and influenza surges this winter."
Stumpo said the $2.7 million in one-time funding, to March 31, 2021, "will support operating expenses such as additional staff and medical supplies."
According to the media release from Dunlop, this brings the total investment to $351 million for more than 2,250 new beds at 57 hospitals and alternate health facilities across the province – beds that will add more capacity for hospitals, help with occupancy pressures and support the continuation of surgeries and procedures.
"Our government is making the necessary investments to quickly and effectively increase hospital capacity and reduce wait times for patients and families in Simcoe," said Health Minister Christine Elliott.
"This additional investment will ensure our health-care system is able to respond to future waves of COVID-19 and help patients waiting for surgeries and other procedures get the care they need, faster."
The government is providing $2.8 billion for the COVID-19 fall preparedness plan. It focuses on addressing surges in COVID-19 cases and reducing health service backlogs by:
Extending hours for additional priority surgeries and diagnostic imaging;
Helping up to 850 alternate level of care patients access proper care in a home or community setting to help free up hospital capacity;
Expanding digital health and virtual services, which provide alternatives to in-person care that limit the transmission of COVID-19, while maintaining access to care;
Improving access to mental health and addictions services and supports; and
Increasing home and community care service by adding 484,000 nursing and therapy visits and 1.4 million personal support worker hours.
Ontario will release its 2020 budget and the next phase of Ontario's Action Plan on Nov. 5.
Red White & Bloom Announces Participation in Upcoming Investment Conferences – GlobeNewswire
TORONTO, Nov. 25, 2020 (GLOBE NEWSWIRE) — Red White & Bloom Brands Inc. (CSE: RWB and OTC: RWBYF) ("RWB" or the "Company") is pleased to announce they will be in attendance at two invitational investment conferences this month.
Benzinga Small Cap Conference
Panel Discussion: Tuesday, December 8th, 2020
Presentation: Tuesday, December 8th, 2020 – 1:00PM ET
2020 Cantor Fitzgerald Virtual MSO Cannabis Summit
Presentation: Wednesday, December 16th, 2020 – 3:00PM ET
For more information or to schedule a one-on-one meeting with RWB's management during these events, please contact Red White & Bloom's Investor Relations at IR@redwhitebloom.com.
About Red White & Bloom Brands Inc.
The Company is positioning itself to be one of the top three multi-state cannabis operators active in the U.S. legal cannabis and hemp sector. RWB is predominantly focusing its investments on the major US markets of Michigan, Illinois, California, Arizona, Oklahoma and Massachusetts with respect to cannabis, and the US and internationally for hemp-based CBD products.
For more information about Red White & Bloom Brands Inc., please contact:
Tyler Troup, Managing Director
Circadian Group IR
IR@RedWhiteBloom.com
Visit us on the web: www.RedWhiteBloom.com
Follow us on social media:
Twitter: @rwbbrands
Facebook: @redwhitebloombrands
Instagram: @redwhitebloombrands
Neither the CSE nor its Regulation Services Provider (as that term is defined in the policies of the CSE) accepts responsibility for the adequacy or accuracy of this release.
FORWARD LOOKING INFORMATION
This press release contains forward-looking statements and information that are based on the beliefs of management and reflect the Company's current expectations. When used in this press release, the words "estimate", "project", "belief", "anticipate", "intend", "expect", "plan", "predict", "may" or "should" and the negative of these words or such variations thereon or comparable terminology are intended to identify forward-looking statements and information. The forward-looking statements and information in this press release includes information relating to the new team members expertise and how the Company will benefit from their ability to assist the Company implement its business plan. Such statements and information reflect the current view of the Company with respect to risks and uncertainties that may cause actual results to differ materially from those contemplated in those forward-looking statements and information.
By their nature, forward-looking statements involve known and unknown risks, uncertainties and other factors which may cause our actual results, performance or achievements, or other future events, to be materially different from any future results, performance or achievements expressed or implied by such forward-looking statements. Such factors include, among others, the following risks: risks associated with the implementation of the Company's business plan and matters relating thereto, risks associated with the cannabis industry, competition, regulatory change, the need for additional financing, reliance on key personnel, the potential for conflicts of interest among certain officers or directors, and the volatility of the Company's common share price and volume. Forward-looking statements are made based on management's beliefs, estimates and opinions on the date that statements are made, and the Company undertakes no obligation to update forward-looking statements if these beliefs, estimates and opinions or other circumstances should change. Investors are cautioned against attributing undue certainty to forward-looking statements.
There are a number of important factors that could cause the Company's actual results to differ materially from those indicated or implied by forward-looking statements and information. Such factors include, among others, risks related to the Company's proposed business, such as failure of the business strategy and government regulation; risks related to the Company's operations, such as additional financing requirements and access to capital, reliance on key and qualified personnel, insurance, competition, intellectual property and reliable supply chains; risks related to the Company and its business generally. The Company cautions that the foregoing list of material factors is not exhaustive. When relying on the Company's forward-looking statements and information to make decisions, investors and others should carefully consider the foregoing factors and other uncertainties and potential events. The Company has assumed a certain progression, which may not be realized. It has also assumed that the material factors referred to in the previous paragraph will not cause such forward-looking statements and information to differ materially from actual results or events. However, the list of these factors is not exhaustive and is subject to change and there can be no assurance that such assumptions will reflect the actual outcome of such items or factors. While the Company may elect to, it does not undertake to update this information at any particular time.
THE FORWARD-LOOKING INFORMATION CONTAINED IN THIS PRESS RELEASE REPRESENTS THE EXPECTATIONS OF THE COMPANY AS OF THE DATE OF THIS PRESS RELEASE AND, ACCORDINGLY, IS SUBJECT TO CHANGE AFTER SUCH DATE. READERS SHOULD NOT PLACE UNDUE IMPORTANCE ON FORWARD-LOOKING INFORMATION AND SHOULD NOT RELY UPON THIS INFORMATION AS OF ANY OTHER DATE. WHILE THE COMPANY MAY ELECT TO, IT DOES NOT UNDERTAKE TO UPDATE THIS INFORMATION AT ANY PARTICULAR TIME EXCEPT AS REQUIRED IN ACCORDANCE WITH APPLICABLE LAWS.
Feds should invest to meet climate goals, catalyze recovery: RBC – Investment Executive
"Making these investments now could help underpin a low-carbon transition, drawing in business investment, and complementing the government's efforts to support jobs and economic recovery," it said.
The government has planned emissions reductions toward the ultimate goal of net-zero emissions by 2050.
Yet, for major polluters, such as the energy sector and heavy industry (such as concrete and steel), carbon capture is technically feasible but "often seen to be cost prohibitive," RBC noted.
Carbon capture projects "are capital intensive and high-risk during the extended construction phase," it said, adding that this discourages private investment.
This is where government should be stepping into the breach with public funding for research, RBC suggested. Ultimately, driving down costs and developing effective technology will help the projects become more viable for private investment.
"As it lays out long-term climate plans, the federal government has an opportunity to write a new chapter in Canadian climate policy: one that acknowledges the importance of the energy sector, encourages abatement across industries, leverages investment from the private sector, and spurs innovation in sectors that contribute the most to our climate challenge," the report said.
At the same time, government investment can help combat the long-lasting effects of the Covid-19 crisis, the report said.
"While crisis support for the economy has rightly been the government's focus, investment in new technologies and industries can limit lasting scars from this recession," it said.
Council varies its investment policy – Houston Today
The District of Houston has bolstered its policy of placing public monies in local financial institutions by allowing the amount to be invested to exceed othwerwise specified limits.
It means that $7.5 million in investments coming due Dec. 31 can be placed with either the Bulkley Valley Credit Union or the Royal Bank or with both and not placed elsewhere.
In a detailed presentation made to council Nov. 17, District of Houston chief administrative officer Gerald Pinchbeck, also the District's financial officer, noted the District's existing policy sets dollar amount limits based on a percentage of the District's total investment account and on a percentage of the assets of the Bulkley Valley Credit Union.
The same policy also sets limits on what can be invested with the Royal Bank, the only other financial institution in the community, based on the percentage of securities within the District's total investment portfolio.
"If there are any overages, then upon maturity the investments woud need to be made elsewhere," he said.
The District's investment mix includes term deposits now at the credit union which are guaranteed and senior government and corporate bonds.
In approving of the move to exceed the investment limits in the policy, council directed that the policy be brought back for a further review at a future date.
"Investments under the temporary policy variance will be made by reviewing the rates being offered, the security of the investments available, and the expected return on investment," said Pinchbeck.
The money the District invests are not required for its current operating or capital spending obligations.
The District's long-standing policy of placing investments with financial institutions that have a presence in the community reflects its commitment to recognize and support local businesses.