Samsung Teases New Foldable Smartphones Set to Debut at August 10 'Unpacked' Event – MacRumors
Samsung today shared the official trailer video for its upcoming "Unpacked" event that will see the debut of the next-generation foldable smartphones, including the Galaxy Z Fold 4 and the Galaxy Z Flip 4.
The Unpacked event is set to take place on Wednesday, August 10 at 9:00 a.m. Eastern Time, and Samsung is already taking reservations for the as-of-yet unannounced smartphones. "Find out how the next Galaxy is greater than phones now, and get ready to unfold your world of greater experiences at Samsung Unpacked," reads the tagline for the event teasing the new devices.
Rumors suggest the Galaxy Z Fold 4 will have an updated design with a single hinge design instead of the double hinges of the prior-generation Samsung foldable phones. The new hinge will be smaller for a thinner and lighter design, and the smartphone will continue to fold like a book.

The Z Fold 4 is expected to continue to feature a 7.6-inch interior display with a 120Hz refresh rate, and it could have an under-display fingerprint sensor instead of a fingerprint sensor at the right side of the device. Upgraded cameras are coming, including a 10-megapixel telephoto sensor with 3x optical zoom, a 50-megapixel wide-angle camera, and a 12-megapixel ultra-wide camera. The Galaxy Fold 3 was priced at $1,800, and display analyst Ross Young says that the Fold 4 could get a small price cut.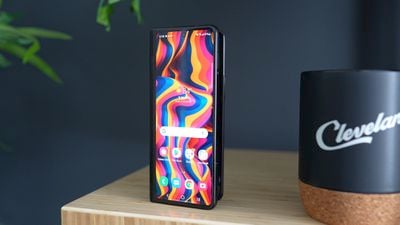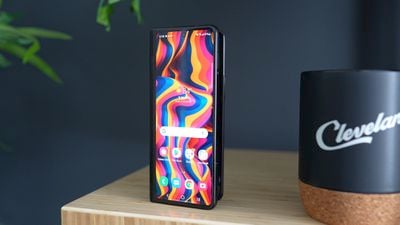 As for the Galaxy Z Flip 4, it will continue to feature a 6.7-inch display that folds out vertically, but according to Young, it will have a larger 2-inch cover display. Not much else is known about the Z Flip 4, but camera improvements are possible, as are battery life improvements and new color options. Both new smartphones are expected to run the latest Qualcomm Snapdragon 8 Plus chips.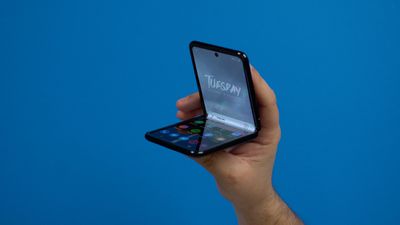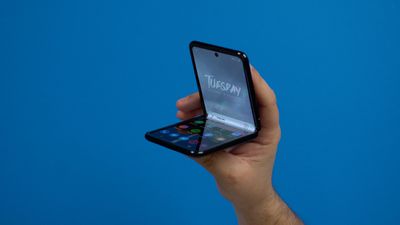 Samsung has been making foldable devices since the 2019 introduction of the Galaxy Fold, and the company has several years of experience with various design improvements and iterations.
Apple has yet to debut a foldable iPhone, though rumors suggest there are prototypes in the works. Right now, work is said to be in the early stages, and Apple has considered several foldable screen sizes, including one that unfolds to a size similar to the 6.7-inch iPhone 13 Pro Max and others in the eight to nine inch range.
Rumors about Apple's foldable design have been all over the place, with some suggesting an invisible hinge and others pointing toward a two-display design with a visible hinge. There's also been a rumor of a foldable ‌iPhone‌ with a clamshell design similar to the Galaxy Z Flip. Multiple sources indicate that 2025 is the earliest that we might see a foldable ‌iPhone‌, so there's plenty of time for Apple's plans to change and evolve.
For more on what we know about a possible foldable ‌iPhone‌, check out our dedicated foldable iPhone guide. Apple is also rumored to be working on a larger-screened foldable iPad.
iPhone 8(+) saving old photos from reseted iphone – MacRumors
hello, i am an apple user who's using a iphone8.
my phone's storage was almost full for months, so sometimes i used to have problems with it. a morning, it just got shut down by itself and i couldn not restart it again. so i talked to a expert(working in apple), and he told me that i have no other choice than resetting it.
i connected it to itunes and resetted. i tried to the saving data option but it didn't work. so the phone is working right now, but all the photos are gone.
my question is, by any chance, do i got a way to save my old photos? some of them are really important for me and my family/friends.
i know the answer is probably no, but maybe iphone saves it to its storage or anything, i wanted to try my chance asking.
ps: they weren't backed up from anywhere. only a few were on icloud (which i already saved)
Apple Pay Later may not arrive until next year due to 'technical and engineering' setbacks – Yahoo Movies Canada
Apple Pay Later may not arrive until next spring, according to Bloomberg's Mark Gurman. As you may recall, Apple announced the buy now, pay later feature at WWDC 2022 and said, at the time, that it would arrive alongside iOS 16. Well, the latest version of the company's mobile operating is here and Apple Pay Later is nowhere to be found.
A footnote on Apple's website states the feature will arrive "in a future update." As Gurman notes, other previously announced iOS 16 features that aren't available yet are listed as coming "later this year." Gurman believes the discrepancy is due to the fact Apple doesn't know when Pay Later will be ready, and the feature may not arrive until iOS 16.4 ships in 2023. "I'm hearing there have been fairly significant technical and engineering challenges in rolling out the service, leading to delays," he notes.
It's interesting to learn Apple is encountering technical challenges implementing a Pay Later service. Based on Gurman's previous reporting, the company has been working on such a feature for more than a year. It even went out of its way to create a subsidiary called Apple Financing to conduct credit checks and customer approvals. All those moves suggest the company sees financial services as a significant part of its future.
YouTuber Tests Apple Watch Ultra Durability With a Hammer: Table Breaks Before the Watch – MacRumors
A YouTuber has put Apple's claims for the durability of the Apple Watch Ultra to the test by putting it up against a drop test, a jar of nails, and repeated hits with a hammer to test the sapphire crystal protecting the display.
TechRax, a channel popular for testing the durability of products, first tested the ‌Apple Watch Ultra‌ by dropping it from around four feet high. The ‌Apple Watch Ultra‌ was left mostly unscuffed, aside from some minor dents along the titanium casing. Next, the ‌Apple Watch Ultra‌ was mixed around in a jar of nails and was once again left with no visible marks.
TechRax also tested the durability of the ‌Apple Watch Ultra‌'s sapphire crystal display cover by repeatedly hitting it with a hammer. In the test, the watch withstood repeated hits with the hammer until it finally cracked, and only after the table took some damage first.

While the ‌Apple Watch Ultra‌'s display did not initially take damage, the watch did fail to turn on after repeated hits. The failure to power on could indicate that while the sapphire may not have broken at first, some internal components may have suffered damage. Of course, the test is unrealistic in portraying a typical use case of the ‌Apple Watch Ultra‌, but it may provide some customers reassurance about the strength of the sapphire crystal display cover.
Apple claims the ‌Apple Watch Ultra‌ is its most rugged, durable, and extreme Apple Watch yet, appearing to be aimed to compete directly with Garmin. In response to the ‌Apple Watch Ultra‌, Garmin said it measures battery life in "months" and not "hours." The ‌Apple Watch Ultra‌ is priced at $799 and began arriving to customers on Friday.
Related Stories
Popular Stories