Second Lockdown to Close All Apple Stores in England for At Least Four Weeks – Mac Rumors
England will enter a new lockdown from Thursday, November 5 to curb a steep rise in coronavirus cases, the U.K. Prime Minister Boris Johnson has announced. The lockdown will last for at least four weeks, closing all non-essential shops, including all Apple stores in the country, just over one week before Apple launches the iPhone 12 mini and iPhone 12 Pro Max on Friday, November 13.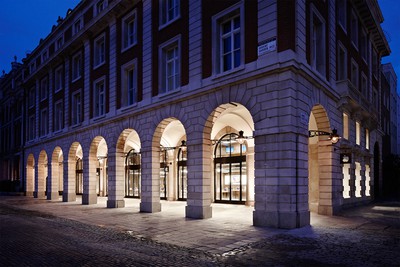 In his announcement explaining the lockdown decision, the Prime Minister said the strict measures will include closing pubs, restaurants, gyms, non-essential shops and places of worship. People will be told to stay at home except for specific reasons, such as work that cannot be done at home, childcare or education, exercise outdoors, medical reasons, and essential shopping. Ministers have so far refused to rule out an extension to the lockdown if COVID case numbers don't improve.
Apple has yet to comment, but the lockdown will basically force Apple's 32 stores in England to close until at least Wednesday 2 December, and will likely also include stores operating with an Express storefront, which means customers in the country are won't be able to select in-store pick up of new ‌iPhone 12‌ mini or ‌iPhone 12 Pro‌ Max devices when they launch next Friday. Orders of HomePod mini, which launches on the same day, will be similarly limited to deliveries only.
Apple Stores in Wales and Northern Ireland are already closed due to lockdown restrictions, while Apple's Glasgow and Edinburgh stores will remain open under Scotland's new tiered regional restrictions, which went live on Monday. Online pre-orders for the new ‌iPhone 12‌ mini and ‌iPhone 12 Pro‌ Max, which begin this Friday, and order shipments the following Friday are not expected to be significantly impacted, with Royal Mail and courier companies excluded from the restrictions. We're still waiting to hear if the pickup point system will remain over the lockdown period.
Since the end of the first lockdown earlier this year, Apple has been operating its retail business with safety procedures implemented at all stores, including temperature checks, social distancing, increased cleaning, and a limit on how many customers are allowed inside its stores at once.
Elsewhere in Europe, France entered a national lockdown last week that will last at least a month as it aims to curb one of the continent's biggest coronavirus surges and ease the pressure on its hospitals. In Belgium, non-essential shops will close until mid-December, as more than half the country's 2,000 intensive care beds are already full.
Note: Due to the political or social nature of the discussion regarding this topic, the discussion thread is located in our Political News forum. All forum members and site visitors are welcome to read and follow the thread, but posting is limited to forum members with at least 100 posts.
Costco Cyber Monday 2020: Here Are The Best Deals – Forbes
Black Friday is over but Costco's first Cyber Monday 2020 sales are already available. These include deals Costco has kept running past Black Friday, as well as new deals it has launched in the run up to Cyber Monday. So these are the latest deals you need to know about. Tip: this article is continually updated, so bookmark it. (Updated 11/30)
Note: this article does not use affiliate links and I do not earn a share of revenue from sales. All deals are chosen solely on their own merit.
Costco Cyber Monday Best Smartphone Deals
Costco Cyber Monday Best Laptop Deals
Costco has some of the best live laptop deals right now (update: more added) and the store also offering up to 4 years warranty and 4% in cashback rewards for all models:
Costco Cyber Monday Best Tablet Deals
Costco Cyber Monday Best Smartwatch Deals
Costco Cyber Monday Best Smart Device Deals
Costco Cyber Monday Best TV Deals
11/29 Update: Much like laptops, Costco is offering up to 4 years warranty and 4% in cashback rewards for all models in addition to their sale prices:
I am extensively tracking Black Friday and Cyber Monday 2020 deals, so be sure to bookmark my page. You will also find my store-by-store guides below, all of which are updated daily.
___
Follow Gordon on Facebook
More of my Cyber Monday Guides on Forbes
Apple Cyber Monday 2020: AirPods Pro, iPad, iPhone, New MacBook Pro Deals
Apple Cyber Monday 2020: Here Are The Best AirPods, AirPods Pro Deals
Apple Cyber Monday 2020 iPhone Deals: Amazon, Best Buy, Costco, Walmart And More
Amazon Cyber Monday 2020: Here Are The First Deals
Best Buy Cyber Monday 2020: Here Are The Best Early Deals
Costco Cyber Monday 2020: Here Are The First Deals
Target Cyber Monday 2020: Here Are The Best Early Deals
Walmart Cyber Monday 2020: Here Are The First Deals
27 Best Cyber Monday Kitchen & Appliance Deals 2020: Le Creuset, Instant Pot, Vitamix, and More – Bon Appetit
Everything at cookware brand Material is up to 25% off through December 1. We love their take-apart-able Good Shears and BPA-free, dishwasher-safe reBoard cutting board, which is made of recycled plastic and renewable sugarcane and is perfect for prepping raw meat and fish. Purchase one of the two, new limited-edition colors—the pale peachy To Pó-Po, with Love and the pine green Reimagine Justice—and Material will donate 50% of the profits to the organizations Heart of Dinner (cofounded by Moonlynn Tsai, an owner of BA favorite Kopitiam) and Drive Change. Normally $35 each, you can snag any three reBoards for $70, which is basically like buying two to give as gifts and getting a free one to keep for yourself.
It all started with Diaspora Co.'s revelatory turmeric, but since launching in 2017, the direct trade spice company has expanded into single-origin cumin, coriander, pepper, and black mustard seed. For every order over $75, Diaspora Co. will donate $25 to Sogorea Te' Land Trust, North American Traditional Indigenous Food Systems, and Native American Food Sovereignty Alliance to honor native land repatriation, indigenous food sovereignty, and cultural revitalization. Additionally, its sturdy, sunny tote bag is on sale, with $10 from every purchase going toward Cafe Ohlone's fundraiser for a new restaurant space and cultural center.
A fire pit is, all of a sudden, the winter accessory we didn't know we needed. Solo Stove makes sleek cylindrical fire pits at a variety of price points, and all are 30% off. Its grill and camp stoves are also on sale so you can host weenie roasts and backyard hibachi parties all winter long.
If you can't gather around the table with far-away family this year, send them a food gift from Goldbelly. Everything is 20% with code "GOLDSGIVING," from Cote Korean Steakhouse's gonzo Butcher's Feast to Island Pops' tart, refreshing Sorrel Rum Sorbet to the iconic Peking Duck Dinner Kit from New York favorite Jing Fong.
Everything at Anthropologie is 30% off, including this two-tiered gold fruit basket, this stackable copper cooling rack, and this set of delicate lustered coupes.
Use code "2020" for 20% off at The Webster, where you can stock up on some of our most frivolous and fabulous recommendations from gift guides current and past—like this painfully chic champagne coupe or this real, lacquered croissant, which doubles as a bedside lamp.
Everything at Terrain, including sale items, is 20% off, which means it's time to purchase a different indoor citrus tree for every room in your house. Might as well throw this book on how to Grow Fruit & Vegetables in Pots into your cart while you're at it.
Take 25% off everything at chef Meherwan Irani's Spicewalla, plus get free shipping on orders over $25. We recommend this 18-pack spice starter set, a great gift for anyone setting up their first kitchen, and this collaboration with chef Preeti Mistry, which includes their Juhu Beach Club cookbook (hello doswaffles) as well as a three-pack of spice blends.
Jinen is one-stop shopping for all the people on your list obsessed with Japanese home goods (guilty), and this weekend, everything is 10% off. We love its assortment of donabes, Hasami porcelain, and hand-dyed tenugui, which can be used as table linens or to wrap gifts.
Amazon just slashed Apple AirPods to an all-time low price—but they're selling out fast – Yahoo Canada Sports
CBC
It was during one of the early planning sessions for the 2010 Vancouver Winter Olympics that Chief Gibby Jacob heard a provincial government official talking about the Callahan Valley, which would eventually host cross-country skiing and ski jumping during the Games. Jacob, who participated in the bidding process for the Olympics and was a member of the Games organizing committee board, finally put up his hand. "I asked who the hell is this Callahan and how the hell did he get his name on our lands," the Squamish Nation hereditary chief said with a chuckle. "They all looked at each other. I said find out and let us know." It turns out the Callahan Valley, located near Whistler, B.C., was named after one of the early surveyors in the region. "That was the start of our big push to get our names back on places," said Jacob. Indigenous groups had a voice in organizing and hosting the 2010 Games. But Vancouver Mayor Kennedy Stewart has suggested any movement to bring another Games to the city should be headed by Indigenous leaders. In early November, Vancouver city council voted to postpone a decision on whether it wants to explore making a bid. City staff are expected to present a report to council in early 2021. Stewart has said one of his conditions for supporting a bid is that the Musqueam, Squamish and Tsleil-Waututh — the three Indigenous First Nations whose traditional territory includes Vancouver — head the Olympic bid committee. "I have talked to the Nations about this and there's interest there," the Vancouver Sun reported Stewart saying in a state-of-the-city address to the Greater Vancouver Board of Trade. Emails to Stewart's office asking to explain the mayor's proposal were not immediately answered. Khelsilem, a councillor with the Squamish Nation Council, isn't aware of any formal talks about leading a bid. "We haven't had any formal discussion about it," he said. "We haven't made any formal decision about whether we want or don't want. And we haven't had any formal discussions with our neighbouring nations." Representatives of the Musqueam and Tsleil-Waututh did not respond to interview requests. Khelsilem said before any decision is made, the pros and cons of hosting an Olympics must be weighed. "The reality is that something like hosting an Olympics requires a significant amount of investment and support from both the federal and provincial governments," he said. "While there are a number of reported advantages, there's also a number of drawbacks. "I think a lot of that workflow needs to be figured out, especially in the context of the challenges that we're going to face over the next decade and the challenges that we're facing on a number of fronts." Furthermore, Jacob said: "there's a lot to be gained by being involved [in a bid] for our people." "I don't think that our nations, given what we have as far as leadership resources and how fast they seem to change, would be able to take things right from scratch to completion," he said. Creating a common agenda With 15 of the venues used for the 2010 Olympics built on First Nation traditional territories, Indigenous support was crucial for the Games success. The Squamish, Tsleil-Waututh, Musqueam and Lil'Wat nations formed The Four Host First Nations, a non-profit organization with the goals of uniting Canada's Indigenous people and encouraging inclusion across the country. "I think it created a common agenda," said Jacob. "By doing that and achieving what we set out, it was totally outstanding. "I think it showed leadership that the four separate First nations could work together for a common purpose and get benefits from it." WATCH | President of 2010 Games says Vancouver should bid for 2030: Involvement in the Games raised awareness of Indigenous issues across Canada, he said. "When we first started out, we were pretty invisible in our own territories," said Jacob. Indigenous groups did "fairly well in compensation for the use of our lands," he said. The Olympics also led to traditional Indigenous names being returned to locations and landmarks plus recognition of First Nation arts and culture. John Furlong, who was head of the Vancouver Organizing Committee for the 2010 Olympic and Paralympic Winter Games (VANOC), is part of the group looking at the 2030 Games. He said any bid would be impossible without Indigenous participation. "I see no scenario at all in which First Nations are not involved," he said. "They were a difference maker in 2010. "First Nations are in multiple new business since 2010. My instincts tell me they will be keenly interested in being involved again."