Sheldon Keefe Post Game, Leafs 4 vs. Canadiens 2: "I had this as the lowest number of scoring chances we gave up in a game all season" – Maple Leafs Hot Stove
Sheldon Keefe addressed the media after his team's 4-2 victory over the Montreal Canadiens on Wednesday night, improving the Leafs' record to 11-2-1 on the season.
---
On Ilya Mikheyev breaking through with a goal:
I feel great for him, first of all. He has worked extremely hard — not just in our games, where he's had a ton of chances and has really worked along with good defensive play. He continues to work on his game in practices and off-days and development days. It is nice to see him get rewarded for sure. You like to see that.
On the team finding a way in the third period:
We were really trying to put at the forefront the fact that it is an important game we want to find a way to the right side of. We pushed our guys to have a real good start to the period. I thought we had played a fine game. I didn't think we had any real strong pushes. We wanted that. I thought we got it.

With a little extra jump to start the third period, we caught them on their heels a little bit. We attacked a lot quicker in transition. All of those things kind of helped us.

I thought we were really good defensively as well. Even when they got the puck at the start of the third, we came back and helped the transition, which was a big part of it. Obviously, Justin Holl's slapper had a lot to do with it, too.
On whether he knew that Dermott and Holl had those shots in their toolboxes:
Of course. No doubt. They only pull it out when it counts the most.
On Frederik Andersen's performance:
I thought he was good. Obviously, he wants to have the first shot back. It took him a little bit to get going, as it did our team. But he was solid after that. A lot of shots were coming from the point and the walls. A lot of the stuff gets thrown in with a lot of traffic. It makes it more challenging against this team.

At the same time, like we have been talking about all offseason and all throughout camp, our job, as a team, is to help Fred out and do a job in front of him. I thought we did that today.

There are a lot of things we would like to do better so we can control play a little bit better like we did at the start of the third period. Again, defensively, we didn't give them much at all. In fact, I had this as the lowest number of scoring chances we gave up in a game all season. Despite some of the volume, I thought our guys did a really good job of protecting the middle of the ice and not giving anything up odd-man.

On the first goal, they got in behind us a little bit at the start of the game, but that was really it. They never really got behind us again off the rush. Those are some of the things we talked about as keys for the game coming in. I thought our players stuck with it and Fred was solid for us.
On Holl cleanly ripping one by Price:
With both him and Derms', in both cases, the defenders and the goaltender probably aren't expecting them to shoot like that and take them on. Not often are you going to beat Carey Price with a clean shot like that, but obviously, they did. Two great shots into the top of the net. Massive goals for us.
James unbeaten as captain as Team LeBron beat Team Durant at NBA All-Star Game – TSN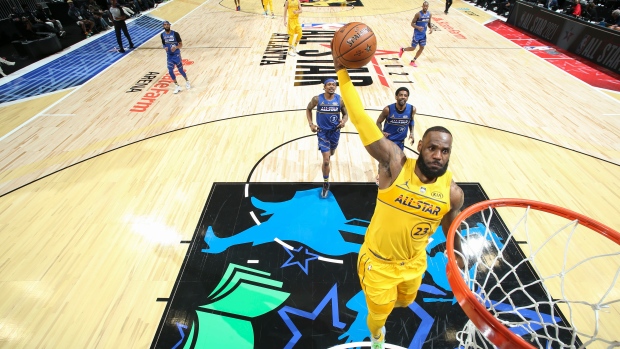 ATLANTA — In the midst of a pandemic, this was assured of being an NBA All-Star Game like no other.
The stands were mostly empty. The crowd noise was largely piped in. There were no A-list celebrities sitting courtside. Two players had to sit out after getting haircuts.
But in the end, it had a familiar feel.
Team LeBron won again.
Knocking down shots from all over the court, LeBron James' powerhouse squad closed the first half with a dominating run to set up a 170-150 romp over Team Durant in the league's 70th midseason showcase Sunday night.
The top vote-getters in each conference have picked the teams the last four years, a duty that James has earned every season.
He's now 4-0, having defeated Stephen Curry's squad in 2018 and teams selected by Milwaukee's two-time reigning MVP Giannis Antetokounmpo the previous two years.
This time, James drafted his two former adversaries and blew away Kevin Durant's team.
"I think he's got a future as a GM," said Damian Lillard, another of James' inspired selections. "He always gets it right."
Antetokounmpo was the game's MVP after shooting 16 of 16 for 35 points, even making all three of his attempts beyond the 3-point stripe. It was the most baskets without a miss in All-Star Game history.
"I'm just having fun," the Greek star said. "Sometimes when you're having fun and not thinking about the outcome, you just let your instincts take over."
Curry chipped in with 28 points, while Lillard had 32.
James spent most of the night admiring his drafting skill from the bench. He played less than 13 minutes, scored just four points, and didn't return to the court in the second half.
Instead, he munched a snack on the bench.
"I know he was managing his minutes tonight," Curry said. "We had a great time, representing him as captain. It was a memorable night for sure."
It sure was for Curry, who won the 3-point competition beforehand, then went 8 of 16 from beyond the arc in the game.
Lillard matched him, also making 8 of 16 from 3-point range.
This All-Star Game sure was different than the previous 69.
Determined to pull off an exhibition that is huge for TV revenue and the league's worldwide brand, the NBA staged the game in a mostly empty downtown arena, a made-for-TV extravaganza that was symbolic of the coronavirus era.
Despite extensive safety protocols in place, two players didn't even make it to tipoff. Philadelphia stars Joel Embiid and Ben Simmons were ruled out because they got haircuts from a barber who tested positive for COVID-19.
The only good thing for Durant: He didn't have to participate in this shellacking, sitting out the game with an ailing hamstring.
Bradley Beal led Team Durant with 26 points.
On a night highlighting Historically Black Colleges and Universities, Team LeBron swept the first three quarters and cruised to the final target score, earning a total of $750,000 for its charity, the Thurgood Marshall College Fund.
The game got out of hand late in the second quarter.
With scant defence being played, Team LeBron took turns dunking off alley-oop passes. Chris Paul delivered back-to-back lobs that Lillard and Curry slammed through. Then, it was Paul on the receiving end of a payback pass from Curry.
After showing it could handle shots up close, Team LeBron headed outside in the final seconds of the half.
Lillard pulled up for a 3-pointer from the half-court line. Not to be outdone, Curry knocked down one from virtually the same spot.
"It was a lot of fun," Lillard said. "Me and Steph shoot a lot of 3s. We shoot deep 3s. It was 3, 3, 3, 3, 3."
Amid the joyful moments, the atmosphere at State Farm Arena was downright eerie compared to a normal All-Star Game.
Instead of a packed house, with A-list celebrities crammed into prime courtside seats, this game was attended by a smattering of hand-picked guests. They had plenty of room to spread out in a 17,000-seat venue that was essentially transformed into a giant television studio, with socially distanced spectators kept far from the court.
Towering video screens were set up behind the benches. Vegas-style lights flashed around the arena. Recorded crowd noise blared over the sound system. The entertainment was provided by the host Atlanta Hawks, who didn't have any players in the game but were represented by their cheerleaders, drum line and DJ.
To address fears that one of its biggest events would become a super-spreader for a virus that has killed more than a half-million Americans, the NBA pared down its usual weekend-long ritual of extravagant parties, gridlocked streets and people watching
This All-Star Game was a one-night-only event, with a pair of skill competitions held shortly before the game and the Dunk Contest squeezed into the halftime break. The players flew in Saturday afternoon and were largely confined to a nearby hotel except for their time on the court.
"This is when everyone in basketball all over the world comes to one city," James said before the game. "We're able to sit back and go, 'Wow, this is the game we have built.' It's a beautiful weekend for all walks of life, on the floor and off the floor.
"But I'm sitting here in my hotel room, isolated. My family's not here. I'm by myself. It's just different, to say the least, compared to previous years."
OTHER WINNERS
All-Star Weekend was crammed into a few hours.
During the pregame, Indiana forward Domantas Sabonis defeated Orlando centre Nikola Vucevic in the Skills Challenge, redeeming last year's finals loss to Bam Adebayo. That was followed by Curry knocking off Utah's Mike Conley to capture the 3-Point Contest for the second time. The Warriors star added to the long-range title he won in 2015.
At halftime, Portland's Anfernee Simons defeated New York Knicks rookie Obi Toppin in the Slam Dunk Contest, nearly kissing the rim with his winning throw-down. Cassius Stanley of the Indiana Pacers was eliminated in the opening round.
TIP-INS
Team Durant: Zion Williamson of New Orleans started the game in place of Embiid. The Pelicans forward had 10 points. … Durant's team heaved up 72 3-pointers, but made only 27 (37.5%).
Team LeBron: Paul had 16 assists, passing Magic Johnson's record for most career All-Star assists with 128. … Lillard ended the game with another long 3-pointer. Curry was waiving to the spectators before it even went in. … James' team shot 63.6% from the field, including 31 of 61 from 3-point range.
UP NEXT
The 71st All-Star Game will be held Feb. 20, 2022, at Rocket Mortgage FieldHouse in Cleveland. The 2023 game is set for Salt Lake City, followed by Indianapolis in 2024.
___
Follow Paul Newberry on Twitter at https://twitter.com/pnewberry1963 His work can be found at https://apnews.com/search/paulnewberry
___
More AP NBA: https://apnews.com/NBA and https://twitter.com/AP_Sports
Oilers' depth to be tested again with McDavid, Draisaitl reunited – Sportsnet.ca
EDMONTON — As the Ottawa Senators arrive in Northern Alberta in hopes of solving an opponent who is 4-0 against them this season, a special surprise awaits the North's last place team: Connor McDavid and Leon Draisaitl on the same line.
Welcome to Edmonton!
Since moving on to separate lines last season, reuniting the Oilers' two superstars has been a tactical last resort for Oilers head coach Dave Tippett. Like on Saturday, when his team needed a spark against Calgary he re-jigged his lines mid-game, and McDavid and/or Draisaitl were in on all three goals in a 3-2 Oilers win over Calgary.
So he'll stick with that unit tonight — with Kailer Yamamoto on the right wing — while building a second line of Ryan Nugent-Hopkins between Tyler Ennis and Jesse Puljujarvi. It's a relatively new look that will test Edmonton's support scoring.
"It puts pressure on that depth to contribute. We haven't tried it to this point," Tippett said. "We know that Connor and Leon are going to drive some offence, but to be a good team we have to have that throughout our lineup. Not just chipping in, but we need consistency."
On one hand, with last change against an Ottawa team with a young defence corps — and likely giving rookie Joey Daccord only his second NHL start in goal — putting No. 97 and 29 together might give you all the offence you need from one line. As a backup, it's fair to expect the Oilers' other three lines to win their matchups against an Ottawa team that has given up the most goals per game (3.89) in the NHL this season.
"It's fun to watch for us (players) too, watching them out there together. They elevate each other," said Ennis of the Oilers' two top players. "For us, it's important that we contribute. We're going to have to — they can't play the whole game. Our depth becomes even more important."
Here's a look at the lineups tonight, after an optional morning skate for the Oilers and nothing for Ottawa, which won 4-3 in a shootout in Calgary Sunday night.
Oilers Lines
Dominik Kahun is out of this lineup, Mikko Koskinen gets the start, and after a decent outing against Calgary, Tippett is going back to a D-pairing of Ethen Bear and Caleb Jones. He's trying to help them both find their games — neither player has been as good this season as they were last.
"If they can get their game together it just makes us a lot better back there," Tippett said.
Forwards
Draisaitl, McDavid, Yamamoto
Ennis, Nugent-Hopkins, Puljujarvi
Shore, Khaira, Turris
Neal, Haas, Chiasson
Defence
Nurse, Barrie
Russell, Larsson
Jones, Bear
Goaltender
Koskinen
As for the Sens, they're looking for a way to beat an Oilers team that defeated them four times in a 10-day span from Jan. 31 to Feb. 9. After two more decisive wins in Edmonton (8-5, 4-2), the teams played two competitive games in Ottawa, where the Oilers prevailed 3-1 and 3-2.
Matt Murray played Sunday in Calgary, so we expect Daccord to go tonight. It is believed that Christian Wolanin could be in for Erik Brannstrom on defence.
Forwards
Tkachuk, Tierney, C. Brown
Paul, White, Dadonov
Stützle, Norris, Batherson
Dzingel, Anisimov, Watson
Defence
Chabot, Zaitsev
Reilly, Zub
Wolanin, Gudbranson
Goaltender
Daccord
Centre of Attention
With Nugent-Hopkins moving back to centre, one of the issues Edmonton could have on its second lines is faceoffs. This season, the trio of Nugent-Hopkins (37.5%), Ennis (75% on just four draws) and Puljujarvi (0-for-2 all season) has had little success or experience in the circle.
Nugent-Hopkins has evolved into a nice second-line centre or left-winger, but his career 44.3% faceoff percentage has been an issue through 10 NHL seasons. He's taking the line swap in stride, a chilled veteran who can play wherever the coach asks him to.
"I don't think we've thought about it as much as you (media) guys," he said after the fourth question on the new lines. "Nobody is going to be gripping their sticks too tight, or thinking 'We have to score now because (McDavid and Draisaitl) are playing together.'
"We want to have secondary scoring, no matter who's playing with who. The good teams in the league, they get scoring from every line."
Tippett built the unit with the right components to provide some offence, he figures.
While Nugent-Hopkins and Ennis are both adept at making "good plays in tight places," Tippett said, "Puljujarvi is probably our best forward at creating loose pucks and getting to the front of the net. (He is) a big guy whose work ethic has been very good for us.
"When you put a line together you're looking for some chemistry, some symmetry between the three. On paper it looks like it should be effective, but you've got to get in games to see where it goes."
The game begins a run of 12 contests in 21 days for Edmonton. Put another way, that's three straight four-game weeks.
Buckle up.
NBA All-Star Takeways: Curry, Lillard cook competition with long threes – Sportsnet.ca
The 2021 NBA All-Star game has come to a close and despite playing in the midst of a global pandemic, the event went ahead mostly without complication.
Cramming the usual weekend's worth of events into one Sunday extravaganza made for a longer day than usual, but it was still as entertaining as a generally uncompetitive basketball game with the world's best players is going to get.
Given the fact this was an All-Star Game played while COVID-19 is still very much a large part of all of our lives, here's a look at 19 things that we felt were pretty cool from the NBA's truncated all-star celebration.
No Embiid and Simmons
As mentioned off the top, the All-Star Game went by mostly without complication, meaning that there was still some complication.
Case in point, just hours before the festivities were set to begin on Sunday it was revealed that Philadelphia 76ers all-stars Joel Embiid and Ben Simmons weren't going to be able to participate anymore because contact tracing revealed they had been in contact with someone who tested positive for COVID-19 — reportedly their barber.
So, with there being so little time the NBA did the responsible thing and held the two out of the game. A grim reminder before the all-star festivities started that this was still an event that, perhaps, shouldn't even have played in the first place.
Zion makes some history
There was some good to come about the two Sixers stars missing the event, however.
New Orleans Pelicans super sophomore Zion Williamson got to start in his first-ever All-Star Game, taking Embiid's place, becoming the fourth-youngest player to do so behind such names as Kobe Bryant, LeBron James and Magic Johnson. Not bad company.
Williamson finished in the game with 10 points and threw down a few nice slams in the game, but will likely be remembered for his unfortunate blown dunk attempts.
Cmon Zion pic.twitter.com/9JkJKoVxT0

— NBA Central (@TheNBACentral) March 8, 2021
What was James Harden wearing?
Seriously, what is this? An indoor raincoat?
That 9-time All-Star drip @JHarden13 #NBAAllStar pic.twitter.com/tJQ07tAQCZ

— Brooklyn Nets (@BrooklynNets) March 7, 2021
Covington's all-star moment
A big part of the all-star proceedings was the celebration of Historically Black Colleges and Universities (HBCUs), which is why Portland Trail Blazers forward Robert Covington's inclusion in the all-star events was so cool.
Covington is a proud alumnus of HBCU Tennessee State University and got to show some of his Tiger pride, representing his alma mater in the Skills Challenge.
He was eliminated in the first round, but that's unimportant compared to the great surprise he gave to two current Tennessee State students before the event started.
Why can't guards win the Skills Challenge anymore?
Indiana Pacers all-star Domantas Sabonis won the Skills Challenge, beating out fellow big man Nikola Vucevic of the Orlando Magic.
SABONIS WINS THE SKILLS CHALLENGE pic.twitter.com/GsMTo8G6tO

— Bleacher Report (@BleacherReport) March 8, 2021
With his victory, Sabonis became the fifth forward to win this particular event in six years. The last guard to win it was Spencer Dinwiddie in 2018.
Sure, bigs are more skilled than ever before, but surely a competition about dribbling fast, passing and shooting should favour the guards, no?
Mike Conley is an NBA All-Star… and a damn good shooter, too
Though it came after unfortunate circumstances forced Phoenix Suns guard Devin Booker to miss the All-Star Game with a knee injury, Mike Conley — his injury replacement — was finally named to the team in his 14th NBA season.
Conley was quiet in the game proper, but that doesn't matter because his impact was felt beforehand in the three-point contest.
Brought in as Booker's replacement in that event too, Conley more than held his own as he pushed eventual winner Steph Curry in both rounds.
MIKE CONLEY IS ON FIRE pic.twitter.com/WyE6xyFqaO

— Bleacher Report (@BleacherReport) March 8, 2021
Chef Curry cooked the competition in the three-point contest
Stephen Curry is an inhuman shooter.
It's a privilege to watch him do what he does.
MUST-SEE #NBAALLSTAR ACTION RIGHT NOW ON TNT!
Stephen Curry puts up a RECORD score of 31 to advance to the #MtnDew3PT finals on TNT! pic.twitter.com/6ZW181i513

— NBA (@NBA) March 8, 2021
Stephen Curry puts up a final round score of 28 and connects on his final two shots to WIN the #MtnDew3PT for the 2nd time!
All of #NBAAllStar in One Night LIVE NOW on TNT pic.twitter.com/QOxqZnvpd4

— NBA (@NBA) March 8, 2021
"This one goes out to @KlayThompson" @StephenCurry30 || #NBAAllStar https://t.co/S7Dm9vuO1p pic.twitter.com/Dxz8Tcz7Zt

— Golden State Warriors (@warriors) March 8, 2021
Needed more Common
The HBCU marching bands in the player introductions were cool, but the meme-worthy intros from Common from a year ago were missed, particularly because he was still part of the presentation anyway.
The anthems were both fantastic
Shoutouts to Mississauga, Ont.'s Alessia Cara and the incomparable Gladys Knight for two tremendous renditions of O Canada and the Star-Spangled Banner.
Chef Curry cooked in the actual game itself
Curry had his fingerprints all over the game as he finished with 28 points, going 8-for-16 from deep, including a couple of truly outrageous triples that helped set the tone of the game for Team LeBron in the first quarter.
WHAT A SHOT! THE #NBAALLSTAR GAME IS LIVE RIGHT NOW ON TNT!
Stephen Curry hits the three and reacts on TNT! pic.twitter.com/qvj04p8c0A

— NBA (@NBA) March 8, 2021
STEPH FROM THE LOGO.. #NBAALLSTAR GAME LIVE ON TNT RIGHT NOW!
Steph Curry has a game-high 12 PTS late in the 1st Q. pic.twitter.com/Mi2QrL6o5J

— NBA (@NBA) March 8, 2021
Schoolyard tip-off
Moments like seeing Conley and Chris Paul tip-off the second quarter is what makes All-Star Games great.
Chris Paul wins the 2nd quarter opening tip over Mike Conley! #NBAAllStar on TNT pic.twitter.com/IKVajdvBux

— NBA (@NBA) March 8, 2021
More Curry? More Curry!
In case you hadn't noticed, there was a bit of a trend with this year's game and Curry being involved in a lot of the game's best moments like this ridiculous shot he hit in the second quarter.
STEPH FROM NEAR HALFCOURT! GET TO THE #NBAALLSTAR GAME ON TNT NOW!
Curry (5 threes) doing Curry things in the first half! pic.twitter.com/kMpkM350Sq

— NBA (@NBA) March 8, 2021
Bet you forgot these guys could dunk, huh?
A reminder for you that all NBA players are freakishly athletic compared to any other normal human being: Seeing Curry and Paul get up for alley-oops.
CURRY AND CP3 HAMMER IT HOME! TURN ON TNT NOW!
Point guards getting UP in the #NBAAllStar Game! pic.twitter.com/421fsJhGwn

— NBA (@NBA) March 8, 2021
Steph vs. Dame, Part 1
The two best long-range shooters in NBA history on the same team deciding to go shot for shot at the end of the first half was truly a sight to behold.
DAME AND STEPH WITH BACK-TO-BACK HALFCOURT SHOTS.#NBAAllStar pic.twitter.com/7weoIr24VR

— Sportsnet (@Sportsnet) March 8, 2021
Cassius Stanley was robbed!
Halftime of the All-Star Game saw a shorter dunk contest with Indiana Pacers G-Leaguer Cassius Stanley, New York Knicks rookie Obi Toppin and Portland Trail Blazers youngster Anfernee Simons making up the three-man field.
The dunk contest was actually pretty good as all these guys have serious bounce, but Stanley was robbed blind with his opening dunk only getting a 44 as it was probably the best dunk of the night.
Cassius Stanley, Obi Toppin and Anfernee Simons showing off their bounce early in #ATTSlamDunk!
All of #NBAAllStar in One Night LIVE NOW on TNT pic.twitter.com/PtqZWgVIXm

— NBA (@NBA) March 8, 2021
In the end, though, Simons won thanks to his consistency and his gravity-defying bounce that notably saw him nearly kiss the rim on his final attempt, in addition to paying homage to the great Tracy McGrady.
Anfernee Simons pullin' off the T-Mac during the #NBAAllStar Dunk Contest. pic.twitter.com/6cMqxkh6yo

— Sportsnet (@Sportsnet) March 8, 2021
Anfernee Simons tried the kiss the rim dunk pic.twitter.com/hZYyQdPcTl

— Bleacher Report (@BleacherReport) March 8, 2021
And just one last note on the dunk contest, this dunk from Toppin — doing a windmill over his teammate Julius Randle and his dad — was cool as hell!
Obi Toppin windmill over his dad and Julius Randle pic.twitter.com/KRsErC79mj

— Bleacher Report (@BleacherReport) March 8, 2021
Giannis takes over in the third quarter
Because of Curry's fireworks in the first half the outrageous performance from his Team LeBron teammate Giannis Antetokounmpo sort of went under the radar.
Antetokounmpo finished the first half with 24 points on perfect 9-for-9 shooting, firmly putting himself in the MVP discussion.
Then the third quarter hit and he won the award for himself right then and there as he went 5-for-5 from the field for 11 more points, including this insane heat-check three.
GIANNIS.
CAN.
NOT.
MISS.
He's now 16 FOR 16! #NBAAllStar on TNT pic.twitter.com/odUuEiYTSM

— NBA (@NBA) March 8, 2021
Antetokounmpo finished a perfect 16-for-16 in the game for 35 points and was able to easily add an All-Star Game MVP trophy to the two league MVP awards that he has in his trophy case.
Steph vs. Dame, Part 2
Unlike last year's Elam Ending in the fourth, the lead Team LeBron built was simply too much, leaving a lot of wiggle room for those guys to try to close it out.
Case in point with Team LeBron just three points away from hitting the target score of 170, Curry tried to end it from half court, but missed, setting the stage for some patented Damian Lillard Dame Time.
WHAT TIME IS IT!?
Damian Lillard with the game-winner for Team LeBron. #NBAAllStar pic.twitter.com/hzogyFdkP4

— Sportsnet (@Sportsnet) March 8, 2021
Team LeBron completely dominant
Though there were some bright spots to be seen from Team Durant, Sunday's game was all about Team LeBron, who won every single quarter and ended up raising $750,000 for the Thurgood Marshall College Fund from their play on the court in the game, alone.
As Antetokounmpo said before the game, "It's over guys. Me, LeBron, Luka, Jokic and Steph? Man, that's a good starting five."
LeBron is a really good all-star GM
LeBron James has had the honour of being a captain every year since the All-Star Game went to a captain pick-em format and he's made the most of it.
Team LeBron is now 4-0 in All-Star Games.