Sony announces Sept. 9 PlayStation Showcase, says it will reveal 'future of PS5' – MobileSyrup
Sony has revealed plans to hold a special PlayStation Showcase livestream on September 9th at 10am ET/1pm PT.
The stream will run for 40 minutes and is being teased as "as look into the future of the PS5." In a follow-up tweet, Sony says that the event will include updates from its several PlayStation Studios, and more information regarding games releasing this coming holiday and in the future.
It's unclear what we'll see during the event, but there's a strong possibility we'll learn more about the PlayStation 5's upcoming software update that adds M.2 SSD support to the console along with UI changes and 3D audio support for built-in TV speakers.
Get a sneak peek at the future of PS5, with updates from PlayStation Studios and industry-leading devs. Hope to see you there!

— PlayStation (@PlayStation) September 2, 2021
We'll also likely get another look at Horizon Forbidden West, the sequel to Horizon Zero Dawn, which was recently delayed to February 18th, 2022, information about the current-gen version of GTA V and possibly a few surprises.
As always, keep an eye on MobileSyrup and the SyrupArcade for all of our coverage from the upcoming PlayStation Showcase.
iQOO 11 Flagship Smartphone Debuts Internationally, Delivering Next-Level Mobile Gaming Experience – Canada NewsWire
SHENZHEN, China, Dec. 8, 2022 /CNW/ — iQOO, an independent sub-brand of vivo, announced the international debut of its iQOO 11 flagship smartphone, part of the brand's trailblazing iQOO 11 lineup built for powerful performance. iQOO 11 delivers a next-level gaming experience powered by a top-of-the-line dual-chip system, cutting-edge display technology, and full-sensory game control for immersive mobile gaming.
"The iQOO 11 flagship smartphone is made with explorers in mind—those who seek to enjoy life to the fullest and who dare to push the boundaries in everything they do. iQOO 11 is tailored to our consumers' lifestyles by offering powerful, all-around performance," said Allan Feng, Global SVP at iQOO. "Gaming prowess is an integral part of the iQOO brand, and this lineup is perfectly crafted to deliver the ultimate immersive mobile gaming experience, truly showcasing our pursuit of technological innovation."
This year, iQOO continues to celebrate the world's passion for high-end performance and speed as a premium partner of BMW M Motorsport.
Powerful Performance
iQOO 11 is powered by a new performance trio consisting of Snapdragon® 8 Gen 2 Mobile Platform, LPDDR5X and UFS 4.0. iQOO 11 is one of the first smartphones to launch equipped with Qualcomm's latest top-performance chip—Snapdragon® 8 Gen 2 Mobile Platform. With the Snapdragon® 8 Gen 2 Mobile Platform, peak CPU and GPU performance is improved while keeping battery consumption at a minimum, providing the perfect balance between performance and battery life during and after prolonged gaming. In addition, the LPDDR5X and UFS 4.0 give iQOO 11 the latest in high-performance memory and storage, bringing users smooth and fast app startup and caching.
iQOO 11 is also equipped with Extended RAM 3.0, which adds up to 8 GB of extended virtual memory to ensure stronger, smoother performance overall, supporting as many as 43 apps running in the background.[i]
However, powerful performance requires an equally powerful battery and accompanying cooling capabilities. iQOO 11 boasts a large 5000 mAh battery and 120W FlashCharge, so it can be conveniently charged to 100% in 25 minutes.[ii]
The device is built with a Vapor Chamber Liquid Cooling System featuring a 4,013 mm2 stamped stainless steel vapor chamber with three graphite layers to ensure an optimal temperature. Furthermore, iQOO 11 features a unique aircraft-grade aluminum frame, structurally designed to maintain the top section of the device up to 2°C cooler, specifically during intense gaming scenarios. Lastly, the device is capable of detecting and diagnosing instances of abnormal heating, ensuring a safer experience for all.
"Monster Inside" Gaming Experience
iQOO 11 offers a superb gaming experience powered by advanced display technology, a V2 Chip, and full-sensory game control that ensures enhanced precision and immersive gameplay.
iQOO 11 boasts a 6.78-inch 2K E6 AMOLED display which ensures vivid, lifelike images, even under bright light, serving the ultimate visual experience. With the V2 Chip, iQOO 11 can maintain smooth visual effects with crystal-clear details by using motion prediction and compensation to reduce screen smearing and lagging. The V2 Chip supports high-frame-rate games. With the latest Game Frame Interpolation technology, iQOO 11 can boost the frame rate to 90/120 fps through frame interpolation, even when the game does not support these frame rates, delivering a smoother and more immersive gaming experience.
On top of that, iQOO 11 supports In-Display Dual Monster Touch. With this feature, the left and right sides of the screen can be operated separately, and users can play with four fingers instead of two for faster, more convenient in-game control. The Dual X-Axis Linear Motor enriches the haptic experience, delivering lifelike damage feedback and better movement indication in games. The motors on the left and right sides can precisely indicate where the actions in the game are happening, such as a car passing nearby, and vibrate accordingly to better immerse the player in the scenario.
iQOO 11 has a Dual Stereo Speaker placed vertically along the device to ensure a more balanced stereo effect, providing better feedback and adapting to specific scenes for either music, videos, or games. Using a Sound Field Expansion Algorithm, the device boosts the sound field by 50% to 120 degrees, helping users hear all the nuances of sound in games and videos.
Exquisite Design to Suit Your Style
The new iQOO 11 comes in two color schemes, the Legend edition and the Alpha edition. The design of the iQOO flagship series in general is inspired by BMW M Motorsport. To deliver a unique sensory experience with each design, iQOO focuses on exploring a myriad of materials as well as implementing innovative production processes.
The back panel of the Legend edition is bedecked with the iconic iQOO triple-color stripe, an amalgamation of brand colors from iQOO's premium partnership with BMW M Motorsport. Each color has its own meaning: red represents the passion and excitement for racing, black symbolizes the pursuit of technological innovation, and blue represents the fun of exploring the unknown. Taken together, the three colors tell the story of how "Fascination Meets Innovation". The recognizable racing stripe sits on top of an eye-catching Clous de Paris pattern, enhancing the elegant aesthetic of the device.
The material composition of the iQOO 11 Legend edition combines fiberglass and vegan leather to form a strong and durable back panel that ensures a comfortable grip. Furthermore, the device has a stain-resistant coating applied on top of the silicone leather to give it a high-quality finish that is soft to the touch.
The iQOO 11 Alpha edition blends advanced technology into the material and is built with AG glass, ideal for those looking for a classic, premium aesthetic.
Enhanced Photography Capabilities
iQOO 11 comes equipped with a robust camera module, empowering users to explore their creativity and capture photos and videos in various scenarios. iQOO 11 features a versatile rear camera system consisting of a 50 MP GN5 Ultra-Sensing Camera, a 13 MP Telephoto & Portrait Camera, and an 8 MP Ultra Wide-Angle Camera, offering a wide range of advanced features. The new V2 Chip and the Snapdragon® 8 Gen 2 Mobile Platform work together to support all-around camera performance upgrades, delivering unparalleled night photography and videography capabilities for pure, noise-free photos and videos. With Pure Night View and 4K Super Night Video, which adopts the upgraded Raw Video NR 3.0 algorithm, iQOO 11 can create professional-level content even in extremely dark scenes.
For optimal motion photography, iQOO 11 has a Zero-Shutter-Lag Motion Snapshot feature that tackles the issue of shutter lag, the time difference between when the shutter is triggered and when the photo is taken, providing a near-instant capture response and enabling users to capture what they see easily. To capture motion at night, iQOO 11 also offers a Night Camera Panning feature, which relies on the device's stabilization capabilities to minimize motion blur and significantly improve photo clarity in low-light sports shots.
In addition, the overall package is enriched with a variety of software additions, such as Studio-Quality Superb Portrait, which leverages AI Skin Retouching and AI HD algorithms, to produce professional-looking, natural portrait effects, and offers users master-level photo retouching features.
Availability
iQOO 11 will be launched in Indonesia and Malaysia on December 8, 2022, and will be available for purchase following the announcement. The device will be launched in Thailand and available for purchase on December 15, 2022. iQOO 11 will be launched in India on January 10, 2023, and will be available for purchase starting from January 13, 2023.
About iQOO
iQOO, a sub-brand of the vivo group, differentiates itself in performance and Esports experience. iQOO leverages the research, quality assurance and after-sales service expertise of the vivo group, and follows the brand ethos of I Quest On and On to push boundaries, innovate boldly and share the excitement of exploring future technology. With products offering Esports-standard capabilities, iQOO aims to become the top choice of consumers who are passionate about performance and gaming.
For more information, please visit www.iQOO.com.
[i] This data is based on iQOO laboratory tests performed using an iQOO 11 256GB model with 16GB RAM.
[ii] Charging data is obtained from our laboratory test environment. Test environment: ambient temperature and phone temperature of 25℃±1℃. Test conditions: 1% of battery capacity, all phone services and features turned off except for voice calls, screen off, and an official standard charger and cable used. Actual data may vary depending on the test environment, charging situation, original phone temperature, long-term battery wear, and other factors.
SOURCE vivo
For further information: Cindy Zhang, +86-15521338199, [email protected]; Kristina Miladinoska, +86-188-1155-6089, [email protected]
How to Evaluate the Best Virtual Data Rooms for Your Company Needs?
Choosing a corporate product is quite difficult, especially if you are choosing a virtual data room, of which there are quite a few at the moment. If you want to choose software with an assessment, you've come to the right place. In this article, we will describe how and what questions you should ask before choosing a virtual data room.
A virtual data room explained
The virtual data room is capable of storing all corporate information, limiting access to it by the level of secrecy. This also includes various tools to centralize management as well as increase communication between employees in different departments. The functions of each data room can be divided into the following subcategories:
Easy document management. For the sake of document management, this technology was created. This can include various tools that allow you to organize documents and files that are corporate, through artificial intelligence or personal management. Different developers of virtual data rooms offer a variety of tools.
Easily enhance communication between employees. Most companies find that communication between departments is simply nonexistent or poor. This results in high error rates, problems with task fulfillment, and a lack of full coordination on projects that should be done by the organization as a whole. Due to errors that occur at the root cause, a lack of communication results in a loss of funds and a loss of reputation. Data room software not only streamlines the entire workflow but also takes communication to a whole other level.
Security is exceptional. Data rooms have the same level of security that various military formations or high-level financial corporations have. Among these corporations, you can point out the World Bank and others that are fundamental all over the world. You have access to the most advanced encryption and local server protections that are located around the world. All the security requirements of such a serious service are fulfilled at the level of both independent certifications and permission to work from government regulators.
Ability to adjust local security. Security policies are currently in place in every organization, which is vital during the passage of both business transactions and general work. Data room software can not only provide flexible security policy adjustments but also adjust to your company's existing security policies if you haven't used the tool before.
Virtual data rooms are also used in short-term business transactions. Most entrepreneurs end up using this tool even after going through the business transaction process. This is due to the rapid growth of this technology and the increased ease of organizing workflow. Choose the option that's right for you at https://dataroom-software.ca/ma/.
Effective optimization of the workflow
Most businesses need to optimize their time. Time is currently an exceptional factor within which any type of business can grow. You could be losing money if you or your staff are wasting time. The majority of aspiring business owners merely don't comprehend how they can restore the lost funds. The solution is obvious. A virtual data room gives you all the resources you require to effectively optimize each of the processes that make up your daily routine. Let's start with the most crucial:
Artificial intelligence and other cutting-edge technologies are used to help your work run as smoothly as possible. This is not a fundamental setup that is present in every single virtual data room example. This service is provided by some developers, but it can be quite expensive. Because they can afford it, the majority of big businesses are embracing this technology. Since artificial intelligence is still largely unexplored, there is a huge opportunity for future research into this phenomenon. The state of the world in a few decades is something we can only speculate about.
Increased security optimizes the workflow. Since the majority of the best data rooms already have them by default, you don't currently need to install or purchase additional security features like firewalls and network activity monitoring. All of this frees up the corporate network and enables you to maintain control over your workflow. As a result, you save time, and this feature only makes your money grow.
Numerous tools are available in the data room due diligence to help you streamline your work with documents. Time can be saved through advanced document organization, which can be done manually or automatically, as well as a complete transition to a paperless workflow. Nowadays, it is possible to stop using paper. Printing has long been the primary workflow driver in the majority of technology companies. They are the ones growing more quickly than all the other types of businesses, which are largely still using traditional workflows because they are technology-adaptable.
These factors significantly contribute to process optimization. Independent researchers and business owners who have adopted this technology into their standard operating procedures claim that it has significantly increased their income. Projects are completed as quickly as possible, and employee communication has increased significantly.
How to choose the right products with an evaluation
It is quite easy to choose the right application that fits all your requirements. You only need to consider some factors that are specific to your company and the needs that your company has. Answer the following questions:
How are you going to use the secure data room? Some entrepreneurs use a virtual data room on a regular basis, but others use it as a situational solution in complex business transactions. Your decision determines the price and further productivity that your company will receive. If you choose the situational option, then you need one of the more expensive virtual rooms because it has the necessary tools to optimize the business transaction. If you chose the permanent option, you should choose a virtual data room that can fit into your monthly budget. The difference between the two types of software is that the more expensive one will have the most advanced features, but you are unlikely to be able to spend that much money permanently. The second option provides you with good features but doesn't require a big fee to use them.
Would this software be a rational use of the data in your case? You can start with the amount of documentation that your team is constantly using. If it is a huge array of documents, then you need a virtual data room; if not, then you need to consider whether you need to spend money on this technology.
How much money are you willing to spend on this technology? Virtual data rooms are a fairly complex product in a highly competitive environment. That is, almost any price range can be found. Of course, cheap or completely free products will give you fewer features than the premium version. In most cases, if you choose a cheap product, you pay for it with reduced features and little disk space.
Do your employees need training? If your employees need help familiarizing themselves with the tool, then choose data room providers that offer offline lectures. This is the most productive option for training, as online sessions may not be effective enough for your employees. Also, choose a product that provides ongoing technical support through an online widget on the website or a phone call.
Just ask yourself these few questions, make a plan to use an M&A data room or any other data room software, and you'll likely be able to find the perfect one for you.
FBI Calls Apple's Enhanced iCloud Encryption 'Deeply Concerning' as Privacy Groups Hail It As a Victory for Users – MacRumors
Apple yesterday announced that end-to-end encryption is coming to even more sensitive types of iCloud data, including device backups, messages, photos, and more, meeting the longstanding demand of both users and privacy groups who have rallied for the company to take the significant step forward in user privacy.

‌iCloud‌ end-to-end encryption, or what Apple calls "Advanced Data Protection," encrypts users' data stored in ‌iCloud‌, meaning only a trusted device can decrypt and read the data. ‌iCloud‌ data in accounts with Advanced Data Protection can only be read by a trusted device, not Apple, law enforcement, or government entities.
Following its announcements, the EFF or Electronic Frontier Foundation, a group that has long-called for Apple to enable end-to-end encryption and take more steps to safeguard user privacy, put out a statement applauding the new feature and Apple's renewed commitment to privacy.
We applaud Apple for listening to experts, child advocates, and users who want to protect their most sensitive data. Encryption is one of the most important tools we have for maintaining privacy and security online. That's why we included the demand that Apple let users encrypt iCloud backups in the Fix It Already campaign that we launched in 2019.
Meredith Whittaker, CEO of the popular encrypted messaging app Signal, said the decision by Apple to offer end-to-end encryption "is great." "There's been enough pressure and enough narrative work that they see the side of history forming. It's really incredible," Whittaker told The Washington Post.
The Surveillance Technology Oversight Project, or S.T.O.P, called Advanced Data Protection "essential and overdue." Despite the announcement, the group is "disappointed" that end-to-end encryption will require users to opt-in and is not to be enabled by default. Fox Cahn, the group's executive director, said, "it's good to see Apple's privacy protections catching up with its sales pitch, but making these protections opt-in will leave most users vulnerable."
For years, Apple has touted its privacy record while leaving its users vulnerable, particularly to police surveillance. Much of the data users store on iCloud is just a court order away from becoming a policing tool. With these changes, Apple will keep up with the privacy best practices that other companies have followed for years. But it's disappointing that users have to opt-in to many of these new protections, leaving the vast majority at risk.
Fight for the Future, another privacy-focused advocacy group, said on Twitter that Apple's announcement of end-to-end encryption brings the company's marketing of being privacy-focused to reality. "Apple's reputation as the pro-privacy tech company has long been at odds with the reality that ‌iCloud‌ backups aren't secured by end-to-end encryption. This news means people's personal messages, documents, and data will be secure from law enforcement, hackers, and Apple itself." The group is now calling upon Apple to implement RCS messaging into iPhone, a move the group says is a "non-negotiable next step."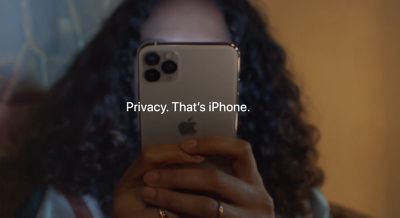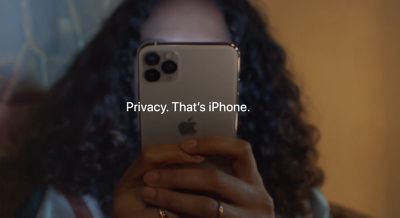 While privacy groups and apps applaud Apple for the expansion of end-to-end encryption in ‌iCloud‌, governments have reacted differently. In a statement to The Washington Post, the FBI, the largest intelligence agency in the world, said it's "deeply concerned with the threat end-to-end and user-only-access encryption pose." The bureau said that end-to-end encryption and Apple's Advanced Data Protection make it harder for them to do their work and that they request "lawful access by design."
"This hinders our ability to protect the American people from criminal acts ranging from cyber-attacks and violence against children to drug trafficking, organized crime, and terrorism," the bureau said in an emailed statement. "In this age of cybersecurity and demands for 'security by design,' the FBI and law enforcement partners need 'lawful access by design.'"
Former FBI official Sasha O'Connell also weighed in, telling The New York Times "it's great to see companies prioritizing security, but we have to keep in mind that there are trade-offs, and one that is often not considered is the impact it has on decreasing law enforcement access to digital evidence."
In January 2020, Reuters reported that Apple dropped plans to encrypt user data in ‌iCloud‌ at the behest of the FBI, which was concerned such a move would hinder investigations and its intelligence efforts. In an interview yesterday with The Wall Street Journal's Joanna Stern, Apple's vice president of software engineering, Craig Federighi, labeled the report as inaccurate. "I've heard that rumor, but I don't know where it came from."
In that same interview, Federighi said Apple "deeply appreciates the work of law enforcement and supports the work of law enforcement. We view that we really have the same mission at heart which is to keep people safe." Apple says that Advanced Data Protection will be available to all US users by the end of this year, with plans to launch globally in early 2023.
Note: Due to the political or social nature of the discussion regarding this topic, the discussion thread is located in our Political News forum. All forum members and site visitors are welcome to read and follow the thread, but posting is limited to forum members with at least 100 posts.