SpaceX aborts launch attempt of sixth batch of Starlink satellites due to engine power issue
<p class="canvas-atom canvas-text Mb(1.0em) Mb(0)–sm Mt(0.8em)–sm" type="text" content="SpaceX was attempting to launch its sixth batch of Starlink internet broadband satellites, but the launch was aborted when the countdown timer reached zero. On the live feed of the launch, SpaceX engineers were heard to cite a "launch abort on high engine power," and the announcer presenting the webcast said that it was indeed an abort related to Merlin engine power, and SpaceX later provided added detail, including that the sequence was auto-aborted by its system." data-reactid="19″>SpaceX was attempting to launch its sixth batch of Starlink internet broadband satellites, but the launch was aborted when the countdown timer reached zero. On the live feed of the launch, SpaceX engineers were heard to cite a "launch abort on high engine power," and the announcer presenting the webcast said that it was indeed an abort related to Merlin engine power, and SpaceX later provided added detail, including that the sequence was auto-aborted by its system.
The announcer noted that the "vehicle appears to be in good health," which SpaceX later confirmed, which should bode well for resetting for another attempt. SpaceX has a backup opportunity on Monday, but the actual next launch attempt is still to be determined, likely as SpaceX investigates and learns more about what exactly was behind the engine power issue and when it makes sense to try again, given conditions on the launch range.
Standing down today; standard auto-abort triggered due to out of family data during engine power check. Will announce next launch date opportunity once confirmed on the Range

— SpaceX (@SpaceX) March 15, 2020
<p class="canvas-atom canvas-text Mb(1.0em) Mb(0)–sm Mt(0.8em)–sm" type="text" content="https://platform.twitter.com/widgets.js" data-reactid="22″>https://platform.twitter.com/widgets.js
This would've been a record fifth flight for the Falcon 9 booster used in this launch, as well as a first re-use of the fairing that protects the cargo. SpaceX has advised that it'll reveal when it'll make its net launch attempt once it can confirm those details, and we'll provide that info once available.
Hubble telescope discovers Galaxy-ripping quasar tsunamis in space – The Next Web
Quasar tsunamis discovered by astronomers using the Hubble Space Telescope erupt in the most energetic outflows of material ever seen. This outpouring of energy wrecks havoc with galaxies in which these enigmatic objects reside, altering the evolution of these families of stars.
Quasars are energetic cores of galaxies, composed of supermassive black holes fed by vast quantities of gas, stars, and planets. These bodies are capable of emitting a thousand times as much energy as the entire galaxies which host the bodies.
These quasar winds push material away from the center of the galaxy, accelerating gas and dust at speeds approaching a few percent of the speed of light. The pressure pushes aside material which could otherwise collapse to form new stars, making stellar formation more difficult, reducing the number of new stars formed. This new study shows this process is more widespread than previously believed, altering star formation throughout entire galaxies.
"These outflows are crucial for the understanding of galaxies' formation. They are pushing hundreds of solar masses of material each year. The amount of mechanical energy that these outflows carry is up to several hundreds of times higher than the luminosity of the entire Milky Way galaxy," Nahum Arav of Virginia Tech stated.
As the outflow blasts into interstellar material, it heats the medium to millions of degrees, setting the galaxy alight in X-rays. Energy pours out through the galaxy, producing a fireworks show for anyone capable of seeing it.
"You'll get lots of radiation first in X-rays and gamma rays, and afterwards it will percolate to visible and infrared light. You'd get a huge light show, like Christmas trees all over the galaxy," Arav explained.
Galaxies get blown away
I saw the whole universe laid out before me, a vast shining machine of indescribable beauty and complexity. Its design was too intricate for me to understand, and I knew I could never begin to grasp more than the smallest idea of its purpose. But I sensed that every part of it, from quark to quasar, was unique and — in some mysterious way — significant. — R. J. Anderson
This study could explain several mysteries in astronomy and cosmology, including why the size of galaxies is related to the mass of the supermassive black holes at their centers. It may also explain why so few massive galaxies are seen throughout the Cosmos.
"Both theoreticians and observers have known for decades that there is some physical process that shuts off star formation in massive galaxies, but the nature of that process has been a mystery. Putting the observed outflows into our simulations solves these outstanding problems in galactic evolution," said Jeremiah Ostriker, a cosmologist at Columbia and Princeton universities not involved with this current study. Below is a 3D animation video of a quasar by the European Southern Observatory (ESO).
[embedded content]
Outflows from quasars were studied by astronomers using the Cosmic Origins Spectrograph (COS) attached to the Hubble Space Telescope, the only instrument capable of carrying out the needed observations in ultraviolet wavelengths.
A second outflow measured by researchers on this study increased its speed from 69 million kilometers (43 million miles) per hour to 74 million KPH (46 million MPH) over a period of three years. Models suggest that such outflows should have been common in the early Universe. Researchers on this study believe this material will continue to accelerate for the foreseeable future.
Analysis of the data was published in the journal Astrophysical Journal Supplements.
This article was originally published on The Cosmic Companion by James Maynard, an astronomy journalist, fan of coffee, sci-fi, movies, and creativity. Maynard has been writing about space since he was 10, but he's "still not Carl Sagan." The Cosmic Companion's mailing list/podcast. You can read this original piece here.
Read next:

Scientists are working on new ways to recycle chemicals from electronic waste
Corona coverage
Read our daily coverage on how the tech industry is responding to the coronavirus and subscribe to our weekly newsletter Coronavirus in Context.
For tips and tricks on working remotely, check out our Growth Quarters articles here or follow us on Twitter.
Voyager 2 flew through a giant magnetic gas bubble during Uranus flyby – The Weather Network
When NASA's Voyager 2 spacecraft flew past Uranus in January of 1986, it gave us our first up-close look at the distant ice giant. Now, over three decades later, the data collected by the probe's sensors has revealed that it flew straight through an immense magnetic bubble, known as a plasmoid, that was ejected from the planet's atmosphere.
Uranus is certainly the oddball of all the worlds orbiting our Sun.
Tilted over on its side by some cataclysmic event in the early years of the solar system, this ice giant has a bizarre 'wobbly' magnetic field that scientists are still trying to make sense of, even now.
"The structure, the way that it moves… Uranus is really on its own," Gina DiBraccio, a space physicist at NASA's Goddard Space Flight Center and project scientist for the MAVEN mission, said in a press release.
Roughly 34 years ago, Voyager 2 discovered rings around Uranus, found never-before-seen moons circling it, and it took readings of the planet's extremely frigid atmosphere.
Voyager 2 flies past Uranus on January 24, 1986. Credit: NASA/JPL-Caltech
According to a new study, data from Voyager 2's flyby also picked up one other thing, which was missed at the time.
DiBraccio and fellow NASA Goddard scientist Dan Gershman were in the midst of planning possible missions for NASA to revisit the Ice Giant planets, Uranus and Neptune, but to stay this time. One aspect of this process is to look for compelling mysteries that a planetary spacecraft could investigate and potentially solve. Poring through the data collected by Voyager 2's Magnetometer instrument, over three decades ago, they found something interesting.
As the spacecraft swung by, at around 80,000 km above Uranus' cloudtops, it picked up a weird magnetic blip that lasted for just one minute of the total 45-hour flyby.

Magnetometer data from Voyager 2's Uranus flyby, showing the data averaged over 8-minute periods (red), and the same data plotted every 1.92 seconds (black), revealing the zigzag signature of a 'plasmoid'. Credits: NASA/Dan Gershman
After examining this blip closely, DiBraccio and Gershman came to the conclusion that it was a 'plasmoid' – an immense magnetic bubble being expelled from Uranus' magnetic field.
A plasmoid often forms as a planet's magnetic field is shaped by the solar wind, and influenced by solar storms. While the magnetic field lines near to the planet form a fairly spherical 'shield', the flow of the solar wind causes the outer field lines to stretch back into a 'magnetotail' on the night side the planet. If a solar storm or a fast stream of the solar wind pushes the field lines in the magnetotail closer together, they can 'reconnect', closing off a magnetic bubble that then gets caught up in the solar wind's flow.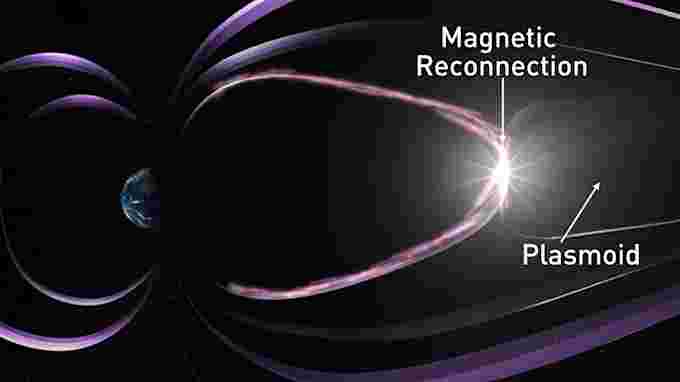 Magnetic reconnection in Earth's magnetotail forms a plasmoid bubble. Credit: NASA's Scientific Visualization Studio/Scott Sutherland
Based on what Voyager 2's Magnetometer picked up, the spacecraft apparently passed straight through one of these plasmoids as it was passing Uranus. At roughly 400,000 kilometres wide, this magnetic bubble was found to be filled with mostly ionized hydrogen. There was a bonus, too. The magnetic field inside the bubble was found to form smooth, closed loops. This told DiBraccio and Gershman that the ionized hydrogen was very likely a blob of Uranus' atmosphere, being carried away by the plasmoid.
While plasmoids are known to form in Earth's magnetotail, and they've been observed at Mercury, Jupiter and Saturn, this is the very first evidence that this process happens at Uranus too.
Currently, there is great interest in the space exploration community to send new missions out to the Ice Giants, as we have with the Gas Giants, Jupiter and Saturn. After Voyager 1 & 2's flybys of the outer planets, NASA sent Galileo, and then Juno, to orbit Jupiter. Cassini explored Saturn, and its rings and moons, for over 14 years.
Sending spacecraft to Uranus and Neptune would give us new up-close looks at these distant worlds. It would provide new data that could help scientists solve existing mysteries that were discovered, either by telescopes or the Voyager probes. It would undoubtedly give us new mysteries to study, about the Ice Giants themselves and about our solar system in general.
Sources: NASA | NASA's Scientific Visualization Studio
RELATED: VOYAGER 2 HAS GONE INTERSTELLAR!
Comet makes northern hemisphere flyby | Star News – Otago Daily Times
By David Hill
Canterbury's observatories might be in lockdown, but there is plenty for budding scientists and the superstitious to discover.
While the Oxford Area School Observatory is in lockdown, volunteer Erik Vermaat has been keeping in touch his night class students via his "Corona Blog" and on Facebook.
He says a lockdown can be the ideal time to make new discoveries.
"Newton developed theories of calculus and gravity while at home. What are you doing?" Erik says.
As Erik points out, during the Great Plague of London in 1666, a 22-year-old Cambridge University student named Isaac Newton came up with new theories for calculus, optics and the law of gravitation, while in self-isolation after returning home to the family farm.
The superstitious will realise comets have a knack of making an appearance in the night sky in a crisis and Covid-19 doesn't disappoint, as Oxford Observatory volunteer James Moffat points out.
"Atlas C/2019 Y4 could almost be mistaken for the latest doomsday comet arriving around the same time Covid-19 made its first appearance in China."
Comets have historically been "harbingers of death", with Halley's Comet making one of its flybys in 1665, on the eve of the Great Plague which claimed 100,000 lives in London.
"This comet (Atlas) is fast living up to that reputation appearing in brightness as rapidly as the Covid-19 virus itself spreads."
The Greek demi-god Atlas was perceived as carrying the weight of the world on his shoulders, "but in fact it was the celestial sphere not the terrestrial globe," James says.
"That is a weight human-kind now bears upon his own shoulders in containing Covid-19."
On Erik's "Corona Blog" you can discover just how fast the speed of light is, all the observable parts of the electro-magnetic spectrum (which Ernest Rutherford helped to discover) and exoplanets. Find the link on the Oxford Observatory page on Facebook.