Super Mario Bros. 35 sees signs of cheating, a week into launch
Super Mario Bros. 35 may have a cheating problem.
Or a hacking problem — but it's unlikely that five players in the new battle royale all collected 99,999 coins in a single match to tie for first on the weekly leaderboard. Two Twitter users spotted the fantastical performance, and a third posted a since-removed YouTube video that said SMB 35 was susceptible to hacking and modding.
It appears that Nintendo is taking fast action against any YouTube video showing hacking or cheating tips. We haven't found any other evidence or discussion of hacking or modding so far. We've reached out to Nintendo of America to ask what the company knows, and will update when Nintendo responds.
Super Mario Bros. 35 is a battle-royale approach to the landmark NES game, which celebrates its 35th anniversary this year. In it, players race through the original game, and any enemies they defeat are sent into the levels where other players are running. (Things can get pretty hairy, as illustrated in the video below.)
Coins act as a kind of scoring, but the ultimate goal is to be the last runner in the game. The coins one collects can be used to acquire unlockables, such as different levels to play, or starting with a power-up. They also advance a player through the game's level progression.
Super Mario Bros. 35 launched on Oct. 1 in the Nintendo Switch eShop, but it's available exclusively to Nintendo Switch Online subscribers. It's playable only until March 31, 2021.
SOURCE: – Polygon
Apple working on its own search engine as Google ties could be cut soon – GSMArena.com news – GSMArena.com
Apple is said to be working on its own search engine to replace Google.
As of now Google pays Apple between $10b and $12b a year to be the main search provider on Apple devices, but that deal will soon expire and a reported antitrust case against Google by the US Department of Justice could prevent its extension.
Apple has already made moves for a transition away from Google. Its Applebot, which was first reported of in 2014, has been crawling the web ever since and has allegedly increased its rate substantially recently. Furthermore, in iOS 14's home screen search, Apple has begun to link directly to websites, bypassing Google entirely.
Finally, nearly three years ago, Apple poached Google's Search and Artificial Intelligence chief John Giannandrea, who is now Senior VP or Machine Learning and AI Strategy at Apple.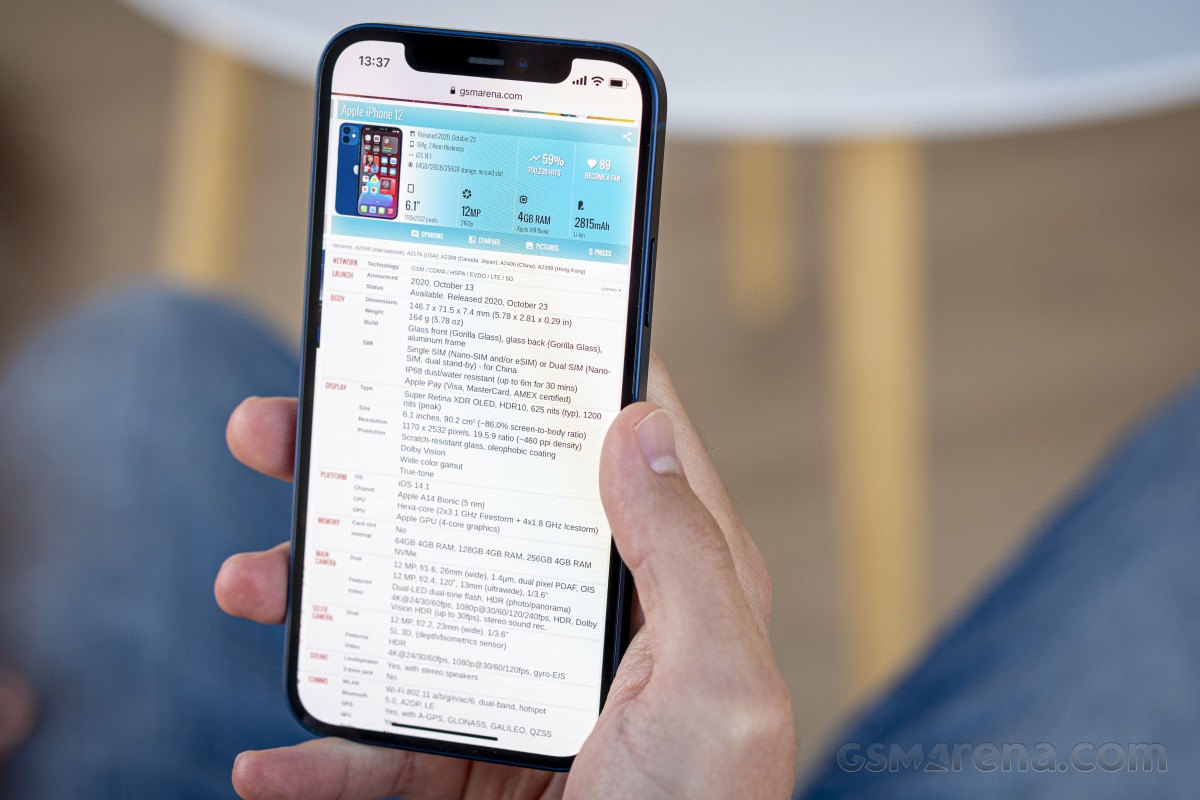 It's unclear what shape or form an Apple search engine could take. If it will be an enhanced Spotlight on iOS and OS X devices or if it will be a full-blown website like Google.com.
But it's becoming clearer that Apple and Google's practices of receiving payment to be the primary search provider on millions of devices would soon face regulatory pressure. Google's payments to Apple are reportedly around 20% of Apple's services revenue.
One issue of Apple becoming a search giant would be its commitment to privacy. In an open letter to its customers Apple CEO Tim Cook once said: "Our business model is very straightforward: We sell great products. We don't build a profile based on your email content or web browsing habits to sell to advertisers. We don't "monetize" the information you store on your iPhone or in iCloud. And we don't read your email or your messages to get information to market to you.". It's not clear how Apple could create a successful search engine without building a profile around a user's browsing habits or using that customer's stored data on the iPhone as a means to better search results.
Apple search engine efforts 'stepping up' as Google deal under threat – FT – 9to5Mac
Speculation about plans for an Apple search engine to compete with Google has been around for many years now, ever since the company was first seen to be using its own web crawler back in 2014. Apple confirmed the existence of the Applebot crawler in 2015.
A report in the Financial Times claims that Apple is now 'stepping up' efforts to create its own search engine as its lucrative deal with Google comes under threat …
Google currently pays Apple an estimated $8-12 billion per year to be the default search engine on iOS devices. In 2018, for example, the sum was estimated at a little under $10 billion – around 20% of the company's Services income for the year. However, antitrust regulators are now putting this deal in the spotlight, and arguing that it may be anticompetitive.
This raises the question of what Apple would do if it was banned from renewing the deal, and lost that income. One suggestion that has been that the iPhone maker could create an Apple search engine.
The FT report cites circumstantial evidence and industry commentary, rather than inside sources, and not much of it is new. It opens, for example, with a change seen in iOS 14 to the swipe-down search box.
Apple is stepping up efforts to develop its own search technology as US antitrust authorities threaten multibillion-dollar payments that Google makes to secure prime placement of its engine on the iPhone.

In a little-noticed change to the latest version of the iPhone operating system, iOS 14, Apple has begun to show its own search results and link directly to websites when users type queries from its home screen.

That web search capability marks an important advance in Apple's in-house development and could form the foundation of a fuller attack on Google, according to several people in the industry.
It also points to the two-and-a-half year old news of Apple poaching Google's John Giannandrea, putting its own spin on the hire.
Apple poached Google's head of search, John Giannandrea. The hire was ostensibly to boost its artificial intelligence capabilities and its Siri virtual assistant, but also brought eight years of experience running the world's most popular search engine.
It includes commentary from former senior Google execs, but this too is purely speculative.
"They [Apple] have a credible team that I think has the experience and the depth, if they wanted to, to build a more general search engine," said Bill Coughran, Google's former engineering chief, who is now a partner at Silicon Valley investor Sequoia Capital […]

"Apple's position is very unique because it has the iPhone and iOS. It controls the default browser," said Sridhar Ramaswamy, Neeva's co-founder and Google's former head of advertising. Expanding in search "feels natural" for Apple, he said, as it has the ability to gather data and learn from user behaviour at large scale.
Applebot's crawl rate – the number of times it visits websites in order to update its database – is said to have increased substantially. Others note that Apple is one of the few companies in the world with the resources to create a search engine to compete with Google.
But all of the known facts would be consistent with Apple simply working on making Siri smarter.
The single biggest argument against Apple creating a search engine is the company's strong privacy stance, and its less-than-flattering commentary on ad-funded services like Google.
A few years ago, users of Internet services began to realize that when an online service is free, you're not the customer. You're the product. But at Apple, we believe a great customer experience shouldn't come at the expense of your privacy.

Our business model is very straightforward: We sell great products. We don't build a profile based on your email content or web browsing habits to sell to advertisers. We don't "monetize" the information you store on your iPhone or in iCloud. And we don't read your email or your messages to get information to market to you.
Walking that back would be problematic to say the least.
FTC: We use income earning auto affiliate links. More.
Check out 9to5Mac on YouTube for more Apple news:
[embedded content]
Astro's Playroom is the perfect showcase for the PS5's wild DualSense controller – The Verge
As far as pack-in games go, Astro's Playroom may not seem all that exciting at first. It's not an instant classic like a bundled Super Mario., nor something with the obvious appeal of Wii Sports. But Sony made a smart decision in giving Astro away to every PS5 owner: it might just be the ideal showcase for the console's new DualSense controller.
The game itself is a fairly simple 3D platformer, but one that exudes charm. Everything is bright and colorful, and there are lots of fun little animations. If you leave Astro alone for too long, he'll pull out a PSVR and start playing games on his own. (If the adorable robotic character looks familiar, it's because it also starred in the PSVR title Astro Bot: Rescue Mission, another game designed to showcase new hardware.)
Everything takes place in a retrofuturistic world divided into several levels, though for this preview I'll only be discussing the first, called "Cooling Springs."
Cute as everything is, initially it seems generic. You start out at a beach collecting coins, jumping around, and smacking enemies with your little robot fists. It's all very peaceful and charming; mechanical dolphins swim through the water, and you can knock around beach balls. Later, you'll move on to other themed areas like a robot hotel and a frozen arctic region. It's not particularly hard, but there's a really playful tone. You'll spend time sliding down icy ramps, jumping off of diving boards, and figure skating around enemies. Littered around the level are all kinds of classic PlayStation Easter eggs (which I won't spoil for you right now).
But the most interesting thing about Astro's Playroom isn't how it plays — it's how it feels. Sony's new DualSense controller is its biggest gamepad redesign since it introduced twin sticks midway through the original PlayStation's life. And two of the showcase features are all about feel: there are triggers on the back with haptic feedback and variable tension, and the controller has much more subtle vibrations. Both are on display in Astro's first stage.
The vibrations are noticeable almost immediately, and the variety is pretty incredible. You can feel bits of sand crunching when Astro is walking on a beach, there's a heavy plop when you jump into the water, and a satisfying tension when you pull on an elastic band. I especially loved the colder region where you can actually feel Astro shiver. What's remarkable is how distinct they all feel. Each sensation is accompanied by a sound effect from the DualSense's built-in speaker, and when you combine the physical and audio sensations, the experience becomes that much more immersive.
The same goes for the new haptic triggers. Normally, the R2 and L2 buttons perform like regular buttons, but during certain sequences, they offer feedback in the form of tension. Essentially, there are two states to the button press; you can easily press down halfway, but a full press requires a bit more force. As an example, in the opening level of Astro, there are side-scrolling sequences where the bot jumps around in a spring-powered mech suit. (Don't ask.) In order to do a short jump, you pull the trigger halfway, but to launch across the screen, you need to pull it all the way down. It makes big leaps that much more satisfying since you have to add the extra force.
The level also makes use of other controller features. You can blow into the mic to spin a fan, use the touchpad to move a zipper, and there are the prerequisite motion controls. None of these are new like the vibration and haptic triggers, but it's actually pretty impressive how many things Sony crammed into this gamepad.
Of course, it's impossible to know how things will play out for the DualSense. Astro's Playroom is an adorable little game made all the more charming thanks to these new features. But it was also designed explicitly to take advantage of them. Wii Sports was amazing, but only a few Wii games made motion controls anywhere near as compelling.
Right now, it's not clear whether other games and developers will take advantage of the DualSense in the same way. Like HD Rumble on the Nintendo Switch, they could end up being a forgotten gimmick. But in the case of Astro's Playroom, it's at least an incredibly fun gimmick — and one that should make new PS5 owners plenty happy when the console launches on November 12th.