Sutures art exhibition at Visual Arts Clarington signifies healing and new life | inDurham – insauga.com
After more than two years of suffering as we watched our loved ones succumb to a deadly virus; after two years of witnessing our nation divided as we squabble over the best way to rebound from the pandemic and bring some form of normalcy to our lives, perhaps it's an art exhibit that can best sum up the process of recovery; of healing and of new life.
In the exhibition Sutures, Eve Tagny and Emii Alrai have stitched together duelling notions of a wound across explosive times and physical space. After injury, a suture weaves broken pieces back into a whole. Its bands pull together, forcing two lacerations to meet as the body recovers from incision. Though rough and imperfect, these markings imply a severing that at once imprint signifiers of new life and healing.
Curated by Matthew Kyba and Megan Kammerer, the exhibit runs from July 3 to September 4 at the Visual Arts Centre of Clarington.
Tagny (Montréal) and Alrai (Leeds, UK) also represent the gallery's inaugural international residency and site-specific duo installation taking place this Summer 2022.
Tagny and Alrai came together after months of digital collaboration – drawing inspiration from a recent virtual project that investigated how non-Western cultures represent trauma through landscape and artifacts – before deciding to "harmonize their interests" in the gallery's physical space.
The artists arrived in Clarington late last month for a one-month residency, with plans to visit garden sites, research local history, explore regional iconography, and examine how monuments propagate territorial statehood and settlement in Durham. With free studio access, the pair will experiment in ceramic hand building, film making, and video projection to create multidisciplinary installations that blur the line between each individual practice.
As China Miéville wrote, "Scars are memory. Like sutures. They stitch the past to me." After injury, a suture makes you whole. Its scar, though rough or imperfect, is a transformative process as it signifies a healing, not unlike Alrai and Tagny's production as the artists negotiate themes of reflection, healing, and physical reconnection.
Informed by inherited nostalgia, geographical identity, and post-colonial museum practices of collecting/displaying objects, Alrai weaves together historical narratives by forging artifacts and visualizing residues of cultural collision. Her work contains elements which are broken or unfinished and hover between the formal polish of an imperial museum, archaeological dig, or the residue of a performance. Alrai questions the value and origin of artifacts, while navigating diasporic experiences.
Tagny focuses on how communities at the margins commit to living, rather than merely surviving through a lens-based installation practice. She centers garden spaces to mend traumatic disruptions in accordance with nature. She investigates these man-made sanctuaries that simultaneously encompass all stages of the living—from luscious growth to decay—to engage in processes of renewal, reconnection, and transformation.
Eve Tagny is a Tiohtià:ke/Montreal-based artist. Her practice considers gardens and disrupted landscapes as mutable sites of personal and collective memory — inscribed in dynamics of power, colonial histories, and their legacies. Weaving lens-based mediums, installation, text and performance, she explores spiritual and embodied expressions of grief and resiliency, in correlation with nature's rhythms, cycles, and materiality.
Emii Alrai's practice is informed by inherited nostalgia, geographical identity and post-colonial museum practices of collecting and displaying objects. Focusing on ancient mythologies alongside oral histories, Alrai weaves together narratives by forging artefacts and visualising residues of cultural collision. Often working at large scale, she creates sculptural installations that recall musicological displays and dioramas, natural landscapes and processes of decay and ruin that question the verity of the historical record.
Installation view of Emii Alrai, The Courtship of Giants, Eastside Projects, Birmingham, 2022. Photo Credit: Stuart Whipps.
Image: Installation detail of Eve Tagny, Gestures for a Mnemonic Garden, Musée d'Art Contemporain, Montréal, 2020. Photo Credit: Courtesy of the Artist.

insauga's Editorial Standards and Policies
Stay the know
Subscribe now to receive our daily email of today's top stories in your city!
advertising
Woodstock Art Gallery to Host Last Summer Drop-In Today – 104.7 Heart FM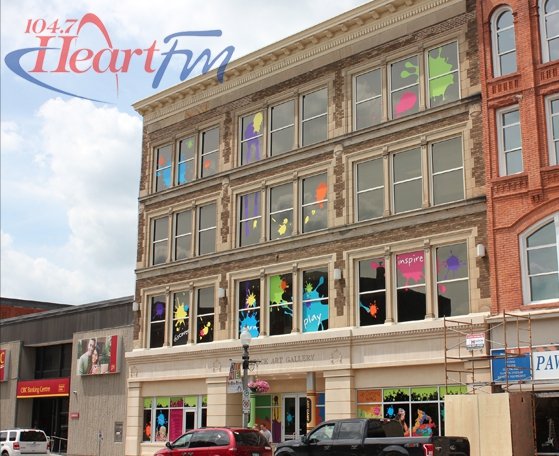 Families will be able to stop by the Woodstock Art Gallery from 11:00 a.m. to 3:00 p.m. today for the last studio drop-in of the summer.
WOODSTOCK – The Woodstock Art Gallery is back with its last studio drop-in of the summer.
From 11:00 a.m. to 3:00 p.m. today you can check out the new free, self-guided interactive art experience for all ages where you can explore, build and keep your art. Children under 16 years old must be accompanied by an adult in order to participate.
Adults and kids are welcome to stop by and have fun, with your memento tied in with current exhibits at the art gallery.
Downtown Williams Lake Art Walk 2022 opens Aug. 12 and will feature 30 artists at 30 businesses – Williams Lake Tribune
The Downtown Williams Lake Art Walk 2022 will kick off with some live art action on Friday, August 12.
From 11 a.m. to 3 p.m. the grand opening event will include kids activities, door prizes, handing out guidebooks and a live paint battle.
The "Battle of the Brushes" will involve five or six artists battling it out for painting supremacy from noon to 1 p.m. The artists will be given a subject ahead of time but will also be thrown a curve ball part way through to create an element of improvisation as well.
Patrons will be able to watch as the artists create pieces at the event and can even vote on their favourite painting and one selected by the organizers will also be used in the marketing for the 2023 art walk.
"We're hoping that their end results are fun and interesting and that people are entertained as they paint," said Sherry Yonkman, Downtown Williams Lake executive director.
The paintings will also be auctioned off.
Downtown Art Walk is an event showcasing artists' artworks in local downtown businesses, the event is free for patrons, and guides can be picked up at the Downtown Williams lake office, participating businesses, at the Stationhouse Gallery and at the Tourism Discovery Centre or at the Thursday Performance in the Park on Aug. 11.
The artworks will be on display from Aug. 12 to Sept. 7 and patrons can use the map in the guidebook to plan their walks and learn more about the artists.
On the back page of the guidebook is a passport which every hosting business can stamp and then patrons can use their stamped passports to enter to win $500 towards their favourite artist's work or a number of $50 gift certificates as well.
---

ruth.lloyd@wltribune.com
Like us on Facebook and follow us on Twitter
Artart exhibitArts and cultureVisual ArtsWilliams Lake
The chaotic joy of Art Fight – The Verge
In the summer of 2017, I was stuck between high school and college and stuck between two versions of myself. There was the high school version of me, someone with a laser focus on traditional academic success, and the college version of myself, a mystery that burst with the potential to do and create outside of the box that I had formed around myself.
It started with a simple DM — something along the lines of "this seems fun; you should join it also!" When I clicked the link, I saw a dizzying array of character designs laid out in tidy rows, filling the homepage of the site. It was overwhelming, not just because so many people had joined this site but also because they had shared so many stories and characters. The characters were technicolor and sparkling, with lengthy backstories included with their pictures. There was so much passion, and I was being invited to join them.
Art Fight is a fairly simple concept. For the month of July, artists register on the site and are divided into teams. Once registered and sorted, they upload examples of their art along with personal characters and stories of their own that they would be interested in other people drawing. Then, the games begin.
You score points in Art Fight by drawing another team's requests, called an "attack" in the lingo of the game. The more complex the request, the higher the score, and at the end of the month, the team with the most points gets a special badge on the site showing they've won. There's no reward beyond the badge, and nobody is too strict about the teams. Individuals can change teams multiple times over the course of the month. The real incentive isn't winning but, rather, drawing for others and being drawn in turn.
I was an amateur artist at the time and had spent very little time creating a social media profile and promoting my art. But even then, it was exciting to know I could draw for others and know they would be excited to draw back. Something about this space was welcoming to people of all skill levels and meant that I wasn't lost in the digital noise.
In the following years, the time that I spent on Art Fight waxed and waned based on the business of my own summers. But each year, I made sure to draw at least one piece for it, taking the lovingly rendered illustration that another artist had made of their character and granting it life in my own art style. It remained a constant, this act of creating for someone else that I likely did not know.
The other constant was the range of other artists that used the platform. Some were students or hobby artists, drawing in the free time that they had on weekends or after work. Others were professional artists, pulling together attacks as breaks from their own work. What remained true was the range of people that Art Fight encompassed, with individuals from almost any walk of life with an interest in character design and storytelling coming together to share their creations.
Back in the summer of 2017, I hadn't realized quite how special that was. Wedged in among my career aspirations and life goals, my art often feels pushed to the background, something that can't be properly pursued unless it has a "purpose" (usually involving money). Having a space where that creation is encouraged and given a community, for any skill level and with few caveats, still feels exhilarating.
For the artists I know, sharing online can be a mixed blessing. Platforms offer reach but they can feel actively hostile, putting artists at the whims of algorithms and mainstream attention. There are few platforms actively devoted to art and even fewer constructed to make artists feel more comfortable. The result can feel alienating, forcing creators to post constantly to stay relevant rather than follow their own inspiration.
Art Fight, for me, is a balm to that. Even for a hobbyist artist like me, there is something exciting about individuals making art for each other without the caveats of platforms or the frantic scramble to be seen. It is a challenge that asks only for what you want to give to it rather than what the platform wants. For that reason, the month of July is a sanctuary — a place to create on my terms with the knowledge that it will still be seen by others and maybe be special to some of them.
Camille Butera is a Master of Science student at Oxford University and a recent graduate of Smith College. Outside of that, you can find her drawing and catching up on TV shows about five years after everyone else.