The Best Features in Samsung's New Galaxy Note20 That Apple Should Adopt – MacRumors
Samsung at the beginning of August introduced its new flagship Galaxy Note20 smartphone, which will compete with Apple's upcoming iPhone 12 models. We're going to do an in-depth comparison when the ‌iPhone 12‌ comes out, but for now, we thought we'd take a look at the new Galaxy Note20 to highlight some of its best features.
Subscribe to the MacRumors YouTube channel for more videos.
Many of the Galaxy Note20's best offerings are major Samsung features that have been used in prior Galaxy devices, but they're what makes Samsung stand out as well as being features that we wouldn't mind seeing in a future iPhone.
Displays with 120Hz Refresh Rates
Samsung's Galaxy lineup, including the Galaxy Note20, is known for sharp, vibrant OLED displays with minimal bezels. The Note20, like some prior Samsung models, has a 120Hz refresh rate option that makes that super sharp OLED display even better. It's super smooth, as people who own an iPad Pro might be familiar with because Apple has had 120Hz maximum refresh rates on the ‌iPad Pro‌ for a couple years now.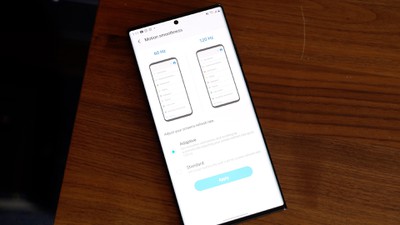 Samsung hasn't quite perfected the higher refresh rate and it still presumably has a major impact on battery life, which is why it's limited to Full High Definition resolution (1080p) and does not work when the phone is set to the higher QHD+ resolution (1440p).
Apple is rumored to be working on 120Hz display technology for the ‌iPhone‌, but as with Samsung's phones, battery life is a concern. There have been a lot of mixed rumors on whether the ‌iPhone 12‌ lineup will support 120Hz ProMotion displays, but it may be a feature that Apple needs to wait to implement until there's more battery efficient LTPO display technology available. It's definitely a feature that's on the horizon, but we may not get it until 2021.
Wireless Powershare
For the past couple of years, Samsung devices have offered a Wireless Powershare feature, which is also included in the Note20. With Wireless Powershare toggled on, the Note20 becomes a Qi-based wireless charger and can provide power to other smartphones, headphones, smart watches, and more.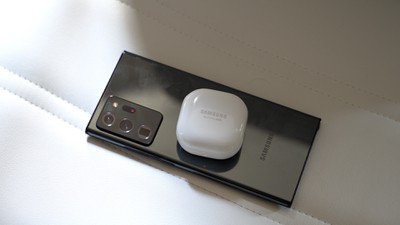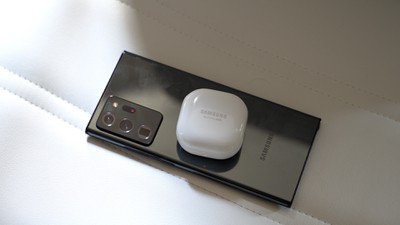 It would be nice to have this feature in an ‌iPhone‌ for charging up the Apple Watch and the AirPods, or even sharing power with other iPhones. There were actually rumors in 2019 that suggested the iPhone 11 lineup would include bilateral charging functionality, but it's not something that Apple ended up implementing.
Apple analyst Ming-Chi Kuo speculated that the charging efficiency of the two-way charging feature might not have met Apple's requirements, leading to it being scrapped. Whether this is a feature that will pop up in a future ‌iPhone‌ remains to be seen, but we haven't heard it rumored for the ‌iPhone 12‌.
Multitasking Windows
Samsung's Galaxy devices have long offered a version of split screen multitasking, allowing multiple apps to be used at once, and the Galaxy Note20 is no exception. It's a useful feature on the 6.7 to 6.9-inch displays offered in the Note20 and Note20 Ultra.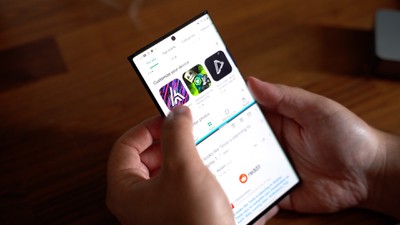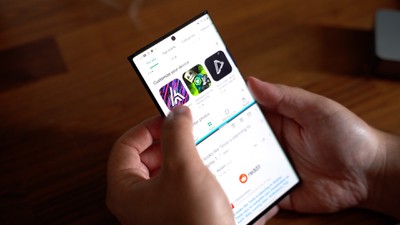 Apple has long had a split view multitasking feature on the iPad, but multiple app usage has never been brought to the ‌iPhone‌. That made sense when iPhones were smaller, but now that ‌iPhone‌ displays are getting larger and larger, many ‌iPhone‌ users would likely prefer to be able to use two apps side by side.
In iOS 14, Apple did add Picture in Picture support so you can watch videos or make video calls while doing other things on the ‌iPhone‌, but there's still no true multitasking functionality.
S-Pen
The S-Pen stylus that comes with the Galaxy Note has long been what differentiates the Note lineup from the standard Galaxy devices. The S-Pen is pretty much akin to an Apple Pencil for the ‌iPad‌, with super low latency and some useful note taking features.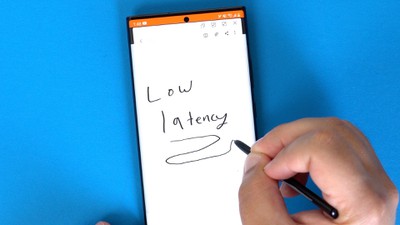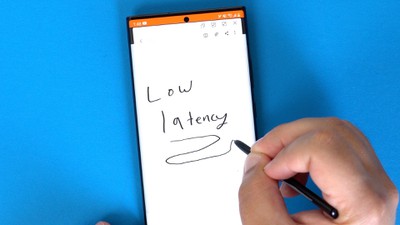 The S-Pen attaches right to the Galaxy Note20, and popping it out lets you automatically start writing a note even when the display is off. The S-Pen also lets you do things like create a note, write on the screen, select elements on the display, translate selected text, and more.
There's been a rumor here and there over the years that Apple might add ‌Apple Pencil‌ support to the ‌iPhone‌ or develop an ‌Apple Pencil‌ specific to the ‌iPhone‌, but there's never been any concrete suggestion that a stylus for the ‌iPhone‌ is the plan. It would be nice to have the option to use the ‌Apple Pencil‌ with the ‌iPhone‌, though, for those who already have an ‌iPad‌ and an ‌Apple Pencil‌.
DEX
Samsung devices have this neat feature called DEX that lets you dock a smartphone to a PC or a Mac to turn the smartphone into the computer, allowing for direct control with a mouse and a keyboard.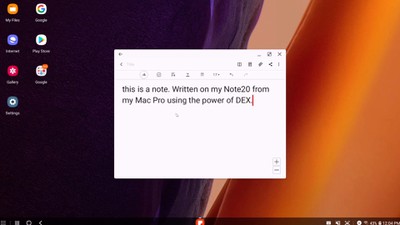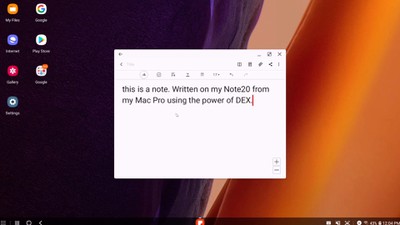 Early versions of DEX required a dock and an external monitor and keyboard, but now you can just plug a smartphone like the Note20 into a computer and finish working on something that you started on the phone.
Apple has Handoff and Continuity features that work in much the same way if you have multiple Apple devices, letting you start something on one device and pick it up on another, but that's limited to Apple devices and it would be nice to just be able to plug in to access what you need without having to fuss with Continuity, or connect to an external monitor, keyboard, and mouse for a MacBook-like experience on the ‌iPhone‌.
Would you like to see any of these Samsung features in the ‌iPhone‌? What's your favorite Galaxy Note20 feature that you wish Apple would implement? Let us know in the comments.
Best Android Apps in 2020 – XDA Developers
Android apps continue to get more and more powerful in 2020 as they take advantage of the new hardware we see in modern smartphones. Some of the best apps are totally free to use, while others let you get a subscription to unlock premium original content. This list will highlight the best Android apps for each category.
Navigate this guide:
Best Android Apps for Movies & Video
There are several aspects that go into making a great video app. If you are subscribing to a service that offers streaming movies, you'll want to know that your movies will be streamed at the highest quality with little buffering. You also have to take into consideration their selection of titles and original content. For media players, you need something that can play many different types of files. Nobody wants to use more than one media player for their audio or video files. So something that can support all files, while offering features like subtitle customization, video preferences, and playback interface edits is ideal. With these in mind, here are the best movie and video apps in 2020.
The Netflix app is a very reliable app and is essential for anyone who has a Netflix subscription. Easily continue watching your movies and shows where you left off, or find great new originals based on your watch history. Netflix has built one of the largest catalogs of any subscription-based streaming service. Some of the best original series are now premiering on Netflix. You can try the service as a 30-day trial to experience their selection.
VLC
VLC is the most popular video player for PC, with its ability to playback almost any video or audio file you throw at it. The Android app is no different. This player will be able to play movies, videos, music, photos, and more. It's totally free to download and is completely ad-free. If you have a phone or tablet with a high-resolution display, VLC will be able to decode the larger videos files that can really take full advantage of your hardware.
YouTube
The official YouTube app is the best way to watch YouTube. It's compatible with tons of different types of devices and is one of the most popular Android apps ever. You can also manage your YouTube channel and access all of your creator tools. The YouTube app supports high-resolution playback for 4K videos. YouTube also supports picture-in-picture (PiP) mode, so you can keep watching while you use other apps. For watching online video content, the official YouTube app is the best solution.
Best Android Apps for Music & Audio
Choosing the right music subscription can be tricky. While a big part of choosing will be looking at the content selection and quality of the music, you also have to consider how well the app works with the service. Different types of music lovers will be interested in different apps. For many people, it's important to have high-quality lossless playback options. This is how you can get the most out of your high-end speakers or headphones. Other users might care more about the search and radio features. These apps should satisfy any music-lovers needs.
Apple Music
Apple Music gives you unlimited access to millions of songs and your entire Apple Music library. All of this content is ad-free and available right from your Android device, iPhone, iPad, or Mac or PC. This is the more obvious solution for someone that uses Apple devices in conjunction with Android. Apple Music supports the highest quality playback of lossless media files. You can try Apple Music for free for the first three months. A subscription costs $9.99 per month.
Spotify
Spotify is one of the most popular music apps in the world and has a massive collection of music. You can listen for free, or get a premium subscription for ad-free playback. Spotify has one of the best personalized radio systems. It's very good at figuring out what you like to listen to, and introducing you to new music. The Spotify user interface is one of the best out of any music app.
YouTube Music
YouTube Music is now the official music app from Google. It will works really well with your existing Google ecosystem. Enjoy high-quality songs, radio stations, music videos, and more. YouTube Music is replacing its previous Google Play Music service as the default service from Google. It has been a strange transition as Google tries yo push its users to YouTube Music, but in 2020 YouTube Music is now one of the best music apps.
Best Android Apps for News
News apps can be difficult to get right. People are very particular when it comes to their news sources. These apps will help you get the news that's most important to you. We looked for the apps with the best news features that readers enjoy. Highlights, videos, in-depth articles, opinions, and more. All of these things are important to consider when looking for a great news app.
Google News
Google News is a personalized news aggregator that organizes and highlights what's happening in the world so you can discover more about the stories that matter to you. It's very good and learning your interests and feeding you relevant news stories. Your stories will be selected based on your preferred sources, local news, interested topics, and previously saved stories. It's free to use and has great performance on Android devices.
National Geographic
A source of endless inspiration for the everyday explorer and the insatiably curious, the National Geographic app reveals new insights into cultures, ideas, and discoveries through high-definition storytelling. Your free account gives you full access to a personalized feed of the topics you love. Give the National Geographic app a shot and use your existing magazine subscription to get access to digital copies.
Axios
Axios is a highly-rated news app that is elegant and simple to use. They cover politics, business, culture, science, and technology. The app provides a clean reading experience that puts the news you care about front and center. You start by following specific channels that correspond to topics that interest you. You can then access relevant content either in a single integrated feed or by hopping from channel to channel.
Best Android Apps for Sports
The Google Play store has a huge variety of sports apps available. Depending on what type of sports you're in to, you'll find that different apps can serve totally different purposes. You might need one app to follow your favorite teams, while another app helps you find local games and related events. These are the best sports-related apps for 2020.
Fishing Spots
The ultimate fishing guide! Discover local fishing spots, get seven-day fishing forecasts, and track all your catches with a robust fishing logbook. Connect with anglers, get tips & share your catches. This is one of the most popular apps used by fishermen. Explore fishing maps that show locations, photos, and catch details. Find the best times to fish with our robust fishing forecast. Then create your personal logbook and capture the details of every trip.
NFL
If you're a fan of football then you'll want to have the official NFL app. This app is essential for all NLF fans and keeps you up to date with NLF Game Pass. The NFL app keeps fans fully updated all off-season long, with breaking NFL news, highlights, stats & more. It doesn't matter where you are, the NFL app has you covered. Articles and video highlights featuring the latest stories and breaking news from all around the NFL.
theScore
theScore is the best app for tracking the latest stats from your favorite teams. It covers a wide range of sports and has an easy to use design. Keep track of every major league competition.
Best Android Apps for Social
Social media is a constantly changing industry. Apps can pop up overnight and quickly become the most popular in this category. There's no need for us to go over Twitter, Facebook, YouTube, or LinkedIn. These websites are less relevant in 2020, as the next generation embraces these apps from the selection below.
TikTok
TikTok is by far the hottest social media app in 2020. Scroll through an endless stream of original videos with instant playback. TikTok is like flipping through channels on your TV, but you never stop changing channels, and only the best parts of the shows are played. TikTok has tons of different effects and filters to make your videos fun and easy to make. You can explore different videos by trending topics or sounds.
Snapchat is still one of the most popular ways to communicate with your friends in 2020. The app has been around for a long time and has been through many different redesigns. The 2020 design of Snapchat has the best filters and is still the easiest way to send a short video to one of your friends. Snapchat opens right to the camera, so you can send a Snap in seconds! Just take a photo or video, add a caption, and send it to your best friends and family. Express yourself with Filters, Lenses, Bitmojis, and all kinds of fun effects.
Discord has become the best community management app there is. It's one of the only apps where you can find large groups of people and instantly video or voice call with them. With Discord's massive userbase, chances are that your friends are already on here. Don't be left out! It's easy to start your own server and set up everything the way you like it. Create voice channels, text channels, and different roles for your members.
Best Android Apps for Messaging
When you're picking a good messaging app, you want to find something that's hopefully going to have to be the only messaging app you use. Unfortunately, this is seldom the case. People find themselves using tons of different messaging apps to reach all of their friends. These messaging apps are the most popular and have all the features you'd need and more. Hopefully one of these will be able to replace your collection of communication apps in 2020.
Telegram is a great solution for messaging to your friends or coworkers. Group chats, video calls, voice calls, and file sharing are all supported. The app is free and supports a massive amount of features. You can send media and files, without any limits on their type and size. Your entire chat history will require no disk space on your device and will be securely stored in the Telegram cloud for as long as you need it.
Signal
Signal focuses on privacy, with its end-to-end encrypted messaging. You can also take advantage of disappearing messages, voice calls, video calls, and file sharing. Signal's advanced privacy-preserving technology is always enabled, so you can focus on sharing the moments that matter with the people who matter to you. Messages are delivered quickly and reliably, even on slow networks. Signal is optimized to operate in the most constrained environment possible.
Facebook Messenger Lite
If you have a Facebook account, you can use Messenger Lite with your existing profile. It might be the most convenient way to connect with friends and family. The stand-alone messaging app is super light-weight while still supporting all the essential features like video and voice calls. With the app size being only 10MB, installs quickly and is compatible with lower-end phones.
Best Android Apps for Dating
Technology can be really good at matching you up with new friends or love interests. You can use one of these apps to find and meet new people in your area. We looked for the apps that are the most popular, and have the best success in matching people up.
Tinder
Tinder has been the go-to app for dating for many years now. Tinder lets you swipe through people in your area, and match with others that are interested in you. You can use Tinder for free with some limitations, or get a subscription to unlock more features. If you need some help matching with more people, you can use Tinder's boost and gold subscriptions to reach more people. You can also change the geographical location of where you want to search for matches.
Bumble
More than 100 million people have registered on Bumble to create meaningful relationships, find online friends, and make purposeful connections. Bumble is a dating app that allows you to make new connections, whether you're looking for a partner, to make new friends, or to expand your professional network. While other apps are designed strictly for dating, Bumble is much better if you're just looking for casual friends.
Plenty of Fish
It seems like Plenty of Fish has been around since the beginning of the internet. So they have tons of experience matching people up. This app has 1.5 million downloads in 2020. POF is the preferred singles dating app because you can view matches and communicate for free. Unlike smaller dating apps, POF has the most users and thus, the highest chance for you to find your relationship!
Best Samsung Galaxy Phones for every budget and need!
Best Android Apps for Reading
Are you a bookworm? Reading on your smartphone or tablet doesn't have to be a terrible experience. These apps will help you read with great user interfaces and good book-related features. You can also find new books based on your interests and save them all to your account.
Kindle
On the bus, on your break, in your bed—never be without a book. Built for book lovers, the Kindle app puts millions of books, magazines, newspapers, comics, and manga at your fingertips. Since Kindle has been around for so long and has a long history with e-reading hardware, many users have depended on them to store their digital book library. If you already use Kindle, or have in the past, this may be the best reading app for you.
NOOK
NOOK is the popular e-reading app from Barnes & Noble. Access our vast online library of over 4 million eBooks, magazines, graphic novels, and comics; plus, enjoy recommendations just for you curated by our expert booksellers. Customize your experience with multiple font and page styles and robust organization and social sharing tools. Put down your reading and pick up where you left off—even as you jump from one device to another. The NOOK Reading App syncs across all your devices.
Best Android Apps for Blogging & Productivity
Are you a writer, photographer, editor, or another profession that requires important productivity apps? Having the right apps that can make a meaningful difference in your workflow is so important. 2020 showed us that we need to be able to continue to work while we are away from the office. These apps should have a place in your mobile productivity solution.
WordPress
WordPress for Android puts the power of web publishing in your pocket. It's a website creator and so much more! Give your big ideas a home on the web. WordPress for Android is a website builder and a blog maker. Use it to create your website. WordPress is more than a blog maker — use it to connect with a community of writers in the WordPress Reader. Explore thousands of topics by tag, discover new authors and organizations, and follow the ones who pique your interest.
Photoshop
Tap into your creativity on the go with Photoshop Express–a fun, fast, and easy picture editor for one-touch transformations and photo edits–used by millions of creative individuals. Make pro-looking images with an easy-to-use digital studio on your mobile device. If you're in the Adobe ecosystem, photoshop will sync with your Adobe cloud so your edit can be accessed across all of your devices. Photoshop is the best way to make advanced edits to your photos on Android.
Best Android Apps for Nutrition, Cooking, and Food
Losing weight and eating healthy can be fun when you're using the right app. We all have our favorite fitness app, but sometimes we skip on nutrition, cooking, and food. Use these apps to track the number of calories that are in your meals, and find better ways to eat healthier.
Nutrition Facts
Nutrition facts is a great resource for quickly finding nutrition info on just about any food that there is. There are more than 8,700 products collected in their catalog that they divided into categories. The application has a convenient and quick search. Select the desired product and receive its details: proteins, fats, carbohydrates, vitamins, minerals, and, of course, calories. For anyone looking to lose weight or start eating healthy, this app is a must-have.
Nutritionix Track
Nutritionix Track is a fitness tracking app developed and maintained by a team of registered dietitians. Making fitness tracking a daily habit is an effective way to work towards your health goals, so the mission of the Track app is to take the heavy-lifting out of keeping up with your food log. Upgrade to Track Pro to access the Coach Portal and share your Track food log with your dietitian, trainer, or other 'coach'.
These are the best Android apps in 2020. New apps can rise to the top overnight, as other apps fade out of existence. Finding the best app for each category may take some time, so use the list to quickly find a good solution.
Google updates Play Store policy with striking similarities to App Store – MobileSyrup
As Apple and Epic Games continue to duke it out over the iPhone maker's 30 percent cut of in-app purchases, Google has released a plan to appease all parties on its platform, but it doesn't go far enough.
To start, Android has always allowed people to download apps from third-party sources like the broader internet and Samsung's App Gallery. However, beginning with Android 12 next year, Google plans to make it easier for Android users to add more app stores to their phones.
The company didn't say much more than that, however. This tactic is the opposite of Apple's approach, which only allows developers to use its own App Store.
The Google Play Store is about to become more like the App Store.
Beyond this announcement, Google has also reaffirmed its commitment to taking a 30 percent cut from app and in-app sales in the Google Play Store.
This means that apps in the main Android app market should be safer since everything in the store will be Google-approved and use the tech giant's payment method.
Previously, Google was pretty loose with its in-app payment rules, so many developers could use their payment systems to avoid Google's app tax from within the Play Store. Now, Google says it's going to enforce all developers who wish to remain in the Play Store to use its payment platform.
Google suspended the 30 percent Play Store tax during the COVID-19 pandemic to help out developers. Still, on September 30th, 2021, it's returning in full force, and all apps within the platform are expected to use Google's approved payment method.
This is pretty much exactly like Apple's current approach with the App Store.
What does this mean for Android users?
The key difference is that Google also allows people to download and sell apps from third-party sources, so if a company like Epic doesn't want to pay the tech giant's fee, it can create its own game store and release Fortnite that way.
On the surface, Google's implementation seems like a fair alternative, but it really just gives established companies a Play Store fee evasion strategy. Smaller independent apps and games without an established fanbase are stuck using the Play Store since they might not have the branding or the money needed to convince users to leave Google's walled-garden to download their game.
That's not to say that developers can't make money from within Apple and Google's app ecosystems, but this new implementation isn't as good as the search giant makes it seem. Google wants to be perceived as the good guy compared to Apple in the Epic Games battle, and chances are, it made the video game publisher happy with this move.
Overall, this changes nothing except resulting in the Play Store being more restricted with the trade-off that sometime in the fall of 2021, there will be improvements regarding how Android interacts with third-party app stores.
Source: Android Developers Blog, Venture Beat
Microsoft says recent software change caused major outage – q107.com
Microsoft Corp said late Monday a recent change it introduced likely caused a major outage, affecting users' access to multiple Microsoft 365 services, including Outlook.com and Microsoft Teams.
The developer of Windows and Office software said it did not "observe an increase in successful connections" even after it rolled back the change to mitigate the impact.
Read more:
Trump to block TikTok, WeChat downloads in U.S.
"A moment ago nothing was working, then I went into files in Teams and it was working, now nothing is working. Well I guess now I have an excuse to not do work and watch TV," one Twitter user tweeted.
"We're pursuing mitigation steps for this issue. In parallel, we're rerouting traffic to alternate systems to provide further relief to the affected users," Microsoft said on its status page, without specifying how many users were affected.
Several other Twitter users complained that the outage meant they could miss their job interviews and deadline for college assignments.
The Xbox maker also said they were working to evaluate other solutions while they investigate the root cause of the outage.
© 2020 Reuters