The Best S Pens And Alternative Styluses For Samsung's Galaxy S21 Ultra – Forbes
With Samsung adding S Pen functionality to the Galaxy S21 Ultra, note takers, doodlers and artists can now ply their trade on the phone's QHD+ screen. To do all of that, though, you'll need the best S Pen or a solid stylus alternative. The S21 Ultra doesn't come with a stylus, but it does work with a wide variety of third party digital pens and almost all of the entire Samsung S Pen back catalogue. So if you have an old Note phone, or a Samsung tablet, that S Pen will work.
---
Read More On Samsung Galaxy S21:
---
Samsung's trademark low-latency is a major reason to buy directly from the company, but you can get similar performance—and a better ergonomic design—from some big name third-party brands too. Here are the best stylus pens for Samsung's Galaxy S21 Ultra.
Give Your S Pen A Home
Official Samsung Galaxy 21 Ultra S Pen
The official Samsung S Pen now works with the Galaxy S21 Ultra, as do older S Pens from previous Note and Galaxy Tab devices. It doesn't support Bluetooth functionality like Air Gestures, but users can take notes, annotate and use it to navigate around the device. No pairing is needed to connect it to the S21 Ultra, rather the device recognizes the stylus as soon as it hovers over the phone.
The trademark light, sleek and low latency operation speed (9ms) comes with Samsung's official stylus, but you will have to buy a case to house it with the phone. It's worth mentioning that Samsung is also planning to release an S Pen Pro at some point, which will come with the additional Bluetooth functionality alongside a bigger price tag. If you don't want the case, you can grab the S Pen on its own for $40.
---
Best Budget S Pen Alternative
Staedtler 180 Noris Digital
Staedtler's instantly recognizable design has moved over into digital stylus form. The bumblebee-styled pen comes with a 0.7mm precision nib that applies 4096 levels of pressure for excellent accuracy.
It uses EMR technology, so it needs neither charging nor pairing, which means it works instantly on the Galaxy S21 Ultra. However, the lack of Bluetooth connectivity means there aren't additional features like programmable buttons that can switch the pen thickness, or color. But with familiar ergonomics and palm rejection technology—so users can rest their hands on the screen without giving the phone confusing input commands—the Noris Digital is well priced at $27.
---
Best Premium S Pen Alternative
Adonit Dash 3
Adonit is a specialist in digital pens. The company's iOS offering is far better than that of its Android line-up. It is yet to produce anything close to its hyper high-end Adonit Note+ iPad stylus for Android. But the Dash 3 is an affordable and accomplished pen in its own right.
The 1.9mm tip is designed to remove drag, it has a 14 hour battery life and it can be turned on and off by clicking the eraser-replacement button at the top. As is the case with many other third party Android styluses, it doesn't come with Bluetooth connectivity so programmable buttons aren't an option. But the aluminum body and 8.5mm radius gives the pen an appropriate amount of thickness without being hefty.
---
Most Stylish S Pen Alternative
Wacom Bamboo Tip
Wacom is the biggest name in the stylus world. The Bamboo Tip comes with, as you might have guessed, a 1.9mm bamboo nib, which is interchangeable. It also has a 20-hour battery life and a reasonable 16g of weight with a 10mm diameter.
It's on the larger and heavier side in comparison to other pens on this list, which is a matter of taste for users who do and don't prefer that extra heft when sketching. It doesn't require a connection and doesn't come with extra Bluetooth functionality, but it's also a well-made and well-executed device from one of the best stylus makers out there.
---
Best Stylus That Works With Everything
Meko Universal Stylus
The Meko second generation stylus has a fine 1.5mm tip and an interesting ergonomic design. It has an aluminum finish with a thick grip near the bottom of the pen for a better fit and longer pen usage.
It has shorter battery life than the Adonit pen at 9 hours, but it's also quite a bit cheaper at $18. There's no Bluetooth connectivity and no additional functionality like programmable buttons or pressure sensitivity, but it also doesn't need a connection to work and it provides decent accuracy. This is a simple, no-nonsense solution for S21 Ultra users who need a basic pen and don't have much to spend.
Clinics to begin next week to vaccinate those 80 and older – Brantford Expositor
Article content
The Brant County Health Unit said Friday that COVID-19 mass immunization clinics will be located at Laurier Brantford's One Market building at 1 Market St and and the Paris fairground at 139 Silver St.
The health unit said the sites will begin operating next week to vaccinate local residents aged 80 and older.
"We were overcome with offers from various community groups and organizations to use their space to host clinics," said Jo Ann Tober, the health unit's CEO. "Our community has come together so much over what has been a very challenging year and it was wonderful to see the generosity and spirit we've become accustomed to, continued throughout this process. These sites were chosen because their combination of space, logistics and location made them the best fit for mass immunization delivery in Brant."
Information about booking is available at the health units website at www.bchu.org/COVID19Vaccines.
The health unit said the sites will run in conjunction with additional on-site and mobile clinics designed to vaccinate specific population groups. More information on this can be accessed by viewing Brant's COVID-19 Vaccination Plan Overview on its website.
Genshin Impact Surprises Fans With Reveal of New Character – ComicBook.com
Genshin Impact has officially revealed a new character, Hu Tao, the 77th Director of the Wangsheng Funeral Parlor who is said to walk the line between life and death, "shouldering responsibilities unknown to most mortals." Completing the reveal is not only a teaser trailer for the character but a few details about Hu Tao as well.
At the moment of publishing, not much is known about Hu Tao other than what's mentioned above. That said, most characters that have spoken about Hu Tao, have provided a negative impression that paints the character as one that can not be trusted. In fact, a tweet from the game's official Twitter account warns players to be careful around the character.
Hu Tao ‧ 77th Director of the Wangsheng Funeral Parlor

Liyue Harbor's "Versemonger of the Darkest Alleys"

She walks the line between life and death, shouldering responsibilities unknown to most mortals.

Be careful around Hu Tao, lest she leads you by the nose!#GenshinImpact pic.twitter.com/rN8LpjybGd

— Paimon (@GenshinImpact) February 27, 2021
Right now, not only are details on Hu Tao — which means Walnut in Chinese — scarce, but we don't know when she's coming to the game. We know she's coming soon, but we don't know how soon exactly. That said, despite not being in the game yet, she's already cultivating a following, like all characters added to the game do.
SHES SO CUTE I LOVE YOU HU TAO!!! pic.twitter.com/7UEQFgg8LZ

— ⭐ noah! ‧₊˚✩彡 welkin giveaway 📌! (@pkmncrossing) February 27, 2021
Genshin Impact is available as a free-to-play game on PC, PS4, and mobile devices. The game is also playable on PS5 via backward compatibility, but right now this is the only way to play the game on PS5. Developer miHoYo has already confirmed the game is coming to PS5, and Nintendo Switch, but right now there's been no word of when these versions will release.
For more coverage on Genshin Impact — including not just all of the latest news, but all of the latest rumors, reports, and leaks — click here. Meanwhile, as always, feel free to leave a comment or 53 letting us know what you think or, alternatively, hit me up on Twitter @Tyler_Fischer_ and let me know over there. What do you think of Hu Tao?
New development offers luxury living in downtown Langley – The Tri-City News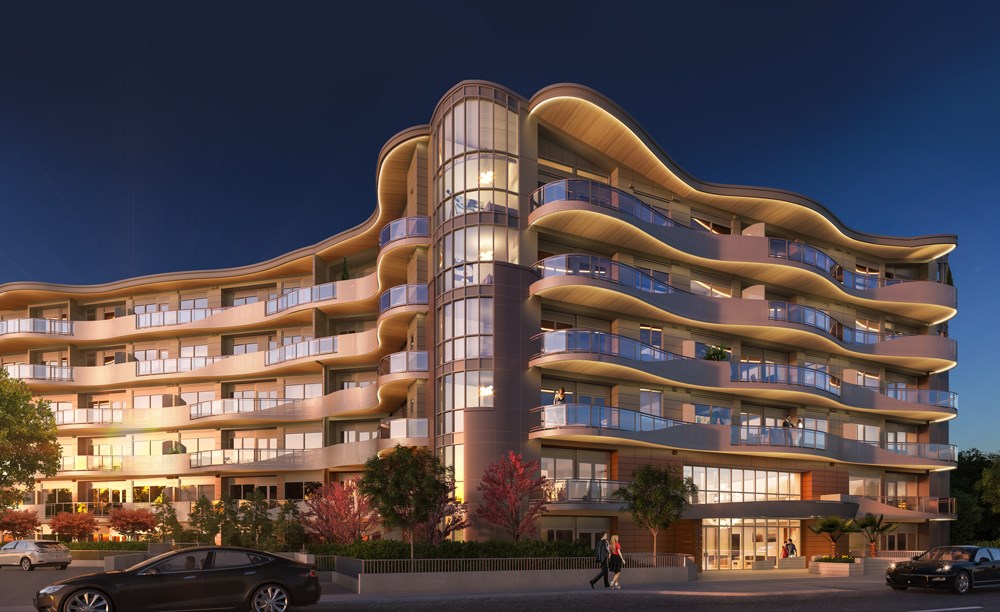 Once in a while, a new building is raised that forever changes the landscape of a city—setting a new bar for quality, luxury and striking architecture.
Welcome to JMC Properties' Legacy on Park Avenue, a six-storey boutique CLT building in Langley unlike anything the city has ever experienced before. Designed with multiple award-winning Keystone Architecture, the structure is arguably going to become an iconic landmark.
Retirees Pam and Brian Doyle hadn't expected to downsize for another three years—that is until they saw Legacy on Park Avenue.
"We were driving in downtown Langley and saw the building," says Brian. "First off, we were incredibly impressed with the unique design of it. Then, when we saw the high-end quality finishes and the construction elements they put into it, such as extra sound proofing, expansive unique shaped decks and drains in the bathroom floors, that sealed the deal for us."
The long-time Langley residents sold their 4,000 square foot rancher and purchased a three-bedroom and den home on the sixth floor with sweeping views of Mount Baker.
"When you find something of such high caliber like Legacy in a prime location, we knew we couldn't pass this up," says Pam. "We both believe Legacy on Park Avenue will forever transform the flavour of the downtown core and we couldn't be more excited to be part of it."
Legacy on Park Avenue is a sophisticated collection of 69 contemporary two- and three-bedroom plus den condominiums, ranging from 1,179 to 1,681 square feet of timeless beauty.
"This is totally different than anything in the Lower Mainland," says Ben Gauer, marketing and sales manager, Legacy on Park Avenue. "This is a passion project for the builder Erich Jaeger, a man with nearly 50 years of construction excellence. He wants this to be a lasting legacy for the city."
What you don't see is what counts. So says Jaeger, who is rooted in the European standards of construction he was raised on in Germany.
"Purchasers are not aware that this is a once in a lifetime building," says Jaeger. "The idea was to build something different. No cost has been spared; everything is way above and beyond what is required by the building code. In 100 or 200 years from now, I want people to say this is a stunning building. Legacy on Park Avenue will still be standing, solid and look like it was built yesterday."
And indeed, Legacy on Park Avenue is set to do just that. With its eye-catching curved architecture and soaring balconies, it will be the first residential CLT (Cross Laminated Timber) cutting edge sustainable building in the Fraser Valley and the first of its kind in Canada to utilize CLT in the firewall.
It doesn't stop there. This eco-friendly building features a private heating and cooling system in each residence, floor-to-ceiling energy efficient insulated UV rated German engineered sound-rated windows, which results in significantly reduced heating/cooling costs, and more.
As soon as you enter through a double height glass lobby showcased by a dramatic fireplace, a designer green wall art installation with preserved green plants and concierge services, you instantly know you are in for timeless elegance and refinement throughout.
Legacy on Park Avenue is showcased by sprawling ceilings, wide-plank engineered white oak hardwood floors and spacious outdoor decks and patios to enjoy sweeping cityscape and mountain views. Chef-inspired kitchens feature Fisher & Paykel appliances, Caesarstone countertops and full-height solid backsplash, spacious islands, and Brizo Matte Black and Luxe Gold Faucet with sprayer.
Homeowners will also have access to unparalleled private amenities; sitting rooms on each floor, a Grand Lounge with striking seating areas, work stations, and an entertainment area featuring a television, fireplace, kitchen and deluxe washrooms. A folding acoustic wall can accommodate two simultaneous events. Meet neighbours on the beautifully landscaped outdoor terrace, or head to the fully equipped fitness gym with washroom/change room for a great workout.
Getting in and out of Langley has never been easier. Legacy on Park Avenue is within walking distance to a planned SkyTrain station, and close to Highway 1, which is ideal for conventional commuting. It is also in close proximity to Timms Community Centre, steps from Douglas Park and miles of walking trails through the Nicomekl parklands, as well as schools and the historic Fort Langley.