The City of Penticton is encouraging residents to donate to the Salvation Army and Red Cross to help victims of apartment blaze – Penticton News – Castanet.net
Photo: Casey Richardson
After a fire destroyed an apartment building Tuesday morning and claimed the lives of two residents, the City of Penticton is encouraging people to donate to Penticton's Salvation Army Store and the Red Cross.
"Clothing, bedding and similar items can be given to the Salvation Army Store Monday, Wednesday and Friday from 9 a.m. to 5 p.m., while cash donations can be directed to the red cross at redcross.ca/donate," Adam Goodwin, the city's social development strategist said.
The evacuees affected by the fire at 217 Elm Avenue will be given a special voucher at the Salvation Army Store to shop for items they may be in need of.
Red Cross is also providing emergency assistance to those that don't carry insurance. All donations given will be going towards funding these supports and other future emergencies.
"The compassion, empathy and care our community has for each other is shining through," John Vassilaki, the mayor of Penticton said. "Residents and businesses have been calling the City asking where they can best support evacuees, so I'm grateful to see the Salvation Army and Red Cross stepping forward to help as they always do. This is another example for our close-knit community working together during a time of need."
The Salvation Army would also like to remind the community that due to space constraints, it can only accept limited furniture items in good condition. All donated items go into The Salvation Army's general inventory to ensure that fire evacuees have access to its store's full inventory.
The Salvation Army remains open to anyone in need, and no one in need is turned away.
65 New Cases Of COVID-19, 2 New Outbreaks In Windsor Essex As Of Friday – windsoriteDOTca News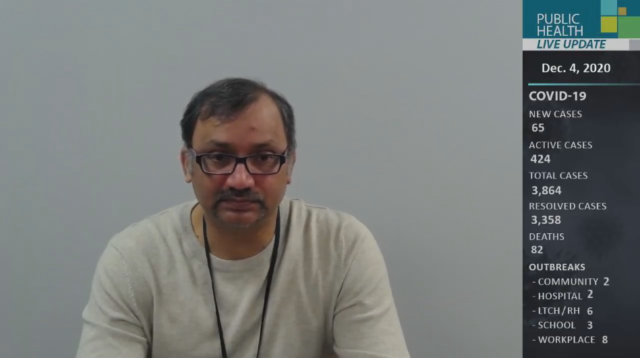 The Windsor Essex County Health Unit has announced 65 new cases of COVID-19 as of Friday, bringing the local total to 3,801.
Cases increased from 3,801 on Thursday December 3rd to 3,864 on Friday December 4th and 424 cases of COVID-19 are currently active in Windsor-Essex. They say four recent cases have been transferred to other health units.
The Health Unit says 5 cases are close contacts of confirmed cases, 2 cases are community acquired, and the origins of 58 cases are still being investigated by the Health Unit's staff.

Article Continues Below Local Sponsor Message
They say 3,358 people locally have recovered (an increase of 54 recoveries today).
There have been no additional deaths due to COVID-19 as of Friday and the local death toll stands at 82.
As of Friday, the Health Unit lists 27 hospitalizations: 20 people in acute care (3 new today), and 7 people in the ICU (2 new today) with confirmed cases of COVID-19 in Windsor Essex. Fourteen hospitalizations are listed at Windsor Regional Hospital.
Long-term Care / Retirement Home Outbreaks
As of Friday, there is one new outbreak and five long-term care/retirement homes remain under outbreak:
Chartwell St. Clair Beach (Tecumseh) has 1 resident case and 0 staff cases (new outbreak today)
Village of Aspen Lake (Windsor) has 0 resident cases and 1 staff case
Chartwell Royal Oak Residence (Kingsville) has 0 resident cases and 2 staff cases
Leamington Mennonite (Leamington) has 0 resident cases and 2 staff cases
Riverside Place (Windsor) has 17 resident cases and 3 staff cases
Iller Lodge (Essex) has 18 resident cases and 3 staff cases
Workplace Outbreaks
As of Friday, there is one new outbreak and seven other workplaces remain under outbreak:
3 outbreaks at agri-farms in Leamington
1 outbreak at a health care and social assistance workplace in Lakeshore
1 outbreak at a finance and insurance workplace in Leamington
1 outbreak at a manufacturing facility in Windsor
1 outbreak at a manufacturing facility in Kingsville (new today)
1 outbreak at a place of worship in Leamington
School Outbreaks
As of Friday, three schools remain under outbreak:
Corpus Christi Catholic Middle School – Central Park Athletics Campus
W.J. Langlois Catholic Elementary School
Frank W. Begley Public School
Community Outbreaks
As of Friday, there are two community outbreaks:
Riverplace Residence
Victoria Manor
Hospital Outbreaks
As of Friday, there are two hospital outbreaks:
Hotel-Dieu Grace Healthcare
Windsor Regional Hospital
'Massive undertaking': Roadmap of Canada's coronavirus vaccine roll-out – Global News
If all goes according to plan, Canadians will start getting vaccinated for the novel coronavirus early next year.
And one of the people spearheading those efforts is a Canadian from Sherbrooke, Que. — Nicolas Chornet, senior vice-president of international manufacturing at Moderna.
He moved to Switzerland in August to set up the U.S. drugmaker's European office and has not seen his extended family in almost a year. But they, too, ask him for constant updates.
"Hey, how fast can we get this? Because we want to see you and we want you to travel and come and see us again,'" his family asks him about the vaccine, he says.
According to deals signed so far, Canada could have access to up to 414 million doses of COVID-19 vaccines from seven different manufacturers.
The shipment and distribution of the vaccine — once approved — will, however, be a Herculean effort involving a lot of manpower, a web of logistical challenges and scientific constraints.

2:29


Coronavirus: Majority of Canadians concerned vaccine will come too late, Ipsos poll finds



Promising candidates from U.S. pharmaceutical companies Pfizer, Moderna and Johnson & Johnson as well as the U.K.'s AstraZeneca, are all currently under a rolling review process, which means vaccine data is being submitted for regulatory approval to Health Canada as it becomes available.
"Canada is one of the countries that moved very, very fast in securing a vaccine with us. It's one of the first countries or one of the top countries to receive our supply also," Chornet said.
Canada is not manufacturing any COVID-19 vaccines because it has a limited production capacity, especially for the vaccine candidates that are currently proving to be the most promising.
This means it will need to import the vaccines, adding another layer to the logistical labyrinth that has also set off political turmoil.
Last week, members of the opposition slammed Prime Minister Justin Trudeau over his comments that countries like the United States, Germany and the U.K. — some of which have domestic pharmaceutical facilities — will get vaccines before Canada.
Moderna's supplies to Canada will come all the way from the Swiss city of Visp — home to some 8,000 people — where the company has set up a secondary production plant, in addition to its U.S. headquarters, to meet the global demand.
"Of course, our level of production or inventory will be lower than in the United States," Chornet said, before adding: "In our distribution here (in Europe), we've optimized the supply chain so we can distribute as fast as possible to all the countries."

1:58


Moderna says COVID-19 vaccine 94.5% effective



The U.S. will receive approximately 20 million doses from Moderna by the end of the year.
Last week, Trudeau said a majority of Canadians should be vaccinated against the coronavirus by next September. That means roughly 75 million doses for the country's entire population if two shots are given.
[ Sign up for our Health IQ newsletter for the latest coronavirus updates ]
Since the start of the pandemic, more than 400,000 people in Canada have been infected and at least 12,400 have succumbed to the virus.
Long-term care homes have borne the brunt of the pandemic, with outbreaks reported at several hundred nursing homes.
More recently, hospitalizations are soaring across provinces. Quebec, Alberta and Ontario are among the worst affected.
A vaccine will come as a relief for lockdown-weary Canadians – 65 per cent of whom say they intend to get a vaccine when it's approved by Health Canada and available for free, according to a new poll this week. Meanwhile, an Ipsos poll conducted exclusively for Global News found that 74 per cent of respondents are worried that the public distribution of a vaccine would be too slow to stop a greater spread of COVID-19.
The National Advisory Committee on Immunization (NACI), has identified key populations that should get immunized first, including the elderly and those with underlying health conditions, as well as health-care workers, according to its preliminary recommendations.
"This will probably be the most complex deployment of vaccines that we're attempting in Canada, or I would suggest even around the world," Daniel Chiasson, president and CEO of the Canadian Association for Pharmacy Distribution Management, told Global News.
So how will it work?
Cold storage
Both Pfizer and Moderna's vaccines need to be kept in cold storage and have specific temperature requirements.
Pfizer's vaccine must be shipped and stored at -70 C, while Moderna's can be stored for up to six months at -20 C.
This requires a certain level of infrastructure that Canada may not have if vaccines are deployed in a short time frame, Chiasson said.
"The bottleneck for me is likely to be at the warehouse level," he said.
"Do we actually have sufficient capacity with the right equipment in terms of refrigeration or frozen capacity to do it? … The infrastructure exists today. Do we have enough of it?"

1:51


Pfizer-BioNTech coronavirus vaccine: The refrigeration problem no one is talking about



In anticipation of a vaccine's arrival, the federal government has ordered 26 ultra-cold freezers required for Pfizer's vaccine and another 100 needed for Moderna's. So far, 34 freezers have arrived, according to Public Services and Procurement Canada.
U.S.-based Thermo Fisher Scientific is among those companies supplying the cold storage to Canada.
"The criticality of this is huge, being able to manage the temperature from the point of manufacturing through distribution and ultimately to preparation for injection. It just can't be overstated," Dr. Alex Esman, general manager and senior director for cold storage at Thermo Fisher Scientific, told Global News.
"Typically, these freezers are used today in research… but now these freezers are going to be just in slightly different places … like in the pharmacy or in a doctor's office or a clinical office."
ESBE Scientific, a distribution company in Markham, Ont., told Global News it has already supplied stocks to the federal government, and the provinces of Ontario and Alberta.
Distribution
While the federal government is overseeing the procurement and authorization of the vaccines at the national level, provincial health authorities are currently working on their individual plans to decide where the vaccines will be deployed and administered and who will get them in what order.
The Canadian military has also said it is preparing to help with the country's vaccine roll-out more broadly.
Retired general Rick Hillier, who led the NATO forces in Afghanistan, was recently tapped to lead the vaccine roll-out for the province of Ontario.
"We're talking to the IT professionals, they're talking about building a system that is already in progress on iPads to use at those sites to log where the vaccines are, where they're going to connect that to health cards to make sure that we have a record that somebody has been vaccinated," Hillier told Global News.

1:25


Coronavirus: Initial supply of COVID-19 vaccine in Canada to be around 3 million vaccinations



At the city level, immunization teams will then be responsible for making sure the vaccines get delivered to the identified priority groups, and for carrying out the immunizations in the community.
Matthew Pegg, the head of Toronto's COVID-19 Immunization Task Force, says the roll-out will be a "massive undertaking" that will require a lot of planning and co-ordination.
The "biggest hurdle," he said, is identifying facilities that can store vaccines and serve as a location for people to get vaccinated.
"We need facilities where we can install whatever the requirements will be for refrigeration or freezers," Pegg told Global News.
His team is currently looking for facilities to serve as warehouses for all of the expected inventory.
Second dose and followup
Vaccines from Pfizer, Moderna and AstraZeneca will require two doses.
Pfizer's booster shot will be given three weeks after the first one, while Moderna's is spaced four weeks later. In AstraZeneca's clinical trials, the second dose was given a month later.
Dr. Michael Finkelstein of the Toronto Public Health says it will be important to report and investigate any adverse effects and make sure patients return for that second dose.
"We have a lot of experience with people getting vaccines, but much less experience with people needing two doses," he told Global News.
"And so it's going to be very important for us to be able to remind people and making sure that they get the message they have to come back."
If both Moderna and Pfizer's vaccines are approved, the first batch of what's expected to be six million doses — enough for three million Canadians — will begin arriving in early January.
But the actual work of the roll-out will be far from over.
© 2020 Global News, a division of Corus Entertainment Inc.
How the COVID-19 vaccines are being approved in Canada – CBC.ca
The approval of a COVID-19 vaccine in Canada could potentially be days away with the initial supply to be limited to about three million Canadians, in the first three months of 2021. But what approval processes have the vaccines gone through? CBC explains:
Is the approval process for the COVID-19 vaccine different than for other vaccines?
Due to the immediate need for the COVID-19 vaccine, some flexibility has been introduced to the approval process. Typically, a vaccine manufacturer will do all their clinical trials, gather all their data, prepare a submission package and put that forward for approval, said John Greiss, a Toronto-based intellectual property lawyer with Norton Rose Fulbright, who advises companies in the life sciences sector that are regulated by Health Canada.
"Health Canada will comment on it or ask for additional information and it will go back and forth until they come to a decision, he said.
But with COVID-19, Health Canada has accepted what's known as a "rolling submission."
"The new process allows for a company to start an application process, submit the information that they have available, as of that date and add new data and new information as it becomes available, Greiss said
Supriya Sharma, chief medical adviser to Health Canada, said this enables the organization to start reviewing the potential vaccine and will shorten the overall review process "while still maintaining those same standards for the safety and the efficacy."
What's included in the submission?
That really hasn't changed, Greiss said. Vaccine manufacturers have to submit all of the scientific data that they have, which includes any kind of lab data that demonstrates how the vaccine works, any kind of clinical trial data that they have obtained, along with Phase 1 to Phase 3 clinical trial data.
WATCH | Vaccines are coming soon
Dr. Njoo tells reporters the federal government is expecting 6 million doses of first two vaccines to arrive in Canada after approvals within the first quarter of the new year. 1:35
They also have to submit information about the manufacturing process and standards and procedures that demonstrate they're meeting good manufacturing processes in their facilities, Greiss said.
How is the vaccine reviewed?
One vaccine submission is hundreds of thousands of pages long and can take, on average around 2,000 person hours to review, Sharma said. For COVID-19, Health Canada is employing specialized teams of seven to 12 people who have experience in areas like toxicology, infectious diseases, clinical medicine, microbiology and epidemiology to review the vaccine.
"Each vaccine submission has its own team that's dedicated to it. And they will go through all of that information," she said.
Reviewers must confirm there are no significant safety concerns, determine that the vaccine is able to prompt an adequate immune response in vaccinated people and show that it can protect against disease, she said.
"We go through all of that to see if it actually meets our standards for safety, efficacy, quality," Sharma said.
"We need to make sure that the benefits of the vaccine outweigh the potential risks and that we know that it's being made in at a licensed place that's up to standards and up to code."
Greiss said that during the review process, Health Canada officials might, for example, ask for further clarification about the clinical trial procedure, or how patients were recruited.
"Or if they see anomalies in the data, they'll ask the company to justify or clarify that information," he said. "So there is still that back and forth in terms of Health Canada sort of digesting and analyzing the data and the company having to provide answers for that before they get an approval."
Are the vaccine manufacturing facilities inspected?
For manufacturing facilities around the world, not just for vaccines, but for medications as well, Health Canada has entered into mutual recognition agreements with other regulators, Sharma said.
"We actually have sent our inspectors over to their country," she said. "They've sent inspectors over to our country. We make sure that our standards are the same, our processes are the same."
Every facility that manufactures vaccines needs to have an inspection before it's licensed. And there are ongoing inspections to make sure standards are maintained, she said.
What are they looking for in these facilities?
They're looking at key factors, known as the four Ps, Sharma said.
Product: What's being made there.
Premises: There are very detailed specifications on the facilities themselves. For example, special flooring and ventilation systems have to be in place.
Process: All the processes that go into manufacturing the product.
People: The qualifications and training of the people that work there.
All of those things are really important in terms of making sure that standards are met, she said.