The Last Kids on Earth Season 4: Renewal for the Netflix series explained – HITC – Football, Gaming, Movies, TV, Music
Fans are wondering about The Last Kids on Earth season 4 renewal status after a special episode was released earlier today on Netflix. We look into this!
The Last Kids on Earth series is based on a children's novel by the same name which was written by Max Brallier and released in 2015. 3 years later the novel was picked up by Netflix to be adapted into an animated series.
Since its release, the animated series has been well received by fans across the world. It currently sits at 7.5/10 on IMDB and so far has 3 seasons with a special episode which was released today. Now fans are hopeful for season 4.
So, will there be The Last Kids on Earth season 4?
The Last Kids on Earth Season 4: Renewal status
The Last Kids on Earth season 4 has not officially been renewed by Netflix at the time of writing this article.
However, it is very likely the series will return for season 4 due to its popularity. The adaptation of the books has been so well received, that 3 of Brallier's books were adapted into the series, with the season, or rather book 2&3 consisting of 10 episodes each.
A game adaptation is also set to release in June 2021 titled 'The Last Kids on Earth & The Staff of Doom'. The game will feature on Nintendo Switch, PlayStation 4 and Xbox One.
On the premise of how well the series is doing, combined with the fact that only half of Max Brallier's books having been adapted and a game on the horizon. Fans can expect a book 4.
SHAMAN KING: We explain how to watch the popular anime reboot!
The Last Kids on Earth Season 4: Release date
Whilst we can expect a Book 4 to release on Netflix, a potential release date for the series has not yet been confirmed by production studios, Atomic Cartoons or its distributor, which is Netflix.
However, we can give a prediction for the release date of book 4 based on previous seasons. The animated series Book 1 released on 17th September 2019, with Book 2 following just over half a year later in mid-April 2020. Book 3 and the special episode were released 6 months apart. Book 3 in October 2020 and the Special in April 2021.
Assuming Book 4 would follow suit of previous releases, we can expect it to release in October 2021. Therefore, the special episode acts as a buffer while final touches on the video game are being made. This gives the creators and producers time to work on Book 4.
RIVERDALE: We talk about the release of season 5 episode 11!
To reiterate, we can expect The Last Kids on Earth Book 4, to release toward the end of this year in mid-October 2021. This article will be updated as soon as there is more information on, The Last Kids on Earth series.
In other news, Black Clover movie: Release date, plot and cast rumours explained!
WhatsApp rolls out new business directory to promote e-commerce – Geo News
Can't connect right now!
retry

Wednesday Sep 15, 2021
Instant messaging platform announces the business directory to quickly find local businesses within WhatsApp.
This feature may not be available to some right now, but it will be rolled out for more people later, writes WABetainfo.
This can be…the primary way that people start a commerce process in WhatsApp, says Matt Idema.
---
Instant messaging platform WhatsApp has announced the business directory to quickly find local businesses within WhatsApp, WABetainfo reported Wednesday.
"This feature may not be available to you right now, but it will be rolled out for more people later," WABetainfo wrote.
In order to bolster e-commerce on its services, a new test has been rolled out which allows users to find shops and services through a directory in the app.
"This could be…the primary way that people start a commerce process in WhatsApp," Matt Idema, Facebook's vice president of business messaging, said in an interview with Reuters this week.
WhatsApp, unlike Facebook and Instagram, does not run ads in its app. Idema said previously businesses were promoting their WhatsApp numbers on packaging or websites or using Facebook ads to bring users into chats on WhatsApp.
The messaging service has increasingly courted business users, with a specialised app for small firms and an API, or type of software interface, for larger businesses to connect their systems, which generates revenue.
As online retail has continued to boom during the COVID-19 pandemic, Facebook has pushed in-app shopping features across its apps. In June, Zuckerberg announced Facebook's Shops feature would expand to WhatsApp in several countries. In recent years, WhatsApp also has also launched shopping tools like product catalogues and shopping carts.
WhatsApp said the new test would include thousands of businesses in categories like food, retail and local services across certain São Paulo neighbourhoods. Idema said India and Indonesia were good next candidates to expand the feature.
The company, which has faced user backlash amid confusion over privacy updates and was fined by the Irish data protection regulator over privacy breaches, said it will not know or store the location of people's search or results through the new directory feature.
Idema did not rule out the possibility that WhatsApp could introduce in-app ads in the future.
"There's definitely a route on ads, which is Facebook's core business model, that over the long term I think in some form or another will be part of the business model for WhatsApp," he said. WhatsApp says about one million advertisers currently use Facebook and Instagram's 'click to WhatsApp' ads to send users to the messaging app.
Idema said WhatsApp, which Facebook bought for $19 billion in a landmark 2014 deal but which has been slow to monetise its features, was also excited about non-ad models like building software to help businesses to manage their services across Facebook's apps.

iPhone 13 Pro Offers Significantly Improved GPU Performance Compared to iPhone 12 Pro – MacRumors
Just a day after the iPhone 13 models were announced by Apple, the first Geekbench score has already surfaced. Someone has benchmarked the GPU performance of the iPhone 13 Pro, and there's a significant performance increase compared to the prior-generation iPhone 12 Pro.

The ‌iPhone 13 Pro‌, or iPhone14,2, earned a Metal score of 14216, a 55 percent increase compared to the 9123 Metal score earned by the ‌iPhone 12 Pro‌.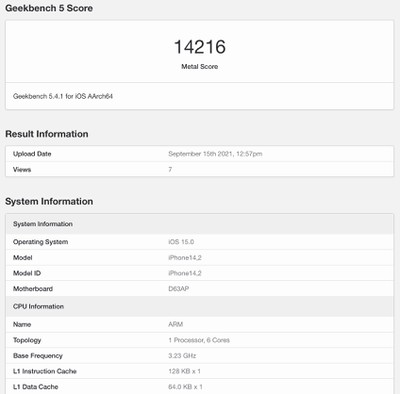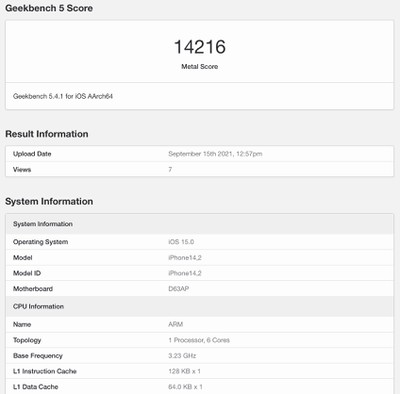 Apple's ‌iPhone 13‌ models feature an A15 chip with 6 CPU cores, including two performance cores and four efficiency cores. Both the ‌iPhone 13‌ and ‌iPhone 13 Pro‌ devices have the same CPU, but there are differences when it comes to GPU. The ‌iPhone 13‌ and 13 mini are equipped with a 4-core GPU, while the higher-end ‌iPhone 13 Pro‌ and ‌iPhone 13 Pro‌ Max have a 5-core GPU.
Apple has called the A15 chip with the 5-core GPU in the Pro models the "world's fastest smartphone chip," and says that it delivers "up to 50% faster graphics performance than any other smartphone chip." Given the difference demonstrated in Metal scores, that appears to be accurate, with the A15 in the Pro models outperforming the A14. The benchmark also confirms that the Pro models feature 6GB RAM as was already seen in Xcode. The ‌iPhone 13‌ and 13 mini have 4GB RAM.
No one has benchmarked one of the standard ‌iPhone 13‌ models so we don't know how they compare to the prior-generation A14, nor do we have a benchmark of the CPU to compare CPU performance between the A14 and A15. Apple has said little about the A15's CPU, and rather than comparing it to the A14, Apple instead pointed out that it's "up to 50% faster" than the competition.
The iPad mini has the same A15 chip with 5-core GPU that's in the ‌iPhone 13 Pro‌ models, so we can expect the same graphics performance from Apple's updated tablet.
With the ‌iPhone 13‌ lineup set to launch next week and soon to be in the hands of reviewers, we won't have to wait too much longer to get additional benchmarks of the A15 that will give us more insight into its overall performance. The new iPhones are set to be available for pre-order on Friday, September 17 at 5:00 a.m. Pacific Time.
Toronto lab uncovers spyware flaw in Apple devices prompting security update for users worldwide – CTV News Toronto
TORONTO —
The latest iOS update is an urgent and important one for every Apple user worldwide whether they have a phone, computer or watch.
The tech giant has issued a security patch after Citizen Lab, based at the University of Toronto, uncovered a concerning flaw.
"That feels pretty good. That said, it's also sobering because it highlights the sophistication of the problem we're looking at," John Scott-Railton, senior researcher at the lab, told CTV News Toronto Tuesday.
He said the team discovered a technique allowing spyware to access devices through what's called the zero-click exploit, which allows someone to remotely hack and infect a device without the owner ever clicking on a link or ever knowing.
Researchers believe the spyware was developed by NSO Group, an Israeli technology firm, with products for governments to prevent crime and terror. Citizen Lab said they picked up on it while a Saudi activist was being targeted.
Researchers also say Apple had no idea about the flaw which means the company had to act right away.
"Today, the targets appear to be people like activists and other high value people. That said, there is nothing to prevent this company from doing what they want to do tomorrow, which is sell it to local governments and local police. That's a pretty scary thought because we know there are problems with oversight," Scott-Railton said.
Citizen Lab has been analyzing these types of digital threats from Toronto for years and has local students help with some of its projects.
"Make sure to update your phones but also remember what this update means. This means there is an industry out there that is unaccountable and finding ways to hack any phone in the world without any action on your part," Scott-Railton said.
He warns while this flaw was caught, those behind the zero-click exploit are increasingly making the technology more sophisticated and dangerous.