The most powerful passports in 2023: Where Canada stands
A report from U.K.-based global citizenship and residence advisory firm Henley & Partners reveals that for the fifth year running Japan has the world's most powerful passport, with Canada also near the top of the list.
The report, based on data from the International Air Transport Association (ITATA), ranks all the world's 199 passports according to the number of destinations their holders can access without a prior visa.
Based on the Henley index, Japanese citizens are able to visit 193 destinations without a visa, just ahead of South Koreans and Singaporeans, who can enjoy visa-free access to 192 destinations.
Following the top three, Germany and Spain came in at third place, tied at 190 destinations. Finland, Italy, Luxembourg are fourth, tied at 189.
Austria, Denmark, Netherlands and Sweden came at number 5. Their citizens can access 188 visa-free destinations. Followed by France, Ireland, Portugal and the U.K. in sixth place.
Ranked number 7 are Belgium, Czech Republic, New Zealand, Norway, Switzerland and the U.S., tied on 186 destinations, while Australia, Canada, Greece and Malta ranked eighth with 185 visa-free destinations.
Hungary and Poland, each with 184 visa-free destinations, ranked ninth and Lithuania and Slovakia tied with 183 visa-free destinations in tenth place.
At the very bottom, the Afghan passport secured its last place position, as Afghan nationals can access just 27 countries without requiring a visa.
The report says that global travel is now at around 75 per cent of pre-pandemic levels.
IS THERE LINK BETWEEN PASSPORT STRENGTH AND ECONOMIC POWER?
According to Henley Passport Index, there is a direct link between a passport strength and economic power as just six per cent of passports worldwide can provide visa-free access to more than 70 per cent of the global economy and only 17 per cent of passport holders can access most of the world's 227 destinations.
For example, Japanese passport owners have access to 85 per cent of countries, which collectively account for 98 per cent of the global economy.
In contrast, Afghan nationals can access just 12 per cent of the world, which is less than one per cent of global economic output.
These are 10 top best passport in 2023, according to the Henley index
1. Japan — 193 visa-free destinations
2. Singapore and South Korea — 192 visa-free destinations
3. Germany and Spain — 190 visa-free destinations
4. Finland, Italy and Luxembourg — 189 visa-free destinations
5. Austria, Denmark, Netherlands and Sweden — 188 visa-free destinations
6. France, Ireland, Portugal and United Kingdom — 187 visa-free destinations
7. Belgium, New Zealand, Norway, Switzerland, United States and Czech Republic — 186 visa-free destinations
8. Australia, Canada, Greece and Malta — 185 visa-free destinations
9. Hungary and Poland — 184 visa-free destinations
10. Lithuania and Slovakia — 183 visa-free destinations
These are 10 worst passport in 2023, according to the Henley index
1. Afghanistan — 27 visa-free destinations
2. Iraq — 29 visa-free destinations
3. Syria — 30 visa-free destinations
4. Pakistan — 32 visa-free destinations
5. Yemen — 34 visa-free destinations
6. Somalia — 35 visa-free destinations
7. Nepal and the Palestinian Territories — 38 visa-free destinations
8. North Korea — 40 visa-free destinations
9. Bangladesh, Kosovo and Libya — 41 visa-free destinations
10. Congo (Dem. Rep.), Lebanon, Sri Lanka and Sudan — 42 visa-free destinations
Reporting for this story was paid for through The Afghan Journalists in Residence Project funded by Meta.
Forecast: Coldest temperatures this winter coming to Eastern Canada – CTV News
The beginning of February is expected to bring Arctic-like temperatures across much of Eastern Canada, thanks to frigid air from the polar vortex.
"I think it will be a real punch in the face for easterners," Environment Canada senior climatologist David Phillips told CTVNews.ca. "It's going to be pretty short-lived and it's going to be right across the east."
The cold snap will descend on Eastern Canada between Thursday night and Friday, with temperatures becoming seasonable again on Sunday. In between, much of Ontario, Quebec and Atlantic Canada can expect the coldest days yet this winter.
"We'll see temperatures that are really, brutally cold," Phillips said from Toronto. "It's really a one-and-a-half-day wonder."
According to Environment Canada, as the cold air tracks east, daytime highs will only reach -13 C in Toronto, -20 in Ottawa, -21 in Montreal and -23 in Quebec City on Friday, and -18 in Fredericton, -15 in Halifax, and -18 in Charlottetown on Saturday.
"It'll be sunny and bright, because it's Arctic air," Philips said. "It's very dry, and it will be crisp"
Overnight temperatures on Friday night could dip as low as -20 in Toronto, -31 in Ottawa, -30 in Montreal, -34 in Quebec City, -28 in Fredericton, -21 in Halifax, and -23 in Charlottetown – all more or less double what's normal for this time of year.
"The last time it was that cold in Ottawa was 27 years ago," Phillips explained. "You can go year after year after year and not see a temperature of -20 in Halifax."
These temperatures do not factor in wind chill, which could make things feel even icier.
"It's going to be very punishing," Phillips said. "It's clearly an Arctic invasion of frigid air."
The short-lived and bitter winter blast is being blamed on a weakened polar vortex, which causes icy Arctic air to push south, leading to rapid and sharp temperature drops.
There is a silver lining for those who have been missing out on winter activities.
"The second half of winter, according to our models, seems certainly a little colder, more winter-like, than what we saw at the beginning of the winter," Phillips said. "But everywhere in Canada, we're now well the beyond the halfway point. There's more winter behind us than ahead of us!"
While much of Western Canada has been shivering through the winter, it's been a different story in the unseasonably mild east. Phillips says December and January in Ottawa, for example, were the third warmest on record in 150 years; and both Ottawa and Montreal have experienced no days below -20 this winter, when normally they would each have about 10. Ottawa's Rideau Canal Skateway is also still closed when it typically opens in January. Warmer winter temperatures, however, have also brought abundant snow.
"If you're in the east, it's looking like winter, but it doesn't feel like winter," Phillips said. "But it's going to feel like winter when the cold arrives."
Canada province experiments with decriminalising hard drugs – BBC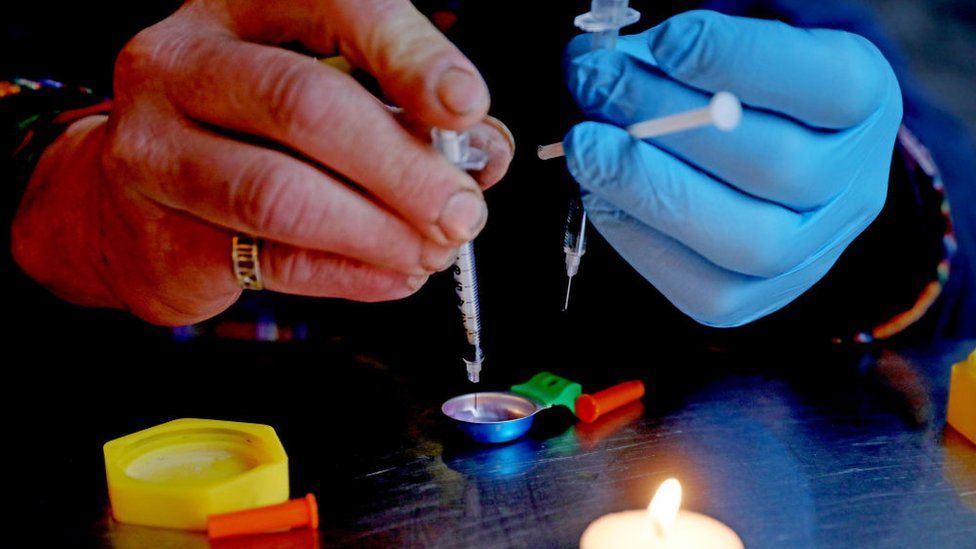 Canada's province of British Columbia is starting a first-in-the-nation trial decriminalising small amounts of hard drugs such as cocaine and heroin.
From Tuesday, adults can possess up to 2.5g of such drugs, as well as methamphetamine, fentanyl and morphine.
It follows a similar policy in the nearby US state of Oregon, which decriminalised hard drugs in 2020.
Ahead of the pilot's launch, British Columbia and federal officials outlined the rules under the federally approved exemption from the Controlled Drugs and Substances Act.
While those substances will remain illegal, adults found in possession of a combined total of less than 2.5g of the drugs will not be arrested, charged or have their substances seized. Instead, they will be offered information on available health and social services.
Federal minister of mental health and addictions Carolyn Bennett on Monday called the move "a monumental shift in drug policy that favours fostering trusting and supportive relationships in health and social services over further criminalisation".
Some 10,000 residents have died from drug overdoses since British Columbia declared drugs to be a public health emergency in 2016, officials said.
"Decriminalising people who use drugs breaks down the fear and shame associated with substance use and ensures they feel safer reaching out for life-saving supports," said Jennifer Whiteside, the British Columbia minister for mental health and addictions.
Thousands of police officers in the province have been offered training on the rule change, including those in Vancouver, the largest city in the province.
The programme will run from 31 January 2023 until 31 January 2026, unless it is revoked by the federal government.
Some experts have questioned the 2.5g limit, saying that it is not enough to account for the habits of many addicts.
There are some exemptions to the scheme.
The sale of drugs remains illegal. It is also illegal to possess drugs on the grounds of schools, childcare facilities and airports.
Canada legalised the use of recreational cannabis for adults nationwide in 2018.
But the four drugs now allowed in small quantities remain prohibited, meaning there are no plans to sell them in stores, unlike marijuana. Trafficking them across borders also remains illegal.
You may also be interested in:
Health Canada reviewing safety of controversial breastfeeding drug – CBC.ca
Health Canada has launched a safety review of the psychological withdrawal symptoms associated with stopping or reducing use of a drug commonly prescribed to help women breastfeed.
The agency confirmed the review in an email to CBC News.
"A safety review is currently under way for domperidone and drug withdrawal symptoms after stopping or reducing the dose of domperidone used to stimulate lactation," the statement said.
Domperidone is approved in Canada to treat gastrointestinal disorders. Health Canada has never authorized its use as a lactation aid, but it is widely prescribed off-label for this purpose.
The Health Canada review follows a CBC News investigation into severe psychological effects that can occur when some women stop taking the drug. Women who spoke to CBC described anxiety, lack of sleep and thoughts of self-harm severe enough that in some cases they became incapable of caring for their children or returning to work. One woman described multiple attempts to take her own life.
CBC's investigation also found domperidone is prescribed by some doctors to stimulate lactation at doses three to five times higher than what is recommended by both Health Canada and the drug manufacturer. Because this is not an approved use or dosage anywhere in the world, there are no large-scale clinical trials that shed any light on how often these side effects occur.
This makes it challenging for regulators like Health Canada to evaluate the safety of a drug for an off-label purpose, said Mina Tadrous, an assistant professor at the Leslie Dan Faculty of Pharmacy at the University of Toronto who specializes in drug safety.
"The company may not have intended it for that, so the original clinical trials were not designed for that. And so it means that they have to look at different mechanisms to be able to evaluate the safety of these drugs," he said.
That can include looking at data from other countries with larger populations, according to Tadrous.
Case studies document concerns
There are, however, case studies documenting the withdrawal effects, including three published in November 2022 in the peer-reviewed journal Breastfeeding Medicine. Domperidone blocks dopamine receptors in the brain, which stimulates the release of prolactin. This causes lactation, the authors note, but can also cause domperidone to act as an antipsychotic. The authors also noted withdrawal symptoms are typically less severe when women taper off the drug slowly.
The most recent case studies are from the United States, where domperidone is not approved by the Food and Drug Administration for any purpose. CBC's investigation found some American women get the drug from doctors in Canada.
Health Canada will review "all relevant domestic and foreign case reports," the statement said.
Reviews can result in Health Canada requesting more information, studies or monitoring by the manufacturer. They can also result in warnings to patients and health care providers, changes to how a drug is labelled or, if necessary, the withdrawal of a drug from the market "if the benefits no longer outweigh the risks of the product," according to the statement released by the department.
"The decision to take action, including issuing a warning, is not based solely on the number of case reports, but on a comprehensive assessment of the information contained in these case reports," Health Canada's statement said.
"Should new safety risks be confirmed, Health Canada will take appropriate action and continue to keep Canadians informed."
WATCH | Women report alarming withrawal effects after taking domperidone as a lactation aid:
WARNING: This story contains distressing details about suicidal thoughts and attempts. Correction: A previous version of this video included inaccurate Health Canada data about the number of domperidone prescriptions that were filled in 2020. That publicly available data has since been updated to show that 1.7 million prescriptions were filled that year.
The distinction between quantity and quality of reports is important, Tadrous said, because large numbers of reports, especially from non-clinicians, may only indicate people believe there's a connection between a drug and a reaction.
"That's the lesson we've learned with vaccines, for example, where these adverse event systems are flooded," he said.
"And so if you base something just on the number of reports without doing a thorough investigation and a different type of study design that reduces bias … you might reach a false conclusion."
Health Canada has conducted multiple safety reviews of domperidone, most recently in 2021. Previous reviews confirmed the risk of serious abnormal heart rhythms and sudden cardiac death related to domperidone use. These reviews resulted in Health Canada introducing a maximum daily dose recommendation of 30 mg and restricting its use in patients with certain cardiac conditions or taking other drugs.