Trends at Art Basel Miami Beach That Could Spill Into Next Year – BNN
(Bloomberg) — There are three primary ways galleries source work for an art fair booth.
The first is to get it from an artist the gallery represents. The second is to draw on the gallery's own inventory. The third is via consignment, which is when the owner of an artwork gives it to a dealer, who then takes a commission from the sales price.
Like nearly every art fair before it, the galleries exhibiting at Art Basel Miami Beach brought work acquired through a combination of all three channels, meaning that the art on view wasn't just what was available, it was what insiders thought the market wanted most.
And so, despite the fact that 253 galleries together had thousands of artworks worth many millions of dollars to sell, there were some clear indications of the current state of the contemporary art market—as much for what was not on offer as for what was.
Maybe a Picture Doesn't Last Longer
Contemporary photography has traditionally been an entry point for nascent collectors, both because of its accessibility and a price point that is often lower than painting and sculpture. This year, there wasn't a lot for the fair's 60,000 attendees to choose from.
"I even had a client who mentioned that," says the adviser Heather Flow. "They said, 'When we first started collecting, we bought so much photography, and there's not much here this year.'"
Maybe it was just a question of shifting tastes. Possibly it had something to do with filling the wall space of collectors' fourth or fifth houses. Perhaps it was because everyone, stuck on computers throughout the Covid-19 pandemic, craved something with texture.
"We've all been living in a flatscreen world," says Flow. "The flat, compressed image—which is the way photography can sometimes feel like—maybe it's too reminiscent of having everything on the screen."
The fitful markets of the medium's biggest stars certainly aren't helping.
In recent years, Cindy Sherman, Andreas Gursky, and Jeff Wall have seen their markets sink at auction, both in price and volume; their diminished market power could have a dampening effect on that of other contemporary photographers.
The flip side could also be true: Dealers, flush from a year of sold-out shows and record demand, seemed to bring a much higher caliber tranche of material than in years past, leaving lower-priced art at home.
"Underlying the entire fair was this idea that no one knows what 2022 is going to be like," Flow says. "I think people were bringing whatever they knew they could sell and whatever they could sell for high numbers. Because if they have the cash now, they can plan for 2022."
No Screens
For all the talk of NFTs breaking into fine art, there was barely any digital art in the fair itself.
That could be because NFT projects elsewhere were sucking the air from the room, and dealers didn't want to compete; last week in Miami there were literally hundreds of NFT-related events, including NFT conferences, NFT panel discussions, NFT sales, NFT boat parties, and, of course, NFT exhibitions.
Or it could be that the confusion around NFTs—not to mention much of the art world's distaste for the field—caused traditional galleries to steer clear of anything that even hinted of an association with the trend.
The only notable exception was at Pace Gallery, which offered an NFT by the Drift artists Lonneke Gordijn and Ralph Nauta; it sold for $500,000 (plus a $50,000 donation added by the purchaser) on the second day of the fair.
Everywhere else, very few screens could be found. Digital art as a medium "has been particularly obsolete, except for in the NFT realm," says the adviser Lisa Schiff. "It's been on the downside for a while."
A Market in Transition
So what was selling?
As in the past five years, at least, figurative painting of non-White people by non-White artists continues to do well.
The November auctions in New York that preceded the fair saw spectacular results for work in the category—a 2019 painting by Amoako Boafo sold for $441,000 at Sotheby's over a high estimate of $150,000, for instance, and a 2012 painting by Amy Sherald sold for $3.9 million over a high estimate of $1.8 million at Phillips.
Often, an artist's auction success in November translates to a profusion of their work in Basel in December. "Sometimes, you go down and you can see all the things that recently sold at auction," says Flow. This year, "it didn't feel like that," she says.
Indeed, a careful look at the booths in Miami revealed a transition away from figuration altogether. "You can see the beginning of the end of painterly, figurative paintings," says Schiff.
Momentum ranged from the very high end, such as a 1953 abstract painting by Ad Reinhardt that sold for more than $7 million at David Zwirner, to more affordable price points, including a ceramic sculpture by Masaomi Yasunaga at Lisson Gallery that sold for $10,000.
"Seeing what was brought, it's more conceptual and abstracted. Instead of art thinking in the now, it's thinking in the future," Flow says.
She cites McArthur Binion, whose complex abstract work was featured in Lehmann Maupin and Gray galleries' booths; Fred Eversley, a former engineer whose colorful, cast-polyester sculptures were in the booths of David Kordansky and Nicola Vassell; and Tetsumi Kudo, the late Japanese artist whose challenging, detailed sculptures were on view at Galerie Christophe Gaillard.
This isn't to say that we've returned to the era of ungainly Kunsthalle-specific installations, "but we're starting to shift back to other things," Schiff says. "It's still beautiful art, but it's more conceptual."
©2021 Bloomberg L.P.
The LA Art Show Returns With an Environmental Focus – Surface Magazine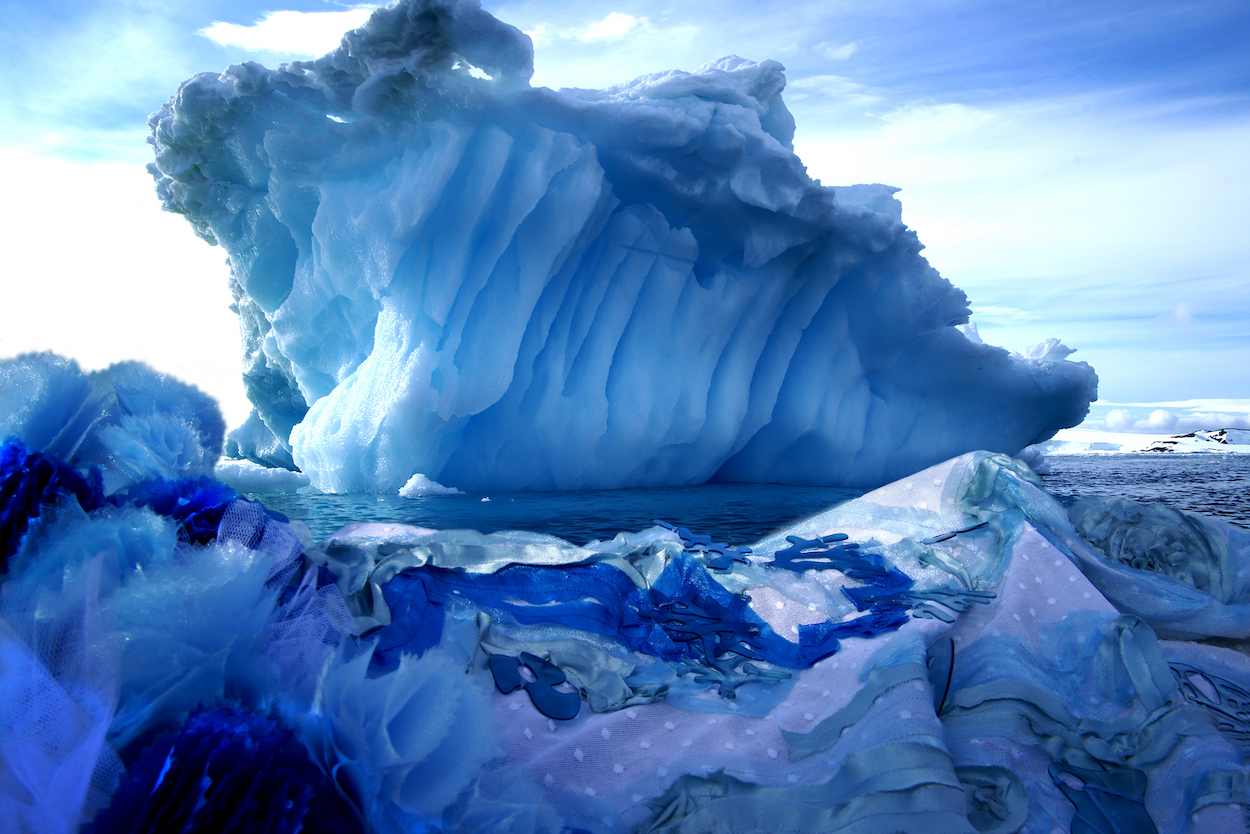 Environmental issues have taken on a particular urgency in the past year. Climate scientists have warned that if nations fail to immediately pivot from fossil fuels, catastrophic consequences await. Artists frequently reckon with this grim reality, with many expressing skepticism—if not outright anger—at climate inaction, which has resulted in the destruction of coral reefs, intense wildfires, rising sea levels, and the extinction of beloved animal species. The issues surrounding climate change have become top of mind for The LA Art Show, which is kicking off the city's eagerly anticipated 2022 art season with a newfound ecological lens thanks to the return of DIVERSEartLA.
This year's edition, which kicks off today at the Los Angeles Convention Center, sheds light not only on how artists represent the environment in their work, but how humanity's role factors into the equation. "DIVERSEartLA 2022 will encourage visitors to confront the complex challenges of our global climate crisis and imagine potential solutions," says Marisa Caichiolo, the show's curator, who encouraged participating art museums to partner with science and environmental institutions. "This topic is at the heart of a growing number of art narratives, including exhibitions built with high-tech innovations designed to inspire artistic appreciation and the desire to respond to environmental challenges, reinforcing the value of translating environmental advocacy into art."
Among the programming highlights is "Our turn to change," a worry-inducing video installation by Andrea Juan and Gabriel Penedo Diego and presented by the Museum of Nature of Cantabria Spain that awakens viewers to melting polar ice caps that are causing sea levels to rise drop by drop. The Torrance Art Museum, meanwhile, presents "Memorial to the Future," a collaborative piece curated by Max Presneill that centers Brutalist architecture as a failed model of idealism while highlighting the immediate need for environmental action. And in "The Earth's Fruits" by Guillermo Anselmo Vezzosi, waste unexpectedly takes on a dignified second life.
The LA Art Show opens at the Los Angeles Convention Center, South Hall, from Jan. 19–23.
300-pound local art heist took 4 minutes | News | pentictonherald.ca – pentictonherald.ca
At Art Basel, FLUF Haus Breaks Barrier Between Metaverse And Physical World – Forbes
Last month, while the cultural elite wrapped up Art Basel with the usual lavish purchases of Keith Herring paintings and Daniel Arsham decayed sculptures, a different crowd had gathered just a couple blocks down the South Beach coastline. The world's first "Metaverse star" was about to perform.
FLUF Haus, the first in-person gathering for a community of virtual 3D Rabbits (known as Flufs), was hosting a concert for the music star known as "Angelbaby"—a large tattooed pink rabbit whose identity, appearance, and music had been created entirely on the metaverse.
Despite Angelbaby's entirely virtual existence, some 600 people—largely stakeholders in the NFT community, FLUF World—had flown from across the globe to witness the in-person debut. A projection screen overlooked the dance floor where guests including Trinidad James and Boyz Noise commingled amidst fire breathers and models. Screens scattered throughout the venue displayed various Fluf avatars, broken up by animated scenes from FLUF World.
The event—which felt like a bit of a coming out party for newly created FLUF World—underscored a crucial, often overlooked detail of the booming NFT space: community.
"The most important thing to me with FLUF World was the Discord." said Robert Hellauer, a 33-year old financial analyst who became a Fluf holder in September. "I went to all the Discords, and all the metaverses have a different vibe…And you could just feel the energy with this one."
Like the notorious Bored Apes or CryptoPunks, the value of a Fluf isn't just as a piece of digital art, but as a digital identity. Much like how Supreme or Thrasher did for skaters, NFTs codify culture into appearance, branding one's allegiance to virtual clans and online subcultures. Buying into a community, literally, helps carve out one's metaverse identity. FLUF World recognized this early on, and decided to intentionally avoid the toxicity present in many virtual worlds, instead focusing on creating a dynamic and inclusive world to house their digital animal characters.
This appeal of intentional community has seemingly paid off, as many at Fluf World expressed having previous interest in the metaverse, but hadn't yet found a space that appealed to them.
"These guys think about things other guys don't," says Tom Soler, a software manager attending the event. "Decentraland launched way ahead but it feels very empty. These guys have thought through what is the most engaging way to create a community for people who want to hang together."
This engagement is reflected in Fluf World's 42,000 member Discord where "#new-fluffers are greeted with a reminder to "treat each other with respect", and after searching through the Fluf Radio and sales channels can navigate to the "Above Ground" section, to find channels such as #health-and-wellness, and #time-to-talk.
That's not to overlook the draw of Fluf World's impressive technology and artistic detail. Rather than use 8-bit images or 2D cartoons, Fluf World features fully 3D characters designed by animators who've worked on projects including Avatar and the Lord of The Rings trilogy. Characters hover over customizable, multi-dimensional environments—which include both personalized character music and location based-backgrounds that range from a desert to futuristic city (collectively known as "scenes and sounds").
Along with the 10,000 original rabbit 'Flufs', FLUF World introduced their second line of characters —known as Party Bears— of which all 10,000 sold out in under 10 minutes. Beyond avatars, stakeholders can also purchase virtual real estate known as "burrows", and even AI-brained spiders (known as "thingies") which use pattern recognition to create and mint their own new virtual art. All of Fluf World's characters constantly evolve, and often contain hidden attributes that develop and reveal themselves over time.
Together, this technology, art, and community channels weave together a digital world that shows promise of true depth; an online space with the potential to create a self-perpetuating cycle of growth based on bottom-up user participation.
"When it comes to other [metaverse] platforms, it's all about roadmaps," says FLUF World superfan Nick Synodis, (who goes by the handle Knux). "Fluf is in a league of its own. Its competitor is Spotify. It's Facebook."
A Record Label For The Metaverse
One of the most promising examples of FLUF World's potential to be a truly dynamic multi-channel world is their partnership with NFT music collective, Hume.
Described by co-founders Jay Stolar and David Beiner as the "Web3 version of a record label," Hume is the NFT music minting service that allows Flufs to commercially own and display exclusive music snippets in their character environment. With a tagline of "we are hume. we are many," Hume has the most active twitter following in the Fluf World community, acting as both differentiator and hype builder for the virtual world.
"We're creating music-driven Metastars," says record producer Gino the Ghost, the event's emcee and Hume evangelist. "The next Billie Eilish or Drake is gonna be in the metaverse."
Asked what made him interested in migrating his experience from the traditional music realm, Gino (who has composed music for the likes of rapper Saweetie) expressed both an ardent fascination with FLUF World, as well as sharing a commonly held frustration with the revenue structure of the music industry.
​​"What I primarily do, I work with the pop side, the rap side, the dance side —and they all want to know, 'How do I get into NFTs?' All these creatives are so tired of the labels and the royalties—and music NFTs are a way out that isn't cash-grabby."
With the creation of their metaverse star Angelbaby, Gino and the founders at Hume are optimistic that Web3 could create a paradigm shift not just in how artists generate revenue, but how fans can benefit from their artist loyalty. In this case for instance, by financially supporting Angelbaby's origin story (which involved being lost in the desert after being transported 1000 years back in time), fans received some of Angelbaby's original minted music. This music in turn grows in value as Angelbaby's popularity rises.
"People who helped Angelbaby in the desert, now they all own a piece of their song that is worth $400-500. Over time this increases the value of their own NFT," says Beiner.
Gino explains the relationship a bit more simply: "It a way for fans to make fucking money supporting their favorite artists."
World Competition, or Synergy?
As Gino's introduction wraps up and Angelbaby's giant character is projected onto a screen in front of a sea of cellphone recordings, one aspect of FLUF Haus becomes immediately clear: it's surprisingly normal.
For all the talk of Web3 and NFTs the metaverse, the event feels much like any other concert—with people dancing in close quarters, and having a good time with people they know. Save for the fact that the performing artist is a 13-foot tall pink rabbit with no known human identity, you'd be hard pressed to know this was an NFT event.
And in a way, that's kind of the point. As virtual representations of ourselves continue to grow—and the metaverse becomes increasingly populated—so too inevitably will our online identities. But that doesn't mean we will forgo our personalities in the physical world. Like gamertags, or bitmojis or animal crossing islands, spaces like FLUF World will add another layer onto our beings that enhance, not replace our existing lives. FLUF Haus was trying to demonstrate that connection to the world.
"The meta verse is going to be this amazing digital space," says Knux. "But the ultimate goal of it is to live in both worlds."