Trump signals an economic pivot on coronavirus shutdowns – Axios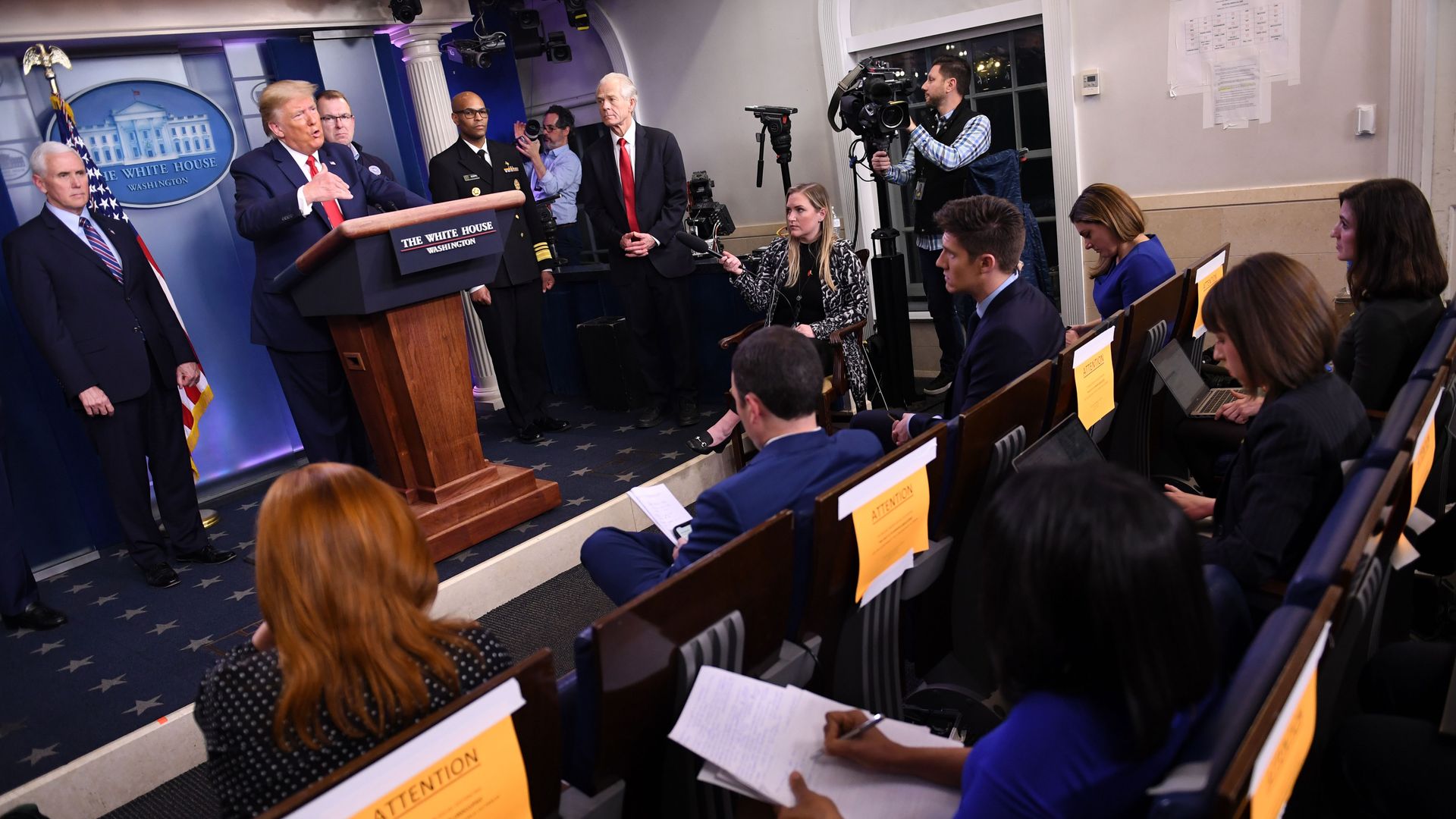 Sunday's White House briefing. Photo: Eric Bardat/AFP via Getty Images
President Trump and some of his senior officials are losing patience with the doctors' orders.
The state of play: Amid dire predictions for jobs and the economy, the White House is beginning to send signals to business that there's light at the end of the tunnel — that the squeeze from nationwide social distancing won't be endless.
Trump tweeted at 10 minutes to midnight: "WE CANNOT LET THE CURE BE WORSE THAN THE PROBLEM ITSELF. AT THE END OF THE 15 DAY PERIOD [which began a week ago, March 16], WE WILL MAKE A DECISION AS TO WHICH WAY WE WANT TO GO!"
Vice President Pence, who heads the White House's Coronavirus Task Force, had signaled the change in tone earlier when he said the CDC will issue guidance today allowing people exposed to the coronavirus to return to work sooner by wearing a mask for a certain length of time.
Why it matters: Taken together, Trump's tweet and Pence's comment supply the strongest public signals we've seen that the administration is looking for ways to get people out in the world again to fire up the economy — perhaps much sooner than Dr. Fauci would like.
Trump is responding both to his own instincts and to messages that key outside allies have been sending for days.
He retweeted a number of those outside allies echoing similar stances on Monday morning.
Between the lines: Senior Trump officials, including the president himself, have only limited patience for keeping the economy shut down. They are watching stocks tumble and unemployment skyrocket.
What's next: At the end of the 15-day period, there will likely be a serious clash between the public health experts — who will almost certainly favor a longer period of nationwide social distancing and quarantining — versus the president and his economic and political aides, who are anxious to restart the economy.
Quebecers urged to buy local as coronavirus crisis takes toll on economy – Global News
In Quebec, companies and organizations are collaborating to bolster local businesses in the province during the novel coronavirus crisis.
Nineteen companies and organizations are launching the On se serre les coudes initiative, a movement to promote buying local as the pandemic takes a toll on the province's economy.
READ MORE: Quebec coronavirus cases soar past 4,000 as medical equipment shortage looms
[ Sign up for our Health IQ newsletter for the latest coronavirus updates ]
The collective campaign aims to help businesses get through the crisis and show the variety and quality of products made in Quebec.
The 19 companies and organizations bought advertising exclusively in Quebec media, which is also suffering from the effects of the pandemic.

2:07


Coronavirus: Montreal hospital employees pitch in to help make protective visors



Coronavirus: Montreal hospital employees pitch in to help make protective visors
When Premier François Legault announced a $2.5-billion plan on March 19 to help businesses during the pandemic, he also encouraged Quebecers to buy local over the next few months. He said doing so will give companies the chance to survive the crisis.
— With files from Global News' Kalina Laframboise
© 2020 The Canadian Press
$71B wage subsidy 'appropriate' to keep economy afloat: Morneau – BNNBloomberg.ca
Finance Minister Bill Morneau said the ballooning cost of federal measures being promised to workers impacted by COVID-19 is essential to keeping the Canadian economy afloat.
"I'm worried about the size of the investment, always," Morneau told BNN Bloomberg in an interview on Wednesday. "I'm also worried about not only the numerator, but the denominator: The size of the economy. That economy is what we're focused on at the end."
"These are some of the biggest expenditures that have ever been done in Canadian history. We recognize that. But it's the appropriate thing to do at this time, and once we're through this, we will have to make sure that we get ourselves back on an appropriate track."
Morneau unveiled some crucial details about the federal government's emergency wage subsidy on Wednesday, pegging the cost of the program that's meant to cushion the blow from COVID-19 at $71 billion.
In a press conference earlier on Wednesday, Morneau said he expects funds will begin to flow in approximately six weeks, and that employers that apply will have to show their revenue fell at least 30 per cent compared to the same month last year. He confirmed that funds will be sent to employers via direct deposit from the Canada Revenue Agency.
A senior government official said during a technical briefing call that the funds could be delivered as early as three weeks, but it depends on how quick the CRA can launch the system for businesses to apply for the subsidy.
The official added that the CRA will offer some "flexibility" to high-growth businesses that don't have a full year of operations in place to compare a year's worth of revenue, suggesting prior monthly sales figures could be used instead.
Morneau said the government's focus now has to be offering a lifeline to Canadians and Canadian businesses as soon as possible.
"I have been very focused during my time as finance minister to manage our fiscal position, to make sure we reduce our debt as a function of our economy. Well, that's not where we are today," he said.
"Where we are today is: I am focused on making sure people have enough money to pay for their groceries and their rent. I'm trying to make sure that we have a process that will get that money out to people rapidly."
The revised wage subsidy program was unveiled by Prime Minister Justin Trudeau on Mar. 27 and will subsidize 75 per cent of wages for qualifying businesses up to a period of three months. It will be retroactive to March 15 and will cover the first $58,700 of salary up to a maximum of $847 per week.
The federal government had initially planned a subsidy of 10 per cent, which was quickly panned by small business leaders as insufficient. Nonetheless, the government confirmed Wednesday that the 10 per cent subsidy will still be available to employers that don't qualify for the 75 per cent subsidy.
Morneau added that there will be "severe penalties" for anyone who seeks to use the funds fraudulently. However, specifics on how businesses will be penalized were not announced on Wednesday.
China's economy may not grow at all in 2020. That hasn't happened in 44 years – CNN
GDP growth this year in the world's second biggest economy could sink to just 1% or 2%, down from 6.1% in 2019, according to recent estimates by analysts, including a Chinese government economist. In a worst case scenario, the $14 trillion economy may not grow at all, the World Bank warned earlier this week.
That would be its weakest performance in 44 years, worse even than the troughs hit during the 2008-2009 global recession and in 1990, when the West imposed sanctions on China after
the Tiananmen Square massacre
.
Analysts from UBS and Goldman Sachs recently slashed their estimates for China's growth this year to 1.5% and 3% respectively.
Even Chinese officials, who have set annual GDP targets every year since 1985, are wary of making predictions. A policymaker at the People's Bank of China (PBOC) said this week that the government should not set a target for 2020.
"It's difficult to even realize growth of between 4% and 5%. Many have predicted growth to fall to just 1% or 2% [this year]. These circumstances are all possible," Ma Jun, a member of the monetary policy committee at the Chinese central bank told the state-owned Economic Daily.
Given the huge uncertainties in the outlook, China is finding it hard to determine how much fiscal and monetary stimulus to unleash, Ma said. An "unrealistic" growth target may encourage local governments to splurge on infrastructure investments, which do little to ease unemployment or improve people's livelihoods in the short term, he added.
More help needed
Still, an official survey this week showing an anemic recovery in China's vast manufacturing industry last month, following a collapse in activity in February, was followed by news of more stimulus measures.
China's cabinet on Tuesday announced more than 3 trillion yuan ($423 billion) in extra financial support for
small businesses
.
The PBOC will provide an additional 1 trillion yuan ($141 billion) to small and medium-sized banks, and cut the amount of cash they must hold as reserves. Both measures are aimed at boosting lending to small and medium-sized enterprises (SMEs).
Previously, the central bank had injected liquidity or allocated additional lending worth more than 1.65 trillion yuan ($232 billion). The government had also allocated at least 116.9 billion yuan ($16.4 billion) in financial relief and stimulus aimed at fighting the virus.
Tuesday's announcement included a promise from the government to double "temporary cash handouts" to low-income families and the unemployed from March to June. The government didn't specify how much it would give out, but said the move is estimated to benefit more than 67 million people.
"We believe ramping up financial relief for enterprises (especially SMEs) and households inflicted by the pandemic should be the best economic and social policies at the moment," Ting Lu, chief China economist for Nomura, said in a note on Wednesday.
Beijing is also trying to revive the automotive industry after sales plunged 42% in January and February. The government will extend subsidies and tax breaks on electric vehicles by two years, while cutting sales tax on used cars from May through the end of 2023.
A private survey published Wednesday showed that China's manufacturing activity expanded ever so slightly in March, as factories reopened following the easing of widespread shutdowns and travel restrictions.
The Caixin/Markit manufacturing Purchasing Managers' Index rose to 50.1 last month from a record low of 40.3 in February. A reading above 50 indicates expansion, below 50 contraction.
The PMI data suggest the contraction in activity has bottomed out, but the economy has not recovered yet, analysts for Capital Economics said in a note on Wednesday.
"The [Caixin] survey suggests that just over half of firms saw conditions improve last month — implying that activity improved marginally relative to February's dismal showing but remains very weak," they wrote.
"The slow pace of improvement implied by last month's PMIs is consistent with our view that China faces a drawn out recovery from the Covid-19 outbreak," they said.
Tens of millions of jobs at risk
Capital Economics has one of the most bearish forecasts for China's economy this year. It estimates GDP shrank by as much as 16% in the first quarter, and predicts a contraction of 3% for 2020 as a whole.
China faces two major headwinds as it tries to get back on its feet — weakening foreign demand due to the global pandemic and a potential second wave of coronavirus cases.
Nomura estimates China's economy will grow by only 1% in 2020, causing millions of job losses.
"We estimate that slumping exports alone could lead to a loss of 18 million jobs in [the second quarter]," Lu wrote on Tuesday.
Caixin will publish its survey of activity in China's services industry — which accounts for roughly 60% of GDP — on Friday. Whatever it shows, analysts expect the government will have to provide more help for the economy.
Tao Wang, chief China economist for UBS, said Beijing is likely to announce more support for individuals, the labor market and health care systems, more infrastructure investment, and additional cuts in interest rates.
"Moreover, we expect the government to either lower this year's GDP growth target significantly or … [focus it] instead on coronavirus control, work resumption, poverty reduction and supporting labour market," she said.