TSX joins global stock market sell off as coronavirus fears refuse to go away – CBC.ca
The TSX joined stock markets around the world in a new round of selling off Monday, as surging cases of the coronavirus reignited concerns that the economic impact of the pandemic is still far from over.
The S&P/TSX Composite Index was down by almost 400 points or more than 2.5 per cent nearing midday, as health-care companies, energy companies, mining companies, banks and even tech names were all lower.
Losses began in Asia as soon as trading opened for the week, and they accelerated in Europe on worries about the possibility of tougher restrictions there to stem rising coronavirus counts.
In New York, the broad S&P 500 was down by 84 points or 2.5 per cent, while the Dow Jones fared even worse, down almost 1,000 points or 3.5 per cent.
Bank stocks had sharp losses Monday morning after a report alleged that several of them continue to profit from illicit dealings with criminal networks despite being previously fined for similar actions.
Shares in technology companies have been on fire for the past six months, as pandemic lockdowns have caused booming demand for online services such as Amazon, Netflix, Apple and Facebook.
But tech companies have been selling off of late on fears that they have risen too far, too fast.
"Stock markets around the world are trading lower to start the week amid mounting uncertainty," said Colin Cieszynski, chief market strategist with SIA Wealth Management in Toronto. "Growing uncertainty and volatility in world markets has sparked a move of capital."
Eastern Ontario Health Unit imposes new COVID-19 restrictions on restaurants, gyms, fitness centres – CTV Edmonton
OTTAWA —
The Eastern Ontario Health Unit is imposing new restrictions on food and drink establishments, sports and recreation facilities and personal care services in Alexandria, Cornwall, Casselman, Clarence-Rockland, Hawkesbury and other areas of eastern Ontario.
The new measures to limit the spread of COVID-19 in the community were announced as Public Health Ontario reported 43 new cases of COVID-19 in the Eastern Ontario Health Unit region on Saturday.
Medical Officer of Health Dr. Paul Roumeliotis issued a new Order under Section 22 of the Health Protection and Promotion Act that will come into effect on Monday, and remain in effect for 28 days.
"The last thing I want is for businesses in our community to have to shut their doors again as they did in the spring," said Dr. Roumeliotis.
"By putting these new measures in place, I'm hoping we can stop the rising number of infections and prevent another shutdown that would hurt our economy."
The new COVID-19 measures include limiting the number of people who can be seated at a table in bars and restaurants to a maximum of six people, while the total number of patrons in the indoor and outdoor sections of a food and drink establishment must not exceed 100.
Indoor dining at bars and restaurants in eastern Ontario is still allowed.
For banquet halls, the total number of patrons permitted in the premises is limited to the number that can maintain a physical distance of at least two meters, and in any event cannot exceed 50 indoors or 100 outdoors.
Establishments must also conduct a COVID-19 screening on every patron and record their name and contact information.
"This really mimics what happened on Oct. 2 when Ottawa, Toronto and Peel were put in these enhanced zones, before they were put into the red hot zone," said Dr. Roumeliotis during a media conference late Friday.
"I think this is very fair request and saving closures."
The new measures for indoor sports and recreational facilities include limiting the total number of people permitted in a class, organized program or organized activity to a maximum of 10 people, excluding instructors/trainers/coaches.. The total number of people permitted to be indoors at the facility in areas containing weights or exercise machines cannot exceed 50.
The order applies to gymnasiums, health clubs, community centres, multi-purpose facilities, arenas, exercise studios, yoga studios, dance studios, and other indoor fitness centres.
For personal care settings, including hair salons and barber shops, manicure and pedicure salons, spas and tanning salons, they must conduct a COVID-19 screening for every client and record their name and contact information.
Last Sunday, Dr. Roumeliotis told CTV News Ottawa the region may have to consider moving to a modified Stage 2, like Ottawa, due to rising COVID-19 cases.
On Thursday, the medical officer of health said he was no longer recommending eastern Ontario move into a modified Stage 2, but wanted to impose new restrictions on establishments to help limit the spread of COVID-19.
Ontario introduced new restrictions on bars, restaurants, fitness centres and other recreation complexes in Ottawa on Oct. 2. On Oct. 10, the Ontario Government moved Ottawa into a modified Stage 2, which included prohibiting indoor dining at bars and restaurants, and closed gyms, fitness centres and movie theatres.
6 New Cases Of COVID-19 In Windsor Essex As Of Saturday – windsoriteDOTca News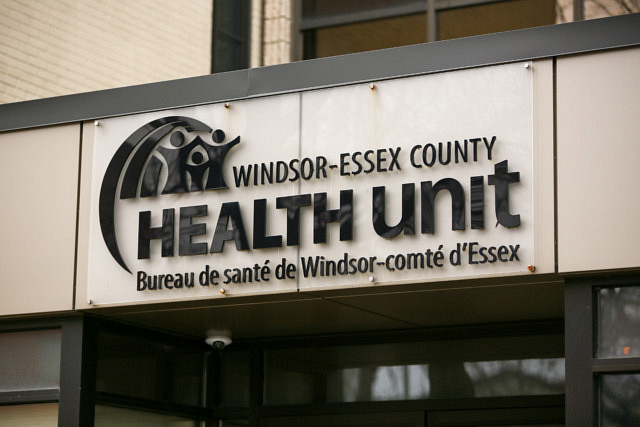 The Windsor Essex County Health Unit has announced 6 new cases of COVID-19 as of Saturday, bringing the local total to 2,787. They say 2,686 people locally have recovered.
Cases increased from 2,781 on Friday October 23rd to 2,787 on Saturday October 24th and 25 cases of COVID-19 are currently active in Windsor-Essex.
The Health Unit says 2 cases are local health care workers, 2 cases are close contacts of confirmed cases, and 2 cases are community acquired.
Article Continues Below Local Sponsor Message
There have been no additional deaths due to COVID-19 as of Saturday and the local death toll stands at 76.
As of Saturday, the Health Unit lists 2 people as hospitalized with confirmed cases of COVID-19 in Windsor Essex, and 1 person in the ICU. One hospitalization is listed at Windsor Regional Hospital.
Workplace Outbreaks
As of Saturday, the Health Unit says the following workplaces are under outbreak:
1 construction company (in Lakeshore)
1 food & beverage services company (in Kingsville)
A workplace outbreak is declared when two or more employees test positive for COVID-19 within a reasonable timeline to suspect transmission in the workplace, according to the Health Unit. Officials with the Health Unit have said a workplace will only be named if a threat to the public exists.
First Nations Health Authority honours Dr. Bonnie Henry for 'kind, calm' COVID leadership – BC News – Castanet.net
Photo: Contributed
Dr. Bonnie Henry, B.C.'s Medical Health Officer, with Dr. Shannon McDonald, FNHA Acting Chief Medical Officer, First Nations Health Authority
Dr. Bonnie Henry, B.C.'s medical health officer, has been honoured by the First Nations Health Authority for her unwavering leadership during the COVID-19 pandemic.
In a post to social media, FNHA thanked Henry for her "kind, calm, and reasoned" leadership during difficult times.
The post noted that matriarchs from the FNHA, the First Nations Health Council, and the First Nations Health Directors Association gathered earlier this week, Oct. 19, mostly virtually, to honour Henry with a ceremony of songs, dance, words and gifts.
One of the gifts, presented by Dr. Shannon McDonald, FNHA Acting Chief Medical Officer, was a silver pendant created by Heiltsuk Nation artist Sheldon William, which Henry can be seen holding in the above photo.
In an FNHA video update on COVID, McDonald said Indigenous communities had responded "very effectively to the recommendations that were put forward about staying home."
"First nations did that very well from a family environment, all the way to a community environment where they locked down their community and really restricted the number of people that were coming and going," she said.
Although, she highlighted that younger people were still going out and hanging out with friends, and hadn't "quite gotten the message."
As of Oct. 23, there were 176 cases of covid in First Nations communities across B.C., according to Indigenous Services Canada.
In the video, McDonald advised people to continue keeping their bubbles small and to stay home as much as possible, echoing Henry's message "less faces, bigger spaces."
"Be kind, be calm and be safe, what Dr. Bonnie says regularly, is a big piece of what we need to do."
The FNHA is working to reform the way health care is delivered to B.C. First Nations through direct services and collaboration with provincial partners, and are working with both provincial and federal partners to actively monitor and respond to the pandemic.