Twitter Reaction: Football world offers Broncos advice during QB crisis – Sportsnet.ca
The Denver Broncos find themselves in an unprecedented situation, with all of their quarterbacks ineligible to play Sunday due to COVID-19 concerns.
The team is expected to turn to Kendall Hinton as their emergency quarterback against the New Orleans Saints Sunday with Drew Lock, Brett Rypien, and Blake Bortles sidelined after the trio reportedly didn't wear masks while coming in contact with fellow quarterback Jeff Driskel, who later tested positive for COVID-19.
Hinton has experience playing quarterback during his five years at Wake Forest but has never played a snap behind centre in the NFL — and was signed to the practice squad as a receiver.
The situation understandably drew plenty of reaction from around the football world:
I'm laughing to keep from crying

— Kareem Jackson (@ReemBoi25) November 29, 2020
Dana White: If Khabib Nurmagomedov doesn't want to defend title, 'I won't push it anymore' – MMA Fighting
Dana White's great chase may finally be over.
From the moment that Khabib Nurmagomedov announced he was retiring—following a successful title defense against Justin Gaethje at UFC 254 in October—White has insisted in interviews that he expected Nurmagomedov to reconsider ending his competitive career. As recently as last Saturday, White said that at a meeting with Nurmagomedov in Abu Dhabi, the lightweight champion told him he might return to action if "something special" happened at UFC 257.
That event went down last night and two lightweights delivered in a major way, with Dustin Poirier winning his rematch with Conor McGregor by second-round TKO to avenge a past loss, and three-time Bellator champion Michael Chandler making an emphatic debut with a first-round finish of Dan Hooker.
Even with those statement wins, White admitted that he's not convinced they were enough to draw Nurmagomedov back into the fold after speaking with him after Saturday night's event.
"I did talk to Khabib," White said at the evening's post-fight presser. "He said to me, 'Dana, be honest with yourself. I'm so many levels above these guys. I beat these guys.' I don't know. I don't know what he's—it doesn't sound very positive, so we'll see.
"And what he said was, I told you guys before, he won't hold the division up. I mean, he already retired. He's basically retired, I'm the one that's been trying to get him to do one more."
That's the first time White has at least somewhat waved the white flag when it comes to Nurmagomedov's comeback negotiations, which isn't surprising given that Nurmagomedov had already said earlier this week that he was not planning to go back on a promise he made to his mother. Nurmagomedov didn't even stick around to watch UFC 257 in-person, instead leaving Abu Dhabi after corning his cousin Umar Nurmagomedov to a win on Wednesday.
Chandler made sure to mention Khabib in his post-fight speech after defeating Hooker, declaring himself "the new lightweight king" while lobbying for fights with Poirier, McGregor, and Nurmagomedov.
White only heard some of Chandler's callout, but regardless of what was said any matchmaking with Nurmagomedov is entirely dependent on what "The Eagle" wants.
"He was saying all kinds of things," White said. "I can't hear well, so I kept asking what he was saying, I didn't get most of what he said but I knew he was fired up and I'm sure he was asking me for something, but I don't know exactly what he said… But yeah, I'm obviously gonna talk to Khabib and see if he wants to defend that title. And if he doesn't, I won't push it anymore."
White has made it no secret that he desired a rematch between Nurmagomedov and McGregor. The two stars fought a little over two years ago at UFC 229, an event that broke records for the UFC and ended in a chaotic melee between Nurmagomedov and McGregor's teams that laid the groundwork for a second fight.
As insistent as Nurmagomedov has been that he has no interest in fighting McGregor again, White thinks the magnitude of the matchup is hard to resist.
"He wanted to see something spectacular, so I know he wanted Conor to lose, but there has to be a little piece of him inside that, you know—The fight with him and Conor would have been the biggest fight ever…" White said. "So the last few days, the way that this thing's been trending—and you guys had to feel it with your numbers too, I mean our numbers were off the charts this week—I was saying that I felt Khabib-Conor could be the No. 3 fight all-time period in all combat sports. Today, I felt like it could be No. 1. I felt like it could beat McGregor-Mayweather.
"A piece of him had to want to be a part of a fight that big."
As of now, White has no hard deadline for Nurmagomedov to make a decision—assuming he hasn't already—so he's in no rush to figure out what's next for the lightweight title that has yet to be vacated. White did acknowledge that Poirier and Chandler are likely candidates to fight for a vacant lightweight belt should it come to it.
"It doesn't matter because these two just fought, they're not fighting again anytime soon," White said. "We'll get it figured out."
Making the Grade: UFC 257: Poirier vs. McGregor 2 – MMA Fighting
By all accounts, UFC 257 will go down as one of the biggest events of the year if not one of the highest selling pay-per-views all time.
The highly anticipated event featured no title fights — although that may have been a mistake, more on that later — but the card did feature the return of Conor McGregor in a rematch against Dustin Poirier. After only competing one time in 2020, McGregor made his return to action on Saturday night with hopes of solidifying himself as the No. 1 contender in the lightweight division while also attempting to pursue a second fight with reigning champion Khabib Nurmagomedov.
Instead, Poirier vanquished McGregor inside two rounds as the former interim champion destroyed the Irishman's lead leg with kicks and then put him away with punches.
In the co-main event, former Bellator champion Michael Chandler finally made his octagon debut and he couldn't have written a better ending as he demolished top 10 ranked lightweight Dan Hooker in the first round. A lot was made about Chandler's signing to the UFC and he lived up to the hype with a statement performance in his first fight with the promotion.
With that said, let's look back at the first UFC pay-per-view of 2021 to see what passed and what failed on Saturday night. This is Making the Grade for UFC 257: Poirier vs. McGregor 2.
PASSES
Shine Bright Like a Diamond
Dustin Poirier was ranked No. 2 in the world heading into UFC 257 yet somehow it felt like he was being overlooked while standing in the shadow of combat sports superstar Conor McGregor.
Considering McGregor dispatched Poirier inside two minutes in their first meeting six years ago, it was understandable why the Irish superstar was the favorite heading into the rematch. McGregor typically dwarfs all of his competition just because he commands so much attention, but unlike their first fight, Poirier seemed completely at ease with letting his opponent take all that attention.
Instead of getting wrapped up in a war of words, Poirier just stayed focused on the task at hand while working alongside a group of coaches at American Top Team, who only seem to get better with more time to pick apart an opponent. Head coach Mike Brown apparently studied McGregor and his tendencies while formulating a game plan that gave Poirier the best possible chance at victory.
Poirier followed his coach's instructions by taking McGregor to the ground early in the first round while investing in the future by starting to dig away at the former two-division champion's lead leg with a series of brutal calf kicks. By the time the lightweights were exchanging shots in the second round, McGregor was struggling to put weight on his leg in order to plant for his punches and Poirier saw the opening he needed to take advantage.
Once Poirier trapped McGregor against the cage, he began unloading with a barrage of strikes and he wasn't going to stop until getting the finish. When McGregor finally crumbled to the mat, Poirier put him away with a vicious left hand while announcing himself as the best lightweight in the UFC who isn't currently retired.
Poirier's run in the lightweight division has been nothing short of remarkable but exorcising a past demon by demolishing McGregor at UFC 257 had to feel like one of the most satisfying wins of his career. The bad blood from six years ago had long since faded away but Poirier didn't need to say anything to prove his point that he was the better fighter than McGregor on Saturday night.
McGregor now joins a list that also includes Justin Gaethje, Eddie Alvarez, Anthony Pettis, Max Holloway and Dan Hooker as fighters who tried and failed to beat Poirier at his own game. Poirier deserves all the praise for his performance and now he has definitely separated himself from the competition as the UFC looks to move beyond the Khabib Nurmagomedov era in the lightweight division.
Iron Man
Hype and expectations have crushed more than a few first time fighters in the UFC but former Bellator champion Michael Chandler had no intentions of joining that list.
Taking on a legitimate threat in Dan Hooker in the UFC 257 co-main event, Chandler had a very bright spotlight shining down on him with most wondering if a multi-time champion from another organization could really stack up to the competition inside the octagon. It was a fair question considering the hit-or-miss nature of high profile free agents joining the UFC in recent years.
Chandler shut down all those naysayers in dramatic fashion by blasting Hooker with punches in the first round to earn a jaw-dropping knockout. Afterwards, UFC president Dana White remarked that Chandler may have made one of the single best debuts in the history of the promotion.
Heading into Saturday night, Chandler had to know anything short of that kind of victory was going to result in plenty of doubt about his potential moving forward. After he put away a fighter who just went five rounds with Poirier seven months ago, Chandler seemingly silenced the masses.
Obviously a single win won't define Chandler's UFC career.
Let's not forget former Bellator champs Ben Askren and Will Brooks also won their first fights in the UFC, although neither came in the same kind of spectacular fashion as Chandler.
Perhaps the best indicator for how Chandler will handle his future came from the answers he delivered at the post-fight press conference where he was happy to celebrate the win but just as quick to acknowledge this lone performance wouldn't matter much if he doesn't go onto accomplish his ultimate goal to become champion.
Chandler now joins arguably the toughest and deepest division in the UFC where the divide between the fighters ranked No. 1 and No. 15 is painfully thin. He's got his sights set on gold and the UFC would do well to capitalize on Chandler's win and put him into a very high-profile fight for his next walk to the octagon.
A title fight isn't out of the question or perhaps Chandler seeks out someone like Charles Oliveira or Justin Gaethje just to secure his spot as the No. 1 contender. No matter what, Chandler definitely belongs in the upper echelon of the UFC and his win over Hooker certainly proved it.
A New Strawweight Threat
Marina Rodriguez had endured one of the strangest starts to a UFC career through her first five fights but she finally broke through with a statement win on Saturday night.
With two draws and a split decision loss already on her resume, Rodriguez was beginning to get a reputation as a fighter who could always keep it close but may never be able to truly separate herself from the competition.
That all changed at UFC 257 as Rodriguez knocked out highly touted prospect Amanda Ribas in the second round.
Of course, Rodriguez had to endure a strong start from Ribas as her fellow Brazilian got a takedown before unleashing some impressive strikes on the ground. The momentum shifted rather quickly at the start of round two when Rodriguez lured Ribas into an exchange on the feet and that's where she uncorked a hellacious punch that was the beginning of the end.
Because referee Herb Dean nearly stepped into stop the fight before allowing the action to continue, Rodriguez had to essentially knockout Ribas twice but she still got the job done.
Now it must be said that Ribas wasn't an established contender in the division so a win over her certainly doesn't make Rodriguez a threat to the strawweight champion right away but it shows that she's more than just the uneven performances that decorated her first few fights in the UFC.
Hopefully a win like this will propel Rodriguez into an even bigger opportunity against an opponent who could put her into position to challenge for the title. If she can put on this kind of showing while facing someone like Joanna Jedrzejczyk or Yan Xiaonan then it might be time for strawweight queen Zhang Weili to take notice of the latest Brazilian gunning for gold in the UFC.
FAIL
No Such Thing as Halfway Crooks
Conor McGregor was in relatively good spirits, all things considered, after he lost to Dustin Poirier in the UFC 257 main event.
It was definitely an unexpected outcome for the former two-division champion as he promised to paint a masterpiece against an opponent he had already beaten previously with this fight expected to serve as a launching pad towards another title run, a potential rematch against Khabib Nurmagomedov or even another boxing match against a champion like Manny Pacquiao.
That all went away with Poirier putting McGregor down and out in the second round.
Now McGregor stands at a crossroads in his career.
With just a 3-3 record in his past six fights, McGregor no longer carries the same aura of invincibility that seemingly allowed him to just will victories into existence. Huge stretches of inactivity have also plagued McGregor's UFC career with just three fights since becoming "champ-champ" in 2016.
There's no doubt McGregor is still the biggest draw in combat sports but now he has something to prove regarding his standing as one of the best fighters in the world.
In order for McGregor to reclaim that status, he needs to decide if mixed martial arts is the only future he wants to pursue because this isn't a sport meant for part timers.
Of course, McGregor should still play hardball with the UFC when it comes to negotiations for his next fight purse because chances are whatever paycheck he's receiving is probably less than he deserves. That said, McGregor needs to stay busy with an attitude where he's ready to fight whoever the UFC throws at him if he wants to get back to the top.
McGregor has also shown incredible loyalty to the coaches and teammates who helped turn him into a world champion but that doesn't mean he can't branch out to look for additional help. There's absolutely nothing wrong with adding to the formula to hopefully end up with better results.
No one can question McGregor's passion when it comes to the sport but as former two-division UFC champ Daniel Cormier said after the event ended "you've got to be active, you've got to be in the octagon, you have to be fighting."
Unfortunately, McGregor just hasn't been doing much of that in the past few years.
EPIC FAIL
Retired Used to Mean Retired
As great as Saturday night's card was for the promotion, the UFC still managed to make a colossal mistake.
This past October, Khabib Nurmagomedov defended his lightweight title with a submission win over Justin Gaethje and then announced his retirement from the sport. Following the tragic death of his father earlier in the year, Nurmagomedov made a promise to his mother that he would compete one more time before calling it a career.
In the months since that announcement, UFC president Dana White has shown a voracious appetite to try and convince Nurmagomedov to return for one more fight. He insisted that Nurmagomedov made his decision to retire in the heat of the moment and he wanted to give the reigning lightweight champion an opportunity to change his mind.
White even went as far as promising a meeting with Nurmagomedov in Abu Dhabi just over a week ago would seal the deal on his potential return.
But instead of coming back with a definitive answer, White had to report that Nurmagomedov was still undecided and he wanted to see something "spectacular" in order to comeback. Of course days later, Nurmagomedov did an interview saying he still had no desire to compete again yet White still couldn't let go and admit that the undefeated Russian had already fought for the last time.
If Nurmagomedov had been allowed to retire as requested, the UFC had a golden opportunity to crown a new champion with the main event between Poirier and McGregor. At worst, the UFC could have put an interim title up for grabs with the winner then being declared the undisputed champion with Nurmagomedov retired.
Now, the UFC faces an even bigger problem.
Poirier seemed none too happy that he left UFC 257 without a title and that was only amplified with his social media posts where he called himself the uncrowned champion. He also quickly shut down talks about a potential title bout against Michael Chandler and instead turned his attention towards bigger moneymakers like a fight with Nate Diaz or a trilogy with McGregor.
In the past, White has said when a fighter starts talking about retirement, it's probably time to hang up the gloves. He even admitted that's been his stance yet he just couldn't let Nurmagomedov walk away as he intended.
There's no arguing that Nurmagomedov is the best lightweight in the sport and one of the greatest fighters of all-time. But if he's not interested in fighting again, let the division move on without him because now the UFC is left without a champion at 155 pounds and quite possibly a disgruntled fighter in Poirier, who by all accounts should have a title around his waist right now.
Overall Grade for UFC 257: A-
Rodgers uncertain of future with Packers – theScore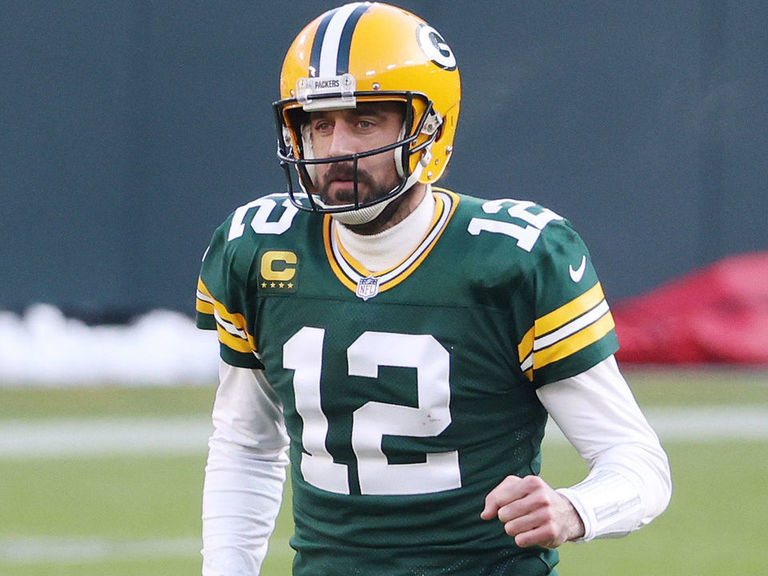 Aaron Rodgers refused to make any guarantees regarding his future with the Green Bay Packers following Sunday's loss to the Tampa Bay Buccaneers.
"There's a lot of guys' futures that are uncertain, myself included," Rodgers said postgame, according to Ryan Wood of the Green Bay Press-Gazette. "That's what's sad about it most, getting this far."
"I'm going to have to take some time away for sure and clear my head, kind of see what's going on with everything," he added. "But it's pretty tough right now."
Rodgers enjoyed one of the most productive campaigns of his career and is the favorite to win MVP. However, his standing with the club was called into question when Green Bay selected Jordan Love in the 2020 draft.
Earlier in the week, the 37-year-old called his future "a beautiful mystery," acknowledging he may not get many more opportunities to play in a Super Bowl. Following the defeat, the star signal-caller admitted it was difficult to watch Tampa Bay celebrate a victory Sunday.
"This one stings, and is going to for a long time," Rodgers said, according to ESPN's Rob Demovsky.
Despite the looming uncertainty over his quarterback, Packers head coach Matt LaFleur backed Rodgers as the team's leader going forward.
"I sure as hell hope so," LaFleur told reporters, per Wood. "I mean, the guy is the MVP of this league. He's the heart and soul of our football team. So, hell yeah. He better be back here. He's our leader."
Rodgers is under contract through the 2023 season, but a potential out exists in his deal after the 2021 campaign.