Two New Travel Related Cases of Covid 19 in the Province – VOCM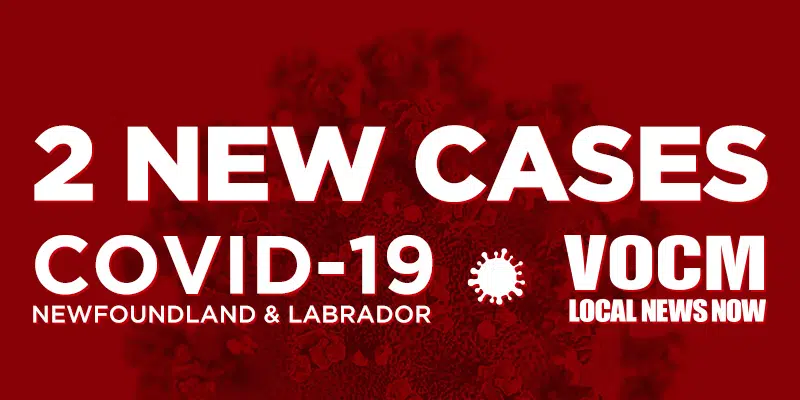 Public Health Officials are reporting two new cases of COVID-19 in the province today, both of which are related to travel.
The first case is located in the Eastern Health region, a woman between 20-39 years of age. The woman is a resident of the province and travelled from the United States. She has been self-isolating since her return home.
The second case is in the Western Health region. A woman, also between 20-39 years of age, is a resident returning from Ontario. This case is a close contact of yesterday's one reported case.
Contact tracing is complete for both cases and anyone considered a close contact has been advised to self-isolate.
The Department of Health is also advising the public of an error in reporting yesterdays case. The case is in the Western Health region, not Central Health as previously reported.
The department says there was no delay in the contact tracing process as a result of the error.
The province now has eight active cases of COVID-19, and to date, 56,476 people have been tested.
COVID-19 Officers Out In Full Force On Black Friday – SteinbachOnline.com
[unable to retrieve full-text content]
Sobeys brings back hero pay for grocery workers in lockdown areas – CBC.ca
Grocery chain Sobeys has reinstated a program that will see its workers in areas locked down because of COVID-19 get a pay bump.
Empire Co., which owns Sobey's, has brought back so-called "hero pay" for its hourly workers in Winnipeg, Toronto and Peel region, which is just west of Toronto. All three regions are currently on some sort of lockdown because of rising COVID-19 cases, and all but essential retail has been brought to a halt.
Sobeys workers who get paid by the hour in those regions will get between $10 and $100 extra per week, depending on how many hours they work per week. Although the figure may change as the situation improves or worsens, the company estimates that the initiative will cost it about $5 million.
The chain, like others, had a similar program for its workers in the early days of the pandemic as grocery stores were inundated by shoppers panic buying, the initial bonus program was halted in June as supply chains and stores got back to some semblance of normal.
"Our teammates continue to work tirelessly to keep our stores safe and our communities fed," CEO Michael Medline said in a statement to CBC News.
"Launching the Lockdown Bonus, in the face of new government mandated lockdowns, was simply the right thing to do. I said that if we ever faced the same level of lockdowns in a region or province like we saw in the early spring, we would bring a recognition program back for our teammates.
"Since the COVID-19 pandemic began, our teammates' efforts to keep stores open, shelves stocked and Canadian families fed have been nothing short of heroic."
In its most recent earnings release, rival grocery chain Loblaws stated it has no plans to bring back a similar pay bump despite raising its dividend to shareholders by two cents per share because of strong sales growth.
"The company remains steadfast in its commitment to put customers and colleagues first, as we sustained investments and safety measures at store level, while resisting pressure to raise prices at a time when Canadians need value more than ever," CEO Galen Weston said at the time.
Costco, Hyatt House among those issued $5,000 fines for flouting public health orders – Global News
A large retail and grocery store was fined this week for selling non-essential items in Winnipeg.
The Costco store on McGillivary Boulevard was given a $5,000 ticket, said the province of Manitoba Friday.
"The Manitoba government continues to take actions to protect Manitobans during the COVID-19 pandemic and advises that personnel empowered to enforce public health orders will be out in full force on Black Friday," said the province in an early release sent out Friday morning.
The province also said Manitoba Conservation officers fined four hunters from Ontario for not self-isolating when they came to Manitoba.
The hunters received tickets for $1,296.
Three people in the capital region also got $1,296 tickets, two people for failing to keep their gatherings under five people, and one for not wearing a mask.
Other places that have received tickets in Manitoba recently:
Henry's Camera on Kenaston – $5,000 for failing to close a non-essential business, Nov. 19
Robin's Donuts on 10th street, Brandon – $5,000 for failing to keep patrons socially distanced, Nov. 10
Hyatt House, Sterling Lyon Parkway – $5,000 for allowing patrons to eat in their restaurant, Nov. 10
"Videos circulating widely on social media show individuals gathering in groups larger than permitted by current public health orders. The province is encouraging anyone with information to identify participants to call the COVID Tip Line," said the province.
That number is 1-866-626-4862, or people can fill out a form online here.
© 2020 Global News, a division of Corus Entertainment Inc.