Vancouver Island real estate searches see major uptick – Pique Newsmagazine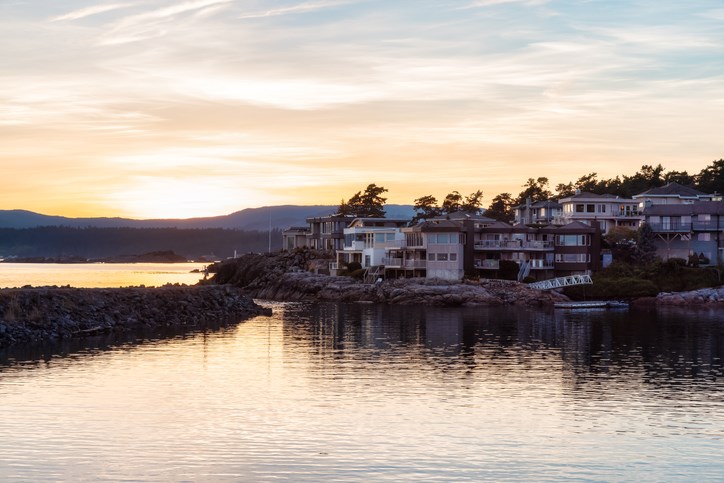 In what was one of the less pleasant summers we've had here in British Columbia — full of heat waves, moths and forest fires like we've never seen before — one part of the province fuelled plenty of interest from home seekers.
From top to bottom, Vancouver Island saw a major uptick in real estate searches on REW.ca this summer, as month-over-month queries continue to rise quickly.
Interest in property on Vancouver Island isn't contained to home seekers on the island itself. Many Greater Vancouver residents are showing interest in cities like Nanaimo and Victoria as well.
After a summer full of fires in the Interior, Vancouver Island is looking more attractive than ever for Lower Mainland residents looking for vacation properties and second homes.
Decreased supply
While interest and prices may be rising, one of the most notable trends taking place on Vancouver Island is the limited supply of housing.
There were 51% fewer homes on the market in August 2021 on Vancouver Island than in the year prior, with major cities like Victoria having 57.8% less inventory.
According to the British Columbia Real Estate Association, sales are returning to normal, while supply is hitting record lows. This is a trend taking shape right across Canada, with all of the major political parties running for office promising to take on the lack of supply.
To those who already live on Vancouver Island, the recent uptick in search activity should come as no surprise. Vancouver Island is less busy, less densely populated, and arguably every bit as stunning as Vancouver.
Residential home prices also continue to be more affordable on Vancouver Island compared to Greater Vancouver. Last month, the average residential price of a home in Greater Vancouver was $1,174,176, compared to $695,085 on Vancouver Island in general and $875,711 in Victoria.
Rising prices
Though the average residential price of a home on Vancouver Island in general and Victoria specifically are both under the provincial average in British Columbia, prices are still rising steadily.
Over the last 12 months, no region in B.C. has seen a larger percentage increase in home prices than Vancouver Island, with prices on residential homes jumping 29.5% year over year. Outside of Vancouver Island, Kamloops and Chilliwack are the only other areas that have seen price growth of over 20%.
What might be most surprising to investors and home seekers is the increase in interest for Vancouver Island's less populated cities. One might expect to see Nanaimo and Victoria draw more queries on REW, but there's an equal amount of search growth in smaller markets like Parksville, Ladysmith and Sooke. Of the top 10 largest cities on Vancouver Island, all 10 have seen an increase in search queries on REW this summer.
An unprecedented start to 2021 still has B.C. on track to set all kinds of records this year, and though sales have slowed, an increased interest in areas like Vancouver Island could be an indication that demand is still trending upward. With limited supply and interest rates remaining depressed, we could see prices continue to rise on Vancouver Island in the months to come.
In a recent interview with the Vancouver Real Estate Podcast, REW president Simon Bray highlighted three markets other than Vancouver Island that have been standouts on the home search platform, garnering significant interest from home seekers across the province.
Saint John saw record real estate prices. So why did assessments barely budge, mayor asks – CBC.ca
Thousands of Saint John properties that escaped assessment increases this year, including dozens that sold for record prices, are slowing growth in the city's tax base for 2022 compared to other cities.
That's at odds with predictions from Service New Brunswick officials earlier this year, and Mayor Donna Reardon wants to know why assessments in other communities appear to follow different rules.
"That to me is a question I'd like to get answered," Reardon said.
"I have to say I don't understand it."
Real estate sales in Saint John set records in both volume and price over the past year.
But although Service New Brunswick officials told the city in February that it would "reap some of that reward" with growth in its 2022 tax base, the results announced earlier this month were underwhelming.
City's tax base ranks 43rd among N.B. municipalities
Based on property assessments completed this year by Service New Brunswick, Saint John's tax base is expanding by 6.24 per cent for 2022 according to figures released earlier this month by the province
That's more growth than in recent years, but still well below the provincial average of eight per cent.
Part of the sluggishness is because 5,332 residential, commercial and industrial properties in the city, one in every five, escaped any assessment increase at all from Service New Brunswick.
That helped to drag growth in the city's tax base down to 43rd place among all New Brunswick municipalities.
Moncton had only 888 properties awarded no assessment increase for 2022 and Fredericton just 680.
Most perplexing for Saint John are dozens of properties given no change in their taxable values, even after being sold to buyers for double their assessment and more.
On Saint John's upscale Anchorage Avenue, five waterview lots sold earlier this year at prices between $151,000 and $230,000.
The sales were an average of 144 per cent above the properties' 2021 assessed values, but the high prices triggered no changes in their assessments or in assessments of other lots in the neighbourhood.
As a result, the sales added nothing to Saint John's critical tax base growth for 2022. One of the Anchorage lots purchased in May for $169,000 has since been relisted by its new owner at $209,900. However, for taxation purposes, Service New Brunswick continues to assess it at $75,200.
That appears to contradict Service New Brunswick's claims that its annual assessments approximate what a property will reasonably sell for if it were put on the market.
According to the agency, a collection of actual sale prices in a neighbourhood are considered the most reliable guide to what assessments should be in an area.
"Your property's real property assessment value reflects its market value," the agency explains on its website.
"Our assessors aren't actually determining market value," it notes. "They are simply reflecting the values that have been established by buyers and sellers in local real estate markets across the province."
That is what happened in Moncton in a development going up around the Mountain Woods golf course.
This year, eight lots in the development sold to buyers for an average price of just over $102,000 each — 98 per cent above their assessed values.
Based on those sales, Service New Brunswick raised assessments on all eight lots and six others nearby by an identical 98 per cent. The change accurately reflected sale prices in the development and the rising assessments added $621,400 to Moncton's 2022 tax base.
It's a sharp contrast to what Service New Brunswick did on Anchorage Avenue and in a second Saint John neighbourhood along the Bay of Fundy.
On a stretch of Saint John's Sea Street, perched above Bayshore Beach with panoramic ocean views, 18 building lots sold to buyers this year for a combined $892,750.
It was, on average, more than double their assessed value.
However, 13 of the lots have been awarded zero per cent assessment increases for 2022, as have seven existing homes that sit among them on the same street.
Service N.B. 'can't discuss the details'
Oceanview properties in Saint John have been among the highest in demand over the past year, selling for $100,000 or more above their assessed values in several cases.
Service New Brunswick says it cannot reveal why it concluded Oceanside properties on Sea Street warranted no increases in their values, even those that sold for higher than their assessed price.

"We cannot discuss the details of individual properties," Jennifer Vienneau, Service New Brunswick's director of communications, said in an email.
"It is not uncommon for external factors to affect the market value. On an annual basis, property assessors analyze these factors to make adjustments to assessment values that are in line with market activities."
Reardon thinks Service New Brunswick is not following the same assessment rules in Saint John as it does in Moncton, and that difference is restricting growth in her city's tax base.
"If I say a lot's worth $150,000 to me and there's been a few of them that have sold for that, that's the price. That's what they're worth," she said.
"We're trying to work with Service New Brunswick. I think it needs to be more transparent, more clear to people. We need to understand how they come up with the calculations."
Windsor-Essex real estate market slows down — so sellers pulling out all the stops – CBC.ca
Windsor's sizzling real estate market is seeing a slight slowdown — and it means sellers have to up their game to draw people in.
Prices are still high in Windsor-Essex but realtors say more listings over the last several months are leading to fewer offers on individual homes, putting buyers in a better position with more options and less competition.
"When buyers have more choice, sellers have to do a little bit more to stand out from the crowd," explained Danial Malik, a broker at ReMax Preferred.
"They have to do more in terms of professional photography, videography, staging. They want to make sure there's as many eyes as possible on their property, so it gets sold for top dollar."
The average price of a Windsor-Essex home in September was $552,186, according to data from the Windsor-Essex County Association of Realtors. That's 27.4 per cent more than September of last year.
Listings have also doubled from what we saw at the beginning of the year (1,035 listings in September compared to 475 in January).
One home stager says business has doubled
"Things have picked up quite a bit," said Julie Kapitan, owner of Lemon Tree Living, a home staging company in Windsor-Essex.
At the start of the year, there was a "buying frenzy," and homes were selling quickly with or without staging, she said.
"But something shifted I think in May and June and the calls started to come in," Kapitan said.
Her business has doubled since then.
She said it helps people imagine living in the space.
'Property has to stand out'
Aditya Soma with the WinCity Real Estate Team says staging is "crucial" for any sale.
"There is more inventory," he said.
"That means your realtor and your stager, you know, have to do a fantastic job by pricing it right, by presenting it well to attract as many buyers as possible."
Soma added that some sellers list their homes and try to sell without a stager, and later realize they need to "revamp" their approach in order to get the offer they're hoping for.
Malik explained that he's also seeing more cancellations of listings in recent months. That's because, given the trend of the last year or so, expectations are very high for sellers.
"They're trying different realtors or they're trying different strategies to get that dollar amount, whereas the property … may not be worth what they're asking for," Malik said.
WATCH | Broker Danial Malik on what the current market means for buyers:
Broker Danial Malik explains what the current real estate market climate means for buyers. 0:59
Hence, there's a stronger lean toward marketing tools like home staging — though it can be a pricey option, depending on what you need.
Kapitan explained that staging could start at $1,000 if accessories are the only items required by the seller. However, if furniture is required, home staging could cost $5,000 or more depending on the size of the home.
She also works with house flippers in the community to help them get the best possible price.
Flippers turn to stagers
Jami Jacklyn, a partner at M & J Doors Ltd., a St. Thomas company that flips houses, recently acquired a Windsor home that cost them close to $200,000, they invested between $30,000-$50,000 into renovations. After listing the home for $199,000 and using Kapitan's home staging service, it recently sold for more than $100,000 over asking.
"Previous, in my real estate career, I didn't think it was important, to be honest. I've sold houses before," Jacklyn said.
"Now that we're doing this in more volume, I have a massive respect for stagers and it has helped my business tremendously."
Jacklyn explained that her company tries to choose "eyesores" in the community to flip in order to improve the neighbourhood, while still being able to sell the renovated property to first-time home buyers, even though the work on the home drives that price up.
But with or without a stager, Kapitan suggests depersonalizing your home by removing family photos, de-clutter, avoid patterns, use white linens and white towels, and clean so that your home is spotless.
Meanwhile, even though the lull in the market puts buyers in a better position, it's still a seller's market.
Hamilton mixed-use dev. gets height-limit exemption – Real Estate News EXchange
Ground has broken on the latest project in downtown Hamilton, a mixed-use development at 75 James St. S. which will tower more than 30 storeys and include over 500 residential units.
The Labourers' International Union of North America's LiUNA Pension Fund of Central and Eastern Canada (LPFCEC) holds 100 per cent interest in the development. Fengate Asset Management is the investment manager, developer and asset manager, while The Hi-Rise Group is the development manager and SG Constructors is the builder.
The Downtown Hamilton Secondary Plan states buildings shall not exceed the height of the Niagara Escarpment, which works out to about 30 storeys, but the partners applied for and received permission from the city to exceed the height restriction with the James Street building.
"Working collaboratively with city staff and local stakeholders, the building height was determined with consideration for relevant planning policies, precedent projects and addressing local housing needs," Fengate managing director and group head of real estate Jaime McKenna said in an email exchange with RENX.
An application filed with the city called for a tower of up to 34 storeys.
Plans for the James St. S. property
The James Street site was formerly a bank and was acquired for an undisclosed price in 2018. It was assembled in 2020 with another site at 44 Hughson St. S. – which is the current home of the LiUNA Local 837 and LiUNA Central and Eastern Canada regional offices.
It's still to be determined if the residential component of the development will be a purpose-built rental apartment or condominium. It will include office and commercial space and a heritage component.
"Due diligence is underway to determine the best model to meet residential needs in downtown Hamilton," McKenna wrote.
The development will help address significantly increased residential needs in Hamilton from people of all ages and occupations, including students, millennials priced out of the Toronto market and retirees.
The residential units will range in size from studios to three bedrooms. Building amenities will include fitness facilities, party rooms, relaxation lounges, private rooftop green space and underground parking.
LiUNA and the development
"LiUNA is incredibly proud to be addressing the increasingly critical residential needs in Hamilton," Joseph Mancinelli, LPFCEC chair, LiUNA International vice-president and regional manager for Central and Eastern Canada, said in an email interview with RENX.
"I myself, a Hamiltonian, have a personal passion for the future of our city, addressing current infrastructure needs that will continue to foster economic development, job opportunities and growth."
Mancinelli said the location is transit-oriented and pedestrian-friendly, offering easy access to necessities, work, school and entertainment.
"Our LiUNA HQ of the Central and Eastern Region as well as the LiUNA Local 837 office at 44 Hughson will be seamlessly integrated into the development and expanded with new office space, keeping the artistic and historic façade of the front of the building, honouring the foundation and history of those before us," said Mancinelli.
"Further, a number of live/work units will be provided, catering to local small business needs."
A 2025 completion is being targeted for the development.
The development partners
LiUNA has half-a-million members across North America, including more than 140,000 in Canada, who predominantly work in construction.
The LPFCEC was established in 1972 and is one of the fastest growing multi-employer pension funds across Canada. Its diverse investment portfolio has more than $10 billion in assets.
Fengate Asset Management is an alternative investment manager focused on infrastructure, private equity and real estate strategies. It has a total asset value of more than $20 billion and offices in Toronto, Oakville and Houston.
Fengate Real Estate is involved with more than 75 properties and investments. The completed value of its portfolio is more than $9 billion and it has more than $4 billion in value under development.
The Hi-Rise Group is a fully integrated development and construction company that was founded in 1979. It initially functioned as a merchant builder that sold most of the projects it developed and built, but it now holds a number of properties across Ontario.
SG Constructors was founded by Matt Stainton and its management team has accumulated more than a century of experience working on construction projects.
The two-tower King William Residence in Hamilton and the revitalization of Yonge Eglinton Centre, Yonge Sheppard Centre, 66 Wellington St. W., 111 Richmond Street West and 180 Wellington in Toronto are among its projects.