We Finally Got A (Brief) Look At The Gollum Game – Kotaku
The Lord of the Rings: Gollum won't be out until 2022, but the developers at German studio Daedalic Entertainment shared a brief snippet of gameplay during today's Future Games Show.
Unlike action-oriented Lord of the Rings games like Shadow of Mordor, it appears as if Gollum will play to its eponymous protagonist's strengths by focusing more on stealth. Gollum's split personality will also be featured through gameplay as well, but details are still scarce about its implementation.
"We're concentrating on the character of Gollum, and we're telling his story before we learn about what happens to him in the books," Daedalic CEO Carsten Fichtelmann told PC Gamer in 2019. "We're looking for ways to tell stories that haven't been shown in the movies. We'll tell the story of a character we're familiar with, but not repeating what you already know."
The Lord of the Rings: Gollum will be available next year on PlayStation 5, PlayStation 4, Xbox Series X/S, Xbox One, Switch, and PC.
U.S. safety board says driver, passenger seats occupied during fatal Tesla crash
National Transportation Safety Board(NTSB) said on Thursday that both the driver and passenger seats were occupied during an April 17 fatal crash of a Tesla Model S in Spring, Texas.
Local police previously said witness statements indicated there was nobody in the driver's seat of the Model S when it crashed into a tree. The NTSB said a review of vehicle data show "both the driver and the passenger seats were occupied, and that the seat belts were buckled when the (event data recorder) recorded the crash."
(Reporting by David Shepardson)
Samsung Galaxy Z Flip3 starts receiving October 2021 Android security patch globally – GSMArena.com news – GSMArena.com
Last month, Samsung released the October 2021 Android security patch for the Galaxy Z Flip3 in South Korea, which was rolled out for the unlocked units in the US earlier this month, and is now finally seeding to the Galaxy Z Flip3 globally.
The October 2021 patch for the international Galaxy Z Flip3 comes with firmware having version F711BXXU2AUJ7. The patch fixes more than 60 security and privacy-related issues and the changelog also talks about improved stability of the device.
Additionally, the new build brings Portrait mode support for pets, allowing you take portrait photos of cats and dogs with the Galaxy Z Flip3's front and rear cameras.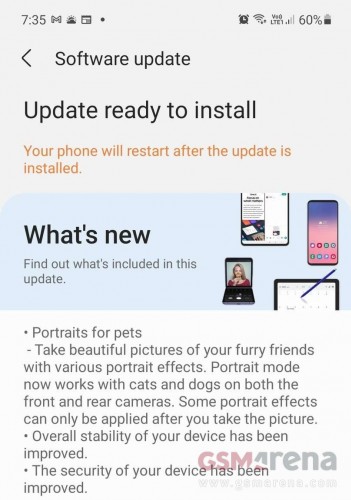 The update should reach all the global units in a few weeks, but you can also try downloading it manually by heading to your Galaxy Z Flip3's Settings > Software update menu.
Where is Google's foldable phone? Everything we know so far – The Verge
During the "Pixel Fall Launch" event, Google formally launched the new Pixel 6 and Pixel 6 Pro as well as its Pixel Pass. Beyond that, however, the tech giant didn't divulge much more about other new products — like Google's first folding phone. Google previously confirmed in 2019 it's working on prototyping foldable device technology, has applied for patents on foldable screens, and we've since reported on a number of leaks suggesting the Pixel Fold might arrive as soon as this year.
For example, Korean industry site TheElec suggested Samsung was going to produce folding OLED panels for the device this very month — and that's just one of many recent leaks. Here's a catch-up on everything else we think we know about the Pixel Fold.
Internal documents from 2020 suggest a "Passport," a name used internally for one of the Pixel Fold designs, would launch during the fourth quarter of 2021. That's a prediction that was repeated by TheElec in mid-2021, as well as reliable leaker Evan Blass in September. That's why some predicted Google would show off the Pixel Fold during the "Pixel Fall Launch" event, which obviously it didn't. Of course, we still have a little over two months left of 2021, so there's still a possibility of seeing it this year.
The public first found out about the "Passport" codename in August 2020 after leaked internal documents referred to the device accordingly. That was the only Pixel Fold we'd heard of for over a year, and the one that would supposedly launch in 2021. In September 2021, however, 9to5Google's sources reported Google is also testing a second foldable Pixel smartphone dubbed "Jumbojack."
We don't know when this second device will be released, if ever. In fact, we don't know whether the "Jumboback" is a second type of Pixel foldable device, or an internal prototype Google is using to build out foldable phone features. What we do know, however, is that both seem different from each other.
There's some speculation the "Jumboback" codename name is a reference to Jack in the Box's Jumbo Jack cheeseburger. This implies the phone may fold "hamburger style" like a powder case, as Samsung's Z Flip does. That differs from the Passport's alleged "hotdog" style, which folds like a passport similar to the Samsung Galaxy Z Fold.
Interestingly, the "Passport" design's folding display might even have the same screen size as Samsung's Galaxy Z Fold 3. A June 2021 report from TheElec indicates the phone could come with a 7.6-inch folding display panel that folds inward.
That same report from TheElec also suggests Samsung would start producing folding OLED panels in October for the "Passport" device. Google may also use Samsung's proprietary ultra-thin cover glass, which is bendable (and is technically produced by Schott). Samsung worked closely with Google to support foldable screens in Android to begin with.
In September 2021, 9to5Google's sources revealed the Jumbojack foldable device due to references in a future version of the recently released Android 12, which 9to5Google says could be Android 12.1. Incidentally, Android 12.1 is an update that may also offer several foldable-focused improvements, an analysis of leaked code by XDA Developers suggests.
According to the publication, these Android 12.1 enhancements include a better split-screen UI and a new taskbar to easily access and use multiple apps using both screens simultaneously. The lock screen could also make better use of horizontal space, showing, for example, notifications on one side and the clock on the other, while placing Quick Settings and notifications panels side-by-side.
Will the Pixel Fold, or at least the Jumboback, need to wait to launch until Android 12.1 is ready. Is that why we have yet to see the Pixel Fold? Android 12 only just released, after all.