What a splendid Friday for the art walk held in downtown Cornwall – Standard Freeholder
Article content
It was an event and late afternoon/early evening that was, well, a work of art, as far as Cynthia Hum was concerned.
"It's been just fabulous, after the heat wave we had last week," said Cynthia Hum, at her vendor's table set up at the the Cornwall Art Walk on Friday. "The traffic is very good – people are really interested (in the art)."
The fourth year for the event was the second pandemic edition. It was all foot traffic, on Pitt Street south of Second Street, and on a chamber of commerce weather day. And for Hum, of Ingleside, this year's walk even included an upgrade, from down the street in the sun a year ago, to her booth in the shade on the Pitt Street west sidewalk not far from the car barriers on Second Street.
Article content
Hum does tile mosaic on wood – and a lot of people were stopping by to ask lots of questions. It's something she's enjoyed for nearly two decades, a hobby that ultimately became more than that. Hum has displayed her work for five years, and she's looking forward to another regional showcase that comes up in about a month, the annual Apples & Art studio tour, the 30th edition.
"They're both such great events for the (arts community)," Hum said.
There was a little bit of everything at the art walk, galleries open late and the streets coming alive with colour and sound.
There were over 40 artists and artisans, displays and activities stretching two full blocks and as far south as all the family fun going on outside the Historic SDG Jail and presented by Your Arts Council, including Cam MacPhee, dancing with Magoo Cook, and the musical stylings of George Lucen, as well as an improve jam competition. One of the new highlights this year were the street performers, including Yafa Goawily showcasing her belly dance routine.
There were two musical stages set up – Pommier Square Stage, and the First Street Stage – for several hours of live performances, including blues musician Jamie Heath, Mena Hardy, the Kenny Holland Band, the Glengarry Ramblers, Castles, the Lone Wolf and Spaghetti Corner Band, Katie Ditschun, and Switchgear.
The event each year is considered a great opportunity for people to explore the region's arts scene, and interact with artists and performers.
In the beginning, the art walk each year has various groups come together the fourth Friday of each warm-weather month – starting in late May – for activities late in the afternoon and well into the evening. The pandemic has altered the format, and the 2020 version was held late in July.
New App Aims to Promote Province's Thriving Art Community – VOCM
A new app aims to get people outside and appreciating art in public places all over the province.
The Explore Art NL app leads users to more than 100 existing works of art in communities from St. John's to Makkovik, inviting people to spend more time in those locations, while possibly meeting others with mutual appreciation.
The works thus far include everything from sculptures to memorials and murals, but anyone can upload their own creations to the growing list.
Business and Arts NL executive director Amy Henderson says they modelled their app on a smaller version in Manitoba.
She says they were inspired by the app used by the Winnipeg Arts Council, but needed to expand it on a larger scale for the entire province.
Vanessa Iddon came up with the design for their so-called 'Art Car', a Genesis GV80 which will be touring the region to promote the new app.
The overall initiative is also supported by the federal government, City of St. John's and Tract Consulting.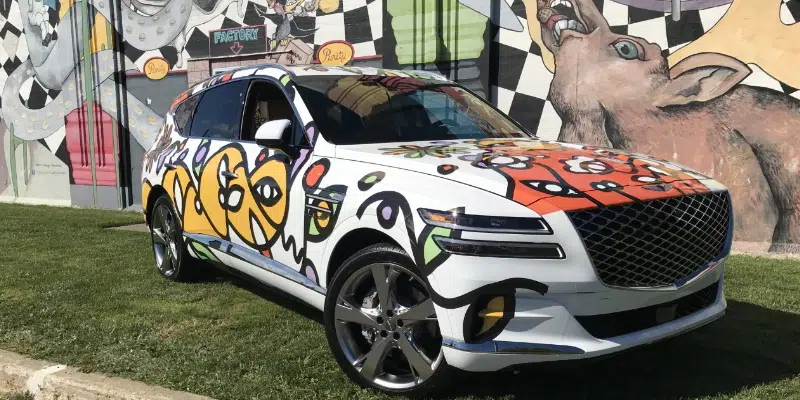 Art Crawl bounces back for 2021 – Coast Reporter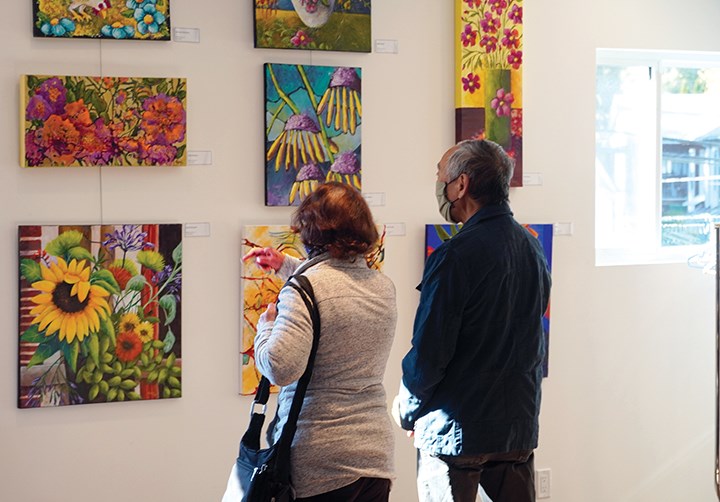 The 2021 Sunshine Coast Art Crawl, from Oct. 20 to 24, will feature more venues, more artists, and fewer pandemic-related changes than were in place in 2020, unless new health orders are issued before then by the provincial government.
"Because there are so many individual venues, there's no way we can do any kind of [COVID-related] recommendations overall, other than that the venues follow the provincial guidelines," Coast Cultural Alliance (CCA) board member and spokesperson Linda Williams told Coast Reporter.
In 2020, the Art Crawl dropped to 97 venues, down by nearly half from the record high of 186 locations in those heady pre-COVID days of October 2019.
This year, the number of venues has jumped back up, to 164, with more than 250 artists participating.
The 2020 version also tried to accommodate health concerns by offering vendors some options, as on online-only venue, or taking in visitors only by appointment. Those choices aren't on the table for 2021, but the overarching guideline is still safety-first.
"We are following all the health regulations, period," Williams said.
At press time, the only restriction on indoor events where participants are not seated is that masks be worn at all times by those over the age of 12. Requiring proof of vaccination is optional for venues where the number of visitors is kept under 50. Some smaller Art Crawl venues might ask for vaccination cards, but for now that's at their discretion.
"We were just going to have to take responsibility as individuals, as artists and as visitors," said Williams.
Sign-in sheets will be required for all venues, not for pandemic contact purposes, but in order that the CCA can collect a few statistics.
Art crawlers can also answer a quick online survey to be eligible for prizes of a two-night stay at Painted Boat Resort Spa & Marina, or ferry travel vouchers. Winners will be named in a draw to be held on Oct. 31.
Williams noted there are 46 new venues this year. Also, there are more in the Pender Harbour area than ever – 15. And for some reason, there's been a blossoming of new Art Crawl locations at the west end of Beach Avenue in Roberts Creek.
"There are eight of them that are on Beach Avenue close to Henderson (Road) this year," she said. "And I think seven of them are new."
The Art Crawl is also welcoming a new major sponsor this year, Longman Developments.
"They've come in because their core values are similar to ours, in community-building," said Williams. Sunshine Coast Credit Union is also back as a major sponsor, Williams noted, as it has been since 2010.
Art Crawl does receive modest grant support from local governments but is not eligible for provincial or federal funding, so is otherwise dependent on local business sponsorships and $135 venue fees to make the event possible.
The Art Crawl generated close to $600,000 in sales and commissions in 2019.
Art Beat: Coast artist heads to show in New York City – Coast Reporter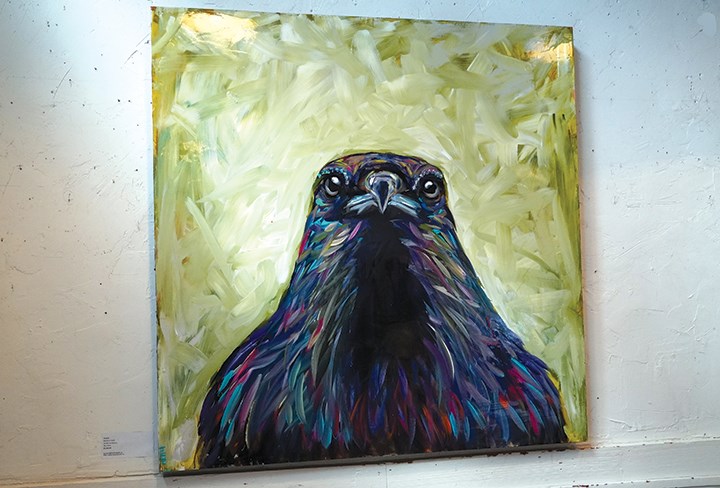 Roberts Creek artist Kandice Keith is on the U.S. East Coast this week to show her nature-inspired paintings at the Affordable Art Fair in New York City, Thursday, Sept. 23 to Sunday, Sept. 26. "It's a really amazing opportunity," Keith said in an interview. "I'm very fortunate." Keith was set to go to the twice-yearly fair in March 2020, but the outbreak of COVID-19 put an end to that plan. "This is a make-up for that show," Keith said. She's also slated to return to the NYC fair at the Metropolitan Pavilion next March. You can see some of Keith's vivid and luminous work currently on display at the Gumboot Café.
Oktoberfest
Anna Lumiere, Grant Olsen, and Coast String Fiddlers are among the performers featured at Oktoberfest, which has been on all week in downtown Sechelt until Friday, Sept. 24. A full rundown of acts and events can be found at secheltdowntown.com. Celebrations move to Rockwood Lodge on from 1 to 6 p.m. on Saturday, Sept. 25, where more live music is planned. Prizes for best lederhosen and beer stein.
Raincheck
FibreWorks Studio & Gallery in Madeira Park had planned an opening reception last Saturday for its new, juried exhibition, A Beautiful Mess: the joyful & random discovery of the artistic process. The reception has been rescheduled for this Saturday, Sept. 25, from 2 to 4 p.m.
Scent and Soul
You can meet Rohanna Goodwin Smith, author of Scent and Soul: The Extraordinary Power of the Sense of Smell, at One Flower One Leaf Gallery on Marine Drive in Gibsons, Saturday and Sunday, Sept. 25 and 26, from 1 to 3 p.m.
Live Music
Peter Van plays a solo show on piano at the Clubhouse Restaurant in Pender Harbour on Friday Sept. 24, from 5 to 8 p.m. Then, for a $5 cover on Sunday, Sept. 26 from 2 to 5 p.m. you can hear the Steve Hinton Band.
The Howesounders host a Friday night jam session at Roberts Creek Legion on Sept. 24, starting at 7 p.m. Sign up at the door to book some solo- or group stage-time. On Saturday, Sept. 25, there's a Jeevious/Jaggs Jambouree, where members of the Jeevious family and a few players from Vancouver's Staggers and Jaggs will shake things up for a few hours, starting at 7 p.m. Jim Foster is at the Backeddy Resort and Marina in Egmont, weather permitting, on Saturday, Sept. 25 from 4 to 7 p.m.
Banditry Cider on Pratt Road in Gibsons is staging its first Apple Festival on Sunday Sept. 26, with a lot of family-friendly frivolity starting at 11 a.m. The band The Burying Ground plays from 4 to 6 p.m.
Let us know about your event by email at arts@coastreporter.net.