What time PlayStation 5 goes on sale, stores that could have it in stock
GameStop, Target and Walmart are among the retailers whose websites will be overrun by people looking to buy a PlayStation 5 on Thursday.
Finding a PS5 in stock amid the virtual mayhem will be difficult but certainly not impossible. Xbox users went through the same ordeal earlier this week, and many were able to track down a console without a preorder.
Sony is expected to sell at least 15 million PlayStation units by the end of next year, according to one estimate, and perhaps many more if it can meet production demand during the ongoing COVID-19 pandemic.
Below is everything you need to know about the PS5's release time, store availability and more:
2020 PlayStation 5 release date
The PlayStation 5 standard edition and PlayStation 5 digital edition release on Thursday, Nov. 12.
Here's how that compares to when previous console generations since 2000 were dropped:
| | |
| --- | --- |
| Console | Release date |
| Xbox | Nov. 15, 2001 |
| PS2 | March 4, 2000 |
| Xbox 360 | Nov. 22, 2005 |
| PS3 | Nov. 17, 2006 |
| Xbox One | Nov. 22, 2013 |
| PS4 | Nov. 15, 2013 |
| Xbox Series X/S | Nov. 10, 2020 |
| PS5 | Nov. 12, 2020 |
What time does the PS5 come out in U.S.?
The earliest time the PS5 will be available in any store is Wednesday at midnight on the East Coast. Keep in mind that you can only get the console if you order it online first for pick up, so make sure to secure it at home on your local store's website before hopping in your car.
PS5 pricing for both editions
The standard edition is $499, while the digital edition with no disc drive is $399.
Where is the new PlayStation available for sale?
Most well-known electronics retailers will have the PlayStation 5 on a limited first-come, first-serve basis. Those stores include Best Buy, GameStop, Walmart, Sam's Club and Target. Try to sign up for curbside pickup if available at those outlets, as Sony's rules for the COVID-19 pandemic prevent places from allowing in-store shopping. Sony, Amazon and Newegg.com are also selling the new consoles online shipment.
If all else fails and you're desperate to get the PS5 system at any cost, there will be plenty available for resale on eBay for well above market value. But try to cover all bases before going down that expensive path.
Are there any PS5 consoles in stock?
Stock for any store, including online outlets such as Amazon and Newegg, will be extremely limited. Be vigilant in refreshing store websites and calling your local seller in advance.
Source: – Sporting News
Apple Black Friday 2020: Best Apple Watch Deals Including Series 3 From $119 – MacRumors
Black Friday sales have begun on a variety of products, including the Apple Watch. There are quite a few deals across the Apple Watch lineup this year, including one of the lowest price we've ever seen the Apple Watch Series 3.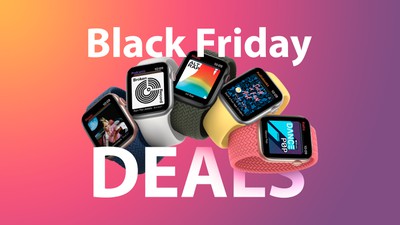 Note: MacRumors is an affiliate partner with some of these vendors. When you click a link and make a purchase, we may receive a small payment, which helps us keep the site running.
Amazon and Walmart are offering the 38mm GPS Apple Watch Series 3 for just $119.00, down from $179.00. You can also get the 42mm GPS model from Amazon and Walmart for $149.00, down from $209.00. Both of these sales represent the lowest prices we've ever seen for the Apple Watch Series 3, and the 2017 model of the Apple Watch makes a solid holiday gift for someone looking to get into Apple's wearable family.
As a note, stock is very limited for these models and retailers appear to be running out fast. Make your purchases soon if you're interested.
Apple Watch SE
For a step up, Apple also offers the Apple Watch SE, which offers many of the latest features but at a value price. Sport band GPS models are discounted by $20 at Amazon, priced at $259.00 for 40mm and $289.00 for 44mm.
Cellular models of the Apple Watch SE are also on sale, with most models similarly discounted by $20 to $309.00 for 40mm and $339.00 for 44mm. There is, however, one 44mm model in silver with a Deep Navy Sport Loop available for $309.99, a $49 savings.
Apple Watch Series 6
If you're looking for the most advanced Apple Watch, Amazon also has a few notable deals on those. The 40mm GPS Apple Watch Series 6 (PRODUCT)RED is $329.98 this week, a $69 discount from the regular price $399.00. Other 40mm models are priced at $379.
For the 44mm GPS models, Amazon is currently showing all of them at $379.99 after a coupon is automatically applied at checkout, down from $429.00. Across the board, these are the best prices available online so far this week.
You can save even more (up to $120) if you're interested in a cellular model, with 40mm stainless steel Milanese Loop models priced at $699.00, stainless steel sport band models priced at $579.00, and a (PRODUCT)RED aluminum model discounted by $109 to $389.98. Discounts and availability on 44mm cellular models are more limited, with with a few models available for $479.99 after a $29.01 checkout discount.
Most of these sales are the best deals we've tracked to date on the Apple Watch Series 6, which sports ways to measure your heart rhythm and blood oxygen levels. In terms of deep discounts, the Apple Watch Series 6 and Series 3 are the only notable models getting marked down at the major retailers this Black Friday.
Be sure to visit our full Black Friday Roundup to shop for even more Apple-related products and accessories on sale this week.
Black Friday tablet deals: iPad Pro, Galaxy Tab S7, and more – ZDNet
Black Friday 2020 is here, and with it, you can expect a range of tablet deals to appear.
From Samsung Galaxy tablets to Apple iPads, over the course of the shopping event — no longer just a one-day shopping spree, and now closer to a week-long promotion — US retailers will be competing for business by offering decent discounts on these mobile devices.
Tablets can be suitable for a variety of purposes; from checking your email on the road to saving and sharing presentations, reading, accessing mobile apps, streaming content, and more. Whether or not you want a tablet as a gift, for entertainment, work, or as a slimline device for accessing the Internet, it is worth keeping an eye on tablet sales over Black Friday this year.
Below, ZDNet has compiled a list of the best tablet deals on offer. As some deals finish and other, time-sensitive deals expire, we will continue to update — so make sure to come back and check.
Over at Best Buy, you can pick up an 11-inch Samsung Galaxy Tab S7 tablet with a $100 discount. This tablet comes with 126GB storage, 6GB RAM, an 8MP front-facing camera, a 13MP rear camera, and an accompanying S-Pen stylus.
Microsoft is also involved in this year's shopping season, and an offering of note is the Microsoft Surface Pro 7 and Pro Type cover bundle. The company is offering $200 off basic bundles including a Surface Pro 7 tablet ( Intel Core i3 processor, 4GB RAM, 128GB storage), as well as discounts off premium models.
If you're looking for a reasonably-priced Samsung tablet in the Black Friday sales, Best Buy is offering a Samsung Galaxy Tab S6 Lite with a $100 discount. This Android tablet comes with a 10.4-inch display, 64GB storage, 4GB RAM, and both a 5MP front and 8MP rear camera.
On eBay's marketplace, you can pick up an Apple iPad Pro for a substantial discount. While this deal may not be around long, for now, these 2018 devices are on offer with 11-inch screens, 256GB storage, and 4GB RAM.
More Black Friday 2020 deals
Here are some other noteworthy deals worth checking out:
Work smarter, not harder, with Logitech Slim Folio Pro for 11-inch iPad Pro, on sale now – iMore
Have an 11-inch iPad Pro (2018) and looking for a fantastic keyboard case to go with it? You know, because it's actually possible to work smarter, not harder, from your iPad Pro, which many people would consider a somewhat viable laptop replacement. Right now, you can grab the Logitech Slim Folio Pro for 11-inch iPad Pro for just $75.98 right now on Amazon for Black Friday. Our own Lory Gil gave the Logitech Slim Folio Pro 5-stars in her review last year, so you know it's good.
While a lot of us use our iPads as consumption devices, there are quite a few who enjoy using the 11-inch iPad Pro as a work machine. When you add in a keyboard case, I mean, it's pretty much a laptop replacement, for the most part. And speaking from experience, one of the best options out there for iPad keyboard cases is Logitech, hands-down — I absolutely love my Logitech Folio Touch for 11-inch iPad Pro (2020) even more so than my Apple Magic Keyboard for iPad! But if you don't need the trackpad, then the Slim Folio Pro is also a great (and cheaper) alternative.
With the Slim Folio Pro, you are getting a durable and protective shell for your iPad. The rubberized bumpers that wrap around your iPad will keep it safe and secure, and protect it from everyday bumps and scratches. Overall, the case is nice and soft thanks to the silicone material, and it's very lightweight, so it doesn't add much bulk.
The keyboard itself has chiclet keys that feel similar to what you get on MacBooks, and the keys are backlit so you can type away, day or night. Logitech even includes a function key row so you have quick access to common actions, like Home, volume control and playback, adjust brightness, and more. The folio-style back lets you put your iPad Pro into one of three different viewing angles, so you can make it work for whatever situation you're in.
If you're using an Apple Pencil, attach it to your iPad with the open space at the top. There is a magnetic latch to keep the case closed and your Apple Pencil safe.
The biggest difference between the Slim Folio Pro and the Folio Touch is the trackpad. But if you don't need that, then the Slim Folio Pro is a great choice to pick up, especially at this low price.
For more savings, don't miss the other Black Friday deals we've rounded up, especially Black Friday Apple deals on iPads and Apple Pencils!
More Black Friday deals:
We may earn a commission for purchases using our links. Learn more.