Alleged Xiaomi Redmi 9A official renders show up online a day before the launch – XDA Developers
Despite a wide range of products, Xiaomi truly excels when it comes to its budget offerings. The company's entry-level Redmi A series is fairly popular in several parts of the world including Southeast Asia, LATAM, and Europe. Xiaomi launched Redmi 8A back in September last year and the phone – like its predecessor – offers great value for its price of just about $100. Now, Xiaomi is gearing up to unveil its successor – the Redmi 9A – along with another budget device – the Redmi 9C tomorrow i.e. on June 30th. But just a day ahead of the launch, official renders of the Redmi 9A appears to have slipped out and leaked online.
Xiaomi Malaysia recently took to Facebook to confirm the launch of Redmi 9A and Redmi 9C in the country. The creative used for the status update represents a generic display with a V-shaped notch. While the A series has been going strong for several years now, the Redmi C series is new.
Although the purported specifications of the Redmi 9A and the 9C have been making rounds on the internet for some time, the phones have evaded any visual expose. This seemingly changes today, just a day before their launch, as Playfuldroid claims to have sourced official renders of the Redmi 9A. The phone appears in three different colors – Midnight Grey, Peacock Green, and Twilight Blue – in these alleged renders.
Although we would suggest taking these renders with a grain of salt, they coincide with the block diagram from the listing on FCC of a Redmi phone with model number M2006C3LG, which can be confirmed to be the Redmi 9A by looking up the EMEI number registered in the FCC filing. The listing also reveals that the Redmi 9A will feature 4900mAh battery with 10W charging, and run on MIUI 12 out-of-the-box. In addition, the Redmi 9A has also been certified by Thailand's NBTC but the listing doesn't reveal much about the phone.
Other specs of the phone are yet to verified by the tipster known by their Twitter alias @Sudhanshu1414 claimed to know the key specifications of the Redmi 9A, Redmi 9C, and the Redmi 9. Out of these, the Redmi 9's specifications suggested by the tipster have turned out to be accurate, giving us some confidence in their tip for the other two devices.
The Redmi 9A is expected to be powered by a MediaTek Helio G25 chipset and feature a single 13MP camera on the back with a 5MP selfie shooter. The phone is also expected to sport a 6.5-inch HD+ display and be available in a 3GB/32GB arrangement. The Redmi 9C, on the other hand, is expected to be powered by a Helio G35 chipset, also powering the Realme C11 that launches in Malaysia on the same day as the Redmi 9A and 9C.
Since there's not much time left to the official reveal, we won't have to spend much time contemplating the authenticity of these leaks.
Two top Ubisoft execs leave during sexual harassment probe – CTV News
MONTREAL —
Two top executives from one of the world's largest gaming companies have left the firm during an investigation into allegations of sexual harassment and abuse.
Last month, French company Ubisoft — whose products include Assassin's Creed — launched an investigation after allegations of sexual assault and harassment were shared online.
CEO Yves Guillemot wrote in a message to the company's 18,000 employees late Friday that Maxime Beland, vice-president of editorial in Toronto, had resigned.
"We continue to investigate the allegations made against him," Guillemot added, without specifying the allegations.
Tommy Francois, vice-president of editorial and creative services based in Paris, was placed on disciplinary leave "pending the outcome of an investigation," Guillemot said in the message seen by AFP.
Another unnamed employee in the Toronto studio has been dismissed for "engaging in behaviors that do not align with what is expected of Ubisoft employees," he said.
"Other investigations are ongoing and will be conducted rigorously."
"We cannot tolerate workplace misconduct and will continue taking disciplinary actions against anyone who engages in harassment, discrimination and other behaviors that infringe on our Code of Fair Conduct."
Ubisoft is the latest player in the gaming industry to be the target of harassment accusations.
In June, current and former employees used social media recently to denounce predatory behaviour by powerful managers.
Gmail users flooded with spam messages, company says issue fixed – CanIndia News
San Francisco, July 5 (IANS) Gmail users around the world were complaining about spam messages flooding their inbox over the weekend as the Google service was apparently suffering from a widespread problem with its email filters.
Several Gmail users took to Twitter and other social media platforms like reddit to convey they were being bombarded with spam messages.
Google acknowledged the problem to Forbes, saying the spam flaw was actually part of a bigger issue which caused Gmail emails to be delayed, both when sent and received.
The consequence of this was "some messages were delayed enough that they resulted in delivery without all spam checks completing".
Google said that "during this time, scans to filter malware and the most egregious spam and harmful content remained fully operational".
The issue was first reported by Android Police.
"Why did the gmail spam filters break?!" posted one user.
"Did gmail's spam filter and category function just completely shut down for anyone else? Everything's now going straight to the primary inbox," commented another.
Google said the issue has now been resolved.
Another user posted: "It is a strangely comforting thing that I can just search for 'gmail' and immediately Twitter provides me with evidence that yes, others are getting weirdly hit with spam right now".
–IANS
na/
Weekly poll review: iOS 14 is a solid upgrade, might even get some to switch – GSMArena.com news – GSMArena.com
Last week's poll shows that iOS 14 is a solid upgrade – one in four voters think it will allow them to continue happily using their current iPhone, another one in five are looking forward to upgrade to the iPhone 12 to get the OS in its best form.
Is it good enough to help Apple lure away users of premium Androids? Well, a solid 23% say that is the case. They will be able to choose from the $400 iPhone SE, the $600-700 iPhone 12 or one of the $1,000+ Pro models, depending on their needs.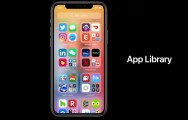 New in iOS 14: Home screen widgets • App library • Enhanced privacy • iMessage improvements
Of course, Apple has no phones in the sub-$400 mid-ranger market, barring second-hand units, while Android makers offer some really impressive phones in that range. Owners of such Androids see no reason to pay a premium for iOS.
Also, many feel that iOS is still trailing Android, especially when it comes to customization. And it's true, it took 14 versions for Apple to let you pick your browser app. So if your Android UI looks nothing like the stock installation, iOS 14 is not for you.
If you value privacy and long term software support, however, iOS has several new features that will make former Android users feel at home.