Apex Legends could release on February 2 for the Switch
We've known for months that Apex Legends, Respawn Entertainment's free-to-play battle royal title, is coming to the Switch.
While the game was originally set to arrive on Nintendo's console in mid-2020, its release was delayed until October. After missing the October release date, Apex Legends director Chad Grenier said that Respawn wants to do the Switch version of the game "justice."
Now, if a recent Japanese trailer for Season 8's release on February 2nd is accurate, the Switch version of Apex will release on the same date. Further, an Amazon Japan listing for the "Champion Edition" of the game indicates February 2nd is the Switch port's release date, according to GoNintendo.
Below is a full quote from Grenier regarding the Switch version of the game that was included in a blog post related to Apex's season 7 launch:
"For those who game on the Nintendo Switch, we're still hard at work on the port, but in order to do justice to the game and make it into the great experience Switch players deserve, our team needs more time. This year has brought on unexpected new challenges, to put it mildly, and we don't want to rush anything out."
Porting a great-looking battle royale like Apex to the Switch likely isn't an easy task, so hopefully, Respawn manages to find a way to par down the game's visuals and maintain solid performance on Nintendo's far less powerful console.
Though I primarily play Apex Legends on the Xbox Series X and really like the recent 1440p 60fps update, I'd likely still play it on the Switch occasionally, especially if I wanted to game from the comfort of my bed.
Season 8 is set to add a new character called Fuse, additional skins and a revamped Kings Canyon. More information regarding Season 8 'Mayhem' is set to be revealed soon.
Source: GoNintendo Via: NintendoLife
Source: – MobileSyrup
Samsung unveils prices for Galaxy Z Flip4 and Z Fold4 in India, details discounts and promos – GSMArena.com news – GSMArena.com
We have waited nearly a week for Samsung to unveil the prices for the new Galaxy Z foldables for the Indian market and here they are. Fans can now pre-book a Z Flip4 or Z Fold4 and score some gifts and discounts. This is a special Samsung Live promo event that starts today and ends tomorrow a midnight.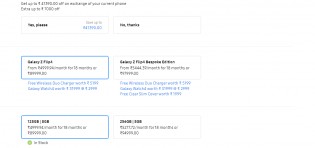 Pre-booking options for Samsung Galaxy Z Fold4 and Z Flip4
First, the prices. The table below has the breakdown by storage capacity. A couple of things to note about the Samsung Galaxy Z Flip4 – the customizable Bespoke Edition is available from Samsung Live and Samsung Exclusive Stores (and only in 256GB trim), the 512GB version is not available in the country. As for the Samsung Galaxy Z Fold4, the top 1TB model is available, but only through Samsung Live and Samsung Exclusive Stores.
Galaxy Z Fold4
256GB
512GB
1TB*
₹155,000
₹165,000
₹185,000
₹8,000 cashback or Upgrade Bonus
* 1TB variant exclusive to Samsung Live and Samsung Exclusive Stores
Galaxy Z Flip4
128GB
256GB
256GB Bespoke*
₹90,000
₹95,000
₹98,000
₹7,000 cashback or Upgrade Bonus
* Bespoke Edition exclusive to Samsung Live and Samsung Exclusive Stores
Note that these are the base prices, the two-day promo event offers some discounts. You can get ₹8,000 cashback with the pre-booking of a Z Fold4 or ₹7,000 with a Z Flip4. You will need an HDFC credit or debit card for that. Alternatively, if you are planning to trade in an old phone for credit, you will get an additional ₹8,000 or ₹7,000 towards purchasing the new foldable.
There's more – you get a free Wireless Charger Duo (normally valued at ₹5,200). The Galaxy Z Flip4 Bespoke Edition also comes with a free Slim Clear Cover (worth ₹2,000).







Some of the possible color combinations for the Galaxy Z Flip4 Bespoke Edition
For some peace of mind you ca get 1 year of Samsung Care+ at half price – ₹6,000. No Cost EMI is available for up to 24 months as well.
Finally, you can get a previous generation Galaxy watch at a hefty discount. Those who pre-book the Galaxy Z Fold4 can pick up a Galaxy Watch4 Classic (46mm, Bluetooth) for ₹3,000 (down from the MSRP of ₹35,000). If you picked the Z Flip4 instead you can grab a Watch4 Classic (42mm, Bluetooth) for ₹3,000 (down from ₹32,000).
If you prefer one of the new Galaxy Watch5 models, those are already on pre-order – here is the pricing info for them. You can pre-book one now and get a discount on the new Galaxy Buds2 Pro.
An exploration of the history of Yorkshire, the Acadians and the Mi'kmaq – Town of Sackville
An exploration of the history of Yorkshire, the Acadians and the Mi'kmaq
August 15
An exploration of the history of Yorkshire, the Acadians and the Mi'kmaq
Facilitated by Renée Belliveau, this online presentation will help us understand what impact the arrival of the Yorkshire Settlers had on the Tantramar area, both the good and the bad.
To join the presentation using the Microsoft Teams platform, type shorturl.at/kmP69 in your browser or contact m.pryde@sackville.com for the link.
Zoom rolls out fix for Mac app security flaw – MobileSyrup
Zoom has pushed out version 5.11.5 of its Mac app, which includes an important security fix for a relatively recent security flaw.
Security researcher and founder of the non-profit Objective-See Foundation Patrick Wardle uncovered the Zoom security flaw and presented it at last week's Def Con hacking conference. Per The Verge, the exploit leverages the Zoom installer, which requires special user permissions to run. Wardle discovered that it was possible to 'trick' Zoom into installing a malicious program by adding Zoom's cryptographic signature to the package.
Once installed, attackers can use the malicious program to gain more access to a user's system, potentially to modify, delete, or even add files to the device.
As spotted by MacRumors, Zoom addressed the issue in its August 13th security bulletin, noting that version 5.11.5 of Zoom for Mac fixes the flaw and is now available.
Reversing the patch, we see the Zoom installer now invokes lchown to update the permissions of the update .pkg, thus preventing malicious subversions 🔐👍🏽 pic.twitter.com/00xjqKQsXs

— patrick wardle (@patrickwardle) August 14, 2022
In a tweet, Wardle congratulated Zoom on the quick fixing, noting that it looks like the installer now "invokes lchown to update the permissions of the update" package to prevent malicious apps from sneaking in.
As such, you'll likely want to grab the latest Zoom update right away to make sure you are protected against the exploit. You can update Zoom by opening the app and clicking the name in the menu bar, then 'Check for updates.' If one's available, you'll need to click 'Update' to start the process.
Header image credit: Shutterstock
Source: Zoom Via: MacRumors, The Verge