Art Rental 2022 – Call for submissions – Ville de Pointe-Claire – Pointe-Claire
For over 50 years, the Stewart Hall Art Rental and Sales Service has been showcasing the talent of local artists and supporting access to works of art by offering individuals and businesses the opportunity to buy or rent original works of art.
Every fall, the Art Rental and Sales Service renews its collection by inviting artists from the greater Montréal area to submit their works to a jury of industry professionals. The selected works are exhibited at the Stewart Hall Art Gallery and then made available for purchase or rental.
You are therefore invited to submit photos of your original works for the 2022 Art Rental Collection at the Stewart Hall Art Gallery.
Due to the Covid-19 pandemic, this year the submission and selection process will exclusively take place electronically.
Submission criteria:
We will accept paintings, photographs, drawings, mixed media and original prints.
Works must be recent and must have been produced within the past five years.
Only original works of art will be accepted. Digital prints (giclée) will not be accepted (with the exception of digital photographs).
A maximum of three works of art may be submitted per participant.
Submission deadline: September 27, 2021.
Applicants will be notified by e-mail as to the jury's decision no later than October 7, 2021.
Selected artists will be invited to deliver their artworks by appointment between Thursday, October 21 and Saturday, October 23, 2021 to the Stewart Hall Art Gallery. They will also be able to collect their works from the 2021 collection at this time, if applicable.
Submitting selected works:
Each work must be clearly identified on the back as follows: name of the artist, title, date, medium, size (maximum including frame: 92 cm x 110 cm, i.e., 36 in. x 42 in.) and price (maximum $1,500).
Images of works submitted do not need to include the frame. Howerver, should an artwork be accepted it must be framed and ready to hang when it is dropped off.
Works selected for the 2022 Art Rental Collection will be on exhibition at Stewart Hall Art Gallery from November 6 2021 to January 9, 2022. They will then be made available for sale or rental for one year through the Art Rental and Sales Service.
Sales: a 25% commission is retained.
Rentals: The fees collected are paid in full to the artist twice a year (in June and December). The monthly rental cost is a percentage of the price of the work.
Art Fx #37: "Put Your Feet Up" by Chantelle Poisson – Huntsville Doppler
Art Fx is a year-long series on Huntsville Doppler featuring Huntsville-area visual artists.
"Put Your Feet Up" by Chantelle Poisson is a 48″ x 24″ oil painting.
"I was inspired to paint this piece after seeing my daughter so content wrapped up in the blanket," says Chantelle. "It brought me such a sense of contentment, warmth and simple happiness. I knew I wanted to convey that feeling of contentment on a canvas."
About the artist
"As a graduate of Sheridan College Art program, I bring the skills I learned as well as my love for the outdoors to my art. I enjoy being in nature whether it be kayaking, hiking, gardening or spending time with my chickens and ducks. Nature and my family are my inspiration for most of my work," says Chantelle.
Her studio is in Baysville and her preferred medium is oil. "The vibrancy and depth oil paints bring to pieces truly makes the paintings come alive," she notes.
Find Chantelle on Instagram @chantellepoissonart or see more of her work @therealmuskokaunlimited.
See more local art in Doppler's Art Fx series here.
Don't miss out on Doppler!
Sign up here to receive our email digest with links to our most recent stories.
Local news in your inbox three times per week!
Click here to support local news
Doors swing open at MacLaren Art Centre as gallery welcomes back visitors – BradfordToday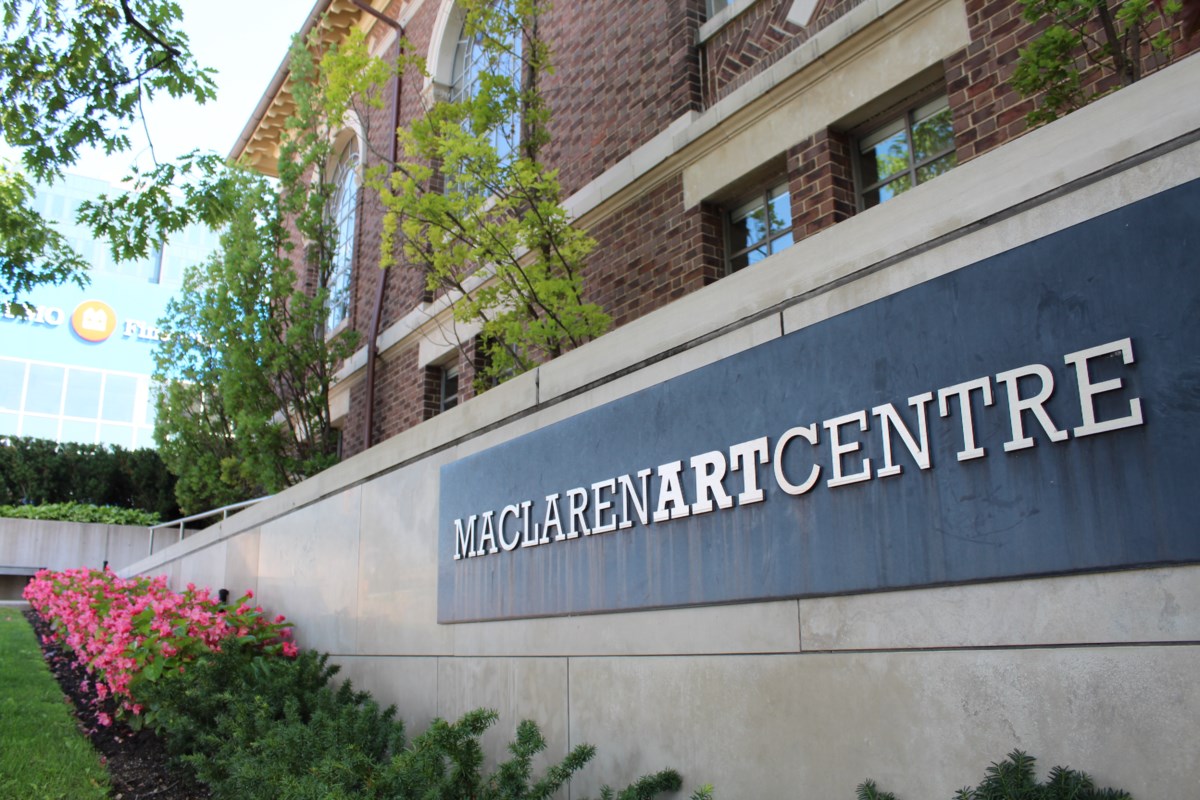 NEWS RELEASE
MACLAREN ART CENTRE
*************************
The MacLaren Art Centre reopened to the public on Thursday, Sept. 16, 2021, with new hours. We are excited to welcome the public back into the gallery with an engaging fall season of exhibitions and programs.
Michael Farnan's Canoe Fight: From Reverence to Redress is on view until Oct. 24. Featuring the canoe — an Indigenous technology that was deployed by white settlers to expand the colonial state into the Canadian interior — this exhibition demonstrates how beloved Canadian cultural symbols actively inscribe Canadian settler culture as the natural inheritor of both land and power in the area and beyond. Farnan is a Victoria Harbour-based artist whose work has been exhibited throughout Canada.
An exhibition by chum mcleod titled small world is on view until Oct. 24, and features intricate dioramas of hardscrabble bunny characters in a closed and strange universe. Battling floods, visiting a travelling circus, solving arcane domestic mysteries or ice fishing alongside their skidoos, the bunnies are completely engaged in the dramas in which they find themselves.
Polyempath Polyethylene by Kelly Jazvac, a Montreal-based artist, presents an installation of new work in which she continues to engage with the prevalence of synthetic materials in contemporary life. Featuring sculptures five years in the making, works are paired against the uncanny meeting of bodies and landscapes, using sewing techniques to alter waste from commercial advertising. This exhibition is on view until Oct. 31.
In addition to an exciting calendar of art programs for all ages and experience levels, including Family Sundays, children and adult programs, the Youth Community Quilt which was created through a series of workshops hosted by the Downtown Barrie Youth Collective and led by regional artist Sean George this summer is on display in the MacLaren lobby.
Gallery Public Hours: Thursday-Sunday, 11 a.m. to 4 p.m.
Café Public Hours: Tuesday-Friday, 8 a.m. to 12 p.m.
Framing Shop: By appointment Tuesday to Thursday. Please book online.
Admission is free with a suggested donation of $5.
The Gallery Café is open with limited hours from Tuesday-Friday, 8 a.m. to 12 p.m.
Come and enjoy a great cup in the courtyard while the weather is still warm.
Visit the gallery website for more details on all the exciting exhibitions, programs, events, and COVID protocols.
*************************
Richmondite contributed artwork to support councillor Au's mobile art gallery – Richmond News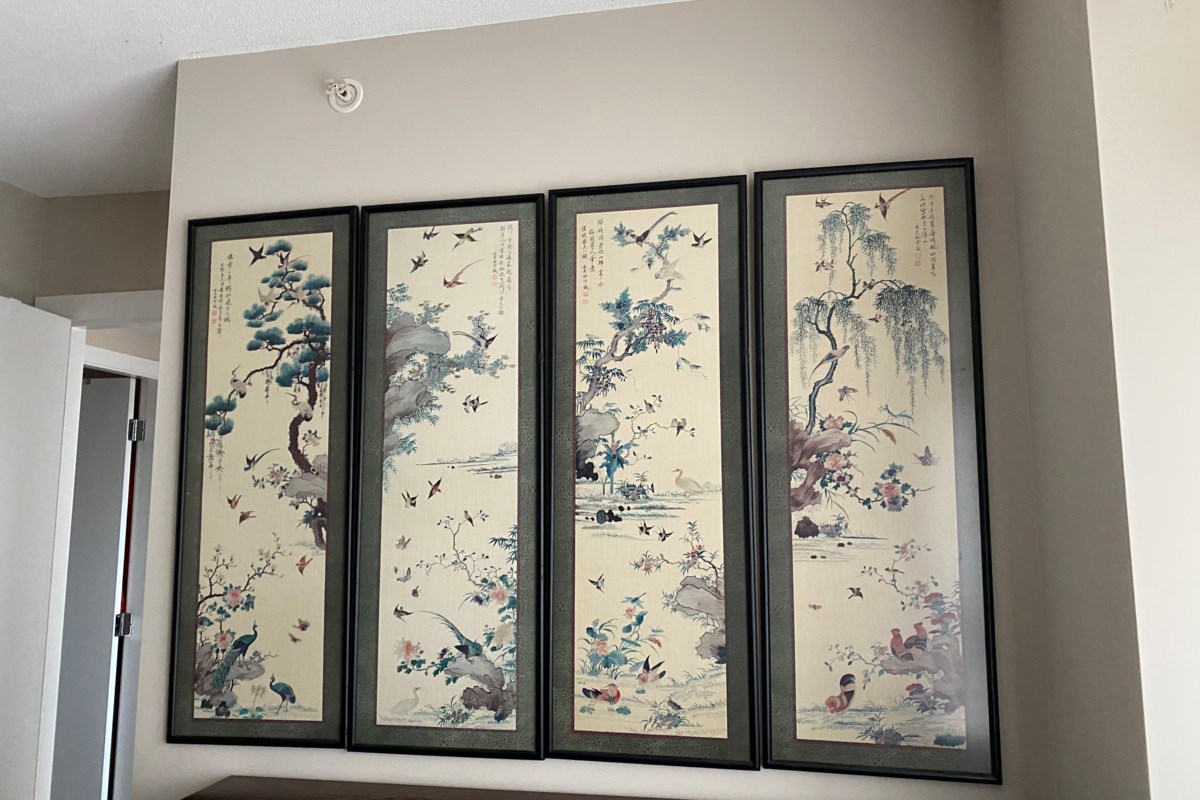 Richmond city councillor Chak Au has spent the past year pondering launching a mobile art gallery for showcasing folk art and connecting the community.
Au is still looking for a venue to showcase such art, but he's already collecting items to exhibit, including one from retired Richmond chartered accountant James Heish, who donated a piece of Chinese decorative needlework this week.
"My idea for the gallery is more like a mobile communication hub. The artwork displayed in the gallery shouldn't be limited to one culture. Instead, it could be as diverse as possible, encouraging more people to share their thoughts on who we are and where we are going as an evolving community," said Au.
The artwork exhibited at the gallery can be returned to the owner when the show comes to an end, added Au, noting that hopefully, Heish's donation could stir up conversations in the community.
Heish told the Richmond News he got his piece dozens of years ago through an auction held by a bank and, since then, it has been kept in his bedroom.
Au said some Chinese immigrants told him how surprised they felt when they first came across some pottery work in galleries around the world, including some from European countries and the Middle East – with the colours being as fresh as painted yesterday and the details so delicate.
The most important thing, added Au, was that they felt ignorant after seeing these art pieces.
"They said we wish we could have known these fantastic work earlier. Looking at other countries' art broadens our horizons and inspires us to embrace their languages and cultures," said Au.
"Artwork represents history and tells fascinating stories, which could be used as a way to connect us."
Heish's donation is now well-preserved at Au's home, and later, they will invite the public to a small exhibition when they find a decent place to display the work.