Can The World Economy Survive Without Fossil Fuels? – Forbes
The Biden administration wants to phase out fossil fuels. This segment of What's Ahead explains why, given the current state of technology, such a policy is utterly and destructively impractical.
The arctic weather hammering parts of the country should be a cold slap of reality. Eighty per cent of our energy comes from natural gas, oil and coal. We need all of our current energy sources.
Here's one example why a no-fossil-fuel approach is absolutely unrealistic. A natural gas turbine the size of a typical residential house can supply electricity for 75,000 homes. To create a similar amount of juice from wind requires 20 turbines, each the size of the Washington monument, and occupying 10 square miles of land. To build such a wind farm requires 30,000 tons of iron ore, 50,000 tons of concrete and 900 tons of nonrecyclable plastics for the huge blades.
UK extends job support, tax breaks for pandemic-hit economy – North Shore News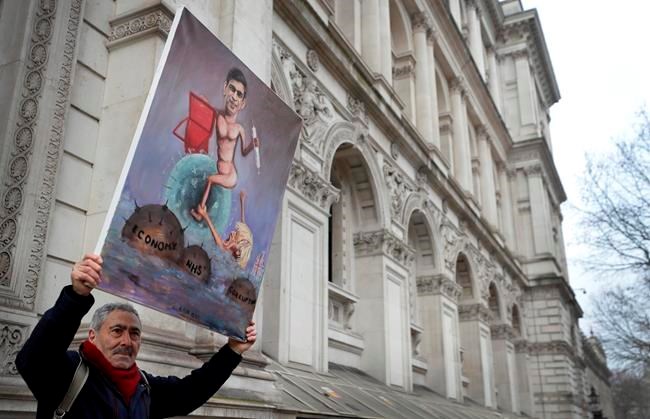 LONDON — Britain's treasury chief on Wednesday announced an additional 65 billion pounds ($91 billion) of support for an economy ravaged by the coronavirus pandemic, extending job support programs and temporary tax cuts to help workers and businesses in his annual budget.
Chancellor of the Exchequer Rishi Sunak told the House of Commons that it is too soon for the government to rein in spending, saying that his plans would "protect the jobs and livelihoods of the British people" through September as the government slowly lifts lockdown restrictions that have shut businesses across the U.K.
At the same time, he said Britain must be prepared to cut the deficit, announcing plans to increase the tax on corporate profits and boost revenue from personal income taxes in 2023.
"An important moment is upon us," Sunak told the House of Commons. "A moment of challenge and of change. Of difficulties, yes, but of possibilities, too. This is a budget that meets that moment."
U.K. public borrowing has risen to levels not seen since World War II as the government seeks to cushion the fallout from COVID-19, which has reduced gross domestic product by 10% and cost more than 700,000 people their jobs. Projections released Wednesday by the Office for Budget Responsibility show that the economy will still be 3% smaller five years from now than it would have been without the pandemic.
Sunak said government support programs have succeeded in mitigating the impact. The unemployment rate is now expected to peak at about 6.5%, rather than the 11.9% forecast last July, he said, citing estimates from the Office for Budget Responsibility. The economy is forecast to grow 4% this year and 7.3% in 2022.
On Wednesday, Sunak announced plans to extend those support programs for six months. They include a furlough program, under which the government pays 80% of the wages for private employees unable to work during the pandemic, as well as grants for self-employed workers, a temporary increase in welfare payments and tax relief for businesses.
Sunak cheered business leaders by offering a tax credit of up to 130% of the money companies invest in expanding and improving their operations. Sunak said the credit is expected to increase investment by 10% or 25 billion pounds over the next two years, creating jobs and boosting economic growth.
Stephen Phipson, chief executive of Make UK, described the policy as bold.
"Manufacturers have strong intentions to invest in capital equipment as well as digital and green technologies which are crucial for our long-term recovery," he said. "Today's announcement should help turbocharge investment to ensure that those plans turn into reality in the short-term."
Looking to the future, Sunak said the government will in 2023 increase corporation tax to 25%, from the current rate of 19%, and freeze personal income tax thresholds, which will increase revenue as inflation boosts incomes.
But opposition leader Keir Starmer accused Sunak of failing to address deep-seated economic problems and banking on a "consumer spending blitz" to bail out the economy.
Starmer said the budget fails millions of key workers who are having their pay frozen, businesses swamped by debt, and families paying higher local property taxes.
"The central problem in our economy is a deep-rooted insecurity and inequality, and this budget isn't the answer to that," Starmer said. "So rather than the big, transformative budget that we needed, this budget simply papers over the cracks."
Ian Blackford, the Scottish National Party's leader in Parliament, criticized Sunak for continuing a strategy of temporary support that leaves businesses and consumers unsure of the future.
The budget leaves Scottish voters with a clear choice as the SNP campaigns to hold a second referendum on independence from the U.K., Blackford said.
"For the people of Scotland, this budget comes at a critical moment of choice," he said, echoing Sunak's language. "Post-Brexit and post-pandemic, Scotland now has a choice of two futures: The long-term damage of Brexit and more Tory austerity cuts, or the opportunity to protect her place in Europe and to build a strong, fair and green recovery with independence."
___
Follow AP coverage of the virus outbreak at:
https://apnews.com/hub/coronavirus-pandemic
https://apnews.com/hub/coronavirus-vaccine
https://apnews.com/UnderstandingtheOutbreak
Danica Kirka, The Associated Press
More signals of a Roaring '20s rebound for Canadian economy when pandemic ends – CBC.ca
Gloomy headlines about the collapse of the Canadian economy, which faced its worst retreat since records began, may have obscured some startling new evidence for a strong rebound.
As we reported on Tuesday, the impact of the COVID-19 pandemic put Canada's economy into a tailspin, making 2020 the worst year on record, with gross domestic product declining by 5.4 per cent.
But other data out this week, including some buried amidst those latest bleak GDP numbers, tells a different story. It shows that high levels of savings and government income support have bolstered the economic well-being of households — notably among the youngest groups and those with lower incomes.
At the same time, one fresh measure of consumer confidence shows Canadians more willing to go out and spend than at any time since 2018.
It all adds a little more evidence to the widely touted theory that, just like following the 1918 flu pandemic, the Canadian economy is heading for something like the Roaring Twenties — a period of economic, social and artistic innovation as people break out of cabin-fever mode.
Relentless joie de vivre
"What typically happens is people get less religious. They will relentlessly seek out social interactions in nightclubs and restaurants and sporting events and political rallies," Yale University medical sociologist and physician Dr. Nicholas Christakis said on the CBC Radio program White Coat Black Art earlier this year.
"There'll be some sexual licentiousness. People will start spending their money after having saved it. There'll be joie de vivre and a kind of risk-taking, a kind of efflorescence of the arts, I think," Christakis told host Dr. Brian Goldman.
[embedded content]
Like many others, Christakis in January foresaw the impact of the coronavirus lingering late into 2021, as the World Health Organization suggested herd immunity remained far away. But despite fears of more insidious variants, with a new flood of vaccines and signs of a sharp decline in cases south of the border, others have expressed greater optimism.
"By the time we get to the summer, we're going to be in a different place," Dr. Bonnie Henry, British Columbia's provincial health officer, said last week. "In the coming months, we're going to be able to do all those things that we have been missing for the last year."
Bank of Canada governor Tiff Macklem has also weighed in on the side of a rebound beginning this year. Tuesday's GDP figures showed the economy already starting to recover in the last three months of 2020, but that was before the most recent lockdown.
Despite beginning the year "in a deeper hole," Macklem has forecast a strong revival in 2021 that would continue into next year, bolstered by the COVID-19 vaccine and low interest rates.
Not just for the rich
One criticism of the Roaring Twenties idea was that poorer households whose jobs have been most affected by the pandemic would be left out. But a report from Statistics Canada released on Monday dispelled some of those fears, demonstrating that the gap between the richest and poorest actually declined in the first nine months of last year.
"Although the everyday experiences of particular households may have differed, on average, the gap in household disposable income between the lowest- and highest-income earners declined," the Statistics Canada report said.
In fact, the data showed that "disposable income for the lowest-income households increased 36.8 per cent, more than for any other households." Canada's youngest households saw their net worth rise by 10 per cent. That may be a good sign for the economy once restrictions are reduced because unlike the rich or old, poorer and younger households are in a phase of life that requires them to spend more and save less, recirculating their money into the economy.
Besides government income-support programs, another reason for the increase in well-being is that families across Canada who already owned real estate have seen their wealth increase, even if the amount they owe has stayed the same.
Some studies have shown that "the wealth effect" — in other words, the feeling of being richer — can encourage people to spend more, but if people just sit on their savings, worried about the future, it won't help the consumer-driven economy.
That's why other sets of data out this week showing an increased willingness to spend adds a little more impetus to the Roaring Twenties argument.
Consumer-confidence measures use different methodologies to derive their results. The Conference Board of Canada — while seeing a rise in its index for February — still sees a ways to go before reaching pre-pandemic levels.
But a weekly index issued by Bloomberg and Nanos Research seems to show that consumers are ready to go shopping as confidence hits levels not seen since 2018.
"Anticipation of a vaccination rollout, even if not perfect, may be having a halo effect on the mood of consumers," company boss Nik Nanos said in a release of his latest data on Monday. "Consumer confidence, as measured by the Bloomberg Nanos Canadian Confidence Index, continues on a positive trajectory and has hit a three-year high."
Even if Canadians remain more restrained than in the 1920s post-pandemic revival, a new urge to go out and spend will spread the wealth, helping the economy to get back in gear.
Follow Don Pittis on Twitter: @don_pittis
Australian economy storms ahead as COVID recovery turns 'V-shaped' – The Guardian
By Swati Pandey
SYDNEY (Reuters) – Australia's economy expanded at a much faster-than-expected pace in the final quarter of last year and all signs are that 2021 has started on a firm footing too helped by massive monetary and fiscal stimulus.
The economy accelerated 3.1% in the three months to December, data from the Australian Bureau of Statistics (ABS) showed on Wednesday, higher than forecasts for a 2.5% rise and follows an upwardly revised 3.4% gain in the third quarter.
Despite the best ever back-to-back quarters of growth, annual output still shrank 1.1%, underscoring the havoc wreaked by the coronavirus pandemic and suggesting policy support will still be needed for the A$2 trillion ($1.57 trillion) economy.
The Australian dollar rose about 10 pips to a day's high of $0.7836 after the data while bond futures nudged lower with the three-year contract implying an yield of around 0.3% compared with the official cash rate of 0.1%.
"The 'V-shaped' nature of the recovery is everywhere to see – economic growth, the job market, retail spending and the housing market," said Craig James, Sydney-based chief economist at CommSec.
James expects the economy to rebound 4.2% in 2021.
Data on credit and debit card spending by major banks as well as official figures on retail sales, employment and building activity point to a strong start for this year.
Marcel Thieliant, economist at Capital Economics, expects GDP growth of 4.5% in 2021, "which implies that allowing for the slump in net migration due to the closure of the border, the economy will suffer no permanent drop in output as a result of the pandemic."
SUPPORT STILL NEEDED
Australia's economy has performed better than its rich-world peers thanks to very low community transmission of COVID-19 together with massive and timely fiscal and monetary stimulus.
Its economic output declined 2.5% in 2020, far smaller than a 10% drop in United Kingdom, falls of 9% in Italy, 5% in Canada and more than 3% in the United States.
"Our economic recovery plan is working, and today's national accounts is a testament to that fact," Treasurer Josh Frydenberg said in a news conference. "The job is not done," he added.
"There are challenges ahead. But you wouldn't want to be in any other country but Australia as we begin 2021."
To help blunt the economic shock from the pandemic-driven shutdowns, the Reserve Bank of Australia (RBA) slashed interest rates three times last year to a record low 0.1% and launched an unprecedented quantitative easing programme. The government announced a wage subsidy scheme to keep people in jobs while banks deferred payments on home loans and cut borrowing rates to help boost credit growth.
On Tuesday, the RBA re-committed to keep three-year yields at 0.1% until its employment and inflation objectives are met, which policymakers don't expect until 2024 at the earliest.
Indeed, Wednesday's data showed there was barely any domestic-driven inflation in the economy with the biggest price rises coming from commodity exports.
The RBA has repeatedly said the unemployment rate must fall to around 4% from above 6% now to help drive wages growth above 3% and for inflation to pop back into its 2-3% target band.
"Stimulus and support measures are still very much required," CommSec's James said. "Spare capacity will remain in the job market for a few more years, keeping the cash rate anchored at 0.1%."
($1 = 1.2780 Australian dollars)
(Reporting by Swati Pandey; Editing by Sam Holmes)