Check Out This Purported Hands-On With Samsung's Foldable Galaxy Z Flip – Gizmodo
In a clip circulating on Twitter Sunday, noted leaker Ben Geskin shared what appears to be the first hands-on video of Samsung's so-called Galaxy Z Flip ahead of its expected launch next week.
Granted, we already know basically all there is to know about Samsung's new foldable handset thanks to a bevy of previous leaks (none of which have been confirmed, by the way, including this new video), but hey, it's still cool to finally get our eyes on the thing in action. Unfortunately, the short clip doesn't show enough for us to tell if the rumors are true about Samsung opting for "Ultra Thin Glass" for its flexible display.
As noted by AndroidCentral, the model in the video is likely some kind of engineering sample given that a Samsung security consent form pops up on screen once it's opened. As for the color, another leaker, Ishan Agarwal, claimed Samsung's calling it "Mirror Purple." A bit on the nose there, if you ask me. Though—as a '90s baby—I do appreciate the whole Gameboy Advance SP kind of vibe it's got going for it. Especially given that Motorola recently brought back another early oughts icon with its Razr reboot.
Perhaps most striking about this first look, however, is how ridiculously long the Galaxy Z Flip looks when folded out completely. We knew from previous leaks that its 2636 x 1080 display clocked in at 6.7 inches, but it's hard to get a sense of that scale until you see someone physically holding it. At that size, it dwarves all the other big boys currently on the market by several inches, including Google's Pixel 4 XL, Huawei's P30 Pro, and Samsung's own Galaxy S10+. Godspeed to whoever tries to navigate this monster of a phone in one hand.
For more on the Galaxy Z Flip's specs, check out our previous coverage here. Samsung's expected to officially unveil its new foldable phone alongside its similarly leaked-to-death Galaxy S20 at the company's 2020 Galaxy Unpacked event on Feb. 11.
Makeover: How to achieve that perfect flick, no matter your eye shape
Nadia Albano offers up her tips on how to achieve a classic look
A winged eyeliner is a classic look loved by many, and surprisingly easy to do.
Here are a few easy steps, and tips, to help you get that perfect flick no matter your eye shape.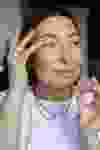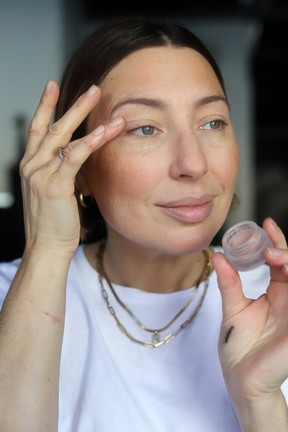 Step 1: Primer
The first and most important step is to prep the eyelid with a smudge proof base. I'm using Charlotte Tilbury's Matte — Eyes to Mesmerize in Nude Cashmere because it goes on smoothly, is long wearing and lasts up to 12 hours.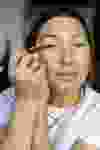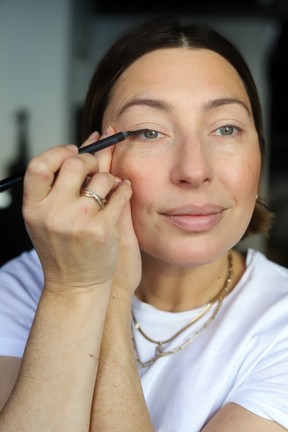 Step 2: Liner
I used Smashbox — Always On Waterproof Gel Eyeliner in Fishnet to draw on my liner. tarting at the middle of my eyelid, I traced a thin line along my lash, which progressively grew thicker toward the outer corner of my eye. I then connected the line from the inner corner to the middle of the eye. The key to a perfect liner is to use short and clean strokes, a sharp eyeliner and a fine angled liner brush to extend the outer wing.
Tip: For hooded eyes try creating the outer wing where the hood starts first and work your way inward. For round eyes start from the outer corner of the eye and create a sharper angle toward the middle of the lid. For small eyes try keeping your liner and wing thin and short. Use a skin toned eyeliner to draw a line just below the wing and to tight line, making the eyes appear larger and brighter.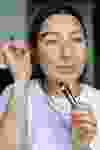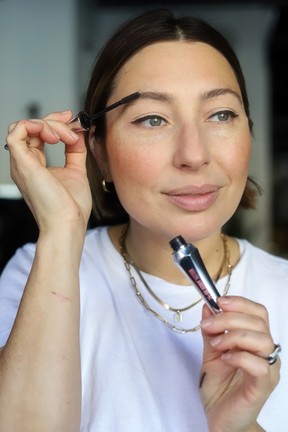 Step 3: Mascara and brows
Curling the lashes and coating them with black mascara will enhance the look, as will filling in your eyebrows. I'm using Benefit Cosmetics — Roller Lash Curling Mascara in black and on my brows, I used Benefit — 24-Hour Brow Setter Clean Brow Gel with Benefit — Precisely My Brow Pencil in #4.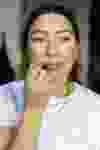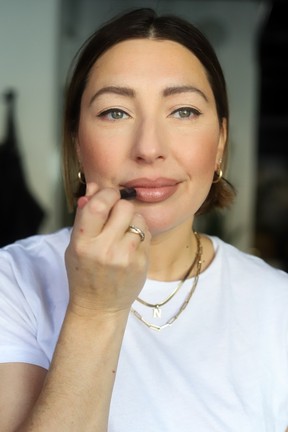 Step 4:
I lightly contoured my face with Tarte Amazonion Clay Waterproof Bronzing Powder, then swept a hint of Benefit Cosmetics — Dandelion blush on my cheeks. To pull the look together, I lined my lips with NYX — Suede Matte Lip Liner in Sandstorm then layered it with Glo Skin Beauty — Cream Glaze Crayon in Chiffon.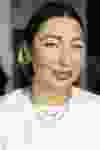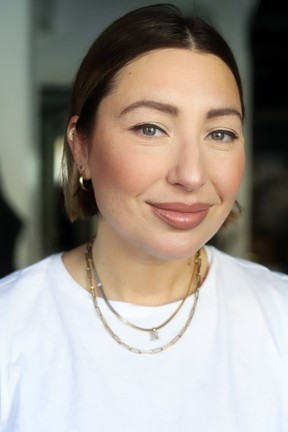 Fortnite Chapter 4 starts today: See what happened at game's Fracture event finale
The next generation of Fortnite heralds the coming of famous and exciting new characters like Geralt of Rivia from The Witcher, the fabled Doomslayer, and The Hulk, among others. Other than that, new gameplay mechanics like the addition of motorcycles add a lot more to the latest Chapter of Epic Game's most popular battle royale.
Fortnite's last map was quickly devoured by the invading Chrome in a small cutscene last night. The Herald led the Chrome, and despite the Fortnite, heroes making their last stand against him and shooting him down, which only led him to return supersized, the Chrome devoured the island along with The Herald making the island unstable and then finally disintegrating.
This was followed by a 30-minute event mode where the players were tasked to rebuild the island anew with a mix of known and fresh new locations that are set to appear in the New Chapter. At the end of the event, another cutscene appeared where Paradigm succeeds in her mission of fusing the island back as the game's Zero Point puts together the chunks of the landscape together. The second half of the trailer features cameos from characters thought to appear in Chapter 4, such as Geralt from The Witcher, Hulk, YouTuber Mr. Beast, The Doomslayer and another Pickaxe item themed around All Might from My Hero Academia.
'The Callisto Protocol' Receiving First Post-game Content This February – Bloody Disgusting
After revealing a whack of character posters earlier this week for their upcoming adaptation of The Last of Us, HBO has unleashed the big one with the official trailer. Set to a-ha's "Take On Me" (seriously), the new trailer sports almost entirely new footage, as well as recreating some iconic scenes from the first game.
Co-written and executive produced by Chernobyl creator Craig Mazin and Naughty Dog vice president Neil Druckmann, the series will cover the events of the first game, twenty years after modern civilization has been destroyed due to the Cordyceps infection. Joel, a hardened survivor, is hired to smuggle Ellie, a 14-year-old girl who holds the cure for the infection, out of an oppressive quarantine zone. What starts as a small job soon becomes a brutal, heartbreaking journey, as they both must traverse across the US and depend on each other for survival.
HBO's "The Last of Us" will premiere on January 15, 2023 on HBO Max, and stars Pedro Pascal ("The Mandalorian") as Joel, and Bella Ramsey ("Game of Thrones") as Ellie. Gabriel Luna (Terminator: Dark Fate) is playing Tommy, the brother of Pascal's Joel. Storm Reid, Anna Torv, Jeffrey Pierce, Nick Offerman, Merle Dandridge, Nico Parker, Murray Bartlett and Con O'Neil will also star in the series.
Kantemir Balagov (Beanpole) directed the pilot episode of the series, with Jasmila Žbanić (Quo vadis, Aida) and Ali Abbasi (Border) also directing episodes.