China's sample-return Moon mission touches down – BBC News


.css-94m6rd-HeadingWrapperborder-bottom:solid 1px #BABABA;padding-bottom:1.5rem;.css-94m6rd-HeadingWrapper > *:not([hidden]):not(style) ~ *:not([hidden]):not(style)margin-top:1rem;.css-vk3nhx-ComponentWrappermargin:1.5rem 0;
.css-1759m9z-StyledFigurefont-family:ReithSans,Helvetica,Arial,freesans,sans-serif;font-weight:400;font-size:0.875rem;line-height:1.125rem;
.css-uf6wea-RichTextComponentWrappermargin:1rem 0;max-width:36.25rem;
.css-83cqas-RichTextContainercolor:#3F3F42;.css-83cqas-RichTextContainer > *:not([hidden]):not(style) ~ *:not([hidden]):not(style)margin-top:1rem;
.css-14iz86j-BoldTextfont-weight:bold;China has successfully put another probe on the Moon.
Its robotic .css-yidnqd-InlineLink:linkcolor:#3F3F42;.css-yidnqd-InlineLink:visitedcolor:#696969;.css-yidnqd-InlineLink:link,.css-yidnqd-InlineLink:visitedfont-weight:bolder;border-bottom:1px solid #BABABA;-webkit-text-decoration:none;text-decoration:none;.css-yidnqd-InlineLink:link:hover,.css-yidnqd-InlineLink:visited:hover,.css-yidnqd-InlineLink:link:focus,.css-yidnqd-InlineLink:visited:focusborder-bottom-color:currentcolor;border-bottom-width:2px;color:#B80000;@supports (text-underline-offset:0.25em).css-yidnqd-InlineLink:link,.css-yidnqd-InlineLink:visitedborder-bottom:none;-webkit-text-decoration:underline #BABABA;text-decoration:underline #BABABA;-webkit-text-decoration-thickness:1px;text-decoration-thickness:1px;-webkit-text-decoration-skip-ink:none;text-decoration-skip-ink:none;text-underline-offset:0.25em;.css-yidnqd-InlineLink:link:hover,.css-yidnqd-InlineLink:visited:hover,.css-yidnqd-InlineLink:link:focus,.css-yidnqd-InlineLink:visited:focus-webkit-text-decoration-color:currentcolor;text-decoration-color:currentcolor;-webkit-text-decoration-thickness:2px;text-decoration-thickness:2px;color:#B80000;Chang'e-5 mission touched down a short while ago with the aim of collecting samples of rock and dust to bring back to Earth.
The venture has targeted Mons Rümker, a high volcanic complex in a nearside region known as Oceanus Procellarum.
The lander is expected to spend the next couple of days examining its surroundings and gathering up surface materials.
It has a number of instruments to facilitate this, including a camera, spectrometer, radar, a scoop and a drill.
The intention is to package about 2kg of "soil", or regolith, to send up to an orbiting vehicle that can then transport the samples to Earth.
It's 44 years since this was last achieved. That was the Soviet Luna 24 mission, which picked up just under 200g.
Unlike the launch of the mission a week ago, the landing was not covered live by Chinese TV channels.
Only after the touchdown was confirmed did they break into their programming to relay the news.
Images taken on the descent were quickly released with the final frame showing one of the probe's legs casting a shadow on to the dusty lunar surface.
.css-1jltxxc-ComponentWrapper-SocialEmbedComponentWrappermargin:1.5rem 0;.css-1jltxxc-ComponentWrapper-SocialEmbedComponentWrapper iframemax-width:100%;.css-1jltxxc-ComponentWrapper-SocialEmbedComponentWrapper div > blockquoteborder:1px solid #BABABA;border-radius:4px;padding:1rem;max-width:36.25rem;margin-bottom:0.5rem;.css-1jltxxc-ComponentWrapper-SocialEmbedComponentWrapper spandisplay:block;font-size:0.875rem;line-height:1.125rem;margin-bottom:0.5rem;.css-1jltxxc-ComponentWrapper-SocialEmbedComponentWrapper .fb-postmax-width:100%;margin-bottom:0.5rem;.css-1jltxxc-ComponentWrapper-SocialEmbedComponentWrapper .fb-post spanmax-width:100%;
.css-1pzprxn-BulletListContainermargin-left:1.5rem;.css-1pzprxn-BulletListContainer *:not([hidden]):not(style) ~ *:not([hidden]):not(style)margin-top:1rem;.css-1pzprxn-BulletListContainer ullist-style-type:disc;.css-1pzprxn-BulletListContainer ollist-style-type:decimal;
.css-18mjolk-ComponentWrappermargin:1.5rem 0;max-width:50rem;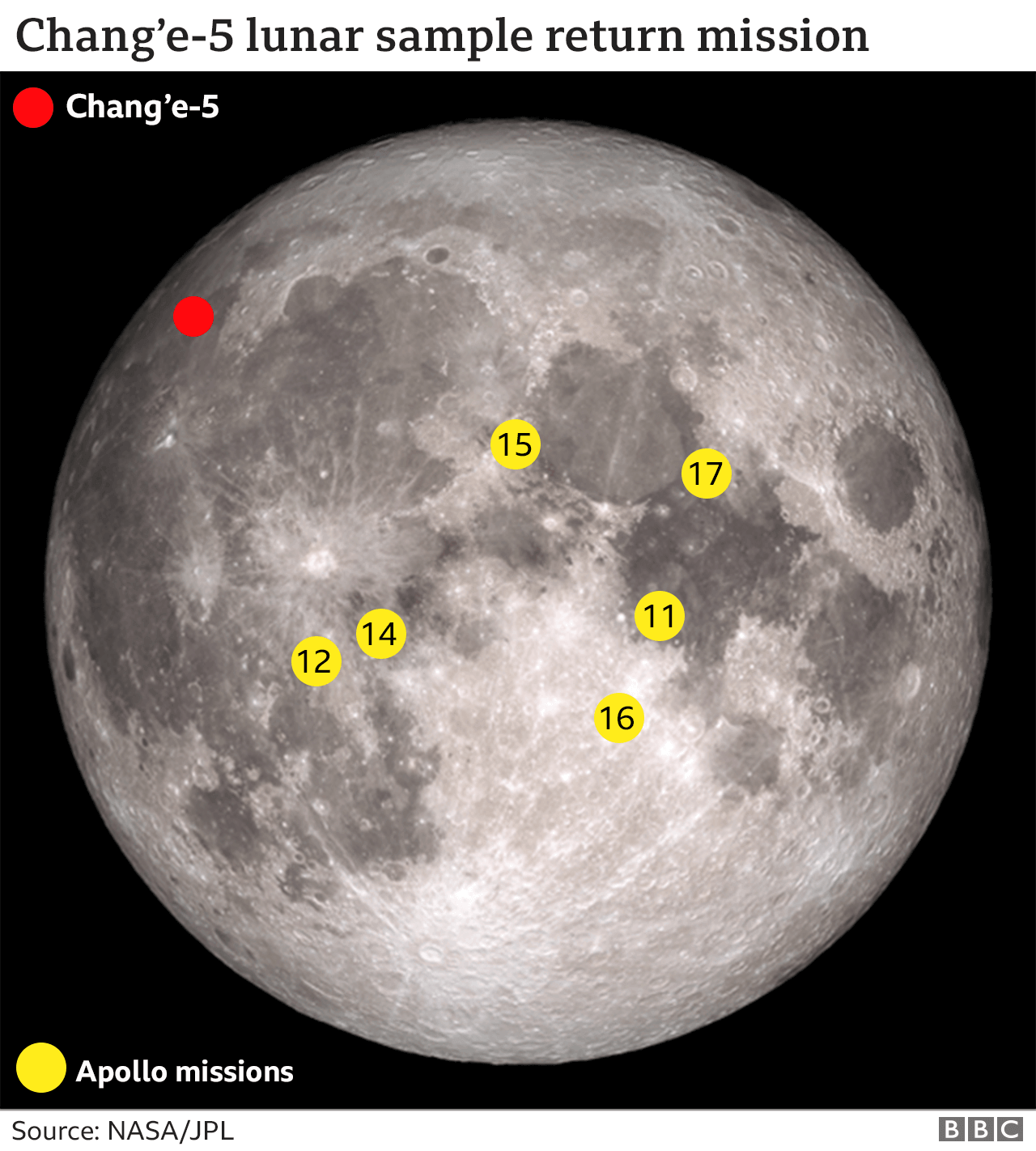 The 8.2-tonne Chang'e-5 spacecraft "stack" was launched from the Wenchang spaceport in southern China on 24 November (local time). It arrived above the Moon at the weekend and then set about circularising its orbit before splitting in two.
One half – a service vehicle and return module – stayed in orbit, while a lander-ascender segment was prepared for a touchdown attempt.
Chinese authorities say this lander-ascender element put down on the Moon's surface at about 15:15 GMT (23:15 China Standard Time), after a 15-minute automated descent, controlled by the thrust of a 7,500-newton engine.
It follows China's two previous Moon landings – Chang'e-3 in 2013 and Chang'e-4 last year. Both of these earlier missions incorporated a static lander and small rover.
A total of just under 400kg of rock and soil were retrieved by American Apollo astronauts and the Soviets' robotic Luna programme – the vast majority of these materials coming back with the crewed missions.
But all these samples were very old – more than three billion years in age. The Mons Rümker materials, on the other hand, promise to be no more than 1.2 or 1.3 billion years old. And this should provide additional insights on the geological history of the Moon.
The samples will also allow scientists to more precisely calibrate the "chronometer" they use to age surfaces on the inner Solar System planets.
This is done by counting craters (the more craters, the older the surface), but it depends on having some definitive dating at a number of locations, and the Apollo and Soviet samples were key to this. Chang'e-5 would offer a further data point.
Reports from China suggest the effort to retrieve surface samples may last no longer than a couple of days. Any retrieved materials will be blasted back into orbit on the ascent portion of the landing mechanism, and then transferred across to the service vehicle and placed in the return module.
The orbiter will shepherd the return module to the Earth's vicinity, jettisoning it to make an atmospheric entry and landing in the Siziwang Banner grasslands of the autonomous region of Inner Mongolia. This is where China's astronauts also return to Earth.
"Chang'e-5 is a very complex mission," commented Dr James Carpenter, exploration science coordinator for human and robotic exploration at the European Space Agency.
"I think it's extremely impressive what they're trying to do. And what I think is fascinating is you see this very systematic, step by step approach to increasing their exploration capabilities – from the early Chang'e missions to this latest one."
.css-144ki52-SectionWrappermargin:1.5rem 0;padding-top:1.5rem;
Starlink satellite internet grants instant sign-up for eligible Canadians – Canada.com
Article content continued
In a CBC article, some Starlink subscribers have reported service speeds of up to 150Mbps.
The Canadian Radio-Television and Telecommunication Commission (CRTC) granted Starlink's operator, SpaceX, a Basic International Telecommunications Service (BITS) license in October 2020. The license allows SpaceX to provide telecommunication services in Canada but does not allow it to operate as an internet service provider within the issuing nation.
Related:
SpaceX granted basic telecom license in Canada
Starlink says it aims to establish a global network by using a massive constellation of satellites. The satellites float at low earth orbit, which both cuts down on signal latency and can more easily return to earth once they're decommissioned. But stargazers are worried that the massive amount of satellites could obscure the view of the night sky.
The company has expressed a keen interest in providing internet service to rural and underserved areas in Canada and the United States. It's currently extending beta testing offers in Canada, U.S. and U.K.
Starlink says it has launched 955 satellites so far.
The post Starlink satellite internet grants instant sign-up for eligible Canadians first appeared on IT World Canada.
This section is powered by IT World Canada. ITWC covers the enterprise IT spectrum, providing news and information for IT professionals aiming to succeed in the Canadian market.
Watch SpaceX launch its first dedicated rideshare mission live, carrying a record-breaking number of satellites – Yahoo Canada Shine On
Eat This, Not That!
Despite the fact that COVID-19 cases seem to be on the decline in most parts of the country, health experts are concerned that this trend will quickly reverse with the introduction of the new, more contagious variants of the virus. Therefore, preventing the spread of the virus is still just as important than ever. Over the course of the pandemic, Dr. Anthony Fauci, the nation's top infectious disease expert and the director of the National Institute of Allergy and Infectious Diseases and Chief Medical Advisor to President Joe Biden, has warned that some places are riskier than others when it comes to potential transmission. Read on to find out four you should avoid—and to ensure your health and the health of others, don't miss these Sure Signs You've Already Had Coronavirus. 1 Avoid Any Indoor Function Since the start of the pandemic, it has been concluded that several superspreader events—situations in which many people were infected at once—have one thing in common: where they take place. "The overwhelming majority of super spreader events are those that occur indoor as opposed to outdoor," Dr. Fauci stated during an interview with the Association of Performing Arts Professionals. He pointed out that the only "responsible" way to host any type of event, ranging from a theater performance to a wedding or other type of celebration, is outdoors "Outdoors are much, much safer than indoors," he said. "I mean, if you're out there with the natural breezes that blow respiratory particles away, it's so much safer." 2 Avoid Indoor Restaurants Since the start of the pandemic, Dr. Fauci has repeatedly warned about indoor congregate settings—especially those involving food and alcohol. Bars, nightclubs, and indoor dinding situations are some of the riskiest, according to Fauci. "When you have restaurants indoors in a situation where you have a high degree of infection in the community [and] you're not wearing masks, that's a problem," Dr. Fauci told MSNBC All In host Chris Hayes in September. 3 Avoid Bars and Nightclubs "Bars are a really important place of spreading of infection, there's no doubt about that," said Dr. Fauci. "Avoid." "If you were to create a petri dish and say, How can we spread this the most? It would be cruise ships, jails and prisons, factories, and it would be bars," Dr. Ogechika Alozie, an infectious disease specialist in El Paso, Texas, told Kaiser Health News. RELATED: If You Feel This, You May Have Already Had COVID, Says Dr. Fauci 4 Avoid Gyms Dr. Fauci is a huge proponent of exercise, being an avid jogger himself. However, he warns against shared, indoor workout spaces during the pandemic, due to their ability to spread the virus. According to a September CDC report, 7.8% of people who tested positive had been to the gym in the past two weeks, compared to 6.3% of those who tested negative. So how can working out indoors lead to an infection. Fauci explains that exercise involves breathing more heavily and releasing respiratory droplets into the air. This, paired with the fact that gym equipment can be easily contaminated, makes using a shared space all the riskier. 5 How to Get Through This Pandemic Healthy So follow Fauci's fundamentals and help end this surge, no matter where you live—wear a face mask, social distance, avoid large crowds, don't go indoors with people you're not sheltering with (especially in bars), practice good hand hygiene, get vaccinated when it becomes available to you, and to protect your life and the lives of others, don't visit any of these 35 Places You're Most Likely to Catch COVID.
Elon Musk Is Now Setting His Eyes On This Business – NDTV Profit


<!–
–>
Elon Musk became the world's richest person this month by upending the global auto industry and disrupting aerospace heavyweights with reusable rockets. Now he's setting his sights on another business dominated by entrenched incumbents: telecommunications.
Musk's Space Exploration Technologies Corp. has launched more than 1,000 satellites for its Starlink internet service and is signing up early customers in the U.S., U.K. and Canada. SpaceX has told investors that Starlink is angling for a piece of a $1 trillion market made up of in-flight internet, maritime services, demand in China and India — and rural customers such as Brian Rendel.
Rendel became a Starlink tester in November after struggling for years with sluggish internet speeds at his 160-acre farm overlooking Lake Superior in Michigan's Upper Peninsula. After he paid about $500 for the equipment, FedEx arrived with a flat dish and antenna. For $99 a month, Rendel is now getting speeds of 100 megabytes per second for downloads and 15 to 20 for uploads — far faster, he says, than his previous internet provider.
"This is a game changer," said Rendel, a mental health counselor, who can now easily watch movies and hold meetings with clients over Zoom. "It makes me feel like I'm part of civilization again."
For months, SpaceX has been launching Starlink satellites on its Falcon 9 rockets in batches of 60 at a time, and the 17th Starlink launch was on Jan. 20. There are now roughly 960 functioning satellites in orbit, heralding an age of mega-constellations that have prompted worries about visual pollution for astronomers.
But the Starlink array in low-Earth orbit, closer to the planet than traditional satellites, is enough to enable SpaceX to roll out service along a wide swath of North America and the U.K. As SpaceX sends up more satellites, the coverage area will grow, expanding the potential customer base — and revenue stream — beyond the initial stages of today.
SpaceX didn't respond to a request for comment.
"The big deal is that people are happy with the service and the economics of Starlink versus other alternatives," said Luigi Peluso, managing director with Alvarez & Marsal, who follows the aerospace and defense industries. "SpaceX has demonstrated the viability of their solution."
Last year, SpaceX Chief Operating Officer Gwynne Shotwell said that Starlink is a business that SpaceX– one of the most richly valued venture-backed companies in the U.S. — is likely to spin out and take public. That dangles the possibility of another Musk enterprise offering shares after last year's sensational stock-market gains by Tesla Inc.
Starlink will face plenty of competition. While fiber optic cable is widely considered too expensive to lay down in remote regions and many rural locations, cellular connectivity is expected to make big advances with 5G and then 6G. Meanwhile, a number of innovative attempts to extend cellular to unserved areas are being developed by other well-heeled companies such as Facebook Inc.
"There will always be early Starlink adopters who think that anything from Elon Musk is cool," said John Byrne, a telecom analyst at GlobalData. "But it's hard to see the satellite trajectory keeping pace with the improvements coming with cellular."
SpaceX, based in Hawthorne, California, is primarily known for launching rockets for global satellite operators, the U.S. military, and NASA. Last year, SpaceX made history by becoming the first private company to fly astronauts to the International Space Station.
Starlink marks SpaceX's first foray into a truly consumer-facing product. Maintaining strong service while growing the customer base is something SpaceX has never tried before.
"Like any network, Starlink is going to enjoy rave reviews while it is underutilized," said industry analyst Jim Patterson. "However, it will be challenged with the same congestion issues as their peers as they grow their base."
Then again, SpaceX says the service will improve as it builds out more infrastructure.
"As we launch more satellites, install more ground stations and improve our networking software, data speed, latency and uptime will all improve dramatically," Kate Tice, a senior engineer at SpaceX, said in a livestream of a Starlink mission in November.
Fan Fervor
Starlink is gearing up for a big 2021, hiring software engineers, customer support managers, a director of sales, and a country launch manager.
The fan fervor that made Tesla cars such a hit with consumers and retail investors extends to Starlink. Facebook groups, Reddit threads and Twitter are filled with reports from early customers sharing images of their download speeds. You Tube has videos of people "unboxing" their Starlink dish and going through the initial set-up.
Ross Youngblood lives in Oregon and works remotely as an engineer for a tech company in San Jose. He owns a Tesla Model X and follows All Things Musk pretty closely. He got Starlink before Thanksgiving.
"I just plugged it all in and it started to work," said Youngblood. "It's going to be very disruptive, and I don't think enough people are paying attention."
Many other customers are waiting in the wings. In December, the Federal Communications Commission awarded SpaceX $885.5 million in subsidies as part of a wider effort to bring broadband to over 10 million Americans in rural areas. SpaceX will focus on 35 states, including Alabama, Idaho, Montana and Washington.
'Aging Infrastructure'
"We can't continue to throw money at aging infrastructure," said Russ Elliot, director of the Washington State Broadband Office. "With Starlink, you can be anywhere. The cost to build in deep rural or costly areas is now less of an issue with this technology as an option."
Early in the coronavirus pandemic, Elliot connected SpaceX with members of the Hoh Tribe in far western Washington. The Native American community had struggled for years to bring high-speed internet to their remote reservation, which spans about 1,000 acres and has 23 homes. Kids struggled to access remote learning, and internet connections were so slow that downloading homework could take all day.
"SpaceX came up and just catapulted us into the 21st century," said Melvinjohn Ashue, a member of the Hoh Tribe, in a short video produced by the Washington State Department of Commerce.
In a phone interview, Ashue said that the first thing he did once he connected to Starlink was download a long movie: Jurassic Park. Now most of the reservation's households have Starlink, making it possible for families to access not just online schooling but tele-health appointments and online meetings.
"Internet access is a utility. It's no longer a luxury," said Maria Lopez, the tribal vice chairwoman. Lopez said that Starlink was easy to hook up. The scariest part was climbing up a ladder to set up the dish on her roof.
"Every now and then it will glitch," she said. "But it quickly reboots itself."
–With assistance from Sanjit Das.
(Except for the headline, this story has not been edited by NDTV staff and is published from a syndicated feed.)