City applying for grant to fund temporary downtown art exhibit – Energeticcity.ca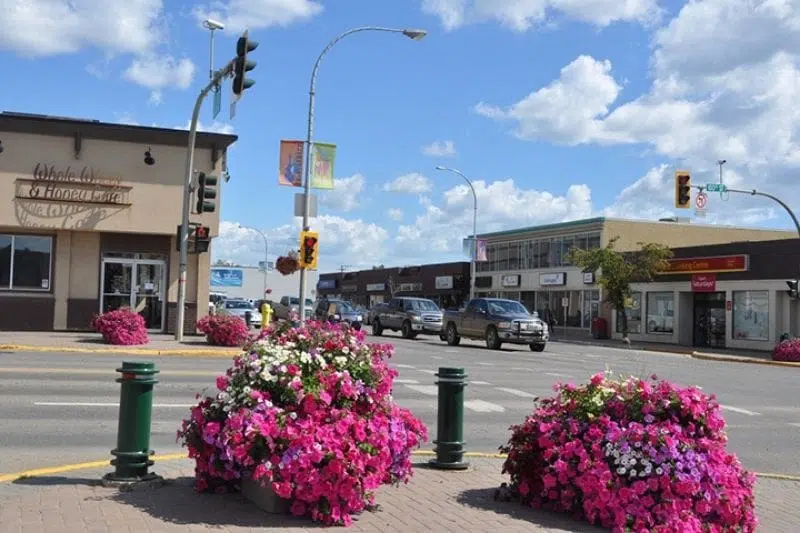 The city is hoping the exhibit will encourage more residents to go downtown and visit its businesses in the process while celebrating "the reconnection of our communities in the aftermath of the
pandemic."
"This project directly supports free, accessible delivery of arts and culture programming to the community while enhancing the downtown core," said a January 24th report for council.
The city can apply for up to $100,000 and must do so before the end of March 2023.
Council directed staff to apply for the grant on Monday, January 24th.
Aurora Art show returns to in-person event – paNOW
"I thought this is what I have to do," she said.
Made from stainless steel and acrylics, as well as recycled products, each kaleidoscope is aptly named for its uniqueness. Pointing to one piece that took her eight hours to create, Joelson acknowledged taking on this artistic challenge was not simple.
"I went and took some lessons and I do a lot of experimenting on my own," she explained.
Joelson's daughter, Jodi, is among the other artists. Like her mother, she appreciates the in-person contact.
"Primarily I engage over Instagram and online and it's nice to see people in person and actually describe your piece a bit and see their in-person reaction," she said.
Some of Jodi's pieces are inspired in part by a magazine she may have seen, while others by an image from a dream. She admits to often waking up and grabbing her ipad to begin work on her next piece.
"The amount of unfinished projects I have compared to the finished ones is like three times," she said.
Mary McLeod's work includes paintings and alcohol ink. One specific piece named "Ruby" almost appears to jump out at the viewer.
"You never know with alcohol ink what it's gonna do. It takes on a life of it's own," she said.
McLeod recalled how, prior to COVID, the event was catered and held on the main floor of the Mann Art Gallery, which also offered free parking for both visitors and the artists. In between showing their pieces this week, each of the artists has been forced to ensure their meter has not run out.
"So you now we are all just adapting with COVID," McLeod said.
The show wraps up Saturday afternoon ar 4 p.m.
–
nigel.maxwell@pattisonmedia.com
On Twitter: @nigelmaxwell
Haida Gwaii's All Islands' Art Show showcases works – Prince Rupert Northern View – The Northern View
The All Islands' Art Show is back at the Haida Gwaii Museum and is open to visitors until June 10.
More than 60 submissions were received, Jamie McDonald, coordinator and curator, said on May 26. In the six years that she has been coordinator, the show typically has received between 60 and 85 pieces.
A mix of both new and established artists is part of the show.
Anna Socha contributed an acrylic painting as her first-ever submission to the All Islands' Art Show, and it was the first piece to sell.
Two fibre artists, Michelle Scott and Erin Harris, submitted knitted pieces inspired by the same book, How Tea Cosies Changed the World by Loani Prior. Scott, the circulation supervisor at the Queen Charlotte library, made a "sea cozy," tea cozy in the shape of a sea star. Then she passed the book onto Harris, who knit an ocean bed on a round piece of canvas.
A professional photographer presented a woven piece, and a collage artist did embroidery on fabric.
"It was nice to see there were a few artists that branched out, that presented a piece in a different medium than what they're a professional artist in," McDonald said.
The show opened on April 29, and more than 95 people attended.
Artists had the option to have their piece adjudicated by Andrew McDermott, past president of the Federation of Canadian Artists. He also offered a workshop on pastel techniques to a group on April 30.
There is also a virtual version of the show that had over 600 views at the time of writing this article.
If you are a resident of Haida Gwaii, you can attend the show for free.
---
Kaitlyn Bailey | Local Journalism Initiative Reporter
Send Kaitlyn email
Send The Observer email
Like the Haida Gwaii Observer on Facebook
Follow us on Twitter


"The Future of Things Passed" celebrates contemporary Armenian art – Armenian Weekly
NEW YORK, NY—The future of the Armenian community was on display at the opening reception of "The Future of Things Passed" exhibition in Manhattan on May 19th.
The exhibition features celebrated women artists of Armenian descent Eozen Agopian, Melissa Dadourian, Linda Ganjian and Judith Simonian. It is the first developed by the Atamian Hovsepian Curatorial Practice, co-founded by Christopher Atamian and Tamar Hovsepian. Part of the proceeds from art sales at the exhibition will be donated to the New York Armenian Students' Association Scholarship Fund.
Atamian and Hovsepian launched the practice to promote representation of contemporary artists from marginalized backgrounds.
"We identified that we want to show marginalized groups—Armenian, women, LGBTQ+, people of color," Hovsepian told the Armenian Weekly.
Hovsepian has previously worked with all of the artists featured in "The Future of Things Passed" in former galleries she has curated. She laments that while artists like Simonian, who gained renown within the downtown Los Angeles art scene of the 1980s, are internationally acclaimed, they are not as well known among Armenians. Through her joint curatorship with Atamian, she hopes to educate and cultivate a new generation of Armenian art collectors.
"Larry Gagosian is one of the wealthiest, most famous art dealers, and he doesn't have a single Armenian artist that he represents," she offered as an example of the absence of support for contemporary Armenian art. "Why is there not a single art gallery in Chelsea that shows Armenian artists?"
Contemporary Armenian artists lack visibility both within the Armenian community and the broader contemporary art world, according to Hovsepian. She recalled the "Armenia!" exhibition at the Metropolitan Museum of Art, which displayed the artistic achievements of Armenian people up until the 17th century.
"You can't title an exhibition 'Armenia!' and stop and then not talk about what's happening now. Where is the contemporary Armenian art?" Hovsepian asked. "Outside of Arshile Gorky, who do we have at the Museum of Modern Art?"
"The Future of Things Passed" explores how art can "deconstruct and uncover elements of the past through sense memory and found objects, while making lasting statements through these interpretations," as stated in an essay presented to visitors at the gallery door. The orientation of the gallery toward the future is inspired by Armenian Futurism, defined by Sylvia Alajaji as "a realm in which re-imaginings and re-claimings of queer and otherwise marginalized Armenian pasts give way to futures of possibility and wonder."
Atamian says that Armenian Futurism, theorized by artists like Kamee Abrahamian, Mashinka Firunts Hakopian and Hrag Vartanian, can inspire creativity and visionary thinking beyond pain and hardship.
"How do we create an inclusive vibrant forward-thinking Armenian community that thinks about its future and being progressive and being at the cutting edge?" Atamian posed.
Atamian, a celebrated writer, editor and translator, noted how the artwork on display repurposes memories and found objects from the past. For instance, Ganjian's series "Map of Her Prayers, No. 1-6," incorporates inscriptions from a prayer book her grandmother carried with her through Der Zor during the Armenian Genocide.
"How do you take something from the past and make something beautiful that's forward thinking and that people want to collect?" Atamian said of the impact of Ganjian's artwork.
Atamian believes that Armenians should support contemporary Armenian artwork, not only because it is beautiful, but also because it can promote Armenian political causes, such as Armenian Genocide recognition and the peaceful resolution of the Artsakh conflict, by generating an emotional investment in these issues.
"People need to know who Armenians are," Atamian said. "Americans and people in Europe don't have a gut reaction to it, because they don't know about it. If you have a piece of art or a book that is Armenian, you have an emotional connection rather than just a policy paper."
K Sherbetdjian attended the opening reception and was struck by the emotional intensity of Ganjian's artwork.
"I'm looking at each individual component, and I'm wondering what the story is behind it and what the significance is for the artist, and then also what the significance is for me. The text that's incorporated is in Armenian. I don't speak Armenian. I just wonder what the passages are. It looks like there's doorbells. I'm wondering if that is a signal to God or a signal for help. I like pieces where there's a lot to think about," Sherbetdjian reflected on "Map of Her Prayers."
As an artist, Caroline Gates recognized her own art studio within Studio Ballou, a painting of an art studio by Simonian. Gates wandered into "The Future of Things Passed" after a painting by Simonian near the door caught her eye.
"Even in the abstraction you can hold onto something concrete. It does a really good job of taking us back through spaces that are familiar, but we could see it through every lens of the different times that we were there," Gates said while studying Studio Ballou. "I feel very placed. I could stare at this forever."
Atamian and Hovsepian plan to continue curating exhibitions to place artwork by artists from marginalized backgrounds within institutions like museums and galleries. They hope Armenians will support their fellow artists by collecting contemporary art.
"This is as beautiful as the art you find in any museum and community, so why not represent it?" Atamian posed.
"The Future of Things Passed" will be on display until May 29, 2022 from 11 A.M.-7 P.M. on the ground floor of 138 West 25th Street, New York, NY 10001.