Cyberpunk 2077 Has Been Delayed Until Later This Year – GameSpot
Cyberpunk 2077 has been delayed, pushing the upcoming RPG back from its original April 16 release date to September 17. The game is still scheduled to release for Xbox One, PS4, PC, and Google Stadia but is also now launching in a spot that makes an announcement for next-gen versions on Xbox Series X and PlayStation 5 seem more plausible.
"We are currently at a state where the game is complete and playable, but there's still work to be done," CD Projekt Red wrote in a press release, embedded below. "Night City is massive–full of stories, content, and places to visit, but due to the sheer scale and complexity of it all, we need more time to finish playtesting, fixing, and polishing. We want Cyberpunk 2077 to be our crowning achievement for this generation and postponing launch will give the precious months we need to make the game perfect." CD Projekt Red added that there will be "regular updates" on the game's progress as the September 17 release date approaches.
Night City is the setting for Cyberpunk 2077, and CD Projekt Red said it wants to create the design of the city so that it offers a "unique take" on cyberpunk. "When we showed the demo last year, people were surprised at first that it was so sunny," Cyberpunk 2077 concept art coordinator Marthe Jonkers said in an interview with GamesIndustry.Biz. "They expected rainy, dark cyberpunk but you can make a cyberpunk city in California. Of course, it will rain there, because we have a weather system, and it will also be night, but we are really trying to get this fresh take on cyberpunk."
The city itself is built with its own history, which takes place over four distinct eras. During entropism, there was intense poverty. Kitsch saw an increase in the low- and middle-class creating and buying colorful and extravagant items. During neomilitarism, the rich invaded Night City and built towering skyscrapers. Finally, neokitsch saw the rich beginning to adopt the more colorful style of the poor when designing buildings. All these styles twist in on each other, creating a city where you can immediately identify when something was built or which time period someone probably comes from.
"There are layers to the design of Night City and all its inhabitants, so when you drive around and you see a building that's sort of pink with these soft edges, and the windows are sort of soft shaped, you know that this is kitsch style, and you know that was built in that period of time where people had more money back then," Jonkers said. "It's telling you a story about the background of the city, and gives an extra layer of believability."
Find out how to preorder Cyberpunk 2077 and more in our guide to everything Cyberpunk 2077.
GameSpot may get a commission from retail offers.
Moto G31 smartphone launched for Rs 12999 in India – Daijiworld.com
New Delhi, Nov 29 (IANS): Motorola on Monday launched a new smartphone 'Moto G31' with a MediaTek processor, triple camera unit at the back and a 5,000mAh battery.
The smartphone is priced in India, starting at Rs 12,999 for the 4GB RAM+64GB storage option and Rs 14,999 for the 6GB RAM+128GB storage option.
"The Moto G31 comes with Motorola's signature near-Stock Android that is ad-free and bloatware-free. Security matters to our consumers, so it means everything to us. Now you can count on ThinkShield for Mobile, which offers enhanced protection at every level from the factory to the phone, a secured chain of trust and additional security certifications," the company said in a statement.
In terms of features, the smartphone features a 6.4-inch full-HD+ (1,080×2,400 pixels) OLED hole-punch display with a 60Hz refresh rate and a 20:9 aspect ratio.
The Moto G31 runs on Android 11 stock software and has a hybrid dual-SIM slot (Nano+ Nano/microSD).
Under the hood, the device is powered by a MediaTek Helio G85 SoC paired with an Arm Mali-G52 MC2 GPU and up to 6GB RAM, 128GB of internal storage.
Moto G31 houses a 50MP main sensor, an 8MP wide-angle camera and a 2MP maco sensor. Rear camera modes include Dual Capture, Spot Colour, Night Vision, Portrait and more. In the front, the device has a 13MP selfie camera.
The smartphone packs a 5,000mAh battery with 20W TurboPower fast charging support. Connectivity options include 4G LTE, FM Radio, 3.5mm audio jack, Bluetooth v5, dual-band Wi-Fi 802.11 ac, USB Type-C port and more.
Cyber Monday Deals: Get $150 Off Secretlab Chairs and More – IGN – IGN
The great gaming chair deals continue this Cyber Monday as you can currently score up to $150 off popular chairs from Secretlab, Razer, and more. This means you can get the likes of Secretlab's new Evo 2022 series for just under $500, or an OMEGA 2020 chair for about $364.
Best Cyber Monday Secretlab Gaming Chair Deals
UK Secretlab Sale
Best Cyber Monday Gaming Chair Deals
Gaming chairs are the perfect Cyber Monday purchase to level up your current setup. While you might be able to settle down on your couch in your living room, a gaming chair can give you a perfect seat that's easy to move from room to room, so you can have consistent comfort wherever you want to game. Here's some more great gaming chair deals available.
Best GTRACING Gaming Chair Deals for Cyber Monday
GTRACING's Cyber Monday deals are live now as well. And, chairs like the GTRACING Ace-M1 are discounted nearly $200, from $359.99 down to $199.99. From the Pro Series to the gaming recliner chair, here are our picks for the best GTRACING Cyber Monday deals.
All the Best Cyber Monday Deals and Sales
Robert Anderson is a deals expert and Commerce Editor for IGN. You can follow him @robertliam21 on Twitter.
Halo Infinite Receives Brand New CGI Promo Trailer – Bleeding Cool News
343 Industries has released a brand new trailer today for Halo Infinite, this time giving us the proper CGI cinematic vibes. People have been freaking out over the free-to-play multiplayer beta that's been taking place the past couple of weeks, some giving it praise for being fun and awesome and a throwback to classic forms of the franchise, others holding back on saying too much as they wait to see what the campaign will bring them. But overall it sounds like most people are digging the game as-is as they slowly make their way to the December 8th release date. The latest trailer is pretty short and to the point, as we see Master Chief run across the map doing his best to clear out the biggest and baddest foes he's had to face since being reactivated. Enjoy the trailer below as we have info on the beta below, in case you haven't tried it yet.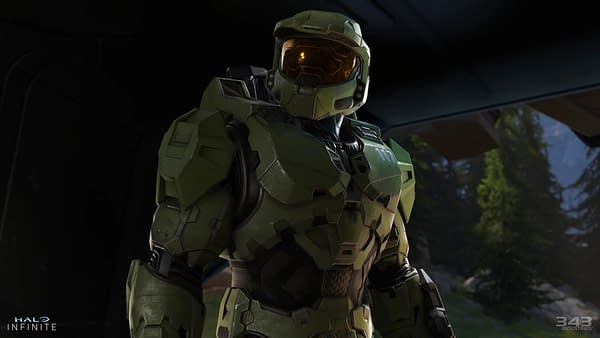 When all hope is lost and humanity's fate hangs in the balance, the Master Chief is ready to confront the most ruthless foe he's ever faced. The legendary Halo series returns with the most expansive Master Chief story yet. Begin anew and step inside the armor of humanity's greatest hero to experience an epic adventure and finally explore the scale of the Halo ring itself.

Legendary Multiplayer, Freed: Halo's celebrated multiplayer returns, reimagined and free-to-play! Seasonal updates evolve the experience over time with unique events, new modes and maps, and community-focused content.

Arena: Halo returns to its roots with fair starts, on-map equipment, and 4-player squads to offer the ultimate arena-shooter experience.

Big Team Battle: Create endless combat possibilities by mixing and matching a rich variety of weapons, vehicles and equipment to experience big-team mayhem and fun that embraces the full spectrum of the Halo sandbox.

Spartan Customization: Become a Spartan that's uniquely your own with a rich and deep player customization system. Earn and discover new cosmetic items simply by playing campaign or multiplayer. Or to obtain even more cosmetic rewards, purchase a Battle Pass that never expires and unlock new content at your own pace.
.pw-in-articleoverflow:hidden;height:250px;
.social_link
margin: 0 10px;
.social_icon
width: 100px;
height: 100px;