Dead Space Remake Officially Announced at EA Play – CGMagazine
After weeks of different rumors and leaks, the Dead Space remake was officially confirmed at EA Play 2021.
The Dead Space remake wasn't given any kind of release window, but it is in development for next-gen systems only, meaning PS5, Xbox Series X|S, and PC. The game is being built with the Frostbite Engine and is handled by EA Motive, who is best known as the developer of the recent Star Wars Squadrons. The original trilogy was developed by Visceral Games, which was shuttered by EA in 2017.
The announcement didn't show much at all but presented fans with a short teaser trailer showing a grisly space station as the iconic sounds of Necromorphs echoed in the background. As the camera zooms in Isaac Clarke's backpack lights up and reveals the words Dead Space. A press release from EA says fans will "experience an improved story, characters, gameplay mechanics." Phillippe Ducharme, Senior Producer of Dead Space, says the team at Motive has invited fans to give their feedback on the remake ever since the early days of development. With that in mind, it's not exactly clear how far along in development the Dead Space remake actually is. You can watch the reveal trailer yourself down below.
One of the most prolific survival-horror series of all time, it's been eight years since the release of the last game in the series, Dead Space 3. The franchise was always known for its nail-biting horror and inventive combat, requiring players to hack off the limbs of enemies in order to both slow them down and kill them. Here's EA's description of the first game and remake,
"In Dead Space, Isaac Clarke is an everyman engineer on a mission to repair a vast, sprawling starship, the USG Ishimura, only to discover something has gone horribly wrong. The ship's crew has been slaughtered and infected by some alien scourge…and Isaac's beloved partner, Nicole, is lost somewhere on board. Now Isaac is alone with only his tools and engineering skills as he attempts to uncover the nightmarish mystery of what happened aboard the Ishimura. Trapped with hostile creatures called "necromorphs", Isaac faces a battle for survival, not only against the escalating terrors of the ship, but his own crumbling sanity."
While Dead Space is coming back, Glen Schofield former executive producer of the series, has gone on to make a brand new sci-fi horror game called The Callisto Protocol.
5 things to try out on Apple's new AirPods (3rd generation) | Venture – Daily Hive
Earlier this month, Apple announced its latest AirPods (3rd generation) with a major redesign from its earlier models.
The new design is lightweight and has a stem that is 33% shorter than the 2nd generation model. Its new design aligns closer to the AirPods Pro but comes in at a lower cost.
For those looking at the new AirPods (3rd generation), here are five things to try out with these smaller headphones:
Go for a sweaty workout or head out in the rain
You can go for a vigorous walk, run, or workout, or head out in the rain, as the new AirPods are sweat and water-resistant. Not only are the headphones themselves resistant to sweat and water, but the case has an IPX4 rating for sweat and water resistance.
While you're at it, let Siri read your messages
You don't have to look at your phone when you can have your text messages announced, and read to you. Siri can read alerts and reply to messages for you using just your voice.
Make a FaceTime call or listen to tunes
While it isn't noise cancelling like the AirPods Pro, the new AirPods include a custom high dynamic range amplifier, taking its sound quality to the next level with computational audio features, like Adaptive EQ and spatial audio with dynamic head tracking. The head tracking also allows Group FaceTime calls to feel more immersive than ever before. A new acoustic mesh covers the microphone to reduce wind noise, so your voice is crisp and clear on calls.
Check out the new skin-detect sensor
The new AirPods has an innovative way to detect when they are in your ear. According to Apple, a "new skin detect optical sensor, when combined with the accelerometer, helps the new AirPods to better determine whether they are in your ears or in your pockets." So there is better detection on when AirPods can turn on and turn off playback.
You can also press to play, pause, and skip through songs, or answer and end calls through the force sensor located on the stem.
Let the music play for hours
There is now up to 6 hours of battery life on a single charge, which is an hour more compared to the 2nd generation AirPods. And speaking of battery, the new AirPods are also now part of the MagSafe ecosystem, so they can magnetically align your AirPods on the charger.
The new AirPods (3rd generation) will be available for $239 beginning Tuesday, October 26.
For those looking for AirPods but less expensive, the 2nd generation is also available at $179. And the AirPods Pro now comes with MagSafe Charging Case and goes for $329.
Apple also says that all new AirPods come with six months of free Apple Music.
First MacBook Pro Orders Arriving to Customers in New Zealand, Australia and Asia – MacRumors
It's already Tuesday, October 26 in New Zealand, Australia, and multiple countries in Asia which means it's MacBook Pro launch day. Customers in New Zealand and Australia are always the first to get their hands on new devices due to time zone differences, and the new MacBook Pro models are no exception.
14 and 16-inch MacBook Pro models are beginning to arrive to customers who pre-ordered last Monday, and new MacBook Pro owners have been sharing photos on the MacRumors forums.
There are no Apple Stores in New Zealand, so customers in Australia and countries across Asia are the first to be able to pick up a MacBook Pro at an Apple retail location. Stock in Australia and other countries will give us an idea of what we can expect from other stores worldwide.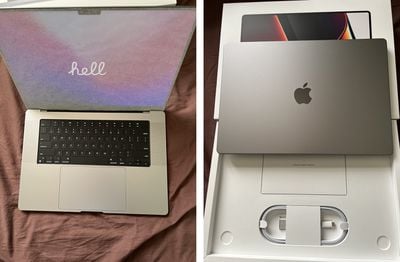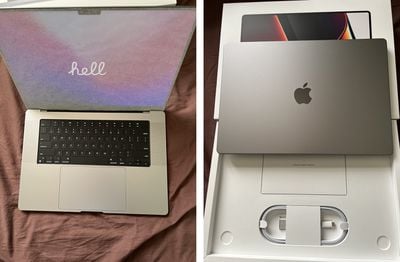 Apple is selling stock configurations of the new machines in its retail stores, and there are also some higher-end BTO configurations that may be available depending on the store. Most people who want a custom configured machine will need to order online and wait, however.
Supplies of stock MacBook Pro models are constrained and new orders won't arrive until mid-to-late November or early December in some cases, so getting a stock configuration in a store is now the only way to get one of the new machines on launch day.
Following New Zealand, Australia, and Asia, sales of the MacBook Pro will begin in the Middle East, Europe, and then North America. Apple Stores‌ globally are opening up right around 8:00 a.m. local time to allow customers to pick up reserved devices and make walk-in purchases.
Stay tuned to MacRumors tomorrow because we'll have a hands-on look at the MacBook Pro along with first impressions and plenty more coverage coming throughout the week.
Nigeria launches eNaira amid hope, scepticism – and plenty of uncertainty
Nigeria on Monday became the first African nation to launch a digital currency – the eNaira – a move its leaders said will expand access to banking, enable more remittances and even grow the economy by billions of dollars.
Africa's most populous nation joins the Bahamas, the first to launch a general purpose central bank digital currency, known as the Sand Dollar, in October. China has ongoing trials and Switzerland and the Bank of France have announced Europe's first cross-border experiment.
But experts and cryptocurrency users in the continent's biggest economy say the fact that there are more questions than answers regarding the eNaira – and a large amount of worry over the consistency of Central Bank (CBN) rules – means the government faces a tough path to make the eNaira a success.
Central Bank Governor Godwin Emefiele said during Monday's launch that there had been "overwhelming interest and encouraging response", adding that 33 banks, 2,000 customers and 120 merchants had already registered successfully with the platform, which is available via an app on Apple and Android.
Some 200 million nairas' worth of eNaira, which will maintain parity with the traditional currency, has been issued to financial institutions, he said. President Muhammadu Buhari said use of the currency could grow the economy by $29 billion over ten years, enable direct government welfare payments and even increase the tax base.
Nigeria's young, tech-savvy population has eagerly adopted digital currencies. Cryptocurrency use has grown quickly despite a Central Bank ban in February on banks and financial institutions dealing in or facilitating transactions in them.
Nigeria ranked seventh in the 2021 Global Crypto Adoption Index compiled by research firm Chainalysis. Official digital currencies, unlike crytocurrencies such as bitcoin, are backed and controlled by the central bank.
But some of what drove Nigeria's enthusiastic adoption of cryptocurrencies was the Central Bank's own shifting rules regarding accessing foreign currency – and the naira's plunging value on parallel markets that saw savings shrink.
"It's not clear looking at the CBN's body of work that Nigerians would be comfortable using this," said Ikemesit Effiong, head of research with Lagos-based consultancy SBM Intelligence.
He added that the CBN had not yet made clear whether users could transfer eNaira back into traditional naira, whether they could use cryptocurrency to buy or sell the eNaira or even whether there would be physical locations to use and transfer eNaira, or whether it would be entirely digital.
"There are more questions than answers, even though we are looking at the launch of this digital currency. The fact that this is the case so late in the game is concerning," he told Reuters.
The CBN issued a nine-page FAQ, which said eNaira users would access it via the phone app, internet banking or a code dialled from mobile phones, but it did not address transferability or other questions raised by Effiong.
Only three local television channels were allowed to attend the launch, and officials took no questions.
For 28-year-old Ebuka Joseph, an art dealer and enthusiastic cryptocurrency user in the commercial capital, Lagos, the uncertainty means he will stay on the sidelines, for now.
His concerns centre on whether he would easily be able to change eNaira back into normal currency.
"I have had issues trusting the central bank … because they have already banned crypto," he told Reuters. "I want to hear from people, see people use it, before I venture into it."
(Reporting by Libby George; Editing by Nick Macfie)