Eddie Hearn tells Billy Joe Saunders to delete social media accounts – DAZN News US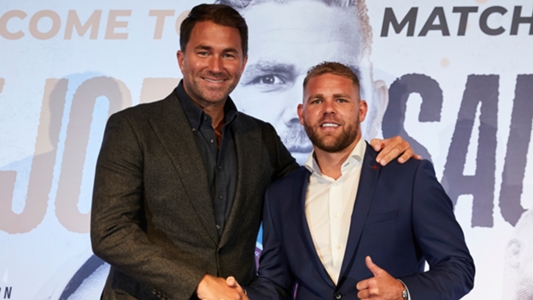 The promoter appears to have grown tired of the champion's regular controversies.
Eddie Hearn believes that Billy Joe Saunders should quit social media before he does irreparable harm to his career.
Saunders is set to fight Saul 'Canelo' Alvarez on May 8, in a fight that could see him emerge as the top fighter at 168lb, but may have been distracted recently by the controversies he started on social media.
He launched attacks on Barry McGuigan and made light of a death threat made towards a BBC journalist, and it's not the first time that Saunders has failed to meet the standards that others may expect, including a post that appeared to mock domestic violence.
Matchroom promoter Hearn suggested that the 31-year-old world champion should delete his social media presence.
Hearn said: "I think Billy should just delete social media really. It's difficult because I think sometimes, and he's brought a lot of it on himself, he's portrayed a certain way and that doesn't help him.
"He also finds it difficult to express his feelings and what he means when he's trying to justify himself.
"Ultimately, all being well, Billy Joe Saunders is fighting Canelo Alvarez in one of the biggest fights of the year and the rest is over to him.
"I can't babysit him, I can't hold his hand. That's it. That's it for him. He either becomes a legend of British boxing that night or loses his world championship.
"The stage of me holding his hand and trying to guide him through how to behave on social media and how not to behave, it's gone too far for that now.
"Not because of his reputation but it's too late in the day to change Billy Joe Saunders. He is what he is. He's an outstanding fighter so let's see how outstanding he is. On May 8, we'll find that out."
Improving inclusion in the media | Watch News Videos Online – Globalnews.ca
Intake Filter Media Market to Garner $6.85 Billion by 2027, Says Allied Market Research – GlobeNewswire
Portland, OR, March 04, 2021 (GLOBE NEWSWIRE) — As per the report, the global intake filter media market generated $5.15 billion in 2019, and is projected to reach $6.85 billion by 2027, growing at a CAGR of 4.6% from 2020 to 2027.
Drivers, restraints, and opportunities-
Use of nanotechnology for air filtration and stringent government regulations about harmful automobile emissions have boosted the growth of the global intake filter media market. However, the advent of washable air filters hinders the market growth. On the contrary, surge in demand for aircraft filters and intake filter media for alternative fuel vehicles would open lucrative opportunities for the market players in the future.
Download Research Report (310 Pages PDF) at https://www.alliedmarketresearch.com/request-sample/10167
Covid-19 scenario-
The Covid-19 outbreak and followed pandemic resulted in the closure of manufacturing facilities in the aerospace, automotive, and shipping industries.
However, the demand for intake filter media is expected to rise as several governments of various countries have lifted the existing regulations of lockdown.
The global intake filter media market is segmented on the basis of application, filter media, distribution channel, vehicle type, and region. Based on application, the automotive segment is projected to register the highest CAGR of 4.9% during the forecast period. Moreover, the segment held more than two-thirds of the market in 2019.
Request for Customization of this report at https://www.alliedmarketresearch.com/request-for-customization/10167
On the basis of filter media, the synthetic segment is anticipated to portray the highest CAGR of 7.3% during the forecast period. However, the cellulose segment dominated in 2019, holding around four-fifths of the market
The global intake filter media market is analyzed across several regions such as North America, Europe, Asia-Pacific, and LAMEA. The market across Asia-Pacific is estimated to register the highest CAGR of 5.1% during the forecast. Moreover, the region held the lion's share in 2019, accounting for more than two-fifths of the market.
Interested to Procure The Data? Inquire here at https://www.alliedmarketresearch.com/purchase-enquiry/10167
The global intake filter media market report includes an in-depth analysis of the prime market players such as Brackett Aero Filters, Inc., ACDelco, Donaldson Company Inc., Cummins Inc., Porvair Filtration Group, Ahlstrom-Munksjö, K&N Engineering, Inc., Hengst SE, Denso Corporation, MAHLE GmbH, Freudenberg SE, Parker Hannifin Corp, Sogefi S.P.A., MANN+HUMMEL International GmbH & Co. KG, and Toyota Boshoku Corporation.
Schedule a FREE Consultation Call with Our Analysts/Industry Experts to Find Solution for Your Business at https://www.alliedmarketresearch.com/connect-to-analyst/10167
Similar Report We Have on Automotive Industry:
Automotive Filter Market by Filter Type (Fuel Filter, Engine Oil Filter, Engine Air Filter, Cabin Air Filters, Steering Filter, and Coolant Filter), Application (Passenger Cars and Commercial Vehicle), and Distribution Channel (OEM and Aftermarket) – Global Opportunity Analysis and Industry Forecast, 2017-2030.
Automotive Exhaust System Market by Technology (Diesel Oxidation Catalyst (DOC), Diesel Particulate Filter (DPF), Selective catalytic reduction (SCR), Exhaust gas recirculation (EGR), Gasoline Particulate Filter (GPF), and Others), Fuel Type (Gasoline and Diesel) and Vehicle Type (Passenger Cars and Commercial Vehicles): Global Opportunity Analysis and Industry Forecast, 2019–2030.
Emission Control Technology Market by Technology Diesel Particulate Filter (DPF), Gasoline Particulate Filter (GPF), Diesel Oxidation Catalyst (DOC), Selective Catalytic Reduction (SCR) and Exhaust Gas Recirculation (EGR), Fuel type (Gasoline and Diesel), and End-User Vertical (Automotive, Marine, Aerospace, Off-highway, Rolling Stock, and Industrial): Global Opportunity Analysis and Industry Forecast, 2018 – 2030.
Air Filters Market by Type (Intake & Cabin), Filter Media (Intake-Cellulose and Synthetic & Cabin-Particle and Activated Carbon) and Market Type (OE & Aftermarket) – Global Opportunity Analysis and Industry Forecasts, 2018-2030.
Automotive Hydraulic Filters Market by Filter Type (Bag Filter, Screen Filter, Magnetic Filter, and Others), Filter Material (Metal Screens, Wire Mesh, Synthetics, Micro-Glass, and Others), Vehicle Type (Passenger Vehicles, Light Commercial Vehicles, and Heavy Commercial Vehicles), and Sales Channel (Original Equipment Manufacturer (OEM), and Aftermarket): Global Opportunity Analysis and Industry Forecast, 2020–2030.
About Allied Market Research
Allied Market Research (AMR) is a full-service market research and business-consulting wing of Allied Analytics LLP, based in Portland, Oregon. AMR provides global enterprises as well as medium and small businesses with unmatched quality of "Market Research Reports" and "Business Intelligence Solutions." AMR has a targeted view to provide business insights and consulting to assist its clients to make strategic business decisions and achieve sustainable growth in their respective market domain.
AMR introduces its online premium subscription-based library Avenue, designed specifically to offer cost-effective, one-stop solution for enterprises, investors, and universities. With Avenue, subscribers can avail an entire repository of reports on more than 2,000 niche industries and more than 12,000 company profiles. Moreover, users can get an online access to quantitative and qualitative data in PDF and Excel formats along with analyst support, customization, and updated versions of reports.
Contact:
David Correa
5933 NE Win Sivers Drive
#205, Portland, OR 97220
United States
USA/Canada (Toll Free):
+1-800-792-5285, +1-503-894-6022, +1-503-446-1141
UK: +44-845-528-1300
Hong Kong: +852-301-84916
India (Pune): +91-20-66346060
Fax: +1(855)550-5975
help@alliedmarketresearch.com
Web: www.alliedmarketresearch.com
Allied Market Research Blog: https://blog.alliedmarketresearch.com
Follow Us on | Facebook | Twitter | LinkedIn |
Kenney downplays apparent UCP disharmony after government MLAs take to social media – CTV Edmonton
EDMONTON —
Alberta Premier Jason Kenney is downplaying apparent disharmony inside his governing United Conservative Party after multiple elected officials took to social media criticizing the province's reopening plan.
On Tuesday, at least five government members of legislative assembly posted similarly-worded statements to social media. All of them expressed frustration that more restrictions weren't lifted Tuesday despite the province being below a number of previously-stated benchmarks.
"Many people have questions about some of the inconsistent rules and moving goalposts," Barnes wrote. "I know this and other issues have shaken the trust of Albertans."
Barnes also noted he heard about the limited reopening plans on social media, "the same time and way as most Albertans did."
Other government MLAs Ron Orr, Michaela Glasgo, Angela Pitt and Todd Loewen all posted similar messages to their social media, calling for looser restrictions and a regional reopening plan.
"I will take the concerns of my constituents back to the government in hopes it will make a difference," reads the end of the statements posted by Barnes.
On Wednesday, Kenney said there's "an ongoing debate" within the government caucus about the best COVID-19 response.
"I welcome input from MLA's of both parties," said Kenney. "I'm not at all surprised that Albertans have a range of opinions on the right response to COVID, that's been the case fromday one."
"There's quite a diversity of views there at the end of the day, the government is responsible for taking the expert public health advice of the chief medical officer and her team closely, studying the data, and making difficult decisions."
He noted had avoided lockdown measures like curfews and shelter in place orders seen in the United States and Europe.
"I would say Alberta's done a good job of balancing the different and very serious issues here."
In February, Kenney rejected the idea of a regional reopening plan.
"Transmission can happen very fast and we have to look at the broader trends — yes, in the regions, but also the whole province," Kenney said on Feb. 11.