Edmonton Oilers Prospects Who Could Be Dealt At the 2020 Deadline – The Hockey Writers
The Edmonton Oilers are going to be busy come deadline day. With injuries to both Connor McDavid and Oscar Klefbom, the team will have to make some moves to secure their position atop the Pacific Division. Could their buyer status shake loose a few prospects in the pipeline to some lower teams looking to offload veteran talent? I think so.
The prospect pool in Edmonton has never been more crowded as the team is finally taking advantage of young talent such as Ethan Bear and Kailer Yamamoto. The emergence of some of these players may have made some other prospects in the system expendable as the Oilers look to load up for a playoff run. Who could these players be? Well, let's take a look.
Dmitri Samorukov

The Oilers have a treasure trove of defensive prospects piling up in their system. At the very top of the pile are first-round picks in the last two drafts, Evan Bouchard and Philip Broberg, who both project to be top-four NHL defensemen at the very least. Add that to impressive rookie campaigns by Bear and Caleb Jones there seems to be very little room for a guy like Dmitri Samorukov to progress into an NHL regular with the Oilers.

Related: NHL's Farm System Rankings – Midseason Update

Samorukov found his way to the Oilers organization after being drafted 84th overall in the 2017 NHL Draft. He put up a respectable 34 points with the Guelph Storm in his draft year but exploded in the 2018-19 season. After increasing his offensive totals to 45 points in the regular season he went on an absolute tear in the OHL playoffs, notching 28 points in 24 games.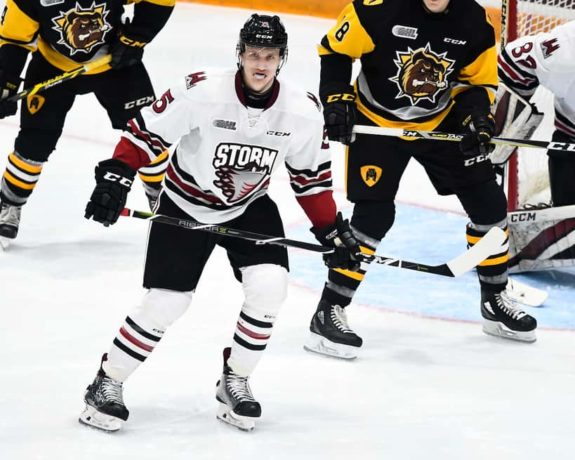 His offensive production was very nice to see, but it hasn't transferred to the pro level just yet. In 41 AHL games with the Bakersfield Condors, he has produced only eight points. It may seem like a disappointing number but that is largely due to a crowded blue line and him being a rookie. Most of his time has been spent playing on the third pair with players such as Logan Day and Jake Kulevich.
@Keyantonyo on Twitter (a very good source for all things Condors) was able to give a great scouting report on Samorukov's first professional season to date.
If there is a green light with regards to pinching, jumping up and walking on/in from the offensive blue line, Samorukov has it. He appears to rookie out in the defensive zone (leave the slot vacant/miss checks or double up) or get turned around by some of the quicker AHL forwards – typically off of positioning errors more than skating deficiency
This is pretty standard as far as young defencemen go so it shouldn't shock anyone that Samorukov isn't producing at the insane pace he was near the end of his junior career.
With all this being said I do believe that NHL teams would have an interest in adding a guy like Samorukov to their prospect pipeline. He demonstrates great offensive instincts and could possibly blossom into a fine NHL defender once he is able to minimize his faults in the defensive zone.
Cooper Marody
Next up is Cooper Marody, a sixth-round draft pick of the Philadelphia Flyers in 2015, who was traded to the Oilers in March 2018 in exchange for a 2019 third-round draft pick.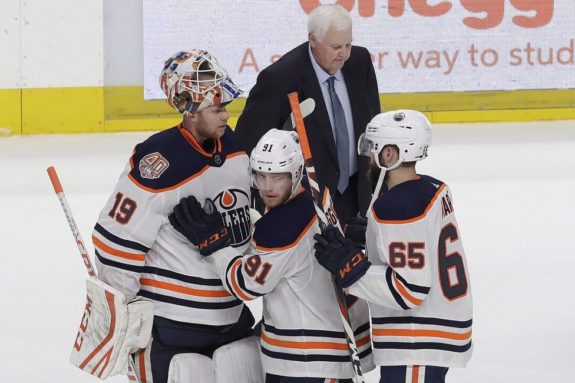 At the time of the deal, Marody was described as being an above-average skater with great playmaking ability, but lacked size and often struggled to work the puck along the boards. He had been enjoying a breakout season in the NCAA having put up 46 points in 36 games at the time.
Marody made the jump to the AHL in the 2018-19 season with the Bakersfield Condors and he showed a lot of promise. At the age of 21, Marody put an impressive 64 points in his first season of professional hockey, good enough for second on the team in points. This performance would earn him a brief six-game stint with the Oilers where he was unable to pick up any points.
Heading into the 2019-20 season many expected Marody to push hard for a spot on the Oilers roster. However, he failed to impress in training camp and found himself assigned to Bakersfield rather early on. He has since played in 30 games with the Condors this season, putting up only 17 points in the process. Injuries might play a role in why his production is down from last season but his opportunity to progress through to the NHL ranks is becoming slim.
With players like Yamamoto, Tyler Benson, Patrick Russell and Colby Cave all getting the call up to the big team before Marody, it seems like his time with the organization could soon be coming to a close. Marody still possesses some offensive talent that could be valuable to a team looking to add to their forward depth but I don't think his value is the same as it was when the Oilers initially acquired him.
Kirill Maksimov
The last prospect that could potentially be on the move at the deadline is Kirill Maksimov. The Moscow native was taken 146th overall by the Oilers in the 2017 Draft and has looked good since.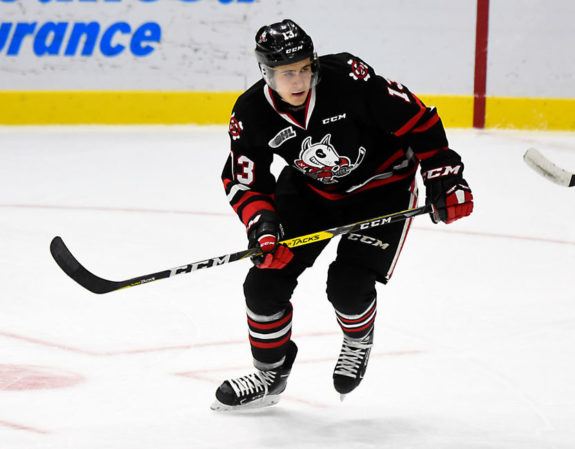 One of the most pure offensive scorers within the Oilers prospect pool right now, Maksimov might prove to be a fascinating gamble for teams looking to trade with Ken Holland. His last two junior seasons spent with the OHL's Niagara IceDogs stand out as high points in his career to date, scoring 80 points during the 2017-18 season and 79 points in the 2018-19 season.
He made the jump to the AHL this season and, while the production isn't quite as impressive, he remains one of the more interesting players on the Condors. Maksimov has 13 points in 47 games with the Condors but, as a rookie, there is still plenty of hope that he can recapture that offensive streak as he gets more accustomed to the pro game.
While the Oilers lack pure scoring skill in their prospect pipeline, they could definitely dangle Maksimov if the return helps them acquire a more established scoring forward. Also, like Marody, the road to the NHL might be tough for Maksimov given the amount of young players currently ahead of him on the depth chart.
At the ripe young age of 20, there is still plenty of time for Maksimov to blossom into an NHL forward. He is an attractive low-risk high-reward type of prospect that a rebuilding team could value when shedding assets.
Opportunity to Contend Sooner
Every trade deadline there is always two types of deals that get made. The first of which is the traditional hockey trade where two teams swap NHL players. The second type, and most common, involves contending teams trading picks and prospects to rebuilding teams in exchange for pending UFA players or more established NHLers. I believe the Oilers will be looking to make either one of these trades but the latter is probably the more likely option.
Newfound depth at the forward and defensive position has pushed prospects like Samorukov, Marody and Maksimov down the depth chart. This could open up a variety of trade opportunities that could help Edmonton contend sooner rather than later.
Get the latest 2020 NHL Trade Deadline news, rumors and analysis
Thousands of tickets still available for world junior hockey tournament in Edmonton – CBC Sports
Odd summer timing and an ongoing sexual assault scandal at Hockey Canada could be the reason thousands of tickets to the world junior championship are still available on the eve of the tournament, says an Edmonton professor.
Prof. Dan Mason, who teaches in the faculty of kinesiology, sport, and recreation at the University of Alberta, said when Canada hosts, there are usually so many fans who want to see the home team take the ice that they are willing to buy Hockey Canada's packaged games that include teams that are not Canadian.
"So Latvia vs. Slovakia, for example, those games will be sold out as well because in order to get the tickets to watch Canada play, you have to buy a package that includes some of the other games," he said on Friday.
"The fact that there are still Team Canada tickets available, that tells you the demand is much lower than it usually is for this kind of event."
WATCH l World junior tournament to go ahead amidst Hockey Canada controversy:
Ticket sales for the World Junior Hockey Championships in Edmonton are below expectations as the tournament kicks of this week in the shadow of an ongoing sexual assault scandal at Hockey Canada.
The tournament runs from Aug. 9-20 at Rogers Place in Edmonton.
The initial 2022 championship in Edmonton and Red Deer, Alta., was called off Dec. 29 after just four days because of rising COVID-19 cases among players and officials, which forced game forfeitures.
The 10-country tournament will be minus Russia, barred from participating by the International Ice Hockey Federation because of that country's invasion of Ukraine.
Holiday tradition
Around 1,500 tickets are still available for purchase on Ticketmaster to the first game between Czech Republic and Slovakia on Tuesday. About 1,300 tickets are available for the next day when Canada takes on Latvia. About 1,500 seats for the final game are also available with hundreds of other tickets to watch the 11-day tournament.
This time of year, you probably already had plans to go to the lake … or do something summer-related.— Edmonton professor Dan Mason on poor ticket sales for an August world juniors
Mason said the timing of the games could be why interest is so low. The tournament typically runs over the Christmas holidays.
"Over the past 30 years or so, TSN has built the world juniors into this holiday event that people partake in," he said.
"I watch it with my family over the [Christmas] break though so it's kind of become part of our holiday tradition.
"This time of year, you probably already had plans to go to the lake, go to the mountains or do something summer-related. I don't think we're willing to give up those plans to watch hockey."
Many people could also be waiting for a former judge on the Supreme Court of Canada to begin independently reviewing Hockey Canada's governance amid calls for a change of leadership.
The review comes after members of the 2018 world junior team were accused of a group sexual assault after a gala event, and after Hockey Canada reached a settlement.
"I think there's people who weren't sure if they would go or not, and maybe deciding not to go because of that," Mason said.
The CEO of Explore Edmonton, which promotes tourism in the Alberta capital, said in an email the marketing organization paused its promotion of the games in response to the allegations.
"As the host city for the upcoming tournament, we continue to have discussions with Hockey Canada officials about their plans to address the need for change," said Traci Bednard.
Mason said inflation and less disposable income could be other factors working against the tournament.
"Canada may be more focused on that player development piece than trying to sort of make money off of a tournament being held in the summer," he said.
Nets owner Tsai backs coach, GM amid reported Durant standoff – theScore
Brooklyn Nets owner Joe Tsai has pledged his support of the coaching staff and front office after Kevin Durant reportedly demanded that the team trade him or fire head coach Steve Nash and general manager Sean Marks
Tsai took to Twitter on Monday, saying, "Our front office and coaching staff have my support. We will make decisions in the best interest of the Brooklyn Nets."
Durant's ultimatum is apparently a result of his lack of faith in the team's direction, The Athletic's Shams Charania reported earlier Monday. The 33-year-old is firm in his stance, Charania adds.
The former MVP requested a trade at the end of June following a disappointing season that ended in a first-round exit. Little was known at the time about his reasons for the decision.
The Nets have reportedly had discussions with nearly every team in the league in hopes of getting a historic package of players and draft picks in return for Durant. Brooklyn reportedly proposed a trade with the Toronto Raptors involving Rookie of the Year Scottie Barnes and talked about a deal with the Boston Celtics that would include star Jaylen Brown.
The Raptors, Celtics, and Miami Heat are seen as the most likely trade destinations for Durant, sources told Charania.
The Nets aim to take "every last asset" from their trade partner in any deal for Durant, according to Charania.
Nash, a Hall of Fame point guard, has been at the helm of the Nets for two seasons. It is his first job in professional coaching. Meanwhile, Marks has held the position of general manager since 2016 after being an assistant for the San Antonio Spurs.
Watch live for free: Leylah Fernandez vs. Storm Sanders at National Bank Open – Sportsnet.ca
Update: This stream has ended.
Canadian Leylah Fernandez begins her quest for her first National Bank Open title against qualifier Storm Sanders of Australia, under the lights in Toronto.
Fernandez, still only 19, is returning to action for the first time since suffering a fracture in her foot during the quarterfinals of the French Open on May 31.
The Laval native is the top-ranked Canadian on the WTA Tour after a headline-making run to the U.S. Open final last year.