Germany backs Google and Apple on virus app – DAWN.com
FRANKFURT: The German government on Sunday switched to backing a coronavirus-tracing app using technology supported by Google and Apple, ditching a German-led alternative that had come under fire over privacy concerns.
German Health Minister Jens Spahn and Chancellor Angela Merkel's chief of staff Helge Braun said Berlin was now in favour of a "decentralised software architecture" that would see user data stored on people's own phones instead of on a central database.
"Our goal is for the tracing app to be ready for use very soon and with strong acceptance from the public and civil society," Spahn and Braun said in a joint statement.
The rollout of an app that would use bluetooth to alert smartphone users when they have been in contact with someone infected with the virus is considered crucial in the fight against the pandemic as countries like Germany relax their lockdowns.
Berlin has until now thrown its weight behind a pan-European app known as PEPP-PT being developed by some 130 European scientists, including experts from Germany's Fraunhofer research institute and Robert Koch Institute public health body.
But the proposed app had faced growing criticism over its plan to store data on a central server. Critics said it would allow governments to hoover up personal information and could lead to mass state surveillance. In an open letter earlier this week, some 300 leading academics urged governments to dismiss the centralised approach, saying it risked undermining public trust.
They said an approach being developed by Apple and Google, whose operating systems run most of the world's smartphones, was more privacy friendly.
The tech giants plan to collaborate with apps, like the Swiss-led DP-3T, that use a decentralised system, which would see data stored on individual devices. The European Commission has also recommended that data harvested through coronavirus contact-tracing apps should be stored only on users' own phones and be encrypted.
The German government has repeatedly stressed that the use of any coronavirus app would be voluntary and anonymous, in a country still haunted by the spying of the Nazi era and the former East German secret police.
Published in Dawn, April 27th, 2020
Buy Redmi 9 from GizTop with international shipping for only $139 – gizmochina
Redmi is yet to officially launch Redmi 9 but the device is already available for purchase on multiple e-commerce platforms including GizTop. You can get the handset in 3GB + 32GB and 4GB + 64GB storage configurations with international shipping for only $139 and $159 respectively. The device comes in Grey, Purple, and Green color paint jobs.
Yesterday, we brought you an exclusive leak of Redmi 9 box revealing the variants, colors, and even price. Earlier today, the phone was found listed on Lazada exposing the entire specifications. In fact, the sale for the handset is currently live on that platform just like GizTop.
The Redmi 9 features a polycarbonate body with a matte finish unlike the glossy surface on its predecessor Redmi 8. It comes powered by a MediaTek Helio G80 SoC paired with LPDDR4x RAM and eMMC 5.1 storage, which is much better than the previous model's Qualcomm Snapdragon 439 chipset.
Also, it sports a 6.53-inch FHD+ (1080 x 2340 pixels) IPS LCD panel with a dew-drop notch compared to HD+ display present in the older model. Further, it comes with a quad-camera setup consisting of a 13MP primary sensor, an 8MP ultra-wide unit, a 5MP macros shooter, and a 2MP depth sensor. Whereas, for selfies, it has an 8MP snapper at the front.
Other features of the Redmi 9 include 4G, VoLTE, dual SIM, dedicated microSD card slot, WiFi 5, Bluetooth 5.0, GPS, 3.5 mm headphone jack, IR blaster, fingerprint sensor, USB Type-C port, MIUI 11 based on Android Pie, 5,020 mAh battery, and support for 18W fast charging.
As mentioned in the beginning, you can buy the all-new Redmi 9 before launch on GizTop with international shipping from the link provided below.
ALWAYS BE THE FIRST TO KNOW – FOLLOW US!
Raptors Uprising down Nets GC to improve to 7-0 in NBA 2K league esports play – CKOM News Talk Sports
TORONTO — Raptors Uprising GC continued its perfect start to the NBA 2K League esports season, sweeping Nets GC in its best-of-three series Friday to improve to 7-0.
The Raptors raced out to an early lead in Game 1 but had to rally to take Game 2.
Toronto downed Brooklyn 84-71 in Game 1 and 79-72 in Game 2 with star point guard Kenneth (Kenny Got Work) Hailey, an early MVP candidate, racking up 75 points in the Raptors' two wins.
Hailey was averaging 32.9 points, 6.4 assists, and 3.1 steals going into Friday's game.
The Nets, who had won three straight, fell to 3-2.
Hailey led the way with 32 points — and zero turnovers — in Game 1 while rookie power forward Maurice (ReeceMode) Flowers added 25 points. Centre Jerry (Sick One) Knapp recorded his fourth triple-double of the season with 15 points, 11 rebounds and 10 assists.
Point guard Josh (Choc) Humphries led the Nets with 32 points and 10 assists. Humphries, the ninth overall pick in the February draft, was averaging 31.6 points and 8.3 assists per game prior to Friday's play.
In Game 2, the Nets rallied to lead 18-15 after the first quarter — with Humphries accounting for 14 of Brooklyn's points— and 36-32 at the half. Hailey, who had 14 points in the half, hit a late three-pointer to reduce the Raptors' deficit.
But Toronto reeled off a 22-7 run to open the third quarter and led 60-50 going into the final quarter.
Brooklyn had some connectivity issues in Game 1, according to the NBA 2K official broadcast feed.
The NBA 2K League's third season was to have started March 24 but was postponed until May 5 because of the global pandemic. The first six weeks of the rescheduled season are being played remotely rather than at the league's New York City studio although the league has yet to say what happens beyond Week 6.
It was the fourth game in four days for Brooklyn, which did not open its season until May 29. In contrast, Toronto began play May 5.
Toronto, which has now swept five of its first seven series, hadn't played in 15 days following a Week 4 bye. The Raptors snapped Hawks Talon GC's three-game win streak last time they played on May 21.
Friday marked the second ever meeting between the two teams. Toronto won 54-42 in week 3 last season. That game saw former Raptors centre Seanquai (KingQuai614)Harris pull down a franchise-record 20 rebounds to go along with 10 points.
Toronto plays Blazer5 Gaming on June 11 and Celtics Crossover Gaming on June 12.
This report by The Canadian Press was first published June 5, 2020.
—
Follow @NeilMDavidson on Twitter
Neil Davidson, The Canadian Press
Xiaomi Redmi 9 specs, design and pricing revealed by online retailer – GSMArena.com news – GSMArena.com
The Xiaomi Redmi 9 reportedly arriving on June 25 has been listed on online retailer Lazada's Filipino site with its images, specs, and pricing.
The specs listed on the e-commerce website align well with previous rumors, meaning the Redmi 9 comes with a Helio G80 SoC under the hood and has two memory versions – 3GB/32GB and 4GB/64GB. There's also a dedicated microSD card slot for storage expansion.
The Redmi 9 is built around a 6.53″ FullHD+ display that has a notch up top for the 8MP selfie camera. The back of the smartphone, that has a textured finish and looks like a combination of the Redmi K30 and Redmi Note 8 Pro's back panels, is home to a quad camera setup comprising a 13MP main, 8MP ultrawide, 5MP macro and 2MP depth sensor units.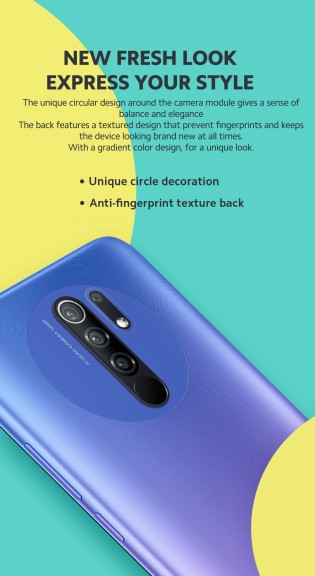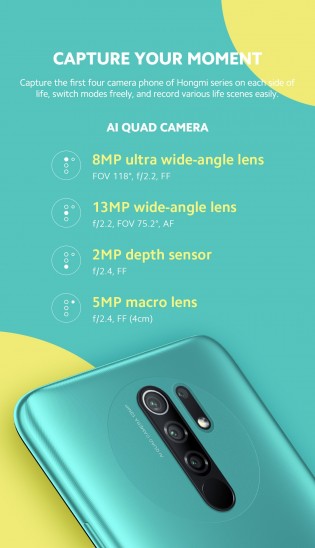 Redmi 9 comes with four cameras on the back
The Redmi 9 comes in three colors and packs a 5,020 mAh battery which draws power through a USB-C port at up to 18W.
Other highlights of the Redmi 9 include a rear-mounted fingerprint reader, AI Face Unlock, IR Blaster, dual SIM support, and a 3.5mm headphone jack.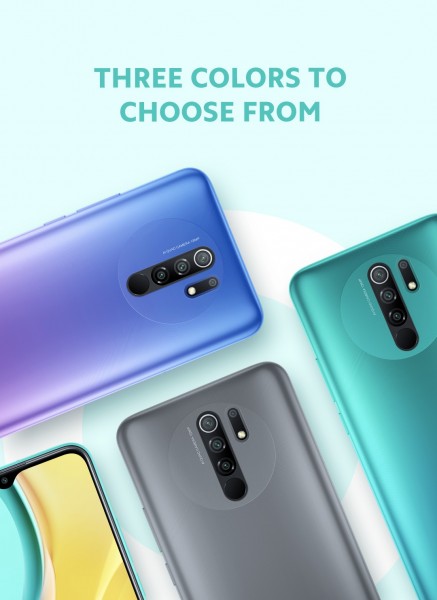 The 3GB/32GB version is priced at PHP6,990 ($140/€125) and the 4GB/64GB at PHP7,490 ($150/€135). At the time of writing this, the 32GB version is available for purchase in a flash sale.
That's surprising since Xiaomi's Philippines branch hasn't made any official announcements about the Redmi 9 at the time of writing this, meaning the retailer likely jumped the guns and an official announcement isn't too far away.
Thanks for the tip!