Get The Apple Watch Series 7 For Its Lowest Price Ever With This Amazon Prime Day Deal – Forbes
Of all the smartwatches, the Apple Watch Series 7 is consistently top-rated for its powerful features, sleek full-screen design and compatibility for tracking your fitness, sleep and stress levels with a robust battery that holds a charge for 18 hours. For Amazon Prime Day, Apple has dropped the price to the lowest we've ever seen it: The base aluminum GPS 41mm model is now $279—that's $120 off the regular $399 list price. Apple rarely, if ever, slashes the prices on its bestsellers. If you need a new smartwatch or want to upgrade from your current model, this is a great deal.
Perhaps even more surprising is that discount applies to all models and sizes, including premium versions. The 41mm with GPS + Cellular is just $379 (down from $499). If you like a larger display, the 45mm size, with GPS only, is $309 (down from $429); upgrade that pick with cellular service and the price is $409 (versus $529). That means you're saving $120 no matter which option you go for—an incredible deal.
You can customize your pick with the band of your choice, too. The rubber bands are available in multiple colors but they're selling out fast. You can also go for a gold or stainless steel case (but again, those are quickly disappearing at these unbelievable prices).
Apple introduced the Series 7 last fall with noticeable improvements from its predecessor. It has a 20% larger screen—which means you can fit an entire keyboard on the face for easier texting—and 40% thinner borders than the Series 6 for a more streamlined fit. It also charges 33% faster and gives you 18 hours of battery life, solving the weak battery issue that hindered earlier models. The Always-On Retina display means you don't need to flip your wrist to see the time, another step up in its design.
Bottom line: If you're in the market for a smartwatch, the Apple Watch Series 7 is the top of the line, highest-rated model. We strongly recommend you shop this deal now since it's one of the best tech discounts we've seen so far for Amazon Prime Day.
iOS 16 Beta 5: Battery Percentage Now Displayed in iPhone Status Bar – MacRumors
With the fifth beta of iOS 16, Apple has updated the battery icon on iPhones with Face ID to display the specific battery percentage rather than just a visual representation of battery level. The new battery indicator is available on iPhone 12 and iPhone 13 models, with the exception of the 5.4-inch ‌iPhone 12‌/13 mini. It is also available on the iPhone 11 Pro and Pro Max, XS and XS Max, and iPhone X.

Battery percent has not been present on iPhones that have ‌Face ID‌ because of the lack of space on either side of the notch that houses the TrueDepth camera hardware. The new design adds the specific battery level to the battery icon, providing a better idea of battery status at a glance.
In iOS 15 and earlier versions of iOS, the battery icon shows a visual of the battery level, but it does not provide a specific percent. To get that information, ‌iPhone‌ users need to swipe down into Control Center or swipe over to the Today center view to see the battery widget.
The battery icon changes colors based on the status of the battery, and the color of the ‌iPhone‌'s wallpaper. When charging, for example, the battery icon is green and shows a charging indicator.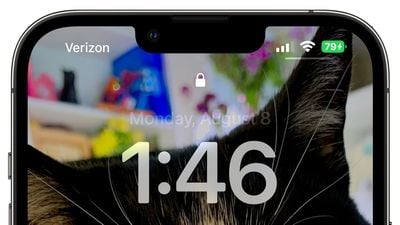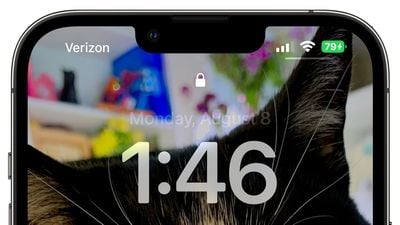 Battery percentage can be toggled on and off in the Settings app in the Battery section. The battery percentage feature appears to be available on most iPhones that have a notch, but it is not an option on the iPhone 12 mini, ‌iPhone 13‌ mini, ‌iPhone 11‌, or ‌iPhone‌ XR perhaps due to space constraints and/or display quality.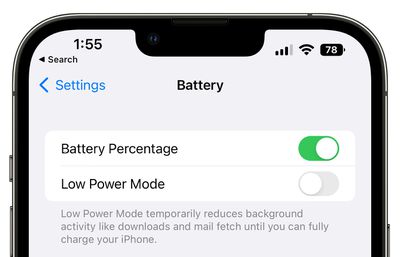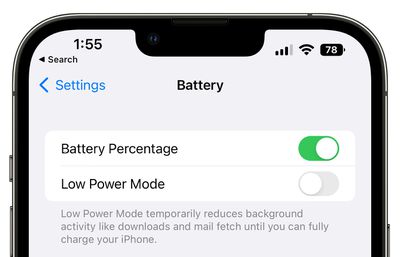 ‌iOS 16‌ beta 5 is available to developers at the current time, and Apple will be releasing a public beta in the near future.
Popular Stories
How to watch Samsung Galaxy Unpacked 2022 in Canada – MobileSyrup
Samsung will hold its next Galaxy Unpacked event today, August 10th, at 6am PT/9am ET.
As usual, we don't know exactly what will be featured there, although it's expected that we'll see the Galaxy Fold 4, Galaxy Flip 4, new Galaxy Watches and more.
Canadians interested in tuning in to the Unpacked 2022 livestream can do so via the Samsung Newsroom, Samsung's website or Samsung's YouTube channel.
It's also worth noting that to coincide with Unpacked 2022, Samsung is offering a $100 e-voucher to use towards your next purchase of any Samsung product. To claim this, you'll need to register through this site and provide some information, including your name, phone number and current device.
What are you looking forward to seeing at Unpacked 2022? Let us know in the comments.
WhatsApp to bring screenshot blocking to THESE types of messages – HT Tech
WhatsApp to now bring the ability to block screenshots to View Once messages. Know when this feature is coming.
WhatsApp is constantly adding new features to enhance the texting experience and these are coming faster than we could get used to them. Lately, the developers have focused on enhancing the privacy for users with a couple of new features. The ability to leave WhatsApp groups silently has draw a lot of attention lately. One can also choose who can see your online status going forward, and who can't. However, there is another new feature that will help those who want to share sensitive media and can't risk someone taking a screenshot of the same.
A while ago, WhatsApp rolled out the ability to send messages that can only be viewed once. The View Once feature currently only allows the media to be shown once but someone can still take a screenshot of the media, thus denying the point of the feature. Now, WhatsApp is modifying the feature, wherein it prevents the ability to take a screenshot. The feature is under development and WhatsApp hasn't revealed the date yet.
WhatsApp to block screenshot
"View Once is already an incredibly popular way to share photos or media that don't need to have a permanent digital record. Now we're enabling screenshot blocking for View Once messages for an added layer of protection. We're testing this feature now and are excited to roll it out to users soon," says WhatsApp in its official blog.
WhatsApp will also reveal more about this and several other features in the days to come via its own campaign. "To spread the word about these new layers of protection, we're also kicking off a campaign to educate people about the new features and our continued commitment to protecting your private conversations on WhatsApp. We hope people enjoy getting to use these new features and benefit from several options that help you keep your messages secure. We look forward to your feedback on what to build next," it says.
Prior to this WhatsApp, recently released the ability to transfer message backups from Android to iOS devices. The same can be done from iOS to Android as well.