Google Photos will end its free unlimited storage on June 1st, 2021 – The Verge
After five years of offering unlimited free photo backups at "high quality," Google Photos will start charging for storage once more than 15 gigs on the account have been used. The change will happen on June 1st, 2021, and it comes with other Google Drive policy changes like counting Google Workspace documents and spreadsheets against the same cap. Google is also introducing a new policy of deleting data from inactive accounts that haven't been logged in to for at least two years.
All photos and documents uploaded before June 1st will not count against that 15GB cap, so you have plenty of time to decide whether to continue using Google Photos or switching to another cloud storage provider for your photos. Only photos uploaded after June 1st will begin counting against the cap.
Google already counts "original quality" photo uploads against a storage cap in Google Photos. However, taking away unlimited backup for "high quality" photos and video (which are automatically compressed for more efficient storage) also takes away one of the service's biggest selling points. It was the photo service where you just didn't have to worry about how much storage you had.
As a side note, Pixel owners will still be able to upload high-quality (not original) photos for free after June 1st without those images counting against their cap. It's not as good as the Pixel's original deal of getting unlimited original quality, but it's a small bonus for the few people who buy Google's devices.
Google points out that it offers more free storage than others — you get 15GB instead of the paltry 5GB that Apple's iCloud gives you — and it also claims that 80 percent of Google Photos users won't hit that 15GB cap for at least three years.
The company will send alerts and warnings when you begin to approach that cap. Google is also putting new storage management tools into Google Photos, including a tool that makes it easier to find and delete photos you might not want anyway, like blurry images or screenshots.
Google is also going to show a more useful "personalized estimate" of how much longer a storage tier will last in terms of time instead of gigabytes. It estimates each user's average uploads over time to guess how much longer they'll be able to use their current tier.
Why the change? One possibility is that it's part of a larger push to get more people to sign up for Google One storage. The service now also includes a free VPN for Android at some of its higher tiers, and it seems as though many Google products are aligning with Google One. Google's explanation in a brief interview is simpler: there is already a nearly unfathomable number of photos and videos uploaded to Google Photos, and the service needs to be sustainable. That's the gist if you read between the lines of its blog post:
Today, more than 4 trillion photos are stored in Google Photos, and every week 28 billion new photos and videos are uploaded. Since so many of you rely on Google Photos to store your memories, it's important that it's not just a great product, but also continues to meet your needs over the long haul. In order to welcome even more of your memories and build Google Photos for the future, we are changing our unlimited High quality storage policy.
Google One pricing is not changing. It starts at $1.99 / month for 100GB and has tiers going through 200GB ($2.99 / month), 2TB ($9.99 / month), and all the way up to 30TB ($149.99 / month).
Alongside photos, "Google Docs, Sheets, Slides, Drawings, Forms and Jamboard files" will also begin counting against storage caps. The reasoning is "to bring our policies more in line with industry standards," Google says. (This puts an end to some very clever hacks like this one that turned files into Google Docs through a binary conversion tool.)
As for the inactive account policy, it seems fairly reasonable: if you haven't touched your Google account for two years and don't respond in any way to the multiple warning emails and notifications Google sends you, the company may delete data from your account. Here's how Google explains it:
If you're inactive in one or more of these services for two years (24 months), Google may delete the content in the product(s) in which you're inactive. […] Similarly, if you're over your storage limit for two years, Google may delete your content across Gmail, Drive and Photos.

We will notify you multiple times before we attempt to remove any content so you have ample opportunities to take action. The simplest way to keep your account active is to periodically visit Gmail, Drive or Photos on the web or mobile, while signed in and connected to the internet.
Xiaomi Mi 11, Mi 11 Pro specifications and images leaked – gizmochina
Xiaomi is expected to launch the Xiaomi Mi 11 series later this month. The lineup reportedly includes two handsets named the Mi 11 and Mi 11 Pro. Fresh leaks have surfaced on Weibo to reveal the specs of the two phones. Also, a couple of images have also surface to showcase the rear camera design of the Mi 11 duo. Before reading ahead, readers are advised to digest this report with a grain of salt since these leaks are not from regular leakers.
Xiaomi Mi 11 and Mi 11 Pro specifications (Unconfirmed)
The leak reveals that the Mi 11 and Mi 11 Pro will be equipped with S-AMOLED panels that offer a 120Hz refresh rate and quad HD+ resolution. The exact screen size is not mentioned in the leak. Both phones are said to be equipped with 20-megapixel front-facing cameras.
The Mi 11 could be backed by a battery of around 4,780mAh capacity and it may come with support for 50W wired charging and 30W wireless charging. The Mi 11 Pro could be coming with a smaller battery of around 4,500mAh capacity. It may support 120W wired charging and 80W wireless charging.
The leak states that Mi 11 may feature a 108-megapixel + 13-megapixel (ultrawide) + 5-megapixel (macro) triple camera setup. The Mi 11 Pro could be equipped with a 48-megapixel (OmniVision OV48C) + 20-megapixel (ultrawide) + 12-megapixel (telephoto with 2x optical zoom) triple camera setup.
The Snapdragon 888 will fuel the device with LPPDR5 RAM and UFS 3.1 storage. For security, these phones have an under-display fingerprint scanner and 2D face unlock. The other features that are available on Mi 11 duo include dual speakers, x-axis linear motor, IR blaster, and NFC. The leak states that the Mi 11 with 8 GB RAM + 128 GB storage may cost 3,999 Yuan (~$610) to 4,499 Yuan (~$686). The Pro model with the same RAM and storage may cost 5,299 Yuan (~$808) to 5,499 Yuan (~$838).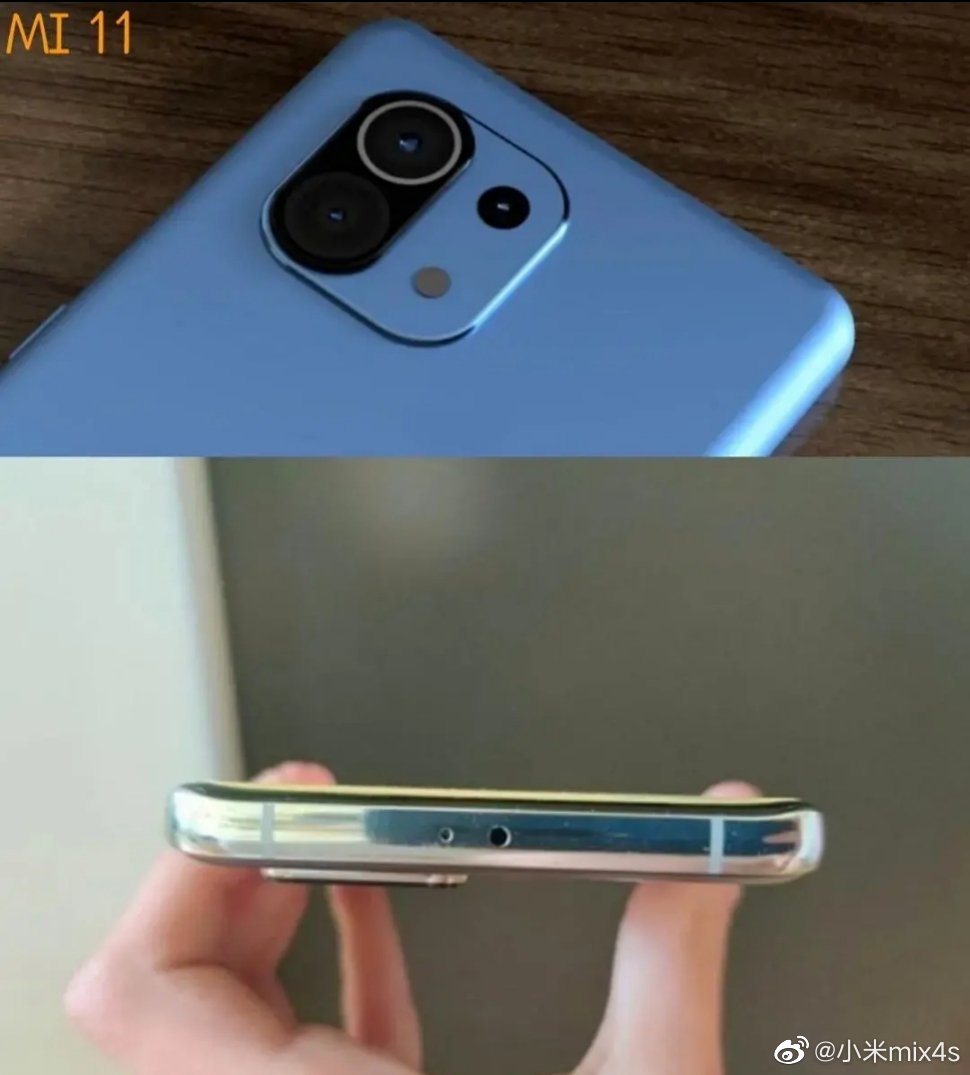 Tipster Digital Chat Station hinted today that the Mi 11 series will have a horizontal camera array. Shown above are some images that reveal that the Mi 11 duo will have a square-shaped camera module.
ALWAYS BE THE FIRST TO KNOW – FOLLOW US!
Amazon is replacing PS5 consoles that might have been stolen in transit – BGR – BGR
Some consumers who bought a PS5 from Amazon received a random item instead.
Amazon refunded the purchases and offered vouchers, but customers who thought that they were getting consoles were irate and wanted to know when they could buy a PS5.
Amazon is now emailing customers to offer them a replacement for the PS5 order.
---
As if securing a PlayStation 5 hasn't been difficult enough, in a cruel twist of fate, some consumers who thought that they were actually able to complete their orders on or before launch day ended up receiving a random item from their seller instead. As IGN reported late last month, Amazon customers in the United Kingdom were getting a wide variety of products in the mail instead of the next-generation consoles that they ordered, from cat litter and George Foreman grills to bed sheets and lamps. It's unclear why this happened, but Amazon appears to be on the case.
A few days after the publication of freelance journalist Bex April May's exhaustive investigation surrounding the PS5 orders, some UK customers that were sent the wrong item began receiving emails from Amazon alerting them that a new PS5 had been obtained and would be shipped their way within the next two weeks.
---
BGR's Top Deal of the Day
FDA-authorized Powecom KN95 masks that block 99% of viruses and small particles cost $45/box — now they're $22.31 at Amazon! Price:$24.99
Available from Amazon, BGR may receive a commission
---
"We are pleased to confirm that we will be able to secure a PlayStation 5 for you as a replacement for the order that you didn't receive," said the email from Amazon, which was forwarded to IGN by May. "Subject to valid payment, we expect to dispatch your PlayStation 5 within 14 days of your confirmation."
Amazon has yet to offer an official explanation for the botched orders. As such, theories began to spring up, some of which May discusses in her piece for IGN. Shortly after receiving her package, May posted a video on Twitter of what was meant to be a PS5 unboxing, but instead turned into an air fryer unboxing:
Happy #PS5 day everyone. Tried to document our one's unveiling, but Amazon have tricked us with an unsolicited air fryer instead (after giving delivery password). Anyone else had this problem today? pic.twitter.com/99IUSzSJUU

— Bex April May (@bexlectric) November 19, 2020
After the video went up, someone responded, noting that Amazon doesn't use clear tape on its packages. If you have received a package from Amazon recently, you know that they all use black Prime-branded tape. Other shoppers said that they encountered the same clear tape on their packages. Had someone tampered with their Amazon boxes? Had they removed the PS5 consoles and replaced them with different items? There are few products harder to get a hold of right now than a PS5, and with the resale market on fire, it certainly seems plausible.
That said, there are a number of safeguards that would make it very difficult, if not impossible, for someone working at an Amazon warehouse or delivering packages to swap out an order. There's a good chance that we will never find out what happened, but at least Amazon is attempting to do right by its customers.
Cyberpunk 2077 strikes a pose with its Photo Mode trailer – Videogamer.com
CD Projekt RED has released a new trailer for the eagerly anticipated RPG Cyberpunk 2077, this time offering a look at the game's Photo Mode.
As you'd probably expect from any Photo Mode worth its salt, there's plenty of options available, including exposure, contrast, highlights, camera presets and the like, but you'll also have the ability to adjust the pose of characters in your shot, change expressions, turn off muzzle flashes, make characters visible and invisible and naturally, add frames, effects and stickers to get the perfect shot.
There's not long to go before the game is in our hands, as Cyberpunk 2077 is set for launch next week on December 10 on Xbox One, PlayStation 4, Google Stadia and PC and playable on Xbox Series X|S and PlayStation 5 via backwards compatibilty.