Government of Canada Rejects TMAC Sale to Shandong Gold Mining Co., Ltd. – Financial Post
Article content continued
Jason Neal concluded, "I would like to thank the TMAC employees and contractors for their hard work and dedication this year as we have dealt with the unprecedented COVID-19 pandemic and the uncertainties of the Transaction, while concurrently improving our safety performance and productivity. I would also like to thank the Inuit communities and leadership of Nunavut, our business partners and other stakeholders for their patience during the regulatory review process."
MANAGEMENT CHANGES
Gil Lawson, Chief Operating Officer of TMAC, has left the Company. The Board of Directors would like to thank Mr. Lawson for his dedication to TMAC since joining in this role in August 2017. The Hope Bay operations have been reporting directly to Calum Semple, Executive Vice President, Operations and a Director of TMAC, since he joined the Company in February 2020. With Mr. Lawson's departure, Calum Semple will now report solely to the President & CEO.
ABOUT TMAC RESOURCES INC.
TMAC operates the Hope Bay property located in Nunavut, Canada. The property and operations are remote but not isolated, serviced by both a port and airstrip. Hope Bay is an 80 km by 20 km Archean greenstone belt that has been explored by BHP, Miramar, Newmont and TMAC over a period spanning more than 30 years. In that time, more than $1.5 billion of expenditures have been spent in exploration and evaluation, surface infrastructure, and mine and process plant development. TMAC began producing gold in early 2017 from Doris, its first mine at Hope Bay, and processed gold at the Doris processing plant which originally had nameplate capacity of 1,000 tpd and expanded to 2,000 tpd midway through 2018. There is potential to grow TMAC's established deposits considerably at depth, and then grow resources further through the prioritized exploration of the more than 90 other identified regional targets. TMAC is now permitted to produce from both Madrid and Boston.
FORWARD-LOOKING INFORMATION
This release contains "forward-looking information" within the meaning of applicable securities laws that is intended to be covered by the safe harbours created by those laws. "Forward-looking information" includes statements that use forward-looking terminology such as "may", "will", "expect", "anticipate", "believe", "continue", "potential" or the negative thereof or other variations or comparable terminology. Forward-looking information in this release includes, but is not limited to, statements regarding the termination of the Transaction, TMAC's intentions and expectations regarding its balance sheet, its operations, the potential of the Hope Bay gold belt, mining and processing alternatives, its ability to fund the 2021 sealift and operate until it arrives, and addressing its debt.
Price pressure on gold as Biden set to lead U.S. – Kitco NEWS
Editor's Note: With so much market volatility, stay on top of daily news! Get caught up in minutes with our speedy summary of today's must-read news and expert opinions. Sign up here!
(Kitco News) – Gold and silver futures prices lost overnight gains and then regained them and are trading modestly higher in early U.S. trading. U.S. stock indexes that are back near their record highs are a restraining element for the safe-haven metals at mid-week. However, gold and silver prices have rebounded well off this week's lows, and more price gains this week would suggest both metals have put in near-term bottoms. February gold futures were last up $7.00 at $1,847.00 and March Comex silver was last up $0.04 at $25.36 an ounce.
The highlight of the U.S. trading day will be the presidential inauguration of Democrat Joe Biden. Look for Biden to hit the ground running by reversing many of outgoing President Trump's executive orders. Biden and his Democrat-controlled Congress are also set to roll out big spending plans that could further lay the seeds for problematic price inflation down the road. Incoming U.S. Treasury Secretary Janet Yellen on Tuesday told lawmakers that going "big" on spending is needed to begin to repair the severe economic damage caused by the pandemic.
Global stock markets were mixed but mostly higher overnight. U.S. stock indexes are pointed toward firmer openings when the New York day session begins. Aside from the inauguration, it's a big corporate earnings week in the stock market.
In overnight news, the Euro zone December consumer price index came in at up 0.3% from November and down 0.3%, year-on-year. Those numbers are not anywhere close to suggesting rising inflation, and even hint that deflation may become the problem.
The key "outside markets" today see the U.S. dollar index slightly lower as bulls are fading this week following the recent good rebound from a 2.5-year low scored earlier this month. Meantime, Nymex crude oil futures prices are higher, trading around $53.50 a barrel and near a 10-month high. The yield on the benchmark 10-year U.S. Treasury note stands at 1.12%.
U.S. economic data due for release Wednesday is light and includes the weekly Goldman Sachs and Johnson Redbook retail sales reports, the NAHB housing market index.
Technically, the February gold futures bulls and bears are on a level overall near-term technical playing field. Bulls' next upside price objective is to produce a close in February futures above solid resistance at $1,900.00. Bears' next near-term downside price objective is pushing futures prices below solid technical support at the November low of $1,767.20. First resistance is seen at the overnight high of $1,856.80 and then at last week's high of $1,864.00. First support is seen at the overnight low of $1,838.70 and then at $1,825.00. Wyckoff's Market Rating: 5.0.
March silver futures bulls and bears are on a level overall near-term technical playing field. Silver bulls' next upside price objective is closing prices above solid technical resistance at the January high of $28.105 an ounce. The next downside price objective for the bears is closing prices below solid support at the November low of $21.96. First resistance is seen at the overnight high of $25.63 and then at $26.00. Next support is seen at the overnight low of $25.24 and then at $25.00. Wyckoff's Market Rating: 5.0.
Bank of Canada will hold current level of policy rate until inflation objective is achieved, continues quantitative easing – Bank of Canada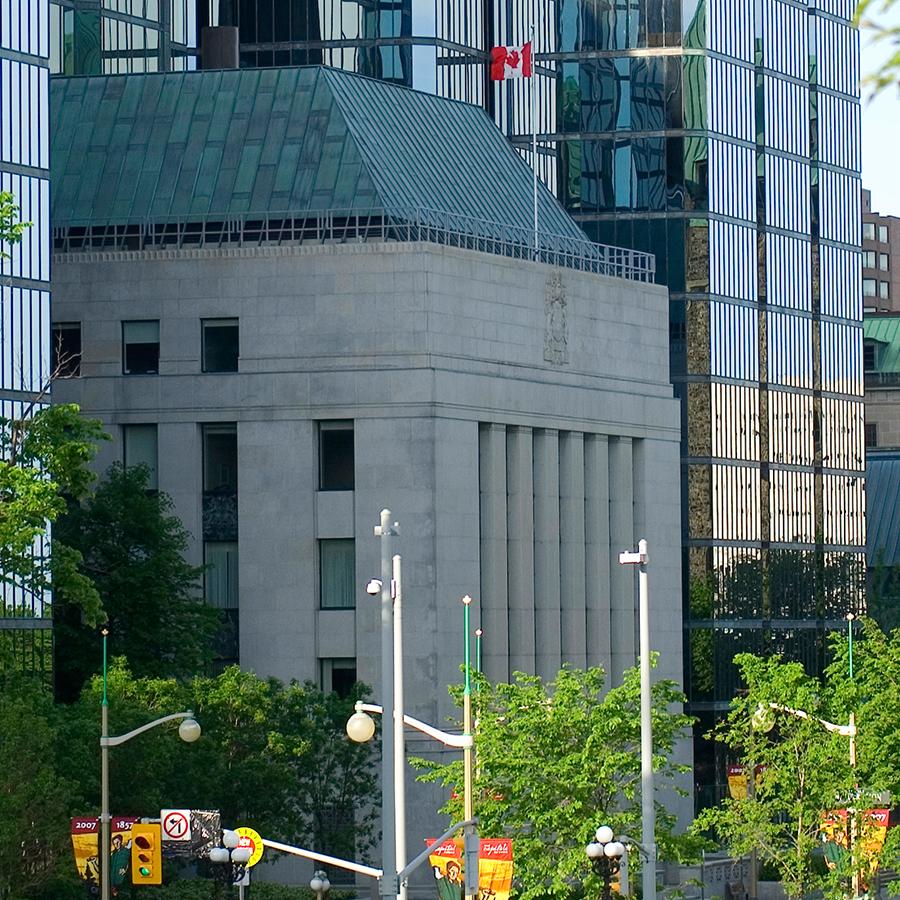 Available as: PDF
The Bank of Canada today held its target for the overnight rate at the effective lower bound of ¼ percent, with the Bank Rate at ½ percent and the deposit rate at ¼ percent. The Bank is maintaining its extraordinary forward guidance, reinforced and supplemented by its quantitative easing (QE) program, which continues at its current pace of at least $4 billion per week.
The COVID-19 pandemic continues to take a severe human and economic toll in Canada and around the world. The earlier-than anticipated arrival of effective vaccines will save lives and livelihoods, and has reduced uncertainty from extreme levels. Nevertheless, uncertainty is still elevated, and the outlook remains highly conditional on the path of the virus and the timeline for the effective rollout of vaccines.
The economic recovery has been interrupted in many countries as new waves of COVID-19 infections force governments to re-impose containment measures. However, the arrival of effective vaccines combined with further fiscal and monetary policy support have boosted the medium-term outlook for growth. In its January Monetary Policy Report (MPR), the Bank projects global growth to average just over 5 percent per year in 2021 and 2022, before slowing to just under 4 percent in 2023. Global financial markets and commodity prices have reacted positively to improving economic prospects. A broad-based decline in the US exchange rate combined with stronger commodity prices have led to a further appreciation of the Canadian dollar.
Canada's economy had strong momentum through to late 2020, but the resurgence of cases and the reintroduction of lockdown measures are a serious setback. Growth in the first quarter of 2021 is now expected to be negative. Assuming restrictions are lifted later in the first quarter, the Bank expects a strong second-quarter rebound. Consumption is forecast to gain strength as parts of the economy reopen and confidence improves, and exports and business investment will be buoyed by rising foreign demand. Beyond the near term, the outlook for Canada is now stronger and more secure than in the October projection, thanks to earlier-than-expected availability of vaccines and significant ongoing policy stimulus. After a decline in real GDP of 5 ½ percent in 2020, the Bank projects the economy will grow by 4 percent in 2021, almost 5 percent in 2022, and around 2 ½ percent in 2023.
CPI inflation has risen to the low end of the Bank's 1-3 percent target range in recent months, while measures of core inflation are still below 2 percent. CPI inflation is forecast to rise temporarily to around 2 percent in the first half of the year, as the base-year effects of price declines at the pandemic's outset — mostly gasoline — dissipate. Excess supply is expected to weigh on inflation throughout the projection period. As it is absorbed, inflation is expected to return sustainably to the 2 percent target in 2023.
In view of the weakness of near-term growth and the protracted nature of the recovery, the Canadian economy will continue to require extraordinary monetary policy support. The Governing Council will hold the policy interest rate at the effective lower bound until economic slack is absorbed so that the 2 percent inflation target is sustainably achieved. In our projection, this does not happen until into 2023. To reinforce this commitment and keep interest rates low across the yield curve, the Bank will continue its QE program until the recovery is well underway. As the Governing Council gains confidence in the strength of the recovery, the pace of net purchases of Government of Canada bonds will be adjusted as required. We remain committed to providing the appropriate degree of monetary policy stimulus to support the recovery and achieve the inflation objective.
Information note
The next scheduled date for announcing the overnight rate target is March 10, 2021. The next full update of the Bank's outlook for the economy and inflation, including risks to the projection, will be published in the MPR on April 21, 2021.
As announced, starting with this decision the target for the overnight rate will take effect on the business day following each rate announcement.
Watch live: Ontario premier provides update on COVID-19 vaccination plan amid shortage – CTV Toronto
TORONTO —
Ontario Premier Doug Ford says he's deeply troubled by the recently-announced Pfizer vaccine shortage and is changing the province's COVID-19 vaccination plan to ensure the most vulnerable are given their necessary second dose.
The premier made the announcement on Tuesday during a news conference shortly after Pfizer revealed its decision to slow down production, resulting in reduced vaccine deliveries to Canada over the next month. The delay is due to production issues at a plant in Belgium.
"It's troubling. It's a massive concern … because this vaccine is the difference between life and death for the most vulnerable," Ford said. "We're emptying the freezers on what we've received so far, getting needles into people's arms and we're focusing on our most vulnerable."
Health officials said Ontario's weekly deliveries of the Pfizer-BioTech COVID-19 vaccine will be cut by as much as 80 per cent over the next month.
Ford said the federal government reported on Tuesday that the entire country will not get any new vaccines from Pfizer next week and will get very limited amounts in the coming weeks. The federal government says shipments are not expected to get back to normal levels until late February and early March.
"It makes me very very angry, and I want to make something clear, I'm not angry at the prime minister or deputy prime minister. We've been working collaboratively, I'm just angry at the situation that other countries are getting it," Ford said.
"We have to be on those guys [at Pfizer] like a blanket. I would be outside that guy's house. Every time he moves, I would be saying, 'where's our vaccines.'"
"Other people are getting them; the European Union is getting them. Why not Canada? That's my question to Pfizer."
Ford also appealed to U.S. president-elect Joe Biden on Tuesday for help securing more COVID-19 vaccines for Ontario. Ford appealed to Biden to share a million doses of the Pfizer shot, which is manufactured in Michigan.
The Pfizer vaccine is administered in two doses. After the first dose is given, the patient gets their booster shot 21 to 27 days later in order to complete the vaccination.
The province says it has administered over 224,000 doses across Ontario so far. Only 25,000 of those people have had their second shot and are fully vaccinated.
Health officials say the province will now "protect" the second doses of the Pfizer vaccine through "careful week-by-week" allocation and by extending the length of time people are going to have to wait to get the second dose.
People living in long-term care homes and high-risk retirement homes will receive their second dose of the vaccine as scheduled, the province said. Health officials said this is because the elderly population has a weaker immune response, and risks should not be taken.
Those who got their first dose already and are not connected to high-risk settings may receive their second dose of the vaccine anywhere between 21 and 42 days after the first shot.
While all long-term care homes in Ontario's COVID-19 hot spots have received their first dose of the COVID-19 vaccine, all of the first new doses that do come in will be administered in long-term care and high-risk retirement homes in other regions, as well as northern fly-in First Nation communities.
The government has said it hopes to administer at least one dose of the vaccine to all residents and staff in all long-term care homes across the province by Feb. 15. Health officials said on Tuesday that the vaccine shortage would not affect this target.
— With files from the Canadian Press