How has the economy affected you this year? Share your story – CNN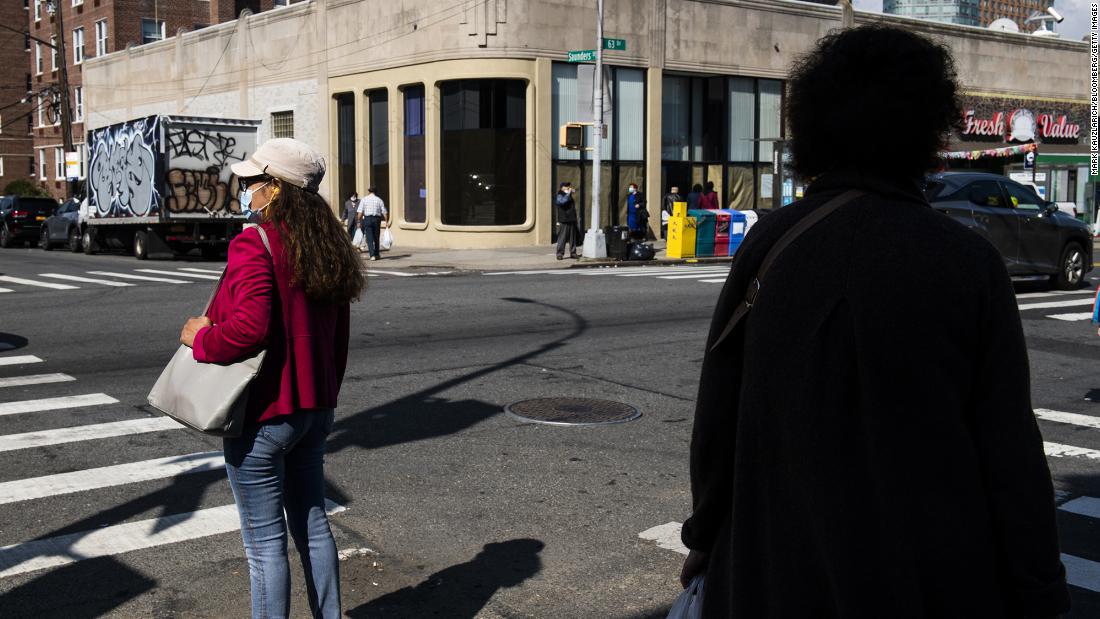 But those numbers don't tell the whole story. People experience the economy's health through their jobs, grocery lists, housing costs, gas prices, 401(k)s, credit cards and medical bills.
We'd love to hear how the economy has affected you personally this year. Did your financial situation get better, worse or stay the same? In what ways?
Share your story in the form below for possible inclusion in an upcoming article.
Plenty of booby traps on a path to economic recovery littered with unknowns – CBC.ca
As the folk tales tell us, it is a fool who tries to please everyone.
But as the finance minister in a minority government that will one day soon have to face the electorate, Chrystia Freeland must do her best to satisfy a majority.
Critics, including some in the suffering airline industry, complained that this week's fiscal plan does not spend enough on them. Fiscal conservatives worried about the deficit and wonder how Freeland will pay for what she has spent already. Pundits are already demanding to know details about how she will fulfil her plan to restart the economy once the coronavirus has been driven off by vaccines.
Despite Freeland's tone of confidence, the disruptive impact of COVID-19 has generated many long-term uncertainties.
Even as she scrambles to solve current and pressing economic problems, the list of potential future pitfalls is long and the effects of each are highly uncertain. The problem — for her, for us and for business — is that this recession is so different from the economic crises we have suffered in the past. None of us know how things will turn out.
Borrowing is easy
Despite a projected deficit of more than $380 billion and a debt expected to soar past $1 trillion, Freeland, who is also deputy prime minister, has reassured Canadians that payments on that debt remain affordable. But just as in your own household, debt is notoriously easy to run up and hard to run down.
While interest rates are low now and the U.S. Federal Reserve — which strongly influences rates here in Canada — has promised to keep them low until the economy bounces back, market forces are telling us that long-term commercial interest rates are on the rise.
Extraordinarily low interest rates have led to extraordinary borrowing by governments, businesses and ordinary Canadians — and some say we are reaching the limit.
Some financial observers, including Martin Wolf at the Financial Times, have warned that the world may be on the cusp of a sudden shift from 40 years of falling to rising inflation. If that were to happen, governments and their central bankers would be forced to decide whether to quell it with higher interest rates in spite of the effect on their own borrowing costs.
While Freeland said that her spending will be based on long-term borrowing locked in at current low rates, costs could rise. Just as you must periodically renew your mortgage, each year governments and companies must go back to the market to replace their portfolio of existing bonds as they come due, and that must be done at the interest rate when they do it.
So long as interest rates stay low and the economy continues to grow, Canadian personal borrowing — which Equifax just reported has hit a staggering $2 trillion — is nothing to worry about. A lot of that debt is backed by high and rising house prices. But rising rates and falling house prices, or a continuing recession that leads to job losses, could make that debt unbearable, damaging a crucial motor of the Canadian economy.
300-year recession
Canada is a trading nation, and even if the domestic economy continues to tough it out, it will be hard to prosper if our trading partners weaken.
Last week the economy of the United Kingdom, with whom Canada is now negotiating a trade deal, plunged into its deepest recession in 300 years — forcing it to cut overseas aid to places that are even worse off.
Many countries around the world, including our nearest neighbour, continue to suffer from the economic impact of the pandemic — making things much worse than when a disaster hits a single part of the world, allowing other economies to help bail them out. Our trade partners may not be in a buying mood. Trade protectionism will be a temptation.
While economic growth slows and businesses go broke, among the bright spots have been financial markets that keep nudging new highs. Rising stock prices are cheering for those with cash invested, but there are growing fears that market darlings such as Tesla, up 600 per cent this year, may have become detached from the real economy.
Some analysts worry that the current casino mentality cannot be sustained and will lead to a reckoning. With interest rates already at rock bottom and borrowing already so high, preventing damage to the crucial financial markets from a new panic will be harder than during previous bailouts.
This gloomy list of long-term potential worries for the finance minister is only partial. Some fear disruption to education will lead to a news skills gap and put an even greater wedge between the rich and the poor. Others fear a crash in the value of commercial property will have a lasting effect.
Lower immigration, a loss of entry-level jobs in restaurants and retail and a long-term hollowing out of the economy are only some of the effects that could make things worse.
But rather than just make us sick with worry instead of sick with COVID-19, the point is that in the wake of a major recession of the kind the world is facing now, there is no way that Chrystia Freeland or anyone else — no matter how smart — can tell us with any certainty how the economy will unfold over the next few years.
WATCH | From education to jobs, how to manage the pandemic's financial challenges:
Personal finance expert Preet Banerjee answers viewer questions about the financial challenges brought on by the COVID-19 pandemic, including saving for school with limited job opportunities and whether or not people should prepare for an economic depression. 3:22
What Canada needs is a capable person in charge, a safe pair of hands, to help us make the best of a perilous and unknown future.
And there is no reason that future could not also include a strong recovery as new businesses take advantage of plentiful labour, less expensive office and retail space and a flood of pent-up demand to come back even stronger than before the pandemic struck.
Follow Don Pittis on Twitter: @don_pittis
After Biden Win, Nation's Republicans Fear the Economy Ahead – The New York Times
#masthead-section-label, #masthead-bar-one display: none
After Biden Win, Nation's Republicans Fear the Economy Ahead
Polling shows that Republicans have turned bearish on the outlook for their family finances since the election, while Democratic optimism is rising.
Dec. 2, 2020,

5:00 a.m. ET
Optimism about the economy has taken a nosedive among Republicans. But the economy did not drive the change. The presidential election did.
After President Trump's loss to former Vice President Joseph R. Biden Jr., more than 40 percent of Republicans who were polled for The New York Times said they expected their family to be worse off financially in a year's time, up from 4 percent in October. Democrats expressed a rise in optimism — though not as sharp as the change in Republican sentiment.
The new polling, by the online research firm SurveyMonkey, reaffirms the degree to which Americans' confidence in the economy's path has become entwined with partisanship and ideology. In the days after the election, for the first time since Mr. Trump took office in 2017, Democrats and independent voters expressed higher levels of confidence in the economy than Republicans did.
Democrats in November were nearly three times as likely as they were in October to say they expected good or very good business conditions in the country over the next year. They were more than twice as likely as they were in October to say they expected "continuous good times economically over the next five years."
Republicans were actually more likely to say that they were doing well in November, compared to October. But nearly three in four said they expected "periods of widespread unemployment or depression" in the next several years, up from three in 10 in October.
Nancy Veits, a Republican voter in Los Angeles County, said the economy was a major factor in her decision to vote for Mr. Trump. A retired small-business owner, Ms. Veits, 81, said that she appreciated the president's commitment to deregulation — and that she feared for the economy after his departure.
"The economy was working," she said. "I think that under Biden it's going to be more difficult."
David Keyston, a survey respondent in Waco, Texas, has a similar set of concerns. He runs his own nonprofit business distributing books about alternative health and healing. Business was good before the pandemic, he said, and has actually improved since the virus began to spread.
Mr. Keyston, 66, said that he didn't like Mr. Trump's penchant for Twitter or his demeanor in office. But he said he liked many of Mr. Trump's policies, like his tax cuts and his promise to build a border wall and to keep the United States out of wars. And he said Mr. Trump had managed the economy well both before and during the pandemic.
"I think he's tried under the circumstances to do the best he can to maintain some level of economic stability," he said.
Now, Mr. Keyston's outlook has turned more dour. He worries that Mr. Biden will impose new restrictions that will cripple the economy, including a nationwide lockdown, a charge that Mr. Trump repeatedly leveled against Mr. Biden, though Mr. Biden did not call for such a lockdown.
"A lockdown will kill this country," Mr. Keyston said.
Big partisan shifts in confidence have become common following elections in recent decades. Republicans' economic sentiment fell when Barack Obama was elected president in 2008, then soared when Mr. Trump was elected in 2016. Republicans' self-reported confidence remained well above Democrats' for the entire Trump administration, until the election caused the pattern to reverse again.
"It reflects what we've seen in the survey data the whole time, which is that everyone is tying their own political beliefs to their views of the economy," said Laura Wronski, a research scientist for SurveyMonkey. "It's just kind of crazy to see how entrenched these beliefs are."
Democrats' views of the economy have also shifted after elections, but generally less than Republicans', a pattern that was particularly stark this year. Ms. Wronski said enthusiasm among Democrats might have been tempered because they did not see the election as an unmitigated victory.
Janet Garrow, a survey respondent in Seattle, said that she thought Mr. Biden would do a better job with the economy than Mr. Trump, but that she didn't expect a quick rebound from the pandemic-induced recession.
"I think the economic impact is devastating, and it's going to take people decades to recover," she said.
A retired judge, Ms. Garrow, 67, said her own finances are stable. But she said the economy wasn't working for many Americans even before the pandemic.
"There was a lot of stagnation," she said. "Sure, you might have had a job, but did your wage or your salary go up with what your cost of living really was?"
Ms. Garrow, a Democrat, said she supported many of Mr. Biden's signature policy proposals, such as raising taxes on the wealthy and making public colleges free to students from middle-class families.
Perhaps more surprising, some of Mr. Biden's proposals earn support from Republican voters. More than four in 10 Republicans support raising taxes on people earning more than $400,000 a year. Three-quarters of Republicans support a proposal to guarantee paid sick leave to workers during the coronavirus pandemic.
Liberal economists with links to Mr. Biden say the results show the popularity of his plans and the challenges of reaching out to supporters of Mr. Trump whose economic hopes were low before he won the 2016 election.
"We live in a country where, for all of our lives, we have seen economic inequality increase — across incomes, across wealth, across firms," said Heather Boushey, an economist whom Mr. Biden said on Monday he would name to his Council of Economic Advisers. "A lot of communities have been left behind. People have become frustrated."
"One of the things about Donald Trump is he acknowledged that reality," she said. "It would be important for people on both sides of the aisle to continue to acknowledge that."
William Spriggs, the chief economist for the A.F.L.-C.I.O. labor federation, said that the polling reflected the "partisan politics" now embedded in economic confidence surveys, and that it offered a message to Mr. Biden on the importance of pushing for policies like paid leave that have attracted Republican opposition in Washington.
"We absolutely need it, on a zillion levels," Mr. Spriggs said. "I think this is going to be the challenge for the administration — because things like this, which Americans understand are common sense, doesn't mean it's politically feasible. The Republicans who are in office thumb their nose at these polls. The issue is, will the administration take them on?"
George R. Hood, a survey respondent in northern Kentucky, said he identified as a political moderate, not a liberal. But he said the country needed to invest more in public health, education and other priorities, and he said it made sense to raise taxes on corporations and the wealthy in order to pay for that spending.
"I just don't see the socioeconomic situation improving unless we're willing to spend a little more money," he said.
About the survey: The data in this article came from an online survey of 3,477 adults conducted by the polling firm SurveyMonkey from Nov. 9 to Nov. 15. The company selected respondents at random from the nearly three million people who take surveys on its platform each day. Responses were weighted to match the demographic profile of the population of the United States. The survey has a modeled error estimate (similar to a margin of error in a standard telephone poll) of plus or minus 2.5 percentage points, so differences of less than that amount are statistically insignificant.
Canadian economy surges in third quarter but set to cool amid new COVID-19 restrictions – The Globe and Mail
Canada's quarterly gross domestic product report has confirmed that the economy roared back to life over the summer months, but economists are now more concerned that the resurgence of the COVID-19 virus could stall a recovery that's still far from complete.
Statistics Canada reported Tuesday that real GDP surged 8.9 per cent quarter-over-quarter (or 40.5 per cent in annualized terms) in the period ended Sept. 30, reversing much of the 11.3-per-cent slump in the previous quarter, as the economy reopened following the widespread lockdowns of the spring. But the economy ended September still running about 5 per cent below pre-pandemic levels, as the global health crisis kept some segments of the economy closed.
Statscan said GDP rose a strong 0.8 per cent in September, about in line with its preliminary estimate of a month ago and the fifth consecutive month-to-month increase. However, it estimated that growth slowed to about 0.2 per cent in October – by far the slowest since the post-lockdown recovery began – as the gains from reopenings faded and the second wave of the pandemic began to weigh on business and consumer activity.
With the growing pace of COVID-19 infections throughout November forcing many regions to tighten containment measures and reimpose closures of high-contact businesses, economists say the October slowdown marks the start of a much slower final quarter, with little if any growth.
"The next several months are not going to be pretty," Toronto-Dominion Bank senior economist Sri Thanabalasingam said in a research report.
"There is a good chance that the economic recovery doesn't just stall but shifts into reverse this winter."
Third-quarter growth was actually a bit smaller than the roughly 10 per cent economists had anticipated, both in the private sector and at the Bank of Canada. This was due mainly to a major set of revisions of Statscan's GDP data going back to the start of 2016, which resulted in a lowering of growth for both July (to 2.5 per cent from the previously reported 3.1 per cent) and August (to 0.9 per cent from 1.2 per cent). But the revisions also reduced the estimated GDP declines in the first two quarters.
Economists said the economy remains on track for a 5.5-per-cent contraction for 2020 as a whole – the worst year since the Great Depression of the 1930s.
The third-quarter data spoke to the uneven nature of the recovery, as some sectors roared back while others remained handcuffed by health restrictions.
Household consumption of goods rose 17 per cent, including a 38-per-cent surge in durable-goods purchases, fuelled by the rapid rebound in employment and by the federal government's substantial emergency income-support programs. The gains lifted goods consumption to well above pre-crisis levels. Housing investment jumped 30 per cent, putting it 10 per cent higher than at the end of 2019.
But consumption of services, which remains seriously impeded by virus-containment measures, saw a much more modest 10-per-cent gain and remained more than 12 per cent below end-of-2019 levels. And non-residential business investment, despite bouncing back 7 per cent, was still down 11 per cent from the end of last year.
Economists have mixed views on how severely the second-wave containment measures will impede growth in the fourth quarter and into the new year, with some predicting small gains but others worrying the economy may dip slightly into negative territory again – though nowhere near the deep slump of last spring's lockdowns. The Bank of Canada's latest economic outlook, issued at the end of October, projected growth of just 0.2 per cent in the fourth quarter.
Still, economists noted that continuing government supports will help households weather the slowdowns and will provide stimulus to expedite a recovery next year, when eagerly awaited vaccines look likely to bring the pandemic under control. On Monday, the federal government presented an economic update that pledged to continue financial supports for workers and businesses affected by the pandemic and unveiled a commitment to spend as much as $100-billion in additional stimulus over three years to aid the recovery once the pandemic subsides.
Economists also noted that the high rate of savings among Canadian households during the pandemic – almost 15 per cent in the third quarter, up from 2 per cent at the end of 2019 – provides considerable fuel to keep domestic consumption rolling through the second-wave slowdown and to kick-start the economy once pandemic conditions improve.
In new global economic forecasts Tuesday, the Organisation for Economic Co-operation and Development estimated that Canada's economy will have shrunk 5.4 per cent in 2020 but predicted it will grow 3.5 per cent next year. Canada's private-sector economists are more optimistic about 2021, with projections ranging from about 4 per cent to 5.5 per cent.
"Some of the growth rates seen in [the third quarter] could be a taste of what could lie ahead later in 2021," Bank of Montreal chief economist Doug Porter said.
Your time is valuable. Have the Top Business Headlines newsletter conveniently delivered to your inbox in the morning or evening. Sign up today.