In-Depth Look At Xenoblade Chronicles 3 Shows Off A Massive, Messy JRPG – Kotaku




Nintendo (YouTube)
We also got a full look at the game's core cast. There's Noah, the red jacket-wearing "off-seer," Eunie, a "brash and blunt" gun healer, Lanz, the massive sword guy, Mio, a dual-chackra weidling off-seer, Taion, the philosophical tactician, and Sena, a tiny fighter who carries a giant wrecking ball. Taion is already far and away the best, which probably means he will either die or betray us.
Here's a quick rundown of what else was shown in the Xenoblade Chronicles 3 Direct:
Aionios looks big, real big. Xenoblade has always offered unnecessarily big and beautiful worlds to auto-fight enemies in, but this one, coming five years into the Switch's life cycle, is the most breathtaking yet. I only hope the framerate and pop-in aren't a mess when your party of six are running from quest marker to quest marker.
Quest routes highlight the path forward. A red line will now show you exactly where to go to reach your destination. No more following a marker into the side of a cliff just to realize you've got to go all the way back around the other side.
Crafting, cooking, and rest spots return. But in a further layer of gamified adventuring, you'll be able to sit down with your comrades at a campfire and debrief about what you've heard from NPCs to initiate new quest lines. It looks cumbersome unless there's also a relationship-building aspect to it.
Characters have classes. In addition to roles like attacker, defender, and healer, each of your six party members will have related classes they can rank up to customize their contributions in battle even further. Master Arts are special abilities that can even be equipped across classes, letting you craft hybrid builds.
You can recruit extra heroes. As if six characters in battle weren't enough, there will also be unique "hero" NPCs that you'll meet throughout the game and can be selected to help out in battle.
Characters can fuse into mini-mechs. Called "Ouroboros," these Evangelion-looking fighters are extra strong and can swap between two different playstyles, each modeled after the characters that formed them. You can't mix-and-match though. The fusion pairs are story-based and fixed.
Originally set to release in September, last month Xenoblade Chronicles 3 got its release date bumped up to July 29. Nintendo revealed Wednesday that Monolith Soft's latest foray into the Xeno-verse will have a $30 Expansion Pass supplying it with new characters and story content through December 2023. There will even be Amiibo support, giving players extra items, or in the case of the Shulk Amiibo, the Monado laser sword from the first Xenoblade Chronicles.
While I can say without reservation that I'm ready for all of Xenoblade Chronicles 3's JRPG bullshit and more, I'll be curious if this is the one that can finally break out beyond the series' core fanbase. The games have traditionally been overly long, repetitive, and weighed down by terrible dialogue. Xenoblade Chronicles 2 sold a decent 2 million copies on the Switch, but isn't nearly as easy to recommend as things like Persona 5 or even Tales of Arise. Maybe Xenoblade Chronicles 3 will be different. I'll let you know after it's out and I've played 100 hours of it.
Here's the rest of Wednesday's Direct:
SoundGear Phantom hearing protection – Canadian Occupational Safety
Bluetooth-compatible and rechargeable
The SoundGear Phantom product line offers custom Bluetooth-compatible and rechargeable hearing aids and hearing protection devices. The Phantom protects user's ears from loud sounds – suppressing noise at 90 decibels, while simultaneously allowing the user to hear conversations and other environmental sounds. Features include a volume control wheel, Apple and Android connectivity, and 23 hours of battery life.
Subscribe to our free newsletter to stay up-to-date with the world of safety.
This page requires JavaScript
Motorola Launches Moto G42 in India at Rs 13,999 – LatestLY
New Delhi: With an aim to woo the consumers in mid-range segment, Motorola on Monday launched a new affordable smartphone 'moto g42' that features Full HD+ display with Stereo speakers and Android 12. The smartphone is available in a single 4GB RAM+64GB storage variant priced at Rs 13,999. Moto G42 With Snapdragon 680 SoC Launched in India; First Sale on July 11, 2022.
[embedded content]
"The moto g42 comes with near-stock Android 12 with an assured upgrade to Android 13 and 3 years of security updates," said the company in a statement.
The stylish, power-packed #motog42 is here! Enjoy the uber- stylish design with 6.4" FHD+ AMOLED Display, Stereo speakers with Dolby Atmos® & more. Make it yours at just ₹12,999 (incl. of bank offer). Sale starts 11 July on @Flipkart & at leading retail stores. #UnleashYourStyle

— Motorola India (@motorolaindia) July 4, 2022
Weighing 174.5 grams, it comes in two colour variants — Metallic Rose and Atlantic Green. The device comes with a 6.4-inch AMOLED FHD+ display and is packed with Stereo speakers with Dolby Atmos sound technology.
The smartphone houses a 50MP Quad function camera with an 8MP Ultrawide sensor and a 16MP selfie camera. The device is powered by the Qualcomm Snapdragon 680 octa-core processor. It comes with a side fingerprint sensor, 3 in 3 card slots supporting two nano SIMs and a dedicated microSD storage up to 1TB for expanding the 64GB on board storage, said the company.
(The above story first appeared on LatestLY on Jul 04, 2022 05:44 PM IST. For more news and updates on politics, world, sports, entertainment and lifestyle, log on to our website latestly.com).
Xiaomi 12S and 12S Pro debut: Leica cameras, Snapdragon 8+ Gen 1 chipset – GSMArena.com news – GSMArena.com
The Xiaomi 12S and 12S Pro have 1/1.28" sensors in their main cameras, which could have been considered large if not for the 12S Ultra model, which was also unveiled today. This is the same IMX707 sensor as on the 12 and 12 Pro, however, all three S-series models were "co-engineered with Leica".
What does that mean? For starters, the three phones have Leica Summicron lenses and support for Leica imaging profiles. Users can choose between the Leica Authentic Look and Leica Vibrant Look presets. The former recreates the natural look that Leica is known for, the latter was tuned by both Leica and Xiaomi and is a blend of the styles of the two companies.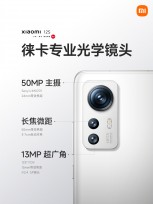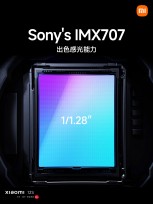 Xiaomi 12S camera info • The Xiaomi 12S and 12S Pro feature the 1/1.28″ Sony IMX707 sensor
Additionally, the phones support 10-bit RAW image capture, which was calibrated by Adobe Labs. The phone will embed color correction metadata in the files, so that Adobe Lightroom can automatically optimize the images, giving photographers a good starting point for post-processing their shots.
A quick look back at the IMX707 – it's a 50MP sensor (1/1.28") with 1.22µm native pixels (2.44µm after binning). The phones support 30fps burst modes as well as Xiaomi's AI Image Solution and ProFocus for fast start-up, capture and continuous capture.
The Pro model has two other 50MP cameras – one with a 50mm lens (2x optical magnification) and one with an ultra wide 14mm lens (115° FoV). The vanilla 12S gets a 13MP ultra wide and a 5MP telemacro instead.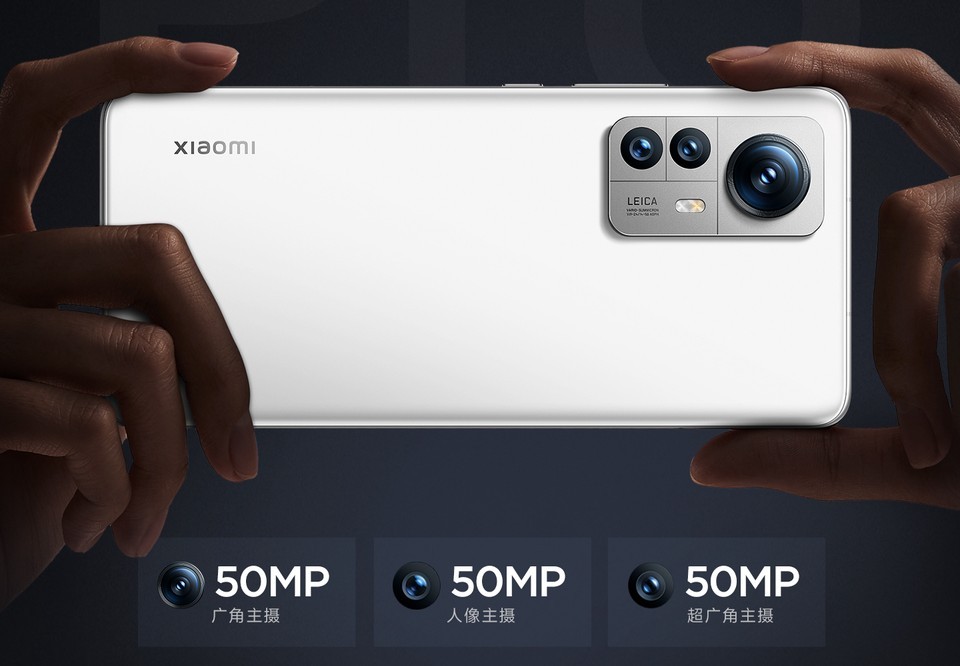 The Xiaomi 12S and 12S Pro also switch to the new Snapdragon 8+ Gen 1 chipset, which offers a 10% boost in performance and reduces power usage by 30%. The S-phones will have longer battery lives and run cooler under load.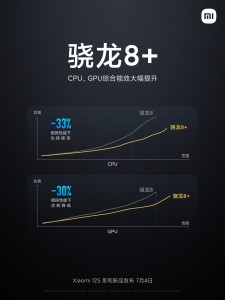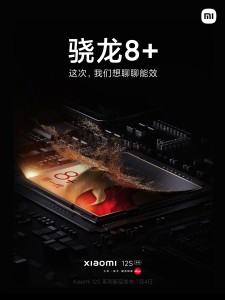 The Snapdragon 8+ Gen 1 brings improved performance and efficiency
Camera and chipset upgrades aside, the two phones follow the formula of the 12 and 12 Pro. The Xiaomi 12S Pro has a 6.73" LTPO AMOLED display (E5, 1-120Hz, FHD+), which is also used on the 12S Ultra. The vanilla 12S is smaller with a 6.28" panel with 120Hz refresh rate (it's not an LTPO panel, however).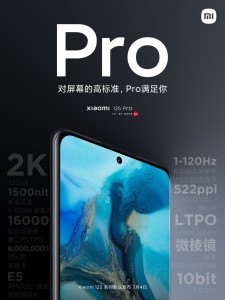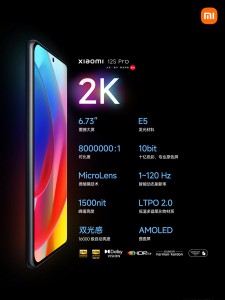 The Xiaomi 12S Pro and 12S Ultra use the same display as the 12 Pro
As before, the 12S Pro supports fast charging – 120W wired and 50W wireless – thanks to the in-house Xiaomi Surge P1 chipset and comes with a 4,600mAh battery. Using a 120W power brick, the Pro can do 0-100% in 19 minutes or in 25 minutes in low temperature mode The Xiaomi 12S charges its 4,500mAh battery at 67W over a wire or at 50W wirelessly.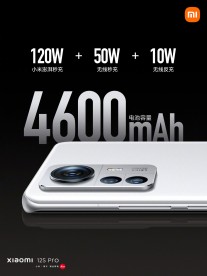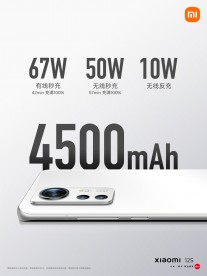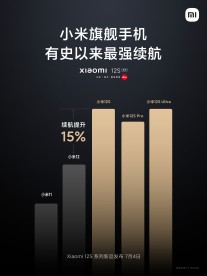 Xiaomi 12S Pro and 12S: same batteries and charging, longer battery life through improved efficiency
The Xiaomi 12S and 12S Pro will soon be available in mainland China. The Xiaomi 12S Pro starts at CNY 4,700 for the 8/128GB model ($700/€670/₹55,000). There is also an 8/256GB for CNY 5,000, 12/256GB for CNY 5,400 and 12/512GB for CNY 5,900.
The Xiaomi 12S starts at CNY 4,000 ($600/€570/₹47,000) for the base 8/128GB model. The same memory configurations are available: 8/256GB for CNY 4,300, 12/256GB for CNY 4,700 and 12/512GB for CNY 5,200.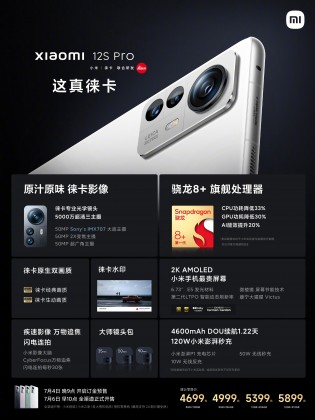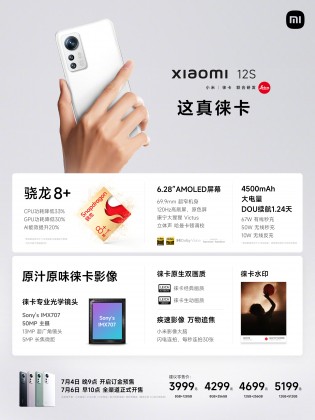 Xiaomi 12S Pro highlights and prices • Xiaomi 12S highlights and prices
For comparison, the Xiaomi 12 Pro launched at CNY 4,700 in China, the base price for the Xiaomi 12 was CNY 3,700. There was also a more affordable 12X model, but there is no "Xiaomi 12SX" now.