iPhone 12, iPhone 12 Pro, and iPad Air 4 Now Available – MacRumors
The iPhone 12, iPhone 12 Pro, and fourth-generation iPad Air are now available in stores and arriving to customers around the world.
Apple has shared a Newsroom post with a range of images to celebrate the launch of the new products. Over the next 24 hours, the Newsroom post will apparently be updated with photos from around the world.
Our own forum members have started a number of threads for tracking and following their ‌iPhone 12‌ / 12 Pro orders around the world.
Our U.K. readers have been particularly active this morning, posting images of their ‌iPhone 12‌ pickups at Apple Stores, and deliveries. This image of the line at the Covent Garden Apple Store was taken by paulopadopa.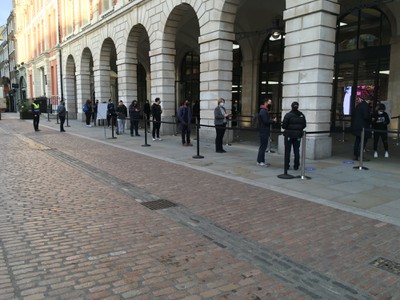 Brenster visited Apple Store Manchester Trafford Centre and described the scene:
Apple store Manchester Trafford Centre was quiet first thing this morning. Arrived at 7.55 for an 8.15 IUP reservations. Couldn't have been more than 10 people outside with no real queue, easily outnumbered by the staff inside the store. Opened up at exactly 8; staff member asked those with reservations to stand to one side. The 4 who didn't who'd turned up on spec for a chance of a walk-in phone were asked to leave and to make an online reservation.

The 4 with 8am reservations were taken in, and 10 mins later those with 8.15 reservations, a couple more having joined the queue since 8.

In store, everything was running like clockwork; temp check, mask and hand wash on the way in, wipes and hand gel on every table for iPhone deactivation and entering details for the IUP application. Then off to the back of the store to pick out a plum silicone case, then out the door before 8.30am. Back home for 9.20am.

Both Apple Store & Trafford Centre staff were fantastic, their system this morning working fantastically well.
He describes his new 256GB Silver ‌iPhone 12 Pro‌ as "hella nice!" with a premium feel.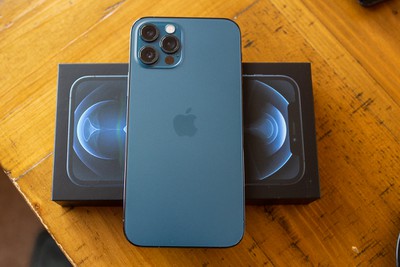 Photo by cedar
There are a number of other photos of people picking up their iPhones: Pacific Blue, Gold, Booting Up, and even minor defects.
Join our iPhone forums to keep track of deliveries in your region.
U.S. Carrier Pre-Order Threads:
International Pre-Order Threads:
Here's when your Samsung Galaxy phone may get the One UI 3.0 (Android 11) update – XDA Developers
Android 11 is the newest version of Android. While the update has rolled out to a bunch of smartphones, phones that come with heavier UX skins need to wait for a longer time for the update to reach them. Samsung's One UI 3.0 update is based on Android 11, and so far, the update has largely been restricted to flagship S series, Note series, and Fold series. If you are wondering when will your Samsung Galaxy smartphone get One UI 3.0 based on Android, here's when it will receive its update.
Samsung has not publicly posted an update timeline for its Galaxy smartphones, but a list has been posted in the Samsung Members app for users in Egypt (via TizenHelp). This list may be talking about the update in the context of that region, but we can get a rough idea of the general timeline on when different phones will be getting their update. So far, Samsung has rolled out One UI 3.0 betas for the Galaxy S20 series, Galaxy Note 20 series, Galaxy S10 series, Galaxy Note 10 series, Galaxy Z Flip, and Galaxy Z Fold 2.
According to the list, here is the update timeline for stable releases:
December 2020:

Galaxy S20
Galaxy S20+
Galaxy S20 Ultra

January 2021:

Galaxy S10
Galaxy S10+
Galaxy S10 Lite
Galaxy Note 10
Galaxy Note 10+
Galaxy Note 20
Galaxy Note 20 Ultra
Galaxy Z Flip
Galaxy Z Fold 2

February 2021:
March 2021:

Galaxy M21
Galaxy M30s
Galaxy M31
Galaxy A51
Galaxy Note 10 Lite
Galaxy Tab S7

April 2021:
May 2021:

Galaxy A21s
Galaxy A31
Galaxy A70
Galaxy A71
Galaxy A80
Galaxy Tab S6
Galaxy Tab S6 Lite

June 2021:

Galaxy A01-Core
Galaxy A01
Galaxy A11
Galaxy M11
Galaxy Tab A

July 2021:

Galaxy A30
Galaxy Tab S5e

August 2021:

Galaxy A10
Galaxy A10s
Galaxy A20
Galaxy A20s
Galaxy A30s
Galaxy Tab A 10.1
Galaxy Tab Active Pro

September 2021:
As is apparent, the update timeline mentioned within the Samsung Members app prioritizes the devices that already have a Beta update available in some form. The update lands on Samsung's mid-range and budget range not before March 2021, which is a little disappointing. The update timeline also stretches all the way to September 2021, which is about a month before the next Android release is expected in stable form. Also, keep in mind that the wording used in the announcement on the Samsung Members app is "Preparing in …", and not "Rolling out", which leaves room open for any unexpected delays. While you wait for the update to arrive, check out the features that Samsung has in store for you, and the general update changelog.
Apple M1 is the boost the Windows ecosystem needed: Qualcomm – ZDNet
With recent tests showing that putting Windows onto Apple Silicon absolutely spanks the performance currently available on Qualcomm-made processors, one could be forgiven for thinking Qualcomm was apprehensive about its future desktop prospects.
However, Qualcomm SVP and general manager for mobile, compute, and infrastructure Alex Katouzian told journalists on Wednesday that the new chip was a validation for putting mobile chips into laptops.
"As we've seen during the pandemic age and I think this is going to continue for many years to come, video conferencing and remote working locations are going to become more and more important which means you have to have the capability of great video conferencing, you have to have the camera capability, you have to have the longevity of the battery, you should be able to work from any place that you are, inside your house or outside your house, and reach your work environment in a secure fashion," he said.
"All of those things are validation of what we've been preaching and I think the strength is going to come from the fact that our partnership with Microsoft is going to be much stronger and extended into the future.
"I think many, many parties realise that the Windows-based ecosystem needs a boost like this, and we're the partner of choice to make that happen — so, it's a great opportunity and a great validation for Qualcomm."
Hours earlier, Qualcomm took the wraps off its new Snapdragon 888 chip, which will support 5G at millimetre-wave and sub-6GHz frequencies on "all major bands worldwide". It will also support carrier aggregation, standalone and non-standalone modes, and dynamic spectrum sharing.
The company said it "completely re-engineered" its Hexagon processor that can now perform at 26 tera operations per second and updated its Sensing Hub to allow for lower-power, always-on AI processing.
On the image front, the chip can capture photos and video at 2.7 gigapixels per second, a 35% boost on the prior generation.
A notable absence among the list of Android phone makers that said they would use the 888 was Samsung. Those on the list included Asus, Lenovo, LG, Meizu, Motorola, Nubia, Realme, OnePlus, Oppo, Sharp, Vivo, Xiaomi, and ZTE.
Last month, it was reported the United States had granted approval to Qualcomm to sell 4G chips for mobile phones to Huawei.
Speaking on Wednesday, Qualcomm president Cristiano Amon said the company was in the fortunate position of being able to "meet the objectives of both sides" of the trade war.
"We look at ourselves as probably a company that provides a lot of stability … in our sector of technology between the two countries, so I think if you look in the essence of our business model, we have a licensing business model. We don't need to transfer technology. We open license that technology, and there's respect of intellectual property which is consistent with some of the United States' claims," Amon said.
"I think all of our customers in China are licensed, and when we see the respect of intellectual property, we provide export of semiconductors which is in, from my United States perspective, it's in the direction of increasing commerce of exports to China.
"We allow the China ecosystem with the Belt and Road Initiative building, on our platform, the mobile ecosystem of China to not only support the transition of China domestic to 5G, but to expand to other markets."
Related Coverage
Realme announces 'Race' phone with Snapdragon 888 5G chipset – CanIndia News
Smartphone maker Realme on Tuesday announced a new smartphone 'Race' with the latest Qualcomm Snapdragon 888 5G mobile platform.
The announcement was made on the heels of the two-day Qualcomm Snapdragon Tech Summit Digital 2020.
"We are proud to be among the first smartphone manufacturers to come equipped with the Snapdragon 888 chipset," said Madhav Sheth, VP, Realme, CEO Realme India and Europe.
"With this milestone, we reaffirm our commitment to bring more 5G devices in India in 2021".
In 2020, Realme was one of the first manufacturers to use Qualcomm Snapdragon 865 5G Mobile Platform in Realme X50 Pro 5G, becoming the first 5G flagship smartphone in India.
According to the company, the Snapdragon 888 chipset with its limitless possibilities will connect more people around the world with a fast and smooth 5G experience especially in terms of gaming, video and communication capabilities.
Realme has launched various smartphones across all price ranges from entry-level up to flagship segments, including India's first 5G smartphone Realme X50 Pro 5G.
–IANS
wh/na