Latest COVID update Feb. 27: 5 deaths,162 new cases, record high vaccinations – CKOM News Talk Sports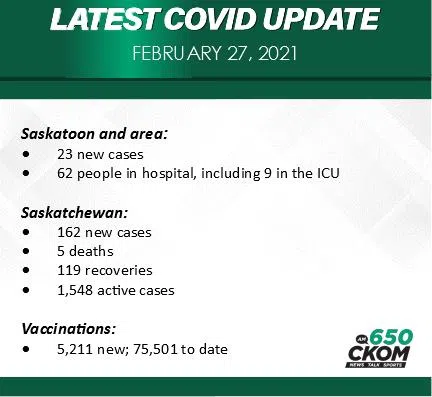 Saskatchewan saw a record amount of daily COVID-19 vaccinations as the province hit a total of 75,501 to date.
The record-high 5,211 doses were administered in the Saskatoon (254), Regina (286), far northwest (33), north-central (869), northwest (918), central-east (1202), central-west (403), southeast (570) and southwest (676) zones on Friday.
There were also five people with the virus who died in the province, bringing the number of Saskatchewan residents who have died with COVID to 385.
The deaths were reported in the 80 plus age group from the Regina (three), Saskatoon (one) and southeast (one) zones.
There were 162 new cases of the coronavirus reported in the province on Saturday, bringing the provincial total to 28,506 cases.
The new cases are located in the far northwest (27), far northeast (five), northwest (13), north-central (three), northeast (nine), Saskatoon (23), central-east (18), Regina (52), south-central (seven) and southeast (one) zones, while four cases are pending residence information. Nine cases with pending residence information were assigned to the far northeast (one), northwest (one), north-central (three), Regina (three) and south-central (one) zones.
The number of people in hospitals throughout the province battling COVID-19 continues to drop.
There are 151 people in hospital with the virus, including 135 people receiving inpatient care in the far northwest (five), far northeast (two), northwest (11), north-central (13), northeast (one), Saskatoon (53), central-west (one), central-east (seven), Regina (36), south-central (two) and southeast (four) areas.
Sixteen people are in intensive care with COVID in the northwest (one), Saskatoon (nine) and Regina (six) regions.
There are a total of 26,573 recoveries from the virus to date and 1,548 cases are considered active.
COVID-19 booster shot might be needed by winter, Moderna says as study continues – Global News
Moderna Inc. said on Thursday its COVID-19 shot was about 93 per cent effective through six months after the second dose, showing hardly any change from the 94 per cent efficacy reported in its original clinical trial.
However, it said it still expects booster shots to be necessary ahead of the winter season as antibody levels are expected to wane. It and rival Pfizer Inc and BioNTech SE have been advocating a third shot to maintain a high level of protection against COVID-19.
During a second-quarter earnings call, Moderna CEO Stephane Bancel said that the company would not produce more than the 800 million to 1 billion doses of the vaccine that it has targeted this year.

0:54


White House says U.S. prepared to provide COVID-19 boosters if needed



"We are now capacity constrained for 2021, and we are not taking any more orders for 2021 delivery," he said.
Moderna shares fell 3.6 per cent to around $403.87 in pre-market trading after closing at $419.05 on Wednesday.
The Moderna data compares favorably to that released by Pfizer and BioNTech last week in which they said their vaccine's efficacy waned around six per cent every two months, declining to around 84 per cent six months after the second shot.
Both the Moderna and Pfizer-BioNTech vaccines are based on messenger RNA (mRNA) technology.
"Our COVID-19 vaccine is showing durable efficacy of 93 per cent through six months, but recognize that the Delta variant is a significant new threat so we must remain vigilant," Bancel said.
The comment comes as public health officials across the world debate whether additional doses are safe, effective and necessary even as they grapple with the fast-spreading Delta variant of the coronavirus.
Meanwhile, Pfizer is planning to seek authorization for a third shot later this month, and some countries like Israel have begun or plan to start administering a booster shot to older or vulnerable people.

BOOSTER CANDIDATES
Separately, Moderna said its studies of three different booster candidates induced robust antibody responses against variants, including the Gamma, Beta and Delta variants.
It said neutralizing antibody levels following the boost approached those observed after the second shot.
For this year, Moderna has signed vaccine contracts worth $20 billion in sales. It has agreements for $12 billion in 2022, with options for another roughly $8 billion in sales and expects to produce between 2 billion and 3 billion doses next year.
The company, however, has not been able to keep pace with the much larger Pfizer, which expects to manufacture as many as 3 billion doses this year and 2021 sales to top $33.5 billion.
Moderna's vaccine was authorized for emergency use in adults in the United States in December and has since been cleared for emergency or conditional use in adults in more than 50 countries.
The company expects to finish its submission for full approval with the U.S. Food and Drug Administration this month.
It posted second-quarter sales of $4.4 billion, slightly above expectations of $4.2 billion drawn from 10 analysts polled by Refinitiv. Its COVID-19 shot is the firm's first authorized product and sales were just $67 million a year earlier.
Moderna earned $2.78 billion, or $6.46 a share, beating quarterly expectations of $5.96 a share.
(Reporting by Michael Erman in New Jersey and Manas Mishra in Bengaluru; editing by Kirsten Donovan, Edwina Gibbs and Arun Koyyur)
U.S. President Biden seeks to boost fuel economy to thwart Trump rollback – CTV News
DETROIT —
The Biden administration wants automakers to raise gas mileage and cut tailpipe pollution between now and model year 2026, and it has won a voluntary commitment Thursday from the industry that electric vehicles will comprise up to half of U.S. sales by the end of the decade.
The moves are big steps toward U.S. President Joe Biden's pledge to cut emissions and battle climate change as he pushes a history-making shift in the U.S. from internal combustion engines to battery-powered vehicles. They also reflect a delicate balance to gain both industry and union support for the environmental effort, with the future promise of new jobs and billions in new federal investments in electric vehicles.
The administration on Thursday announced there would be new mileage and anti-pollution standards from the Environmental Protection Agency and Transportation Department, part of Biden's goal to cut U.S. greenhouse gas emissions in half by 2030. It said the auto industry had agreed to a target that 40% to 50% of new vehicle sales be electric by 2030.
Both the regulatory standards and the voluntary target will be included in an executive order that Biden plans to sign later Thursday.
The standards, which have to go through the regulatory process including public comments, would reverse fuel economy and anti-pollution rollbacks done under President Donald Trump. At that time, the increases were reduced to 1.5% annually through model year 2026.
Still, it remained to be seen how quickly consumers would be willing to embrace higher mileage, lower-emission vehicles over less fuel-efficient SUVs, currently the industry's top seller. The 2030 EV targets ultimately are nonbinding, and the industry stressed that billions of dollars in electric-vehicle investments in legislation pending in Congress will be vital to meeting those goals.
Only 2.2% of new vehicle sales were fully electric vehicles through June, according to Edmunds.com estimates. That's up from 1.4% at the same time last year.
The White House didn't release information on the proposed annual mileage increases late Wednesday, but Dan Becker, director of the safe climate campaign for the Center for Biological Diversity, said an EPA official gave the numbers during a presentation on the plan.
The official said the standards would be 10% more stringent than the Trump rules for model year 2023, followed by 5% increases in each model year through 2026, according to Becker. That's about a 25% increase over the four years.
Last week, The Associated Press and other news organizations reported that the Biden administration was discussing weaker mileage requirements with automakers, but they apparently have been strengthened. The change came after environmental groups complained publicly that they were too weak to address a serious problem.
Transportation is the single biggest U.S. contributor to climate change. Autos in the U.S. spewed 824 million tons (748 million metric tons) of heat-trapping carbon dioxide in 2019, about 14% of total U.S. emissions, according to the EPA.
The voluntary deal with automakers defines an electric vehicle as plug-in hybrids, fully electric vehicles and those powered by hydrogen fuel cells.
Environmental groups said the administration should move faster.
"This proposal helps get us back on the road to cleaning up tailpipe pollution," said Simon Mui of the Natural Resources Defense Council. "But given how climate change has already turned our weather so violent, it's clear that we need to dramatically accelerate progress."
Scientists say human-caused global warming is increasing temperatures, raising sea levels and worsening wildfires, droughts, floods and storms globally.
"We urgently need to cut greenhouse gas pollution, and voluntary measures won't cut it," Becker said.
Several automakers already have announced similar electric vehicle sales goals to those in the deal with the government. Last week, for instance, Ford's CEO said his company expects 40% of its global sales to be fully electric by 2030. General Motors has said it aspires to sell only electric passenger vehicles by 2035. Stellantis, formerly Fiat Chrysler, also pledged over 40% electrified vehicles by 2030.
The Trump rollback of the Obama-era standards would require a projected 29 mpg in "real world" stop-and-start driving by 2026. It wasn't clear what the real world mileage would be under the Biden standards. Under Obama administration rules, it would have increased to 37 mpg.
Automakers said they would work toward the 40% to 50% electric vehicle sales goal.
"You can count on Toyota to do our part," said Ted Ogawa, the company's North America CEO.
General Motors, Stellantis and Ford said in a joint statement that their recent electric-vehicle commitments show they want to lead the U.S. in the transition away from combustion vehicles.
They said the change is a "dramatic shift" from the U.S. market today, and can only happen with a policies that include incentives for electric vehicle purchases, adequate government funding for charging stations and money to expand electric vehicle manufacturing and the parts supply chain.
The United Auto Workers union, which has voiced concerns about being too hasty with an EV transition because of the potential impact on industry jobs, did not commit to endorsing a 40% to 50% EV target. But UAW said it stands behind the president to "support his ambition not just to grow electric vehicles but also our capacity to produce them domestically with good wages and benefits."
Under a shift from internal combustion to electric power, jobs that now involve making pistons, fuel injectors and mufflers will be supplanted by the assembly of lithium-ion battery packs, electric motors and heavy-duty wiring harnesses.
Many of those components are now built overseas, such as China. Biden has made the development of a U.S. electric vehicle supply chain a key part of his plan to create more auto industry jobs.
"We are in a global competition for who gets to make the clean cars of the future, and President Biden's leadership means that we'll develop that manufacturing and those supply chains right here in America," said Sen. Tom Carper, D-Del., who chairs the Senate Environment and Public Works Committee.
In a bipartisan infrastructure bill awaiting Senate passage, there is US$7.5 billion allocated for grants to build charging stations, about half of what Biden originally proposed. He wanted $15 billion for 500,000 stations, plus money for tax credits and rebates to entice people into buying electric vehicles.
The Alliance for Automotive Innovation, a large industry trade group, said it will work with the administration to reach zero carbon emissions from transportation. But it said the best opportunity for environmental benefits will come after 2026 as more electric vehicles are sold.
The industry, it said, will invest more than $300 billion in electrification by 2025, producing 130 electric models by 2026. Only about 50 are available today.
——
Associated Press writers Hope Yen and Seth Borenstein in Washington contributed to this report
As a Job Seeker There Are 3 Job Search Truisms You Need to Accept
A job search has many moving parts; your mindset is the most critical part. Tackling challenges, such as a job search, is easier if you have the right mindset.
Job search success isn't achieved through wishful thinking — how you wish things to be. Success is achieved by adapting to, better yet embracing, realities, not beating your head against walls that won't crumble down.
The following are three "job search truisms" every job seeker needs to accept if they want to minimize their job search frustrations and mitigate the time it takes to find their next job.
You're not owed a job, career or even to make a living.
With a sense of entitlement being so prevalent these days, I often see bitterness amongst job seekers ["I'm not getting what I deserve.", "I'm not getting what I want."]. Anger hinders a job seeker, along with increasing false pride, which becomes an insurmountable obstacle.
The easiest way to be disappointed, unhappy, frustrated, angry, or become depressed is to have an expectation you're owed. You, and only you, are responsible for your job search.
The upside of assuming no one owes you: You energetically help yourself. For many people, this is a massive mind shift! Approaching your job search with an "I'm helping myself" mindset gives you a considerable mental boost, which is to your advantage. As well, such a perspective will carry you through the roller coaster of emotions you'll be dealing with throughout your job hunt.
Employers own their hiring process.
You may recall my column back in April, There's No Universal Hiring Methodology. I brought up the fact, never mentioned by career experts, that no two hiring managers access candidates the same way. This also applies to companies — no two companies hire the same way.
As a job seeker, you need to accept that employers own their hiring process, which is their prerogative. A sense of entitlement has made it common today for job seekers to complain about how employers hire. What a waste of energy! Complaining won't change how employers decide to hire.
Many candidates try to circumvent the employer's hiring process or skip steps. By following the employer's application instructions, as frustrating as they sometimes are, you're setting yourself apart from your competition. Being able to follow instructions is a prerequisite for any job. Thus, employers look for this "willingness to follow instructions" in candidates.
Today, networking is non-negotiable.
The most decisive route to job search success is to do what others are afraid to do, which is to network.
Networking is creating a fabric of personal contacts that can provide support, feedback, insight, resources, and information. In 2021, and for the foreseeable future, it'll be raining resumes. Ask yourself: Who's more likely to be hired, a stranger the hiring manager doesn't know, or someone they're somewhat acquainted with, or a referral? Your answer should convince you of the power of networking.
It's common knowledge most jobs are unadvertised. Undeniable, those who build and nurture a professional network land the plumb jobs. However, many job seekers create excuses [e.g., they're an introvert, networking feels sleazy, everyone's too busy to listen to them] to avoid networking, even though networking has proven to be the most efficient way to finding a job.
Whatever your hang-ups [READ: limiting beliefs] are about networking, get over it! As a job seeker, your primary goal is to connect with people who can assist in your job search. Nothing will get you into an organization faster than having an inside person vouching for you.
Here are a few tips to get you started networking:
Reconnect with old colleagues and alumni you've lost touch with.
Leverage social media — connect with people online [LinkedIn, Facebook].
Become comfortable talking to strangers.
Read: Coffee Lunch Coffee: A Practical Field Guide for Master Networking, by Alana Muller
Read: Never Eat Alone: And Other Secrets to Success, One Relationship at a Time, by Keith Ferrazzi
A job search is a huge undertaking. Having a mindset aligned with today's job market's realities is key to achieving job search success in the least amount of time. Mindset is everything!
______________________________________________________________
Nick Kossovan, a well-seasoned veteran of the corporate landscape, offers advice on searching for a job. You can send him your questions at artoffindingwork@gmail.com.