Latest COVID update Jan. 6: 9 deaths, 277 new cases, 439 recoveries – CKOM News Talk Sports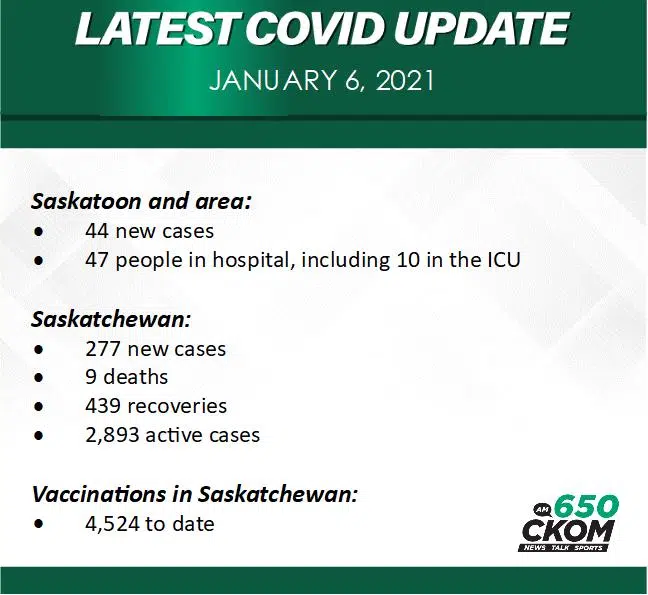 Saskatchewan is reporting its third-highest single-day total of deaths related to the COVID-19 virus.
In its daily update, the province confirmed that nine more people have died after contracting COVID. Three deaths were in the Regina region (two in the 80-and-over range and one in the 20-to-29 age groups), two in the Saskatoon zone (in the 60-to-69 and 50-to-59 age groups), two in the southeast zone (both in the 80-and-over range), one in the central west (a person in their 60s) and one in the north central region (80-and-over).
This is the highest number of deaths after 11 were reported on Dec. 12 and 10 on Dec. 29.
The number of new cases nearly doubled compared to Tuesday's report, with 277 new cases reported in the Regina (70), Saskatoon (44), north-central (40), far northeast (32), northwest (18), southeast (16), central-east (four), far northwest (three), central-west (two), northeast (two), south-central (two), far north-central (one) and southwest (one) zones.
The location of 42 more cases hasn't been determined.
The province has faced questions this week about why more vaccinations are not being administered, with a national tally showing only 31 per cent of vaccines provided to Saskatchewan by the federal government administered so far. Wednesday's data showed 4,524 vaccinations, an increase of 241 from the previous day. That includes 2,069 Pfizer vaccine doses included in the pilot program focused on Regina health care workers, 2,407 Pfizer doses for Saskatoon, and 48 Moderna doses in the far northeast and far north regions.
The media release also noted that 3,900 doses of the Pfizer vaccine will be arriving in Prince Albert today with "administration to follow soon after." The government is also dedicating all remaining Moderna doses to the far northeast and northeast zones, with residents and staff of long-term and personal care homes and front-line health care workers at the top of the queue.
More to come.
Pfizer COVID-19 vaccine delays worsen, deliveries see more than 60-per-cent cut so far – The Globe and Mail
Provinces will not get a per-capita share of COVID-19 vaccine doses while the country grapples with a dramatic slowdown in shipments from Pfizer-BioNTech that continues to worsen.
Major-General Dany Fortin, who is leading Canada's vaccine logistics, told reporters Thursday the delivery from Pfizer for the week of Feb. 1 will be cut to just 79,000 doses, amounting to a 79-per-cent drop. On Tuesday, he said Canada will get none of the 208,650 doses originally expected next week.
Last week, Maj.-Gen. Fortin said the country's shipments from Pfizer would drop by 50 per cent over a four-week period and the company would make up the missed deliveries by the end of March. On Thursday, he said Pfizer has not yet disclosed what Canada's shipment will be the week of Feb. 8, but so far the drop in deliveries amounts to a more than 60-per-cent cut.
New COVID-19 variant can evade immunity, research suggests
"Despite this bump on the road, Pfizer continues to assure us that they're on track to meet the total allocation of four million doses to Canada by the end of March," Maj.-Gen. Fortin said.
Experts say the slowdown will have a double impact: in the short term, risking the ability of provinces to deliver the second shot on time, and in the long term, forcing a more cautious approach in the vaccine rollout as they hold back more vaccine to create a buffer against future delivery interruptions.
Last week Pfizer said it needed to slow production to retool its Belgian manufacturing plant. The company said the temporary slowdown would allow it to nearly double production capacity. The federal government initially said all countries would be equally affected by the slowdown, but Pfizer announced later that the supply to the European Union would return to normal on Jan. 25.
Late Thursday, the Prime Minister announced on Twitter that he had spoken with Albert Bourla, the chief executive officer of the American multinational. He said he spoke about the "timely delivery" of vaccines.
Other world leaders have said they are in direct contact with him.
When will Canada's general vaccination for COVID-19 begin? The federal and provincial rollout plans so far
Can COVID-19 vaccines be combined? Do they work against variants? Pressing pandemic questions answered
How many coronavirus cases are there in Canada, by province, and worldwide? The latest maps and charts
Last week, the Public Health Agency of Canada told The Globe and Mail the slowdown would hit Canada between Jan. 25 and Feb. 21. On Thursday, it said it would instead affect Canada's shipments between Jan. 18 and Feb. 14.
This week Canada had a 9 per cent cut to its deliveries, according to the Public Health Agency of Canada. Maj.-Gen. Fortin said the overall drop is minimal, but due to "shipping decisions made by the manufacturer," some provinces would have a more severe impact.
Its on-the-ground implications have not yet been communicated to provinces. In an e-mailed statement, a spokesperson for Ontario Premier Doug Ford, Ivana Yelich, said the province needs the details "sooner rather than later so we can make further adjustments to our vaccine rollout plan after multiple changes to distribution numbers over a few short days."
Mr. Ford told reporters Thursday he had spoken with the CEO of Pfizer Canada and told him, "Pfizer has let us down." The Premier is hoping Pfizer will ship some of the doses from its Michigan plant north, but the first 100 million doses from that plant have already been promised to the United States.
Toronto Mayor John Tory said he has been in touch with Pfizer executives, but he wouldn't disclose who and his office would only say they are outside the country.
With reports from Laura Stone, Jeff Gray and Oliver Moore
Sign up for the Coronavirus Update newsletter to read the day's essential coronavirus news, features and explainers written by Globe reporters.
Two New Cases of COVID-19 – Government of Nova Scotia
[unable to retrieve full-text content]
Trudeau speaks to Pfizer CEO as delays to vaccine shipments get worse – CP24 Toronto's Breaking News
MIa Rabson, The Canadian Press

Published Thursday, January 21, 2021 4:39PM EST


Last Updated Thursday, January 21, 2021 8:00PM EST

OTTAWA – Prime Minister Justin Trudeau spoke to Pfizer CEO Albert Bourla by phone Thursday, the same day the company informed Canada delays to its shipments of COVID-19 vaccines are going to be even worse than previously thought.
Maj.-Gen. Dany Fortin, the military commander now overseeing the vaccine logistics for the Public Health Agency of Canada, said last week a factory expansion at Pfizer's Belgium plant was going to slow production, cutting Canada's deliveries over four weeks in half.
In exchange, Pfizer expects to be able to ship hundreds of millions more doses worldwide over the rest of 2021.
Tuesday, Fortin said Canada would receive 80 per cent of the previously expected doses this week, nothing at all next week, and about half the promised deliveries in the first two weeks of February.
Thursday, he said the doses delivered in the first week of February will only be 79,000, one one-fifth of what was once expected. Fortin doesn't know yet what will come the week after, but overall, Canada's doses over three weeks are going to be just one-third of what had been planned.
Trudeau has been under pressure to call Bourla, as the delayed doses force provinces to cancel vaccination appointments and reconsider timing for second doses.
Fortin said some provinces may be hit even harder than others because of limits on the way the Pfizer doses can be split up for shipping. The vaccine is delicate and must be kept ultra frozen until shortly before injecting it. The company packs and ships specialized coolers, with GPS thermal trackers, directly to provincial vaccine sites.
Ontario Premier Doug Ford said earlier this week he doesn't blame the federal government for the dose delays but wanted Trudeau to do more to push back about it.
"If I was in (Trudeau's) shoes … I'd be on that phone call every single day. I'd be up that guy's yin-yang so far with a firecracker he wouldn't know what hit him," he said of Pfizer's executives.
Trudeau informed Ford and other premiers of the call with Bourla during a regular teleconference to discuss the COVID-19 pandemic. Until Thursday, all calls between the federal cabinet and Pfizer had been handled by Procurement Minister Anita Anand.
Ford also spoke to Pfizer Canada CEO Cole Pinnow Wednesday.
Trudeau didn't suggest the call with Bourla made any difference to the delays, and noted Canada is not the only country affected.
Europe, which on the weekend thought its delayed doses would only be for one week after European Commission President Ursula von der Leyen spoke to Bourla, now seems poised to be affected longer. Italy is so angry it is threatening to sue the U.S.-based drugmaker for the delays.
Mexico said this week it is only getting half its expected shipment this week and nothing at all for the next three weeks. Saudi Arabia and Bahrain also reported delays getting doses. Pfizer Canada spokeswoman Christina Antoniou said more countries were affected but wouldn't say which ones.
Fortin said Pfizer has promised to deliver four million doses to Canada by the end of March and that is not going to change with the delay. With the current known delivery schedule, the company will have to ship more than 3.1 million doses over 7 1/2 weeks to meet that commitment.
Deliveries from Moderna, the other company that has a COVID-19 vaccine approved for use in Canada, are not affected. Canada has received about 176,000 doses from Moderna to date, with deliveries arriving every three weeks.
Moderna has promised two million doses by the end of March.
Both vaccines require first doses and then boosters several weeks later for full effectiveness. Together Pfizer and Moderna intend to ship 20 million doses to Canada in the spring, and 46 million between July and September. With no other vaccines approved, that means Canada will get enough doses to vaccinate the entire population with two doses by the end of September.
This report by The Canadian Press was first published Jan. 21, 2021.