L&G Pushes Morrison on Value of Real Estate as Bidders Circle – Bloomberg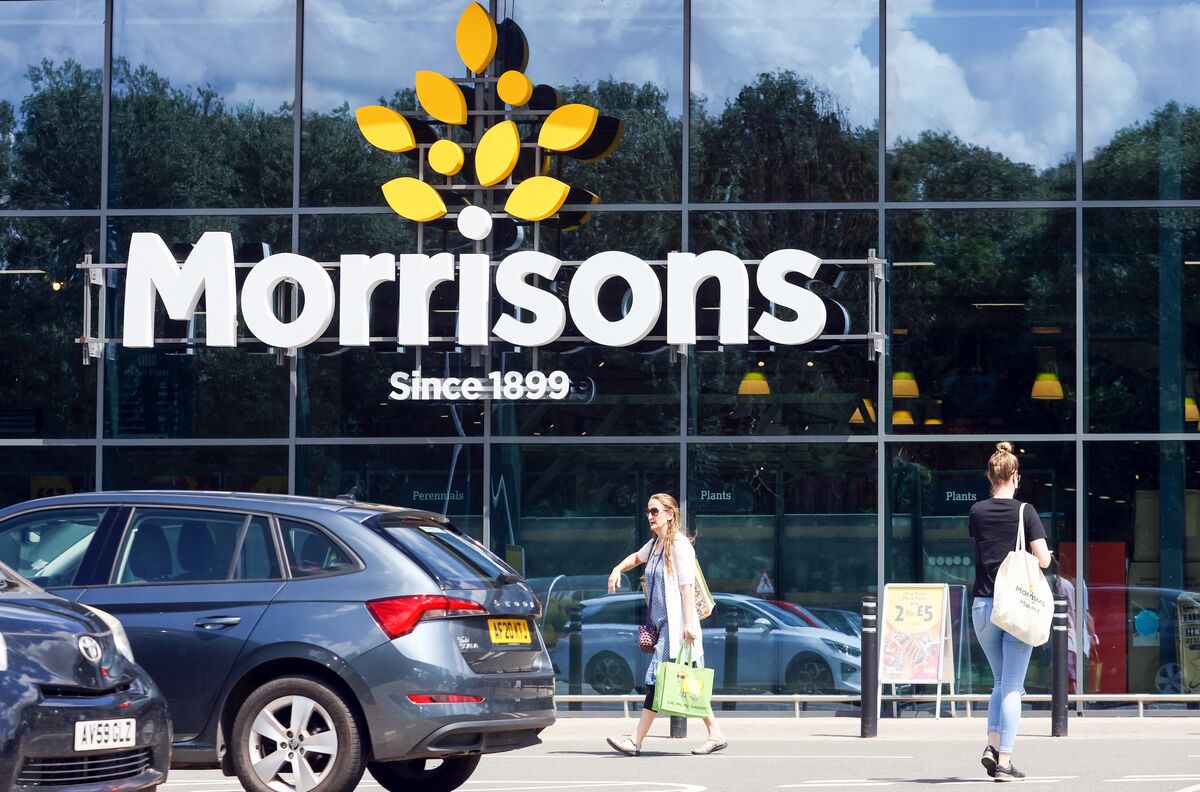 Legal & General Investment Management, one of Wm Morrison Supermarkets Plc's top 10 shareholders, asked the grocer to publish more information on the value of its real estate so investors can decide whether private equity firms are angling to buy the company on the cheap.
Morrison agreed over the weekend to a 6.3 billion-pound ($8.7 billion) takeover from a consortium led by Fortress Investment Group. That offer trumped private equity firm Clayton Dubilier & Rice LLC's earlier 5.5 billion-pound bid, which the supermarket operator rejected. Apollo Global Management Inc. said Monday it's considering an offer too.
"As the Morrisons situation evolves, it is leading to more questions than answers," wrote Andrew Koch, a fund manager at L&G. "Given this is an agreed bid, it is likely that Fortress and their partners have had more information than others on this. Investors need to have the detailed figures to be able to make a considered decision regarding the right future for the company and their shareholdings."
Morrison shares surged as much as 12% to a record in London, trading above the level of the Fortress offer.
Apollo Weighs Offer for Morrison, Heating Up Takeover Battle
Morrison owns about 85% of its almost 500 stores, as well as manufacturing sites, making it attractive to private equity bidders. The property portfolio was last valued at about 6 billion pounds, above the company's market capitalization before news of the CD&R approach was made public.
The Fortress bid remains below the price of 270 pence per share that some top investors said would warrant consideration if there were another offer from CD&R, which initially proposed 230 pence a share.
"I am satisfied that there is a firm offer on the table, however the price does not feel particularly full, and it's very possible that not all parties involved have given their best price yet," shareholder Massimo Stabilini, a former Paulson & Co. executive who runs the hedge fund Sinclair Capital, said on Saturday. He had previously said he expected as much as 270 pence a share.
Morrison's property valuation could be conservative. Grocers, including U.K. market leader Tesco Plc, have recently been writing back some impairments after recording improvements in sales and cash flows per square foot in stores during the pandemic.
"If an acquirer makes strong returns this should come from making the company a better business," Koch wrote. "It should not come from buying its property portfolio too cheaply, levering the company up with debt, and potentially reducing the tax paid to the Exchequer."
Stephen Bird, chief executive officer of abrdn — formerly Standard Life Aberdeen — called the Fortress offer for Morrison "good value" and a "smart thing to do" in an interview with Reuters on Monday. Abrdn is among the top 20 investors in Morrison, although its holding is passive.
— With assistance by Nishant Kumar
(
Updates to add shareholder comment in seventh paragraph
)
Simplicity launches real estate conveyancing solution in Ontario – ITBusiness.ca
Today, Simplicity Global Solutions, a Canadian technology company, announced that its real estate conveyancing solution, Prolegis Real Estate, is available in Ontario.
Prolegis is a cloud-based real estate conveyancing solution made for real estate lawyers. It integrates with a real estate practice, providing tools and information to help each user enhance their performance, customer engagement, and work-life balance.
Prolegis is designed to help users save time, with all the capabilities and key third-party integrations needed to convey a real estate transaction. The solution provides user flexibility to configure and organize work, communicate with clients, and manage the real estate transaction end-to-end from a single solution at any time. It offers a library of document and workflow management tools, community databases, stakeholder portals, and real-time support.
'Simplicity is incredibly pleased and excited to offer Ontario real estate lawyers and conveyancers a fresh new choice in a legal software provider. Collaborating with our valued customers and a network of trusted stakeholders, we are building a better, brighter future for real estate legal professionals and Canadian homebuyers," said Neil N. Babiy, co-founder and chief executive officer of Simplicity Global Solutions Ltd. "At Simplicity, we envision a future where innovative technology is at the forefront of enhancing the customer experience in the real estate ecosystem. We are committed to helping advance technology utilization and adoption within the real estate sector by providing solutions that are user-friendly, easy to implement, and economical to acquire and operate."
Ontario real estate lawyers and conveyancers can now book a demo and learn more about the tool here.
U.S. real estate giant Blackstone says it will not target single-family homes in its Canadian expansion – The Globe and Mail
Blackstone Inc. BX-N said Monday it has no interest in investing in single-family homes in Canada, laying to rest speculation the giant global asset manager would scoop up hundreds of Canadian houses and turn them into rental properties.
After Blackstone announced plans in May to establish a Canadian office in Toronto, rumours abounded that the private equity firm would unleash its firepower, gobble up homes and increase competition for individuals and families looking to buy homes. The typical home price across the country has climbed 50 per cent over the past two years and real estate investors have come under scrutiny for their role in ramping up competition and driving up prices.
But Blackstone's head of real estate Americas, Nadeem Meghji, said that is not in the cards for the company's Canadian expansion.
"It's just not an area that we are focused on in Canada," he said in a joint interview with Janice Lin, the new head of Blackstone Canada.
Blackstone targets Canadian real estate, opens office in Toronto
The New York-based company, which has US$915.5-billion in assets under management, has been accused of profiting off the 2007 U.S. housing meltdown after it bought swaths of distressed properties and then rented them out to U.S. residents.
Blackstone has said it did not own any single-family homes before the crisis and didn't foreclose on any of the properties. It has also said many of its purchases were homes that had been sitting vacant and dragging down local property values.
Blackstone has since sold that business and owns a rent-to-own business called Home Partners of America – one of the many players in a growing single-family home rental market in the U.S.
"We don't have a similar platform in Canada and we don't have the intention of launching one because, from our perspective, we think there are just more interesting places to deploy capital in the Canadian market," Mr. Meghji said.
Ms. Lin, a former Canada Pension Plan Investment Board executive, is in charge of Blackstone's expansion in Canada. She cited the country's favourable immigration policies and its strong population growth as two key factors that make Canada a winner for Blackstone's capital.
Blackstone mostly owns warehouses and other industrial space in Canada, as well as a couple of office towers. It also has some investments in apartment building developments. All together, they are worth about US$14-billion, according to Blackstone, representing just a tiny fraction of the company's global real estate portfolio.
Ms. Lin and Mr. Meghji both said the company will continue to invest in industrial and top office buildings, as well as hotels.
Blackstone has previously said it expects its growth here will be significant. Mr. Meghji would not quantify "significant" except to say he expects growth will be material and Canada could eventually command a larger share of Blackstone's global real estate portfolio.
Your time is valuable. Have the Top Business Headlines newsletter conveniently delivered to your inbox in the morning or evening. Sign up today.
Calls increase for more money as Montreal and rest of Quebec facing housing crunch
MONTREAL — When Soufia Khmarou moved from Morocco to Montreal in 2009, she thought finding an affordable house for her and her three children was going to be easy.
"I was not expecting this," Khmarou said in an interview Monday. "What we see, what we hear about Quebec … the reality doesn't reflect the ad."
Khmarou appeared next to Manon Massé, a spokesperson with Quebec's second opposition party, Québec solidaire, who told reporters Montreal's affordable housing shortage is going to get worse if more money isn't made available.
Standing next to a construction site of high-end condominiums near downtown Montreal, Massé said, "There are housing units being built in Montreal. But for the families that want to find a place to stay and afford to pay rent each month, there's a crisis."
The need for affordable housing will be especially acute after June 30, she said, when most of the leases across the province end. Many families will be forced to remain in or move into homes that are unsanitary or unfit for their needs. Massé said low-income families in Montreal and in the rest of the province are spending up to 85 per cent of their monthly incomes on housing.
Khmarou said she's been on waiting lists to access subsidized housing for the past three years, hoping to move her family out of a Montreal apartment she said is unsanitary.
"But I don't have any answers; all I see is more and more people on the same lists," Khmarou said. "There's no hope; there's no low-rental housing that's being added on the market."
Montreal Mayor Valérie Plante held a separate news conference on Monday, also to lament the lack of affordable housing in the city. Plante said Montreal has been waiting for the past four years for millions of dollars promised by the federal government to build around 1,200 affordable housing units and renovate an additional 4,700 units.
"We know that there's a housing crisis — it's hard on July 1," Plante told reporters. "To know that there are almost 6,000 units that are taken hostage, that aren't made available for citizens, it's unacceptable. It's been four years, at one point, patience has a limit.
"When we talk about the safety and healthiness of housing units, that's what's at stake," she said.
A coalition of housing committees and tenant associations in Quebec released a report over the weekend indicating a widespread rent increase across the province. The coalition analyzed 51,000 rental listings from February to May and said rents across the province increased by nine per cent between 2021 and 2022, reaching an average of $1,300 per month.
The coalition said that less-populated parts of the province were used to an accessible market but are now seeing strong increases.
Rentals.ca, a Canadian website for apartment rental searches, said the average rent for all Canadian properties listed on its site was $1,888 per month in May — a year-over-year rise of 10.5 per cent. With an average of about $2,000 a month for a two-bedroom unit, Montreal ranked 22nd out of 35 cities. Vancouver, the front-runner, had the same size units listed for an average of $3,495 per month.
The association of homebuilders, called the Association des professionnels de la construction et de l'habitation du Québec, said in a report last week that Quebec is missing 100,000 homes, with more than 37,000 families on waiting lists to access subsidized housing.
Paul Cardinal, director of economic services with the association, wrote that "the only way to sustainably reduce real estate overheating is to increase supply."
This report by The Canadian Press was first published on June 27, 2022.
—
This story was produced with the financial assistance of the Meta and Canadian Press News Fellowship.
Virginie Ann, The Canadian Press