List of Xiaomi, Redmi, Poco and Black Shark devices that will update to Android 12 – Gizchina.com
Despite the fact that Google has already announced Android 12, the stable build will not appear until August. But this does not mean at all that after that we will see a massive transition of devices to the new version of the green robot. Manufacturers need time to optimize their user interfaces, test and debug. The same work is to be done by Xiaomi developers.
As a rule, Xiaomi is not very quick in updating its devices to the current version of Android, so there is no need to wait for updates to come out as soon as possible. But it would be nice to know what smartphones can count on Android 12. Let's talk about it.
Xiaomi itself has not yet published a list of those who will be upgraded to Android. Xiaomiui twitter account comes to the rescue, having laid out a list of such devices. It was compiled on the basis of the information that was obtained from sources inside Xiaomi and from the MIUI developers.
The list makes it clear that Android 12 will arrive to all the flagship Mi series of 2020 and 2021, the Redmi Note 9, Redmi Note 10, Redmi 10, Redmi K30 and Redmi K40 lines, the third and fourth generation Black Shark gaming lineup, as well as Poco sub-brand models (Poco F3).
According to the source, owners of smartphones of the Xiaomi Mi 9, Mi CC9, Mi Note 10, Redmi K20, Redmi Note 8 and Redmi 9 series may not count on the arrival of Android 12. The update of Xiaomi Mi Note 10 Lite, Redmi 10X 4G, Redmi Note 9 (Global), Redmi Note 9 4G (china) and Redmi Note 9T, Redmi 9 Power is in question.
List of Xiaomi and Redmi devices that will receive Android 12
below are Xiaomi devices (Mi and Redmi) we think are guaranteed an upgrade to Android 12 update officially:
– Xiaomi Mi 11 Ultra
– Xiaomi Mi 11 Pro
– Xiaomi-Mi 11
– Xiaomi Mi 10 Ultra
– Xiaomi Mi 10 Pro
– Xiaomi-Mi 10S
– Xiaomi Mi 10
– Xiaomi Mi 10i
– Xiaomi-Mi 10 Lite
– Xiaomi Mi 10 Lite Zoom
– Xiaomi Mi 10T
– Xiaomi-Mi 10T Pro
– Xiaomi Mi 10T Lite
– Xiaomi Mi Note 10
– Xiaomi-Mi Note 10 Pro
– Xiaomi Mi Note 10 Lite
– Redmi K40
– Redmi K40 Pro
– Redmi-K40 Pro+ (Ultra)
– Redmi K30
– Redmi K30 Pro
– Redmi-K30 Pro Zoom
– Redmi K30 Ultra
– Redmi K30S
– Redmi-K30 5G
– Redmi K30i 5G
– Redmi K30 5G Racing Edition
– Xiaomi-Redmi Note 10
– Xiaomi Redmi Note 10 5G
– Xiaomi Redmi Note 10 Pro (India/Global)
– Xiaomi-Redmi Note 10 Pro Max
– Xiaomi Redmi Note 10S
Redmi smartphones that may not get their second firmware update:
– Xiaomi Redmi Note 9 (Helio G85)
– Xiaomi Redmi Note 9 4G (SDM 662)
– Xiaomi-Redmi Note 9 5G
– Xiaomi Redmi Note 9 Pro (India/Global)
– Xiaomi Redmi Note 9 Pro 5G
– Xiaomi-Redmi Note 9 Pro Max
– Xiaomi Redmi Note 9T
– Xiaomi Redmi Note 9S
It's official: Xiaomi 12S series with Leica-tuned cameras is coming on July 4 – GSMArena.com news – GSMArena.com
The Xiaomi 12S that leaked last month will be officially unveiled next week – on July 4. This revelation comes from Xiaomi, which also said that the 12S will be joined by the 12S Pro and 12S Ultra at the event.
Xiaomi also confirmed its partnership with Leica for the cameras on the 12S series and gave us a glimpse of the three smartphones.
Judging by the leaked image of the 12S, we believe the smartphone with the white-colored back panel is the 12S, while the one in the center might be the 12S Pro, and the smartphone on the left might be the 12S Ultra. It has a golden metal frame with a green-colored leather panel.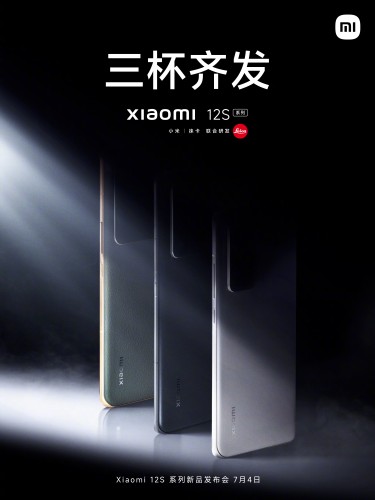 Xiaomi hasn't detailed the specs sheets of the 12S series smartphones yet, but the company said the 12S is a small-sized high-end flagship, whereas the 12S Pro is 2022's new flagship standard. The 12S Ultra is touted as the "new height of mobile imaging flagship."
You can expect Xiaomi to share more information about the 12S lineup in the lead-up to the event next Monday.
Source 1, Source 2 (both in Chinese)
Apple MacBook Pro M2 SSD performance falls short of its M1 predecessor – XDA Developers
Apple's recently announced MacBook Pro 13 (2022) hit retail shelves this past week, which means it not only got into the hands of eager customers but also got into the hands of more reviewers. This latter part is important because apparently, testing of the base model has revealed what could be a major drawback for some.
YouTube creators Max Tech and Created Tech ran tests on the latest Apple MacBook Pro 13 and found that the storage speeds of the new base M2 model were slower when compared to the older M1 MacBook Pro 13. Now, this wouldn't be a huge deal if it was a small difference, but according to Max Tech, the difference is pretty major. Running the test numerous times using Blackmagic's Disk Speed Test app, he was able to find that the write speed of the M1 MacBook Pro was 2,215, while the M2 MacBook Pro scored 1,463. On read speed, the former scored 2,900, while the latter scored 1,446.
Apple's latest isn't its greatest when SSDs are involved.
Max Tech took things a step further by opening up both laptops and checking the physical differences in hardware. They spotted an immediate difference with regards to the SSD count. In the older M1 MacBook Pro 13, there are two soldered SSDs, while the newer M2 MacBook Pro 13 has just one SSD. Max Tech explains that having two chips working in tandem is much more efficient than having just one SSD chip shouldering the load. This is probably not what many would expect, but it is something to consider when purchasing the newer model.
These tests were performed on the base model, and reports have shown that higher models have better and faster SSD scores. What will be interesting is to see how well the upcoming MacBook Air 13 (2022) will perform when it is released. Be sure to check out our full review of the MacBook Pro 13 (2022).
---
Source: Max Tech and Created Tech (YouTube)
Via: MacRumors
OnePlus 10RT camera specs leaked: New value flagship from OnePlus? – Android Authority
Dhruv Bhutani / Android Authority
TL;DR
A reliable tipster has outed the camera specs of the OnePlus 10RT.
The phone may feature an identical setup as the OnePlus 10R.
This is the fourth rumored OnePlus 10 series phone.
The OnePlus 9RT launched last year as a value flagship and upgrade to the OnePlus 9R. Now, it looks like the OnePlus 10R will be followed by the OnePlus 10RT.
Leaker Yogesh Brar has outed the alleged camera specs of the OnePlus 10RT. While we haven't heard any other leaks and rumors about the phone, this latest tip suggests that the device could launch in the next few months.
Nevertheless, the camera setup on the so-called OnePlus 10RT is expected to feature a primary 50MP IMX 766 sensor with Optical Image Stabilization (OIS). This is the same camera sensor used on the OnePlus 10R and OnePlus 9RT. It also served as the ultrawide sensor on the OnePlus 9.
The other two rear camera sensors on the phone are also expected to be the same as those found on the OnePlus 10R. This means you may get an 8MP ultrawide sensor and a 2MP macro shooter.
The selfie snapper is tipped to be a 16MP sensor, albeit from Samsung, not Sony, as is the case on the 10R.
OnePlus 10RT (CPH2413) Camera Specs

✓Rear

– 50MP (Sony IMX766), OIS, (f/1.88) (84.4°)
– 8MP Ultra-wide (ƒ/2.25) (119.7°)
– 2MP Macro (f/2.4) (88.8°)

✓Front

16MP (Samsung S5K3P9) (f/2.45) (82.3°), EIS
There's no word on when OnePlus would launch the 10RT. If the company sticks to its previous timeline, we may see the device in October. The device could also be available in select markets, just like its predecessor and the OnePlus 10R. That means it might not launch in the US.
For now, OnePlus's next big launch is shaping up to be the OnePlus 10T. Although, the device might end up being called the OnePlus 10. There's also talk of a OnePlus 10 Ultra on the horizon. Of course, we don't have confirmation about any of this since all the information about the possible OnePlus 10 series variants is based on leaks.