Magic Keyboard for iPad Pro gets early hands-on treatment – GSMArena.com news – GSMArena.com
A month ago, Apple announced the Magic Keyboard for iPad Pro alongside the updated iPad Pro models. The keyboard was initially slated to go on sale in May but last week Apple announced that the keyboard will be available for purchase starting April 15, with orders arriving this week.
Since we haven't seen this keyboard in action outside of Apple's press material, it was interesting to see how it looks and works in the real world. Luckily, professional photographer, YouTuber and podcaster Tyler Stalman got his hands on a unit and uploaded his initial impressions and unboxing video on his channel.
[embedded content]
At first glance, this is pretty much what Apple promised. It's a full-sized keyboard for the iPad with a trackpad built-in that also doubles as a case. The keyboard part of it seems to have been handled well, with a comfortable key size and good travel, unlike the Smart Keyboard for the iPad. The keys are also backlit, which is always welcome.
The trackpad is relatively small but is really the main attraction here as it reduces the need to reach out and touch the screen. It is a multi-touch surface with full gesture support and it's a physically actuating surface, unlike the capacitive haptic panels on the MacBooks.
The keyboard also has a USB-C connector on the side for charging, which frees up the USB-C port on the iPad Pro for connecting accessories.
The most interesting thing about this keyboard is the tilt angle. By the looks of it, it really doesn't tilt further back than what you see in the official images. This is likely done to ensure the tablet doesn't fall back when on your lap but some might find limiting. It's definitely something you will need to try before buying if that's the sort of thing that bothers you.
But by far the biggest issue is the price. At $299/$349, the Magic Keyboard remains a ridiculously expensive accessory for an already expensive tablet. For iPad power users, and there are a few at this point, this might be a no-brainer but for the rest of us a standard keyboard case and a Bluetooth mouse might be the better option.
Oppo confirms a smart TV is on the roadmap as it celebrates 1 year of 5G in China – GSMArena.com news – GSMArena.com
Oppo has been rumored to be developing a smart TV at least since Christmas and we now have some concrete proof of those plans. On its official Weibo page, the company published an infographic celebrating 1 year of commercial 5G efforts in China. We thought that it was 1 November last year when that kicked off, but Oppo may have something else in mind and even so that little discrepancy is beside the point.
Down at the very bottom of the rather long image, there's a stylized depiction of a TV in a grid of pictured existing products.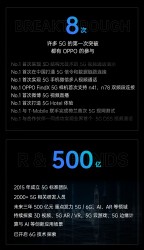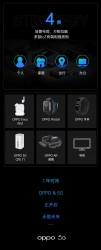 Oppo infographic chopped into more easily digestible pieces, TV in last image
Sister company Realme recently released a couple of smart TVs in India powered by Android TV and featuring Google Assistant. Priced very competitively, they could be a soak test before Oppo's own foray into the field.
Oppo unveiled a set of truly wireless earphones, the Enco W51 the other day. Alongside them, the Oppo Band made a debut as well. Both of these devices are featured there in the infographic next to the TV's placeholder, but the TV itself is yet to make an appearance.
Meanwhile, Nokia of all companies launched a smart TV as well, two days ago too. Apparently, smartphone companies can't afford to not be making TVs anymore.
Head-To-Head: Samsung Galaxy S20 Plus Vs. Apple iPhone 11 Pro Max – CRN: Technology news for channel partners and solution providers
Face Off
To see just how far smartphone features and specs have come in 2020, look no further than two of the latest phones from Apple and its top Android rival, Samsung.
We're talking about Samsung's Galaxy S20 Plus, which launched in March, and Apple's iPhone 11 Pro Max, originally released last fall.
With amazing displays, cameras and performance capabilities, both phones have a lot to offer even the most-demanding users out there.
But which of the two devices is the better fit for you? In the following slides, we compare the Samsung Galaxy S20 Plus vs Apple's iPhone 11 Pro Max on specs and price.
This is the best video game bundle ever – Polygon
The Bundle for Racial Justice and Equality at itch.io is the best video game bundle we've ever seen. That isn't hyperbole. For a minimum of $5 donation you get over "740 works," including some of our favorite games. But what makes the bundle truly special is the purpose: proceeds will be split 50/50 between the NAACP Legal Defense and Educational Fund and Community Bail Fund.
You can donate however much you'd like (naturally, we encourage more than $5 if you have the means) to get games like Oxenfree, Overland, Art Sqool, Wide Ocean Big Jacket, Quadrilateral Cowboy, Gunhouse, and Fortune-499.
These aren't just good games; they're exceptional.
The bundle also includes A Short Hike, one of our top 10 games of 2019, and A Mortician's Tale, one of my favorite games of 2018, which taught me about eco-friendly mortuary services. That one game alone is worth the donation!
Seriously, do not miss this chance to play hundreds of games from some of the most talented independent creators while supporting a vital cause. And once you've grabbed the bundle, read our guide on how to support Black Lives Matter and the protests against police brutality.