Most employers screening jobseekers on social media – The Sarnia Journal
Troy Shantz
That clever political rant you posted on Facebook could stop you from getting a job, a local employment expert says.
Seven in 10 hiring managers say assessing a social media profile is an effective way to screen for the job, a new Harris Poll commissioned by Express Employment Professionals found.
What's more, over half of managers say they have rejected job applicants because of what they found in their online posts.
"Remember, that even outside of work you represent your company," said Bruce Hein, owner of the Sarnia Express office. "Inappropriate posts have caused employees to be disciplined by their employer, and even terminated."
In the poll, 77% of hiring decision makers said job seekers should maintain a "work appropriate" social media presence.
That means toning down political rants and not posting racy or drunken images from last night's party, Hein said.
"While social media is meant to be a fun place to connect with our family, friends, and community, a wise rule is not to post content you wouldn't want your boss or coworkers to see."
Most social media apps allow users to select who can and can't see certain content.
"If you're going to rant, rant to your private network," he said. "If it's at all controversial, don't do it. It could come back to bite you."
On the other hand, a professional social media presence can actually help jobseekers, he added. About a quarter of hiring managers say they likely wouldn't hire someone who's not on social media, the poll found.
"While it might be expected for a sales or marketing professional to have a LinkedIn profile, there is nothing wrong with choosing to stay off of social media," Hein added. "If anything, employers might appreciate knowing that their new hire won't be wasting time at work scrolling through their news feed."
Toronto, Vancouver Island protests shine spotlight on media access – Peace Arch News – Peace Arch News
Police and politicians' efforts to limit public access to recent events in Toronto and Vancouver Island have cast a spotlight on the role of journalists and spurred concerns over freedom of the press.
The decision by authorities in Toronto to fence off public parks last month as municipal staff and police cleared homeless encampments sparked backlash from media outlets and advocates, who have petitioned the city to allow reporters on site during the operations.
The push for media access in Toronto came on the heels of a court decision that ordered RCMP in British Columbia to allow reporters entry to blockades in Fairy Creek, where demonstrators have been protesting old-growth logging. The judge in that case, which was launched after journalists reported being blocked from the site, found police should only restrict access if there is an operational or safety concern.
In Toronto, the city has moved to dismantle several homeless encampments — which emerged during the pandemic as many avoided shelters over fears of COVID-19 — sparking protests and confrontations that have at times erupted into violence.
The Canadian Association of Journalists called the move to bar reporters from Toronto parks during the clearing of the camps "disappointing to witness and wholly unacceptable," and stressed media rights are enshrined in law.
"Stop arresting or threatening reporters for no good reason. That's a red line that cannot be crossed," Brent Jolly, the association's president, said in an email.
Tensions boiled over at Lamport Stadium Park two weeks ago after a large crowd refused to leave the site that authorities had fenced in. Multiple scuffles broke out and police were seen pushing those who didn't comply. By the end of the day, police said 26 people were arrested and charged with offences that included assault with a weapon, assaulting a peace officer and trespassing.
A day earlier, an encampment at Alexandra Park was cleared by city staff and police after a fence was put up. That operation also saw several people arrested, including a photojournalist with The Canadian Press who was escorted out of the closed-off area in handcuffs. He was issued a notice of trespass, which doesn't carry a charge but bars him from returning to the site for 90 days.
A spokesman for the city said staff closed off the parks during the clearings and prevented anyone from going in, "not just media," in order to speak to those living in the encampment, as well as remove tents and debris.
"We understand and appreciate the concerns raised by the media and the role they have in bearing witness and documenting city operations," Brad Ross said in a statement.
He said the city arranged pooled media coverage for the Lamport Stadium operation, which typically allows select members of the media access to an event so they can later share the material they gather with others.
"The pool arrangement was designed to allow media to see the city's actions, while ensuring the safety of all, as well as addressing the sensitivity around privacy," Ross said.
The CAJ's Jolly said, however, that the pool coverage the city set up for the encampment clearing was "inadequate" because it restricted the ability for journalists to "freely cover" evictions taking place in a public park.
"Attempting to control the work of journalists while they are doing their job is entirely inappropriate," he said, adding that a pool arrangement is generally used when there is limited space for press.
"The work journalists do is both professional and conducted in service to the public and any attempts to short-circuit that work is wholly incompatible with the long-standing tradition of a free press in Canada."
Carissima Mathen, a common law professor with the University of Ottawa, said mounting an effective legal challenge to get access to "relatively short-term" events is difficult because it likely won't be possible to get an injunction in time.
"It's possible that you could try and make the case right after the fact to get some kind of declaration, but it's usually not very practical," she said.
Mathen said it is important to consider questions like how far from a fence police and city staff are when they're carrying out their operations, whether reporters can speak with people as they come out, and how long barricades will stay up.
In the case of Fairy Creek, since it had been happening for weeks, those journalists were able to get an injunction to stop the RCMP from barring them from entering the blockades, Mathen said.
Five Toronto councillors who wrote to the city's mayor last month denouncing the "extreme show of force" during the clearing of encampments said any obstruction of media access to the operations is "undemocratic and unconstitutional."
—The Canadian Press
Baltimore flutist fired months after social media rebuke – Alaska Highway News

BALTIMORE (AP) — The Baltimore Symphony Orchestra has fired its principal flutist, months after distancing itself from her social media posts that questioned the safety of the coronavirus vaccines, the efficacy of face masks and the outcome of the 2020 presidential election.
The orchestra offered only the broadest outline of their decision to dismiss Emily Skala, but their statement suggests there were multiple violations of multiple policies. Leaked workplace emails from Skala also had come under scrutiny.
BSO President and CEO Peter Kjome said the musician was fired under the progressive discipline policy agreed to with the Musicians' Association of Metropolitan Baltimore.
"Ms. Skala has had discipline imposed upon her over these past few months for violating several policies; unfortunately, she has repeated the conduct for which she had been previously disciplined, and dismissal was the necessary and appropriate reaction to this behavior," the BSO statement said.
The firing comes roughly six months after the orchestra publicly rebuked her for controversial social media posts. She'd been suspended from work duties and was notified by phone Tuesday that she had lost her job. The 33-year-veteran of Baltimore's symphony has consulted with lawyers and is exploring her options.
When asked about her social media posts spreading misinformation about the safety of the coronavirus vaccine, she said: "I did all of this basically because I wanted to protect the orchestras of the country. I wanted as few people, as few musicians, to be lost."
In a Wednesday phone interview with The Associated Press, she also suggested work relationships between her and "younger members" of the BSO had worsened over the last year. She asserted that younger colleagues had spread "false allegations" against her and expressed being uncomfortable being on stage with her. She believes the BSO should have rebuked them.
"They (the BSO) cowered in the face of strong emotional reactions and they enabled the emotional reactions to dominate the workplace," she said
One incident that she believes led to her dismissal occurred July 23, when she went to Meyerhoff Symphony Hall to hand in a tax form. She declined to wear mask and had not had a COVID-19 test as is required by BSO. She attempted to open the door to hand her form to a security guard. Skala said symphony officials interpreted this as violating the terms of the suspension barring her from the building.
She asserted that the BSO violated her constitutional rights, including freedom of speech, and "committed several crimes against me."
Gautam Hans, a technology law and free speech expert at Vanderbilt University, said a quick review of the basic facts suggest that the BSO flutist likely had a record of noncompliance with company practices. He said the First Amendment generally applies to the government, not private entities, and businesses have a great amount of leeway in their decisions.
"Of course, there might be an issue about whether, as she claims, that record was scant or manufactured. But that's much more of a employment law question than a free speech one. I think employers have to be very careful about whether and how they police employees' speech, particularly outside of work. But it's not strictly a First Amendment question," Hans said in an email.
In February, symphony officials issued a statement saying they did not "condone or support" the views expressed in Skala's social media posts and added that her statements did not "reflect our core values or code of conduct grounded in humanity and respect."
Skala's firing was applauded by Melissa Wimbish, an opera and contemporary singer who publicly posted leaked emails that Skala had written to BSO players after an online meeting last year.
Critics said the content of Skala's emails were racist and antisemitic, which she denies.
Among other things, Skala wrote that BSO should not publicly support the Black Lives Matter movement because it would be excessively "political," adding that she thought it was a conspiracy led by top Democrats and supported by billionaire philanthropist George Soros.
"This behavior is especially harmful to our community, not to mention visiting artists, patrons, and students. As a Black woman who was hired by the BSO many times, it was painful to see the lack of action and care in addressing this matter. It opened my eyes to a side of the organization I didn't know existed," she told AP.
Wimbish, who is not a BSO member, said the symphony's decision to fire Skala is a good first step in making it a "more equitable place" for Baltimore, a majority-Black city.
David Mcfadden, The Associated Press
Tencent limits gaming for kids after official media critique – Alaska Highway News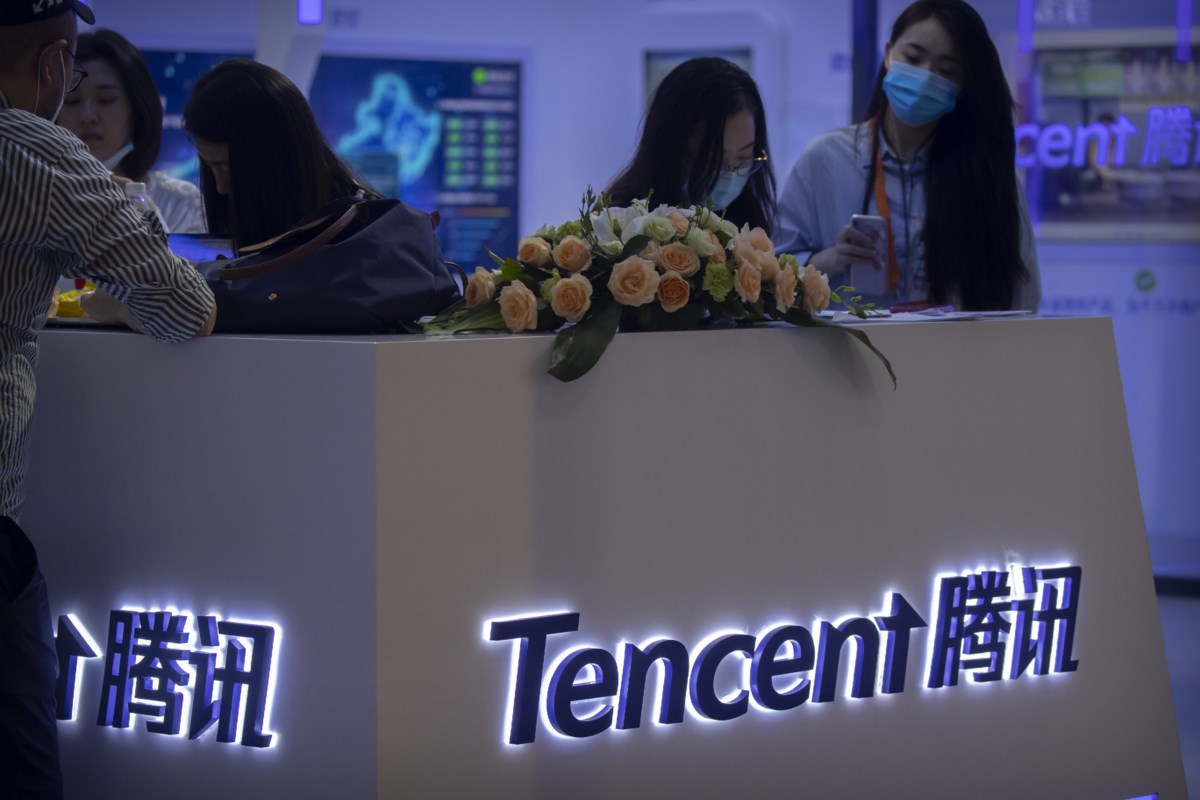 HONG KONG (AP) — China's biggest gaming company, Tencent Holdings, said Tuesday it will limit gaming time for minors and ban children under age 12 from making in-game purchases after a state media article called games "spiritual opium."
Tencent's pledge to curb gaming for minors came hours after the company's stock plunged as much as 11% following a critique published by the Economic Information Daily, a newspaper affiliated with China's official Xinhua News Agency.
The newspaper article named Tencent's wildly popular Honor of Kings game as one that minors were addicted to, and cited a student as saying that some played the game for eight hours a day. The online article was removed hours later.
"'Spiritual opium' has grown into an industry worth hundreds of billions," the newspaper said, adding that no industry should be allowed to develop in a manner that will "destroy a generation."
On Tuesday, Tencent said in a statement it will limit gaming time for minors to one hour a day, and two hours a day during holidays. Children under age 12 will also be prohibited from making purchases within the game, the company said.
Under Chinese law, users under age 18 can play online games for a maximum of one and a half hours a day, and three hours during holidays.
Tencent also called for the industry to control gaming time for minors and discuss the possibility of banning those younger than 12 from playing games.
It was not clear if Tencent issued the curbs in light of the article. The company did not immediately comment.
The critique of the gaming industry sparked a selloff of stocks in Chinese gaming companies including NetEase amid fears that the gaming industry could be the next to experience a clampdown.
Chinese authorities in recent months have targeted e-commerce and online education, implementing new regulations to curb anti-competitive behavior after years of rapid growth in the technology sector.
Last month, authorities banned companies that provide tutoring in core school subjects from turning a profit, wiping out billions in market value from online education companies such as TAL Education and Gaotu Techedu.
"Obviously there's great concern over policy uncertainty because this is not just about online education, there was also talk about data security and now, about mobile games," said Kenny Wen, wealth management strategist at Everbright Sun Hung Kai.
"So the future will be highly uncertain, it is difficult to give a fair valuation on these stocks and investors will take a wait-and-see approach and be relatively prudent in this sector as we don't know what will happen next."
Tencent's stock price closed down 6.11% at 446 Hong Kong dollars on Tuesday.
Zen Soo, The Associated Press