NBA Playoffs 2020: The Boston Celtics need Gordon Hayward now more than ever – NBA CA
The Boston Celtics could be up 2-0 in the Eastern Conference Finals just as easily as they are down 2-0.
Blowing double-digit leads in each of the first two games of the series, the Miami Heat have out-hustled the Celtics for 48 (and some change) minutes in back-to-back games to give themselves a commanding lead.
With Boston on the brink of the infamous 3-0 deficit that no NBA team has ever come back from, Game 3 becomes a must-win if the Celtics are going to continue their push for their first NBA Finals appearance since 2010.
There's been a common thread in Games 1 and 2 (aside from the double-digit comebacks) that have placed Boston in this situation: Miami's 2-3 zone defence. Our Scott Rafferty analyzed that issue in detail, and it's been a glaring weakness for Boston's offence all season.
But luckily for the Celtics, they still haven't used all the cards up their sleeve. They still have a weapon stored away that could present itself at any moment now, as former All-Star forward Gordon Hayward's return is on the horizon.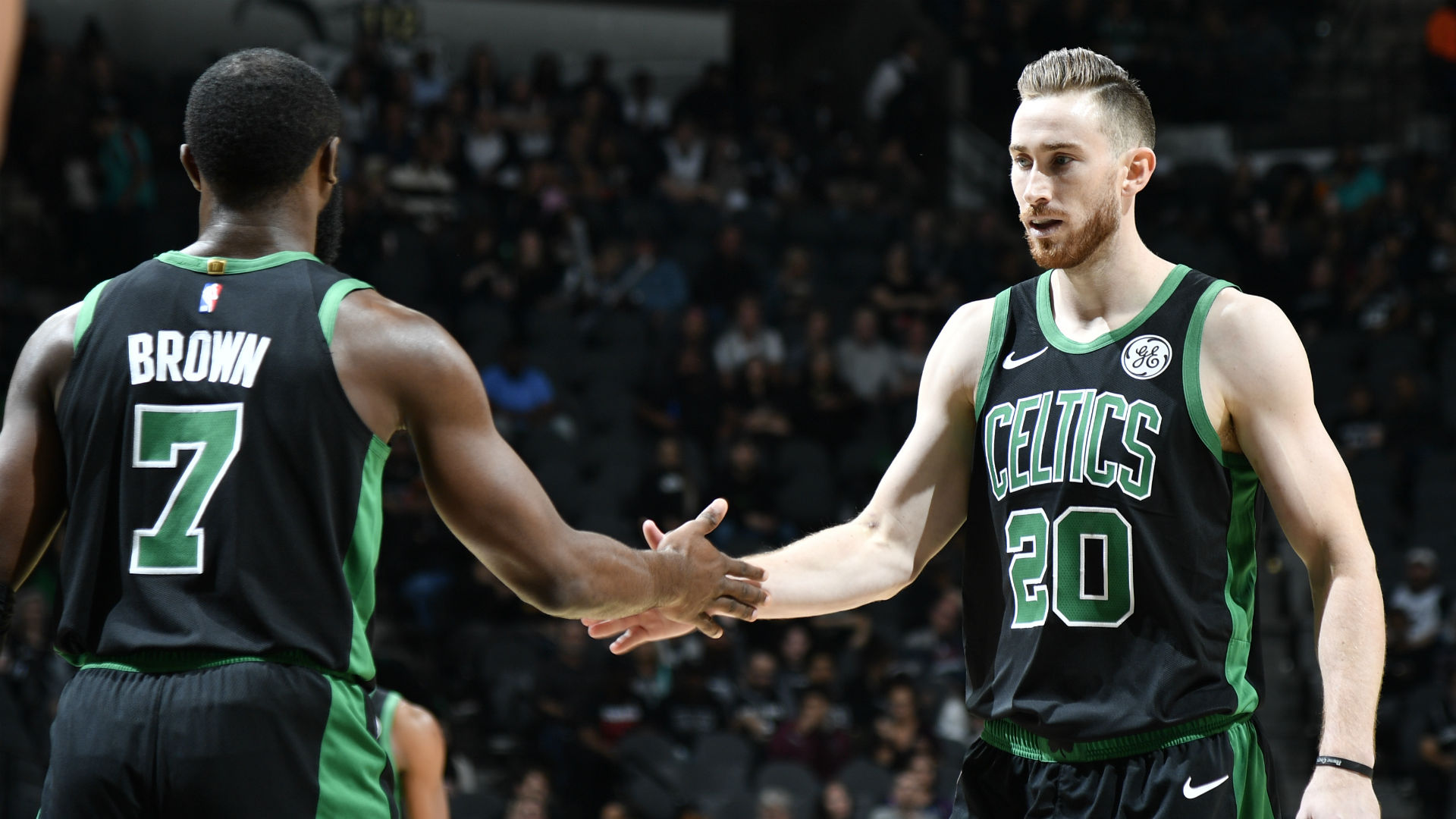 Hayward, who suffered an ankle injury in the Celtics' first game of the postseason and has been out since, was upgraded to "doubtful" before Game 2. While that wasn't much of an update, it showed he was getting closer to returning to the floor. The Athletic's Jared Weiss confirmed that following Thursday's loss, stating that Hayward is "progressing toward a return for Game 3," adding that he felt good after Wednesday's practice and will "get more on-court work Friday with the hope of playing Saturday."
On Friday, he was officially listed by the team as "questionable" for Game 3.
It will surely take some time for Hayward to get back into the flow of things after missing one month of action, but he immediately helps Boston take steps toward breaking that impenetrable zone defence.
His 19.0 points per game in the bubble speaks for itself, giving the Celtics an extra scoring threat that the Heat will have to worry about. He can shoot from the perimeter (converting 38.3% of his 3s this season), he's a solid slasher with the ball and cutter without the ball, and he's a strong midrange shooter, pairing well with sharp playmaking skills that should help dissect that zone.
Most importantly, Hayward loves working in the soft spot of the 2-3 zone (right at the foul line), which should give Miami's defence more trouble than its seen thus far.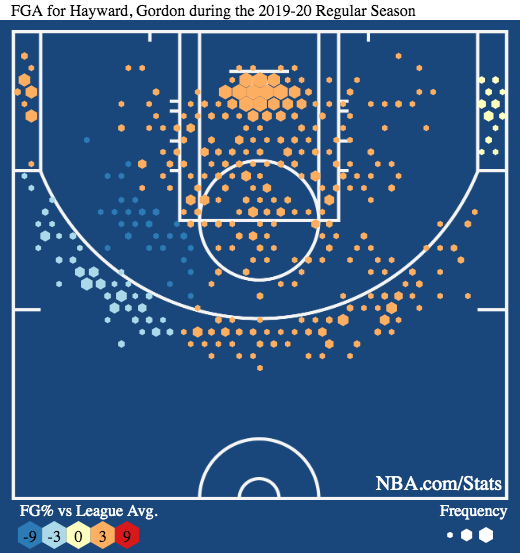 In Games 1 and 2, the Celtics elected to go with Marcus Smart or Daniel Theis to try and pierce the heart of that zone. Smart's passing makes him an OK option for that middle spot, but he's better off on the perimeter, where he's converting 42.1% of his 3s this series. The Heat will live with him or Theis taking that midrange pull-up, whereas it becomes a much more efficient source of offence for Boston with Hayward taking that shot.
According to NBA Stats, Hayward shot 49.3% on midrange jumpers and 43.4% on shots in the paint (non-restricted area) this season. Having him in the middle will prevent the zone's two defenders up top from expanding so far out, shrinking that long and athletic defence even just a tad bit more.
The Heat will be forced to collapse on Hayward, where he can showcase his playmaking ability to find open shooters on the perimeter. That makes Miami much more reliant on perfect and quick rotations to challenge Boston's 3-point shooters.
If the Heat's defenders don't collapse on him or the centre (typically Bam Adebayo) doesn't take a step up, Hayward will gladly take looks like the one below over and over again.
Even though he misses that particular jumper, it's a shot Miami is much less likely to live with compared to Smart or Theis pulling up from there. Even when Hayward attacks from the perimeter, he has no problem stopping short of that centre defender for little pull-up jumpers like this one against the Heat earlier this season:
The Celtics have been dependent on quick passes for (often contested) 3-pointers, which has also developed into bad decisions for live ball turnovers or long rebounds going the other way to spark Miami runs off of offensive droughts. Having someone that can hit shots like the ones above makes that zone defence much more vulnerable than it has been so far.
Hayward's return wouldn't just be a luxury for the Celtics, it's essential for them to keep their season alive in trying to even the series.
The Celtics need Gordon Hayward now more than ever if their title pursuit is going to continue.
The views on this page do not necessarily represent the views of the NBA or its clubs.
Steelers dominate early, hold off Titans win – TSN
NASHVILLE — The Pittsburgh Steelers stand alone as the AFC's last undefeated team thanks to a dominant start and a bit of late luck.
Ben Roethlisberger threw two touchdown passes to Diontae Johnson, and the Steelers remained perfect by holding off Tennessee for a 27-24 victory Sunday in a game postponed three weeks after the Titans came down with the NFL's first COVID-19 outbreak of the season.
In a matchup of the conference's two remaining unbeaten teams, the Titans rallied by scoring 17 straight after being smothered in the first half.
They failed to complete the comeback when Stephen Gostkowski, who made a 51-yarder earlier, missed wide right from 45 yards with 14 seconds left, sending the Steelers running around the field in celebration and stunning the Titans (5-1). Even Roethlisberger appeared shocked the four-time Pro Bowl kicker missed.
"Oh, man. I mean, I was surprised he missed it," Steelers wide receiver JuJu Smith-Schuster said. "Our idea was to go into overtime. A good kicker. It's tough. It's good for us."
The Steelers improved to 6-0 for their best start since 1978, when Pittsburgh won its first seven on the way to the Super Bowl. This was just the fifth time undefeated teams had met in Week 7 or later, and the winner of the previous four all made the Super Bowl.
"We feel we have a really good football team," Roethlisberger said. "We feel we can be really special … That's going to be a short-lived happiness because we know what's coming next."
What comes next? A matchup with the rival Ravens.
"We are perfect from a record standpoint, and so we respect that," Pittsburgh coach Mike Tomlin said. "We realize that we've got AFC North ball on next week on the road. We're going to a group that has seven days' advantage on us, so there's a lot for us to be urgent about."
Benny Snell Jr. added a 1-yard TD run, and Ray-Ray McCloud set up a touchdown with a 57-yard punt return. Pittsburgh scored at least 26 points for a sixth straight game to tie a stretch in 2015 for the longest in franchise history.
The Steelers were without cornerback Mike Hilton, one of their best blitzers, not that the NFL's No. 2 defence in both yards and points allowed missed him much. Pittsburgh outgained Tennessee 362-292 and held the NFL's second-best scoring offence under 31 points for the first time since the opening week of the season.
But the Titans had won four of their first five by rallying in the final two minutes of regulation or overtime, and they appeared ready to add another.
Ryan Tannehill hit A.J. Brown on a short pass that the receiver took to the end zone for a 73-yard TD in the third quarter. Jayon Brown picked off a batted pass, setting up Gostkowski. Then Derrick Henry capped a 12-play drive with a 1-yard TD with 10:13 left to set up the late drama.
The Titans had the chance for another late win after Amani Hooker intercepted Roethlisberger's pass to Smith-Schuster in the back of the end zone with 2:35 left. It was Roethlisberger's third of the game, which Tennessee turned into only a field goal.
Gostkowski had won the first three games this season for Tennessee with late field goals.
"It was a gut punch to see that kick go wide right," Tannehill said. "Had a ton of confidence going out there that Stephen was going to nail that kick. Unfortunately, obviously, it was a little bit wide."
Gostkowski said the kick was headed down the middle until it faded right late.
"Just very disappointed to let the team down like that," Gostkowski said. "I was confident going out there but didn't get it done."
Pittsburgh dominated early with a 161-1 edge in total offence before the Titans' second offensive possession. The Steelers led 24-7 at halftime.
Roethlisberger and the Steelers scored a touchdown on their opening drive for the first time in 23 games, going 75 yards over 16 plays. Roethlisberger had his 1-yard TD pass to James Conner wiped out by penalty so he hit Johnson for an 11-yard TD and a 7-0 lead.
Snell Jr. capped the Steelers' second drive for a 14-0 lead.
INJURIES
Steelers defensive end Chris Wormley was hurt early in the fourth. Johnson went to the sideline after a key third-down catch late in the game with what he called a bruised ankle. He missed last week's game with a back injury.
Titans outside linebacker Jadeveon Clowney hurt his left knee early in the third quarter but returned. Titans cornerback Kristian Fulton hurt a knee late in the first half.
SACK STREAK
Pittsburgh came in with an NFL-high 24 sacks and had two more, extending its streak to 63 straight games with at least one sack. That's the longest active streak in the league and second-longest in NFL history — Tampa Bay went 69 straight games with at least one sack from Oct. 10, 1999, to Nov. 9, 2003. But they did snap a streak of six straight games with at least three or more sacks that dated to the 2019 season finale and had tied for longest in franchise history.
THIRD-DOWN WOES
The Titans came in with the NFL's worst defence on third down, and they allowed Pittsburgh to convert their first seven. The Steelers finished 13 of 18 for a 72% conversion rate.
UP NEXT
Steelers: Visit Baltimore in a game rescheduled because of the Titans' outbreak with the Ravens coming off their bye.
Titans: Visit Cincinnati in their first road game since Sept. 27.
__
Follow Teresa M. Walker at https://twitter.com/TeresaMWalker
___
More AP NFL: https://apnews.com/NFL and https://twitter.com/AP_NFL
Lions stun Falcons 23-22 after letting Atlanta score late TD – TSN
ATLANTA — Todd Gurley saw a tantalizing path to the end zone and couldn't help himself.
He tried to fall down, but it was too late.
Gurley landed on the goal line for a touchdown that, as it turned out, led to another stunning loss for the Atlanta Falcons.
Detroit let Gurley score with just over a minute remaining to get the ball back, giving Matthew Stafford enough time to drive the Lions to the winning TD as time expired Sunday.
Stafford connected with T.J. Hockenson on an ad-libbed, 11-yard scoring pass and Matt Prater, pushed back by an unsportsmanlike conduct penalty, nailed a 48-yard extra point kick to give the Lions a 23-22 victory.
"Just an amazing game," Detroit coach Matt Patricia said. "Unreal."
All too real for the Falcons (1-6), who fired coach Dan Quinn on the heels of becoming the first team in NFL history to lose back-to-back games after leading by at least 15 points in the fourth quarter.
This one only added to the misery.
"Usually you have one or two of those games," Gurley said. "Not multiple games."
Trailing 16-14, the Falcons were positioned to run down the clock and kick a chip-shot field goal for the win when they picked up a first down at the Lions 10 with just over a minute remaining.
Detroit had used up all its timeouts on the drive, so there was no further way to stop the clock. Knowing their only chance was to allow a quick TD, the Lions made no attempt to stop Gurley after he took a handoff from Matt Ryan.
"It was great situational defence awareness right there," Patricia said, going on to praise his defensive players for NOT doing what is normally their job.
Gurley burst through an intentionally gaping hole, with only one defensive player, safety Will Harris, even putting a hand on the runner. Gurley realized what the Lions were doing and tried to fall over, but he landed on the goal line with his ball-carrying hand.
The Lions (3-3) held up their hands to celebrate a touchdown.
By the other team.
"I thought it was perfect," Patricia said. "Give the players credit. They executed it great. It was a great job by them."
Gurley knew he had messed up.
"I was mad as hell," he said. "I was trying not to (score), but my momentum took me in. It's kind of crazy."
The Falcons converted a 2-point conversion to make it 22-16, but the Lions still had a chance — especially with a quarterback like Stafford who has led so many comebacks in his career.
"I had my helmet on, thinking the game was probably going to be over," Stafford said. "They let them score and gave us another chance."
He drove his team 75 yards in eight lightning-quick plays, connecting with Hockenson on a 13-yard pass, Danny Amendola for 22 yards and Kenny Golladay for a 29-yard gain to the Falcons 11. The game was briefly halted to allow the replay booth official to take a look at Golladay's catch, which the Falcons argued had been trapped against the turf.
But the call was upheld and the Lions lined up quickly, spiking the ball with 2 seconds left to set up the final play. Stafford was pressured in the pocket, rolled to his left and spotted Hockenson breaking free across the end zone.
Touchdown, Lions, who have won two straight games for the first time since early in the 2019 season.
"Hock did a nice job of kind of getting lost," Stafford said. "I was able to find him."
Adding one last bit of drama to a bizarre final quarter, Detroit was penalized 15 yards for its raucous celebration. That backed up the extra-point attempt to the 30-yard line, but Prater knocked it through to win the game.
Stafford finished 25 of 36 for 340 yards. Golladay had six catches for 114 yards.
Ryan was 31 of 42 for 338 yards and a touchdown, while Gurley ran for a pair of touchdowns.
He'd love to have that second one back.
"My job is just going down," Gurley said. "I'm taking all the responsibility."
MATTY COMEBACK
Stafford has now led 30 fourth-quarter comebacks and 36 game-winning drives in his career.
He also became the second player in the Super Bowl era to throw two game-winning touchdown passes with no time on the clock.
The other was Tim Couch.
"I love this game. I love competing," Stafford said. "There's no more competitive, pressure-packed situation than … no time left."
INJURY REPORT
Falcons WR Russell Gage appeared to be seriously injured when Detroit's linebacker Reggie Ragland pinned his left leg making a tackle on a short pass play in the first quarter. Gage had to be helped off the field with a knee injury, but he was able to return to the game in the second half.
UP NEXT
Lions: Will be seeking their first win of the year at Ford Field when they host the Indianapolis Colts next Sunday. Detroit is 0-2 at home.
Falcons: Face a short turnaround heading into Thursday night's game at Carolina. Atlanta lost to the Panthers 23-16 when the NFC South rivals played at Mercedes-Benz Stadium on Oct. 11.
___
Follow Paul Newberry on Twitter at https://twitter.com/pnewberry1963 and find his work at https://apnews.com/search/paulnewberry
___
More AP NFL: https://apnews.com/NFL and https://twitter.com/AP_NFL
Brady's 4 TD passes lead Bucs past Raiders – TSN
LAS VEGAS — Tom Brady dropped back and lofted a pass that just got over the defender's arms and fell into Scotty Miller's hands right before he reached the sideline for a 33-yard TD pass.
The 43-year-old Brady is getting back to his Super Bowl-winning form following an early season adjustment to his new team in Tampa Bay.
Brady threw four touchdown passes to move past Drew Brees for the most in NFL history and ran for another to lead the Tampa Bay Buccaneers to a 45-20 win over the Las Vegas Raiders on Sunday.
"We're 5-2, in a decent place, not quite at the halfway point in the year," Brady said. "We've got a lot of football left. We're going to need everybody, and we're going to need everybody's best. And we're going to expect everybody's best and we're going to try to meet the challenge every week."
Brady finished 33 for 45 for 369 yards, while also running for Tampa Bay's first score on a 1-yard sneak in the first quarter.
He now has 15 TD passes and one interception the past four games as he has found his rhythm with his new team.
"I think it's knowing the guys better, knowing the system better, everything that we change each week," coach Bruce Arians said. "There's such good communication of what we're trying to get done, where the ball should be going versus each coverage. It's just total growth in the offence."
Brady connected with Rob Gronkowski in the second quarter and then delivered his best pass of the day to Miller in the final minute of the first half. He then helped seal the game with the throw to Chris Godwin that put the Bucs up 31-20 over the Raiders (3-3) midway through the fourth quarter.
Brady added a fourth to rookie Tyler Johnson with 3:08 to play to give him 559 in his career, passing Brees for the most ever. Brees threw two earlier in the day for New Orleans.
Now Brady could be getting even more help when Antonio Brown joins the team following next week's game.
"He's a tremendous football player," Brady said. "I played with him for a brief period of time. I'm looking forward to working with him again and see what role he can come in (and play)."
The 4-yard pass to Godwin was part of a key stretch when it appeared the Raiders were in position for a comeback after cutting the deficit to 24-17 on Derek Carr's second TD pass of the game.
The Raiders then got a stop and were driving for the potential tying score before coming up 1 yard short of a first down on a third-and-4 pass to Darren Waller. Coach Jon Gruden opted for a field goal to make it 24-20.
Brady then engineered another TD drive to make it an 11-point game and the Bucs (5-2) put it away when Carr threw an interception on Las Vegas' next play to set up Ronald Jones' 1-yard run.
Carr went 24 for 36 for 284 yards, two TDs and one interception as the Raiders were unable to build on a big win at Kansas City before the bye after being without their starting offensive line all week in practice.
Starting right tackle Trent Brown tested positive for COVID-19 and four other starting linemen were sent home Wednesday because they had "high-risk" contact with Brown and didn't rejoin the team until Sunday morning.
"I'm not going to use any excuses, we can't," Carr said. "We're in a production-oriented business. The miscommunication, absolutely, it took place. It's a game of practice, it really is. You got to be available, not just for Sundays, you got to be available all throughout the week cause there's so much information that goes into it."
EJECTED
The Raiders lost guard Gabe Jackson to an ejection in the third quarter after Carr's 1-yard TD pass to Waller that cut Tampa Bay's lead to 24-17. The officials determined that Jackson stepped on an opponent's shoulder during a scrum after the play and he was ejected.
FAVORITE TARGET I
Carr looked for his favourite target on the opening drive, connecting on a 28-yard pass to Agholor and then a 21-yard TD. That made Carr 12 for 13 for 234 yards and four TDs with a perfect 158.3 passer rating when throwing to Agholor. It also gave the Raiders their first opening drive TD since Week 16 of last season vs. the Chargers.
FavourITE TARGET II
Brady connected with Gronkowski for the second straight week with a 5-yard TD pass in the second quarter. That's the 92nd time those two teamed up on a TD pass in the regular season or playoffs, tying the duo of Steve Young and Jerry Rice for the second most ever. Only Peyton Manning and Marvin Harrison have more with 114.
INJURY REPORT
Buccaneers: CB Carlton Davis left in the second half with a chest injury, but returned to the game.
Raiders: T Sam Young left with a knee injury in the second quarter and didn't return.
UP NEXT
Buccaneers: Visit the Giants on Monday, Nov. 2
Raiders: Visit Cleveland on Sunday.
___
More AP NFL: https://apnews.com/NFL and https://twitter.com/AP_NFL