No shortage of ideas in Newmarket on how feds can restart the economy – NewmarketToday.ca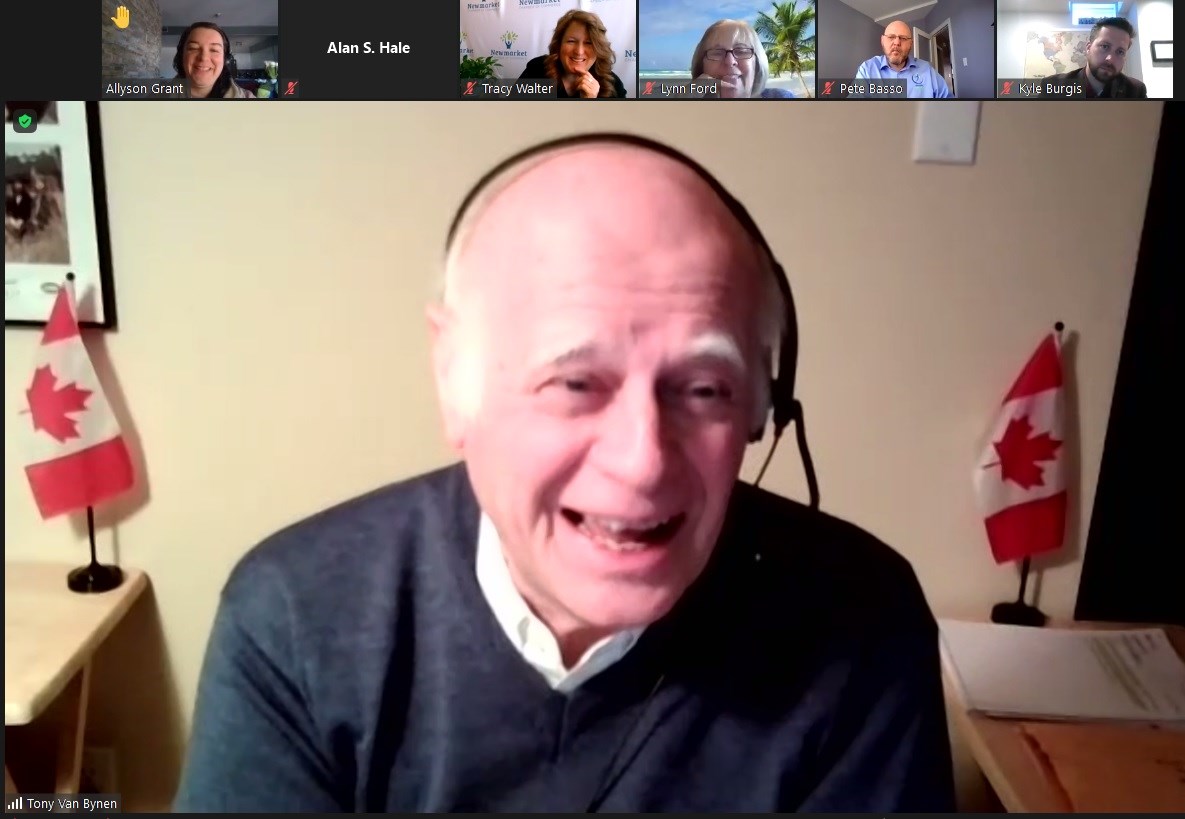 Newmarket's business community told local MP Tony Van Bynen they want the federal government to address a wide range of issues to reignite the economy after the COVID1-9 pandemic — everything from reshoring manufacturing to tax credits for gym memberships.
Van Bynen hosted a consultation meeting with the Newmarket Chamber of Commerce today, Feb. 11, to gather suggestions for what should be included in the upcoming federal budget, which he said will be focused on rebuilding a better post-pandemic economy.
Chamber members had no shortage of ideas for the Newmarket-Aurora MP to relay back to his government later this month.
"My deepest wish is that we could have this level of discussion and quality of dialogue during question period in the House of Commons," said Van Bynen after the discussion.
Scale back benefits to get people back to work
Chamber member Michael Smith said he wants to see more qualifiers placed on Canadian Emergency Response Benefit, although that program has ended and has been replaced with more generous unemployment insurance benefits. He believes the program gave too many people the option of not working.
"I have pointed out a couple of examples of part-time kids in high school making $2,000 a month and can't be bothered to go back to work in Tim Hortons, which is owned by local residents," said Smith.
Smith also argued that whatever money is put toward creating more jobs should be focused on private-sector jobs, not the public sector.
Van Bynen said the government had felt it was better to be too generous at the start of the pandemic than risk not providing enough support and causing the economy to "got into a tailspin."
Concern about increased taxes from pandemic spending
Michael Croxon, CEO of Newroads Automotive Group, expressed his concern about how the amount of government spending during the pandemic and whether paying off the debt racked up over the past year will require increased taxes.
Van Bynen said that the cost of servicing the debt is manageable at one per cent of GDP, compared to the six per cent it cost in the 1990s. With that in mind, he said, the government believes focusing on the creation of a growing economy again will be the best move in the long run.
Create a tax credit for capital investments
Matthew Waddington of CPG Aerospace suggested an aggressive tax credit for capital investments would be a good way to help restart the economy.
"A significant portion of businesses are in one of two situations: they are either in survival mode or creating an exit strategy. Both of these situations lead businesses to reevaluate their level of investment (in their own operations). When uncertainty occurs, spending is reduced," said Waddington.
When companies spend less on improvements, other businesses who provide things like new equipment see their revenues fall. Waddington is concerned that this creates a domino effect that makes the problem worse until something is done to convince companies to start investing again. A "very aggressive tax credit" on capital investments, he said, could do help do that.
"Something in the range of 10 to 20 per cent would be a pretty small carrot when what we need is a real kick in the caboose," he said.
"If you need to buy a truck and you can get a 50 per cent tax credit for the next year, then not pushing that purchase off would be the fiscally responsible move."
He also noted this could be a good way to get businesses to purchase more environmentally sustainable equipment, which jives with the government's goal of growing back a greener economy.
Support for green businesses
Pete Basso of Demand Renewables said the federal government could also further that goal by assisting green businesses such as his. He would be interested in having the federal government create a grant program similar to the Green Ontario Fund. This program provided grants and rebates for energy-efficient improvements to homes but was cancelled by the Ford government in 2018.
"We are pushing for some assistance for the green industry to level the playing field because we are operating at a significant disadvantage to the traditional hydro companies," said Basso.
Van Bynen said that the federal Environment Minister has already taken notice of the Newmarket Energy Efficiency Retrofit Program, and it could be a model to follow.
"It has a huge business case, and the Town of Newmarket has been able to define the environmental benefits of that program very clearly," said Van Bynen.
"It's an example of how we can pursue a green economy."
Attract companies to reshore manufacturing
Another idea for a tax credit was pitched by Lynn Ford from the Celestica electronics testing lab in Newmarket. She argued the government needs to provide an incentive for manufacturing companies to bring their operations back to Canada after decades of seeing such operations moved offshore.
Ford said the pandemic has laid bare how a lack of domestic manufacturing has left Canada unprepared to be self-sustainable. She told Van Bynen that a tax credit could be used to convince companies to move back to Canada. She said that particular focus should be on convincing pharmaceutical companies to set up vaccine manufacturing facilities, ideally in small communities.
Simplify the tax code
Chamber member George Puccia argued now was the time to appoint a royal commission to go over the federal tax code and simplify it and help get the government out of the way of business.
"No one likes significant tax changes unless it benefits them directly. But given that the apple cart has already been overturned and possibly thrown off a cliff, what better time would there be to take a better approach," said Puccia.
"I can't think of anything that would work better to incentivize growth than tax simplification."
Tax credits to encourage fitness and education
Karate-Do & Fitness Centre owner Brad Jones asked for help for the fitness industry, which he said has been "gutted" by the pandemic.
"Two-thirds of the industry is gone, permanently. And I am in survival mode myself. If it wasn't for a federal loan and some provincial grants, I wouldn't be able to survive either," said Jones.
The martial arts instructor suggested that the federal government issue tax credits for people who sign up for gym memberships or sports programs. That would help the industry and help get people active again after so long being stuck inside.
John Wager Scholars Education Centre made a similar argument about education and tutoring programs. This past year has had a noticeable impact on the education of the students he sees, and making tutoring more affordable will help get kids back on the right track.
Residents who wish to share their ideas for the federal budget are invited to contact Van Bynen's office, or to fill out a questionnaire at LetsTalkBudget2021.ca. Deadline for feedback is Feb. 19
US adds a strong 379,000 jobs in hopeful sign for economy – Investment Executive
The pickup in hiring lowered the unemployment rate from 6.3% to 6.2%, the Labor Department said Friday in its monthly jobs report. That is down dramatically from the 14.8% jobless rate of April of last year, just after the virus erupted in the United States. But it's well above the pre-pandemic unemployment rate of 3.5%.
Stock prices surged on the news of solid job growth, a day after Wall Street suffered deep losses on fears that inflation and interest rates could soon be headed higher.
One year after the pandemic triggered a violent recession, economists are increasingly optimistic that hiring will accelerate in the coming months as Americans seize the opportunity to once again travel, shop, attend sporting events and visit movie theatres and restaurants. Households as a whole have accumulated a huge pile of savings after having slashed spending on those services. Much of that money is expected to be spent once most people feel comfortable about going out.
Friday's report showed that the nation's job growth is still being driven by a steady recovery of bars, restaurants and other leisure and hospitality establishments. Bars and restaurants, in particular, snapped back last month, adding 286,000 jobs as business restrictions eased in California and other states. That trend will likely continue as Texas this week joined some other states in announcing that it would fully reopen its economy with no restrictions.
Also hiring last month were retailers, which added 41,000 jobs, health care companies with 46,000 and manufacturers with 21,000. On the other hand, construction companies shed 61,000 jobs, likely in part because of the severe storms and power outages in Texas.
Friday's strong jobs report, by suggesting that the economy is on the mend, could complicate President Joe Biden's push for his $1.9 trillion economic rescue package, which is being considered by the Senate after winning approval in the House. The Biden package would provide, among other things, $1,400 checks to most adults, an additional $400 in weekly unemployment aid and another round of aid to small businesses.
One discouraging note in the February data is that last month's net job growth came entirely from people who reported that their layoffs had been temporary. By contrast, the number of people who said their jobs were permanently gone was largely unchanged compared with January. People who have permanently lost jobs typically face a tougher time finding new work. In many cases, their former employers have gone out of business.
With so much money being pumped into the economy, Oxford Economics forecasts that growth will reach 7% for all of 2021, which would be the fastest calendar-year expansion since 1984. The Congressional Budget Office projects that the nation will add a substantial 6.2 million jobs this year, though that wouldn't be nearly enough to restore employment to pre-pandemic levels.
Still, the size of the Biden relief package, coming as the economy is already showing improvement, has stoked fears that growth could overheat and accelerate inflation, sending borrowing costs up and possibly leading the Federal Reserve to jack up interest rates. Those fears have roiled financial markets for the past two weeks.
Fed Chair Jerome Powell sought to assuage those concerns on Thursday — without success, based on sharp selloffs in the stock and bond markets — when he suggested that any meaningful rise in inflation would likely prove temporary and that the Fed would be in no hurry to raise its benchmark short-term rate.
Nor did Powell offer any hint that the Fed would act to push back against a surge in the yield on the 10-year Treasury note, which has jumped from about 0.9% last year to 1.5% late Thursday. Still, Powell sounded some optimistic notes. Citing in part the increasing distribution and administering of coronavirus vaccines, he said, "There's good reason to expect job creation to pick up in the coming months."
Other recent economic reports have also suggested better times ahead. Americans sharply increased their spending at retail stores and restaurants in January, when the $600 relief checks were mostly distributed. Retail sales jumped 5.3%, after three months of declines.
Factory output also picked up that month, and demand for long-lasting goods, such as autos and aircraft, rose 3.4%, the government said last week.
Home sales have been on a tear for most of the past year, driven by low mortgage rates and the desire of many Americans for more space during the pandemic. A huge jump in the proportion of people working from home has also driven up sales, which were nearly 24% higher in January than a year earlier.
Canada's Ivey PMI climbs to six-month high as employment improves
TORONTO (Reuters) – Canadian economic activity grew in February at the fastest pace in six months as employment picked up, Ivey Purchasing Managers Index (PMI) data showed on Friday.
The seasonally adjusted index rose to 60.0 from 48.4 in January, its highest since August and the first time in three months it was above the 50 threshold indicating an increase in activity.
The Ivey PMI measures the month-to-month variation in economic activity as indicated by a panel of purchasing managers in the public and private sectors from across Canada.
Canada has grappled with a harsh second wave of infections in recent months, with populous Ontario and Quebec both imposing strict restrictions in December and January to contain the spread. Those are now being loosened.
The gauge of employment rose to a four-month high at an adjusted 54.0 from 41.5 in January, while the inventories index was at 57.8, up from 56.7.
Statistics Canada is due to release the February employment report next Friday.
The unadjusted PMI rose to 63.1 from 55.7.
(Reporting by Fergal Smith; Editing by Chizu Nomiyama)
The economy added 379,000 jobs in February as unemployment dropped slightly – The Washington Post
But economists said that while better than expected, the jobs report showed just how much work remains for the Biden administration and lawmakers around the country as the economy continues to climb out of the employment deficit left by the pandemic.
"Obviously it's great that job gains beat expectations and they are faster than pre-covid average monthly gain," said Julia Pollak, a labor economist at ZipRecruiter. "That being said, we're still in a very very deep hole, and these are not the numbers you would hope to see in a robust recovery."
Job growth would need to pick up significantly to regain the approximately 9.5 million jobs lost since last year. When estimates for how much the labor market would have grown in the previous economy are included, that hole is even larger, as many as 12 million jobs, according to some economists.
White House officials said the report underscored the need for the stimulus package, with Chief of Staff Ron Klain noting that at the current pace, it would take the economy until April 2023 to get back to the employment levels it had in February 2020.
"The rescue plan is absolutely essential to turning this around, getting kids back to school safely, giving a lifeline to small businesses and getting the upper hand in COVID," President Biden said Friday, noting that some 400,000 small businesses have shuttered during the pandemic. "All those empty storefronts are not just shattered dreams, they are warning lights going off in state and local budgets."
The gains in February were driven by large increases in the leisure and hospitality sector, which added 355,000 jobs, as coronavirus-related restrictions eased over the course of the month in many jurisdictions.
Of these jobs, about 286,000 came from restaurants, bars and other food service establishments. RSM chief economist Joseph Brusuelas noted that leisure and hospitality netted only 22,000 jobs when the gains were stacked up against losses from the previous months amid closures and surging coronavirus cases.
And employment in the sector still badly lags behind its pre-pandemic level: There are 3.5 million fewer jobs in the industry than there were one year ago.
Other sectors gaining jobs included temporary help services, which added 53,000 jobs, health care and social assistance, which added 46,000 positions, and retail, which added 41,000 jobs.
Clothing stores suffered, losing 20,000 jobs. Manufacturing ticked up by 21,000, while construction fell by 61,000, a decline that was probably driven in part by severe winter weather, the Bureau of Labor Statistics noted.
Government workers were hit hard, losing 37,000 jobs at the local level and 32,000 education workers at the state level, data that some said reflected the need for more aid to help shore up budget shortfalls related to the pandemic.
"We believe that it's a direct result of the fact that we were unable to get aid to states and cities and towns and schools," said Lee Saunders, president of the American Federation of State, County and Municipal Employees. "That's why we're continuing to fight and hopefully we get some money moving to those entities when the Senate acts. Its unconscionable that we're seeing these layoffs."
The $1.9 trillion aid package passed by the House includes $350 billion for state and local governments, an issue that faced major opposition from congressional Republicans during the last round of stimulus negotiations despite enjoying support from some state and local GOP officials.
Daniel Zhao, senior economist at Glassdoor, noted that the job growth in industries like leisure and hospitality was probably more about those sectors recovering from job loss in December and January, and less about regaining jobs lost earlier last year.
"Today's report is showing green shoots of the recovery poking out of the snow," said Zhao. "But the growth is a little bit weaker than headline numbers imply. … It's good that these businesses are recalling workers, but it points more to the fact that these businesses are crawling out of the hole from December, rather than the hole that opened up in April and May. It doesn't necessarily look like incremental growth."
Drew Matus, an economist and chief market strategist at MetLife Investment Management, said he was concerned that the average hours worked for all workers declined by about 18 minutes a week — hundreds of thousands of jobs' worth of hours when multiplied by the entire working population.
"The scale of the decline is quite big," he said. "This report tells me things are looking up if vaccine administration continues, but we're still not out of the woods yet."
Still, there are increasingly optimistic signs about the economy and the public health crisis that delivered such a shocking blow to it last year.
The rate of vaccinations is picking up across the country, with improved forecasts about the supply that will be available before June. Coronavirus cases, hospitalizations and deaths have come down significantly from their peak in January, though concerns remain about another upswing as new variants circulate and exhaustion grows after what will soon be more than a year's worth of preventive measures.
According to Census Bureau data, the share of businesses reporting a "large negative effect" from the pandemic reached its lowest level in the last two weeks of February, just under 30 percent, as did the percentage of businesses reporting that they had cut staff.
The share of businesses saying they added employees in February, about 5.5 percent, was almost double the rate over the last two reports, from the end of December into January.
Many economists are expecting the labor market to make much bigger gains once more aid is authorized in Washington and vaccinations reach a broader slice of the public.
"The report will neither persuade the Federal Reserve to alter its path of accommodative monetary policy, nor should it be used as an argument to pull back on the Biden administration's proposal for $1.9 trillion in fiscal stimulus," said Brusuelas, the RSM economist. "For now, the composition of hiring and unemployment suggests that we have yet to get past the deep freeze in the economy caused by the pandemic."
The report covers the first full month of the Biden presidency. Overall, the economy still has 9.5 million fewer jobs than it did before the pandemic, and economists warn that the unemployment rate would be higher if not for more than 4 million people who have left the workforce over the past year. Women have left the labor force at a significantly higher rate than men: about 2.5 million women, compared with 1.5 million men.
Federal Reserve Chair Jerome H. Powell said last month that the real unemployment rate is probably closer to 10 percent.
Economists and public health experts are more optimistic about the coming months as the rate of vaccinations accelerates.
February saw decreasing caseloads and more reopenings for businesses like restaurants and bars in states like California and New York. But many industries, such as tourism and hospitality, now employ far fewer workers than they did before the pandemic.
Jeff Stein contributed to this report.