OnePlus 10 Pro Long Exposure let me make some truly wild shots – TechRadar
I can draw with light.
A couple of days after receiving the OnePlus 10 Pro 5G, a solid if not entirely exciting Android smartphone that offers Pro-level features at a flagship price, I started digging into the camera app's features.
I've long been a OnePlus fan and its big camera swings. It was the first smartphone I ever used, for instance, to offer macro photography. I loved taking close-up photos of the inside of flowers, bugs, and drops of water. Not everyone loved it, though and the OnePlus 10 Pro does not include a macro camera. It does, however, have Long Exposure.
Most smartphones now offer some form of night photography or long exposure settings after Google launched the trend in 2018 with Night Sight on its Pixel 3. Today's wide variety of long-exposure, night-shooting options includes presets and, sometimes, some level of control to extend the exposure (more if you put the phone on a tripod).
Previous OnePlus phones would let you create long exposure shots by adjusting the manual camera settings (shutter speed, ISO). The OnePlus 10 Pro 5G makes the shot style a preset (slightly hidden under the Camera app's More menu).
While I'm happy to use manual settings to try and capture stars (I do a lot of DSLR photography), I do love when smartphone makers combine the best they can offer in lens and sensors with software and algorithms to make what would normally be complicated simple.
And, if I'm being honest, I've been trying to capture certain types of long-exposure shots on every single smartphone I've tested for the last few years, with varying degrees of success.
Here's what I want: streets with nothing but car lights whizzing by. People blurred as they walk past me while the rest of the world is still. Light art.
With the OnePlus 10 Pro Long Exposure setting, I accomplished all three.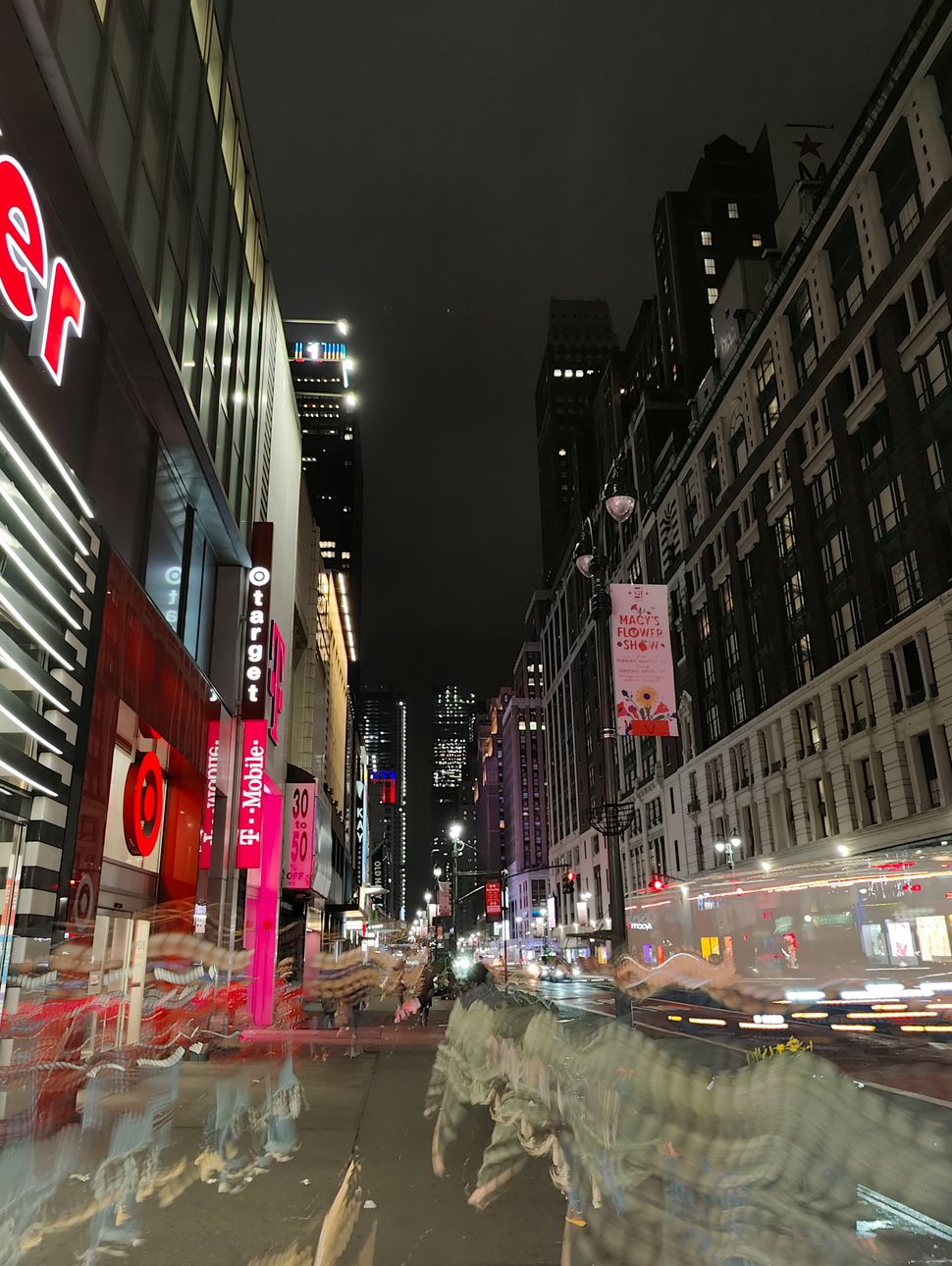 As I mentioned, the setting is easy enough to find, but what's more impressive is that it's dead simple to use (and also limited for that same reason).
You don't get to choose the lens or magnification. The default is the 48MP main camera, which as far as I'm concerned, is fine.
You also can't choose the length of the exposure. It defaults to 5 seconds. I know, that doesn't sound like a lot, and I had no illusions about capturing the stars rotating overhead at night. That said, a lot can happen in five seconds and I hoped I could capture it all in images.
I could think of no better place to test this theory than on the busy streets of Manhattan at night.
Five seconds isn't much time but it is enough for your hands and body to shake or move. To capture the action, I had to stop, plant my feet and hold steady. I don't recall if I held my breath or exhaled slowly.
I started by pointing the camera at other nighttime commuters rushing toward me. In the unedited shot above, they've all turned into ethereal ghost-like blurs barely people. Still, the effect is mesmerizing.
Next, I aimed the OnePlus 10 Pro at traffic. For these shots, I stood on the sidewalk near the street and, in one instance, leaned on a pole to steady myself further. Looking for more traffic, I headed to an intersection. Five years ago, I couldn't imagine capturing these kinds of images with a smartphone camera.
Image 1 of 3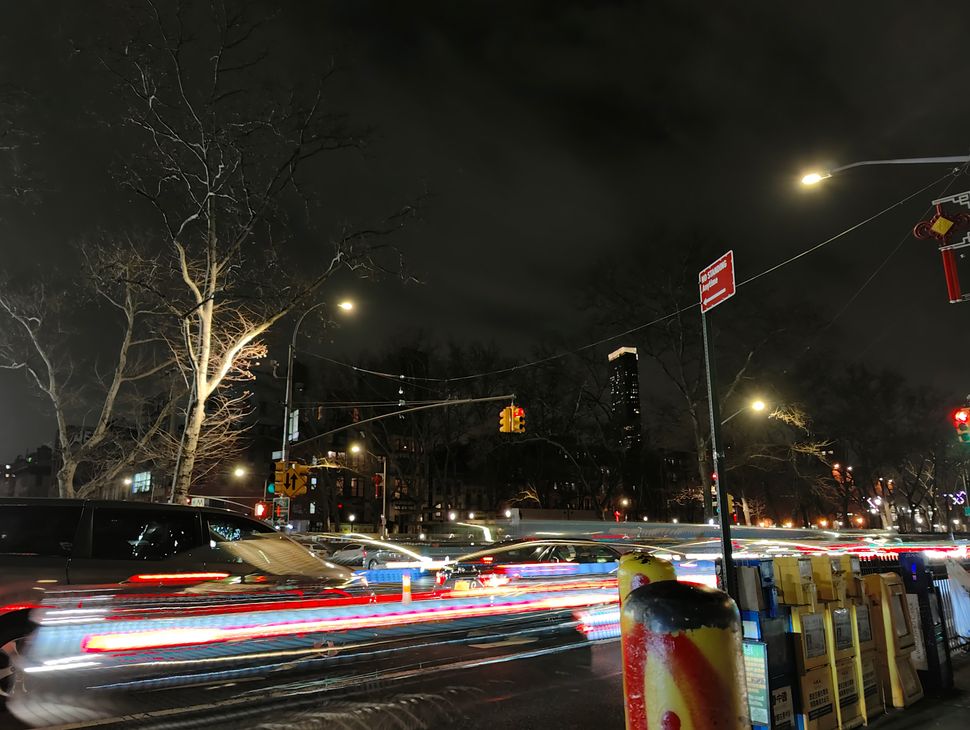 Image 2 of 3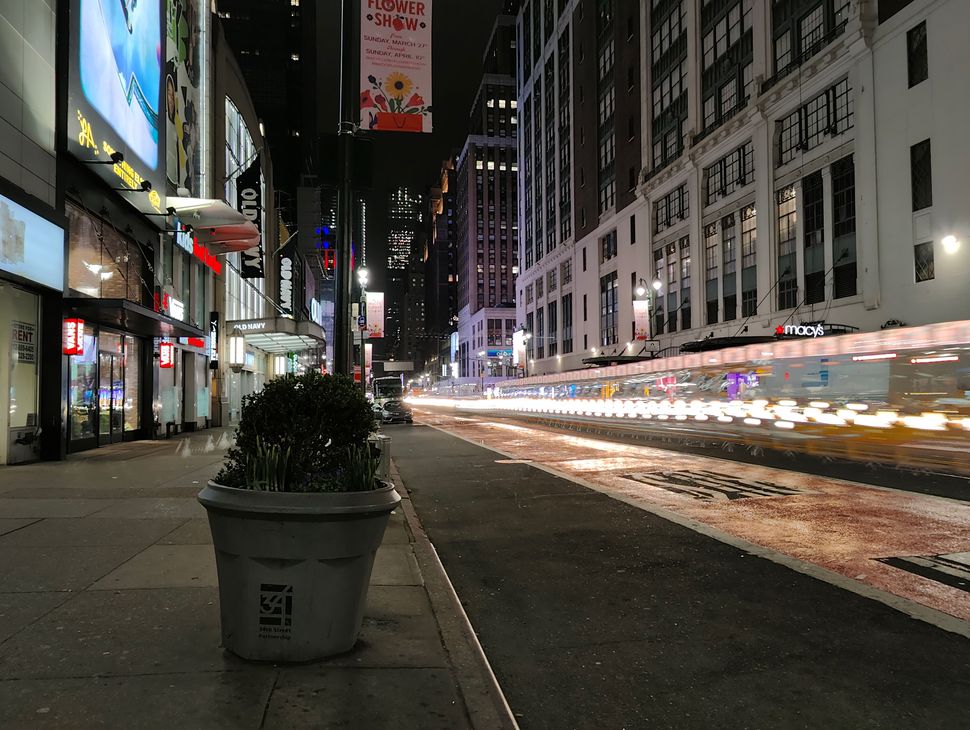 Image 3 of 3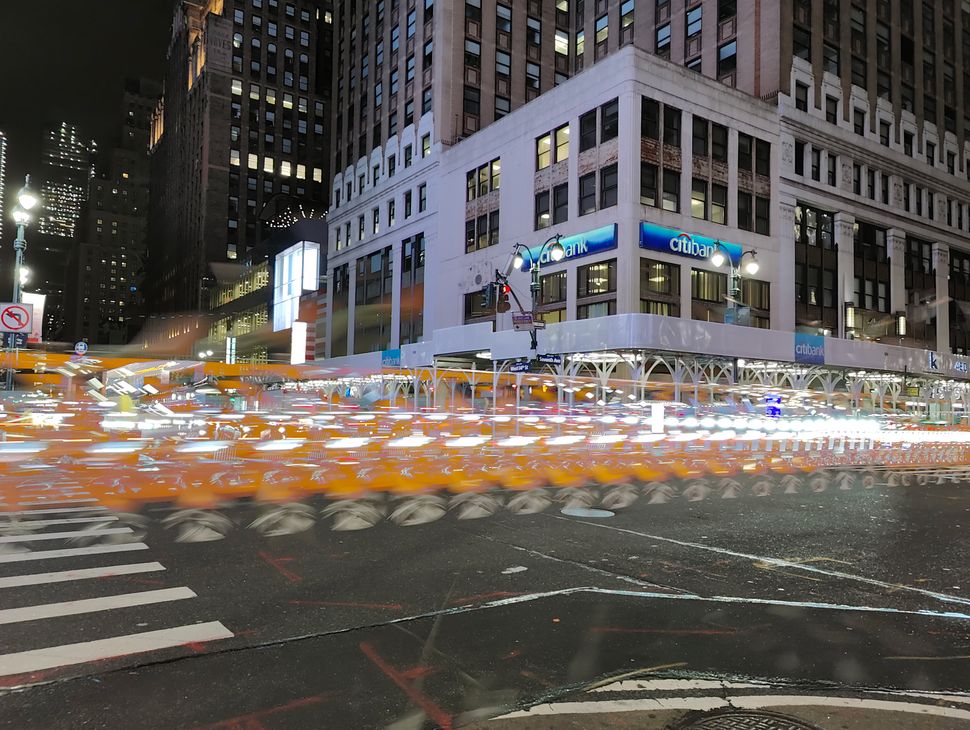 I tried some other experimentation. At a party with a lot of wall and party lights, I tried sweeping the phone by them and up from partygoers to the lights. I would say the results are intriguing and arty, though not entirely useful.
As I mentioned, you don't need a tripod to capture these images, but using one introduces another cool photographic possibility.
Image 1 of 3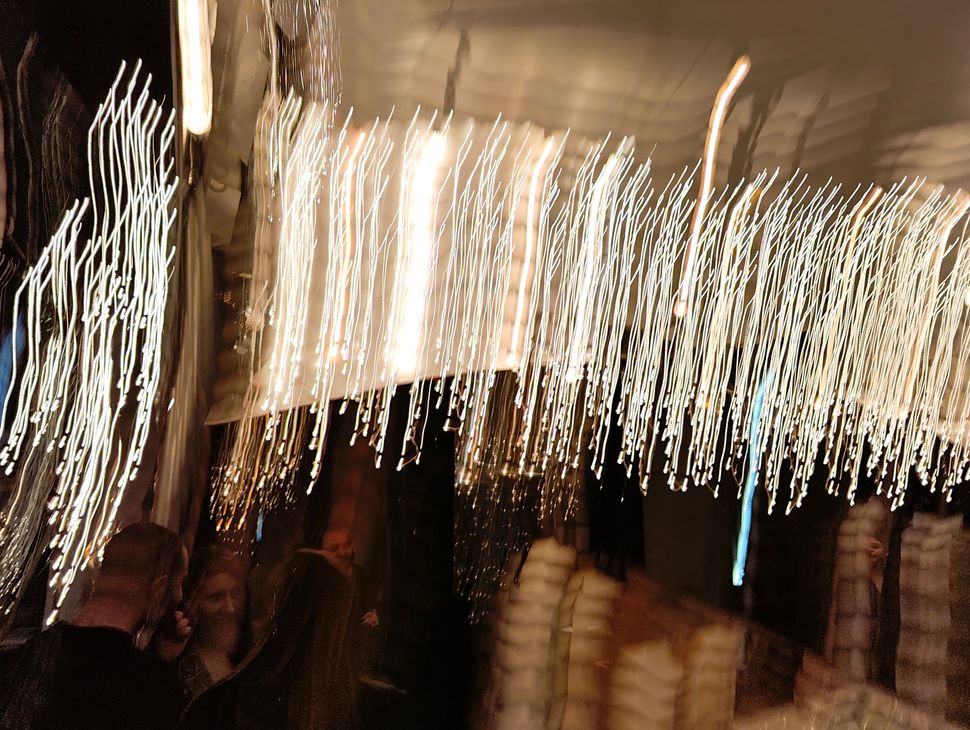 Image 2 of 3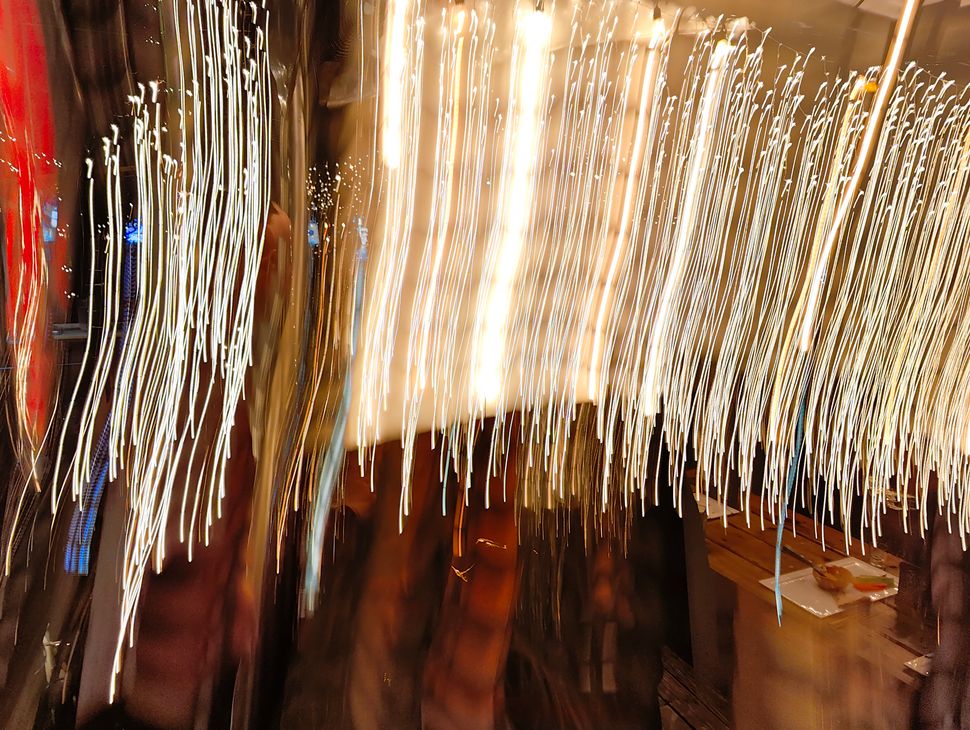 Image 3 of 3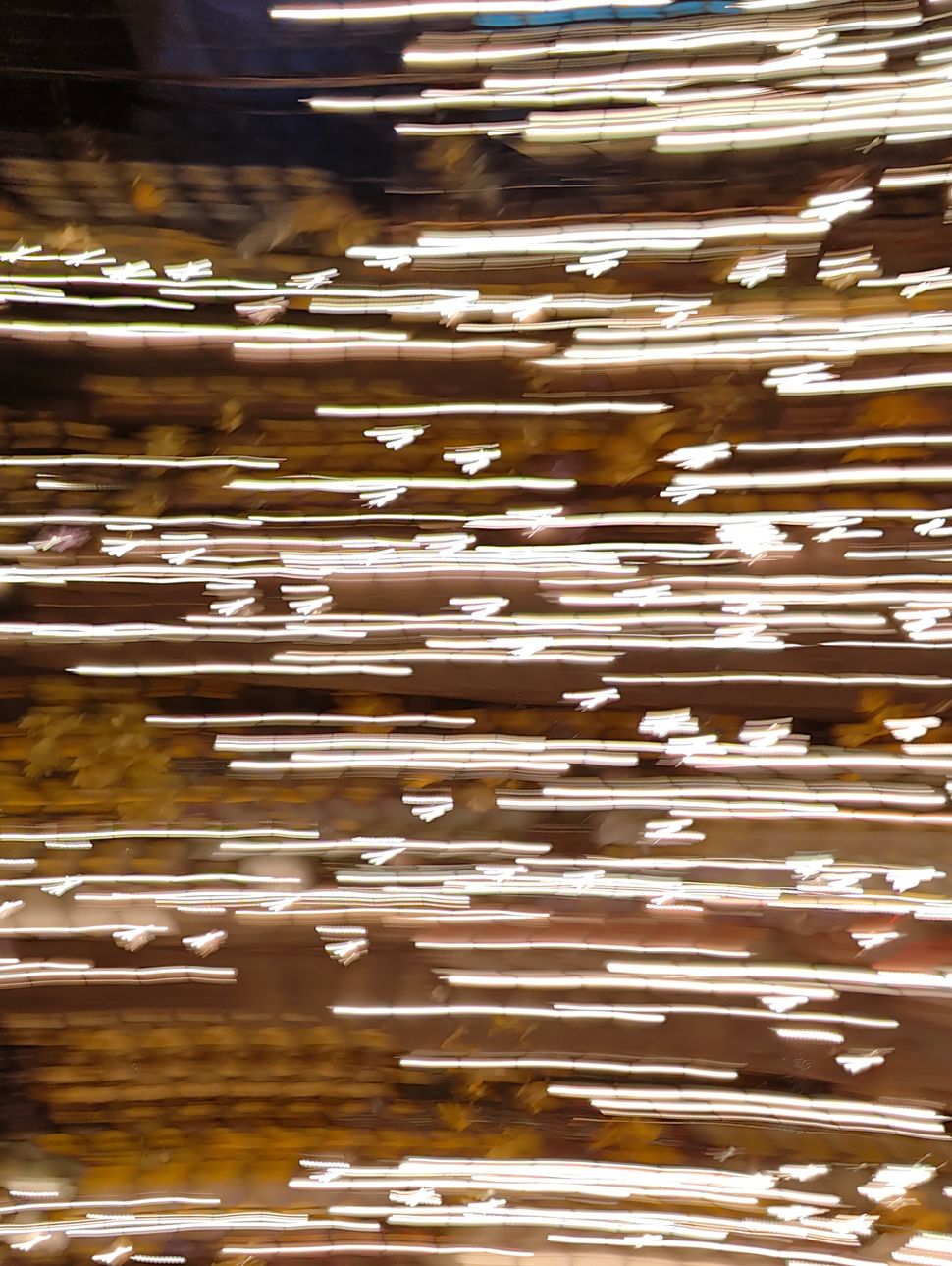 The next morning, I grabbed a tripod, another smartphone, and the OnePlus 10 Pro and headed to my dark basement. I placed the OnePlus 10 Pro on the tripod and turned on the flashlight on my iPhone 13 Pro.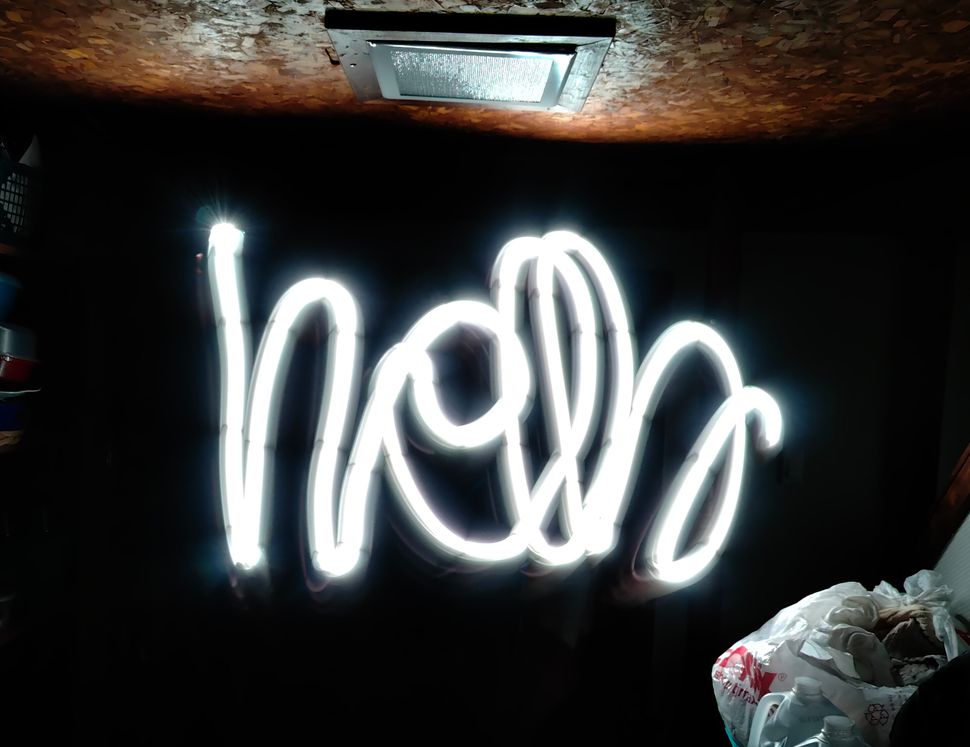 I set the timer on the OnePlus to 10 seconds and then ran to stand in front of the camera. I could hear the OnePlus10 Pro counting down 10 seconds, but unlike an iPhone, it doesn't flash the rear LED light to show you it's counting down. That was a bit annoying.
My goal was to move the iPhone as quickly as possible, with the hope that the OnePlus's Long Exposure would capture the full-light trail.
I figured out how to write "hello" backward and when the countdown ended, I quickly scripted it out. The results are not bad at all (I did crop the image a bit).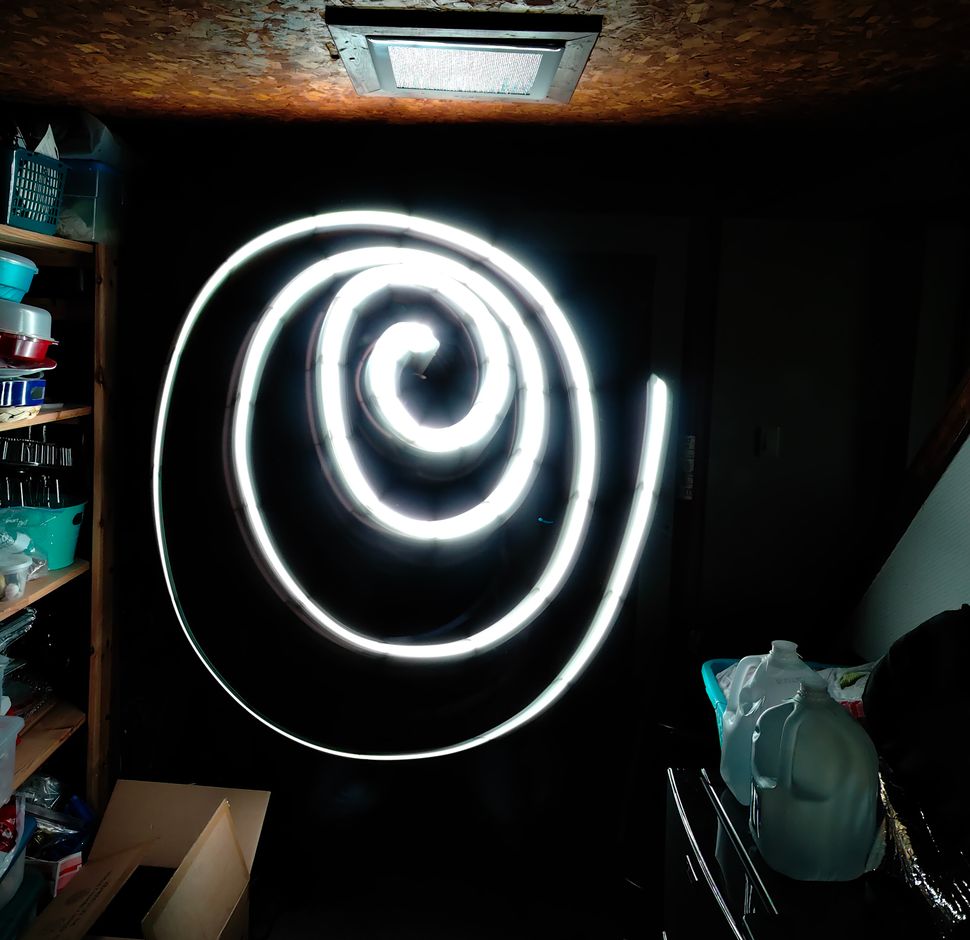 Next, I made a spiral. That was lovely, too. Next time, I'll use a different colored light.
If I have one broad criticism of OnePlus Pro 10 5G's Long Exposure preset, it's that the image processing appears to be doing multiple long exposures and compiling them into one image. You can see this in how the light breaks at regular intervals in the spiral or in how the car lights appear to almost stutter their way through. I hope future software updates smooth this out a bit.
I can, of course, dive into Pro mode and open the shutter for up to 32 seconds. That also means adjusting the ISO and focus, however. For consumers, this Long Exposure preset is just enough and they should be able to create their own wild images with a minimum of fuss.
Wordle game help: 5-letter words with 'AME' in the middle – Dot Esports
Since its October 2021 release, Josh Wardle's Wordle seems to have become the internet's most popular word game.
Each day, a new five-letter word is the answer to the challenge, and players need to guess it in up to six tries. The word is the same for all players on the same calendar day and there are no clues but the letters themselves, which change colors depending on where they are in the word—and if they are in the word at all.
While Wordle may be a simple challenge on most days, there are times when you could get stuck. Maybe you found two or three letters, but you have no idea what your next guess should be, either because you can't remember any words with that specific combination or because there are too many options to choose from. If that is the case today and all you have is "AME" right in the middle of the word, you can check the list below for inspiration.
Five-letter words with "AME" in the middle to try on Wordle
CAMEL
CAMEO
CAMES
DAMES
FAMED
FAMES
GAMED
GAMER
GAMES
GAMEY
HAMES
KAMES
LAMED
LAMER
LAMES
MAMEE
MAMEY
NAMED
NAMER
NAMES
RAMEE
RAMEN
RAMET
SAMEK
SAMEY
TAMED
TAMER
TAMES
WAMES
YAMEN
There are not that many options, but you will still need to narrow down the list to get the answer right. The first thing you can do is check all the letters that appear gray in your previous guesses, then eliminate all words that contain any of them. A second tip is to avoid plural forms. They are valid guesses if you need them, but Wordle will never pick a plural form as the answer to the daily puzzle.
If you're still unsure and don't want to wait until Wordle resets at midnight local time, you can always look up the answer to today's puzzle (which we update around 12am CT) to avoid losing your streak.
New LoL champion Bel'Veth is a transforming Void nightmare – PCGamesN
The next champion coming to League of Legends is a powerful, menacing empress from deep within the heart of the Void. Bel'Veth, who Riot Games calls a 'God of Oblivion,' has debuted in her official cinematic trailer, and she is a terrifying and Lovecraftian monster capable of mimicking human features – but only as a lure, since her primary motivation is to consume everything and everyone.
The cinematic, which you can view below, begins with Daughter of the Void Kai'Sa alighting in the ruined city of Belveth, which is now completely overgrown with eerily luminescent Void flora. Led by a toy ship carried aloft by glowing butterflies, Kai'Sa enters a natural chamber – only to discover the walls are alive with Void-infused, skeletal arms.
Bel'Veth approaches her from a rift that opens behind Kai'Sa. "I am everything the Void has consumed," she says ominously, striding forward. Bel'Veth is tall, and shrouded with a cape that wraps around her in tight layers. Two huge horns emerge from a piece of armour on her upper back. "Just as I devoured this city, I will devour your world."
Here's the cinematic.
Kai'Sa's attacks are useless against Bel'Veth, whose face begins to peel apart to reveal a glowing fungal flower… which is positioned over her true face. It's revealed as Bel'Veth's cape opens: a monstrous maw lined with razor-sharp teeth. Terrifying.
You can read more about Bel'Veth's background in the short story Pinwheel, written by Jared Rosen. It's available on the official League of Legends site.
Leaks suggest Bel'Veth is an ability power/attack damage hybrid jungler champion, with her ultimate ability being her transformation into her 'true' Void form. However, none of that's been confirmed yet, as Bel'Veth has yet to appear on the Leage of Legends PBE.
Experience Parallel Search Capabilities on the HUAWEI Mate Xs 2 with Petal Search – Canada NewsWire
Adapting to the always-on lives of today's consumers, Petal Search allows users to double their efficiency experience a new layout of a search engine.
With Petal Search now optimised for foldable screens, users can search for an array of topics ranging from news, apps, shopping, nearby services, and many more on the 7.8-inch True-Chroma foldable display of the new HUAWEI Mate Xs 2. With one tap on the search bar, the Parallel Search function is automatically activated as details of the search is smoothly displayed across both screens in a dual-window layout. This interactive design allows users to multitask on larger screens improving efficiency even during leisure browsing.
Petal Search provides consumers with the Parallel Search function, allowing different portions of the search services that the consumer is using to be displayed on both screens at the same time. Valuable information will be doubled, complicated operations will be reduced by half, and the efficiency will be improved by 100%.
Parallel Search allows users to instantly view search results on one screen while still scrolling through for further options on the other. For example, scroll through nearby food options on one screen, while displaying detailed information of a selection option on the other, deals, menu, food photos , reviews, ordering online, etc. With such a versatile layout, consumers are able to experience a smooth and efficient browsing experience.
With online shopping being the go-to for most, research shows that roughly 51% of consumers visit up to 4 sites before deciding to purchase a product (Source: People Comparison Shop). To aid consumers in their search, the new search function can display product details all on one page allowing easy comparison between 2 items. Furthermore, Petal Search allows users to run 2 search services simultaneously, such as video-streaming apps on one screen of the HUAWEI Mate Xs 2 while reading up on the latest news on the other.
All-In-One Search for an immersive search experience
With Petal Search's Parallel Search function, consumers are able to choose between 2 different viewing modes. With the dual-window mode, consumers view different parts of the search on each screen increasing efficiency. Or if consumers require a better view, single-window mode provides a larger view for a more immersive search experience.
Enjoy an immersive search experience on the large screen of the new HUAWEI Mate Xs 2 with Petal Search's All-In-One Search. By partnering up with over 3,000 top e-commerce, travel and local merchants, Petal Search optimizes shopping, travel and more than 20 other vertical search categories for users to search from.
Experience true search power when it comes to leisure. Find interesting deals, compare items and prices and much more without having to open additional tabs, when shopping online with Petal Search. Also plan your next holiday with Petal Search by comparing prices of flights and hotels all on one page. Come and take your search experience to the next level!
Based on Huawei's 1+8+N all-scenario strategy and the adaptation capability of hardware and software, Petal Search aims to provide users with a seamless and consistent search experience.
To download and experience Petal Search, please visit: https://bit.ly/3rpGYGY
SOURCE Petal Search, Huawei
For further information: Lingling Wang, [email protected]